Contact Us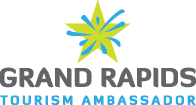 We are proud that all Experience Grand Rapids Staff are Certified Tourism Ambassadors.   
Questions? Comments? Suggestions? We want to hear them all - about Grand Rapids, the Experience GR Team, our web site, you name it! 
Use the list below to locate the appropriate contact person, or call/email our office at: 
171 Monroe Ave NW, Suite 545
Grand Rapids, MI 49503
(616) 459-8287 (800) 678-9859 Fax: (616) 459-7291
VisitUs@ExperienceGR.com
Staff can be emailed directly by using first initial last name [at] ExperienceGR.com or simply copy the email and paste into your send field of your email.  
Staff Listings
---
Administration
| | |
| --- | --- |
| |  Doug Small, CTA | President | DSmall@ExperienceGR.com | (616) 233-3541 |
| |  Annah Shallman, CTA | Executive Coordinator | AShallman@ExperienceGR.com | (616) 233-3552 |
| | Dan Jonkman, CTA | Vice President of Finance & Administration | DJonkman@ExperienceGR.com | (616) 233-3548 |
| | Kim Young, CTA | Vice President of Information Systems | KYoung@ExperienceGR.com | (616) 233-3555 |
| | Carol Campbell, CTA | Business & Accounting Associate | CCampbell@ExperienceGR.com | (616) 233-3572 |
Sales & Services
| | |
| --- | --- |
| | Tom Bennett, CTA | Vice President of Sales & Services | TBennett@ExperienceGR.com | (616) 233-3544 |
| |  Mary Manier, CTP, CTA | Director of Sales | MManier@ExperienceGR.com | (616) 233-3554 |
| |  Bob Snyders, CTA | National Sales Director | BSnyders@ExperienceGR.com | (616) 233-3546 |
| | Heidi Schmitt, CTA | Director of State Accounts | HSchmitt@ExperienceGR.com | (616) 233-3557 |
| |  Nichole Steele, CTA | National Sales Director | NSteele@ExperienceGR.com | (616) 233-3547 |
| |  Leslie Hastings | National Sales Manager | LHastings@ExperienceGR.com | (703) 469-1784 |
| |  Nancy Ruppert, CTA | Convention Development Manager | NRuppert@ExperienceGR.com | (616) 233-3549 |
| |   Marlene Bushouse, CTA | Sales / IT Coordinator | MBushouse@ExperienceGR.com | (616) 233-3570 |
| |  Kim Rangel, CMP, CTA | Event Manager | KRangel@ExperienceGR.com | (616) 233-3543 |
| | Krystal Kirby, CMP, CTA | Event Manager | KKirby@ExperienceGR.com | (616) 233-3573 |
| | Tim Nelson, CMP, GMS, CTA | Convention Services Manager | TNelson@ExperienceGR.com | (616) 233-3556 |
| | Andie Newcomer, CMP, GMS, CTA | Convention Services Manager | ANewcomer@ExperienceGR.com | (616) 233-3559 |
| | Nina Fox, CTA | Convention Services Specialist | NFox@ExperienceGR.com | (616) 233-3540 |
Marketing
Airport Visitor Information Center
| | |
| --- | --- |
| |  Lisa Verhil, CTA | Visitor Services Manager | LVerhil@ExperienceGR.com | (616) 233-3578 |
|   |  Information Desk | (616) 233-6076 |