Heritage Hill
One of the nation's top old-house neighborhoods is just a five minute walk from downtown Grand Rapids. Heritage Hill boasts Michigan's largest and finest collection of 19th and early 20th century houses. Nearly every style of American architecture, from Greek Revival to Prairie, is represented in the 1,300 buildings that date back to 1844.
Ideas for Heritage Hill Fun!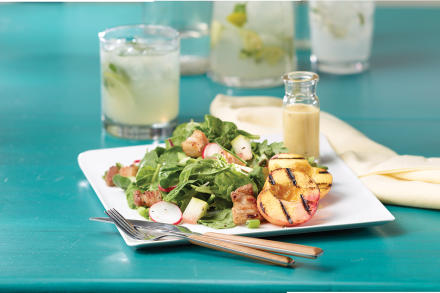 Summer has officially arrived, and it's obvious that it's here as the farmer's markets swell with more stalls and colorful produce. There's something to be said about eating during this time of year:
Where to Eat:
Grand Rapids Pizza & Delivery is a family-owned pizzeria using fresh, local produce and meats to create a wide variety of pizzas, pastas, sandwiches, and salads. Dine in or take out.
Beijing Kitchen offers an extensive menu of Hunan, Szechuan and Cantonese cuisines. Large portions and economical portions for dining in or taking out. 
Where to Shop:
Martha's Vineyard is a neighborhood grocery store with a global reach. People come from all over West Michigan to shop the extensive wine and beer selection, sourced from all over the world, as well as gourmet deli, cheese, and imported grocery items.
Nantucket Baking Company, right next door to Martha's, specializes in made-from-scratch artisan breads, delectable pastries and gourmet pizzas. In addition to supplying many of the city's finest restaurants, Nantucket offers a scrumptious to-go selection.
What to Do:
Stroll the streets of this "open-air museum" and marvel at the homes of the lumber barons, teachers, judges, and legislators who shaped the city during its heyday as "America's Furniture City." Download a self-guided walking tour brochure that includes 37 architecturally diverse homes. (Today, we'd call them mansions.) Or take a self-guided driving tour.
Tour the Meyer May House, a meticulously restored prairie-style house designed by Frank Lloyd Wright in 1908. Now owned by Steelcase, the locally based, globally connected office furniture manufacturer, the Meyer May House is open free to the public on Tuesdays and Thursdays from 10 am to 2 pm, and Sundays from 1-5 pm.
What to See:
See historic home interiors during the Heritage Hill Weekend Tour of Homes, held the third weekend of every May. Each year, a different line-up of 7-8 private homes and 2-3 historic buildings are open. Guides at each location share the site's unique story. 
Get a peek at the impressive gardens that grace these majestic homes during the Heritage Hill Garden Tour, held in July. The gardeners are on hand to answer questions and provide inspiration. 
Local Favorites:
Pleasant Park, a 2.4-acre plot of greenspace and playground equipment, opened in 2014. The first new Grand Rapids park established in nearly 20 years, it also features a small sledding hill.
Hidden Gems:
Three Bed & Breakfast properties nestled amidst the historic homes of Heritage Hill offer Grand Rapids visitors a different kind of lodging experience:
  Peaches Bed & Breakfast is an elegant Georgian- style manor offering five guest bedrooms with private baths, free wi-fi and full breakfasts.
The  Leonard at Logan House,  built in 1914, has seven guest bedrooms, most with private baths, along with free wi-fi, free laundry and complimentary breakfasts.
The Lafayette House is a Federal-style home built in 1874. Two guestrooms with private baths, flat-screen TVs and free wi-fi.  
To find all of the other places to see, eat, and visit in this neighborhood, use the drop down menu below.