If you like free music, supporting a community event, and/or Founders beer, then the inaugural Tribute on the Grand held September 10 at Ah-Nab-Awen Park is for you! Founders Brewing Company, in media partnership with FOX 17, is sponsoring the free, all-ages community event to raise funds for the Grand Rapids Whitewater (GRWW) river restoration project.
GRWW is a group of individuals, rowing and paddling clubs, anglers and businesses dedicated to helping Green Grand Rapids achieve the dream of putting the namesake rapids back in the Grand River: they partner with the city to create a safer, more exciting river experience for everyone to enjoy.
Fishers enjoying the Grand River
"Founders has been a partner with GRWW for over 10 years and we try to fit them into many of the events that we do, either in ticket sales or beer sales," says Samantha Hendricks, events coordinator for Founders Brewing Co. "For some time Founders has wanted to throw an event on the river. We loved the idea of an event that was backed by the community and what better way to raise funds to restore the river than by having the whole community rally around it!"
The event begins at 3:00 PM with yoga in the park. At 4:00, the beer tent opens and Jim Shaneberger Band and Friends kick off an evening of tribute bands at 5:00 with their West Michigan-bred brand of blues, rock, and funk.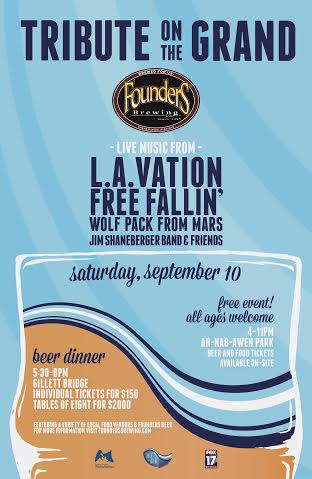 While the one-of-a-kind beer dinner on the Gillette Bridge is sold out, attendees can still look forward to amazing food trucks and an exclusive offering of Founders limited edition Palm Reader, brewed in honor of Michigan and previously only available during the month of May. Hendricks says Founders worked with local Hop Head Farms to use Michigan hops and pay homage to our state. Proceeds from Palm Reader sales will go to GRWW to help support the event.
Tom Petty tribute band Free Fallin', Brother Wolf and Wolf Pack from Mars featuring David Bowie tunes along with U2 cover band and headliner L.A. Vation will keep the crowd moving until 11:00.
"We plan to make Tribute on the Grand an annual event and grow it each year in different ways," Hendricks says. "Our grand plan is to add programming in the river once the restoration project is complete, which we are incredibly excited about."
Volunteers are still welcome for this fun event. Click here to learn more and see you there!