ArtPrize Hotel Packages
ArtPrize hotel packages are no longer available. Please check back for ArtPrize Nine Hotel Packages. And don't forget to mark your calendars!  ArtPrize Nine will be September 20 – October 8, 2017.
New Perk for Hotel Guests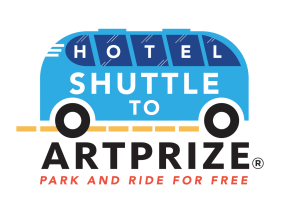 Interested in coming to Grand Rapids to experience ArtPrize?
Each year our area hotels offer ArtPrize Hotel Packages that include special discounts and offers. This year, Grand Rapids hotel guests have an easier way to visit ArtPrize – just make your way to the Park & Ride location within 10 minutes of your hotel and board the shuttle (locations and wrist bands provided at your hotel). We'll drive you downtown so you don't have to worry about traffic and parking. It's the simple, stress-free way to see the world's most radically open art competition!