Coffee in Grand Rapids
Beer isn't the only brew Grand Rapids does exceptionally well – our coffee scene is also gaining widespread acclaim. And like our trend-setting breweries, our coffee industry is grounded in community, innovation and passion.
Come sample our locally roasted coffees … kick back in neighborhood coffee shops … enjoy coffee-flavored desserts and coffee-infused beers … and explore a thriving coffee culture that is distinctively Grand Rapids.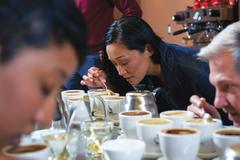 Coffee Highlights
Ferris Coffee & Nut Co. This family-owned and operated company has been roasting coffee since 1924. Visit the Ferris coffee bar and retail store, tour the production facility and enroll in a variety of coffee courses.
Madcap Coffee. Savor award-winning coffees made by award-winning baristas at two retail shops operated by this wholesale roastery.
Rowster Coffee. This coffee bar-and-roastery combination is a favorite hangout in the hip Uptown shopping district.
Schuil Coffee. The first company in Michigan to roast, package and sell specialty coffee beans operates a European-style Coffee & Tea Shoppe.
Simpatico Coffee. Located in the Downtown Market food emporium, Simpatico serves ultra-smooth, low-acid coffees brewed from fresh-roasted, Fair Trade beans.
The Saturday Experience at Grand Rapids Coffee Roasters. This micro-batch roastery opens to the public on Saturdays for coffee samplings and custom roasts.
Biggby Coffee. Founded 70 miles down the road from Grand Rapids in 1995, it's since become the fastest growing coffee chain in the U.S. 

Beer + Coffee.
A number of local breweries use coffee in select beer recipes. Best bets include the Breakfast Stout at Founders Brewing, Sabotage Milk Stout at Hudsonville Pike 51 Brewing Co. and a rotating selection of coffee-infused beers at EB Coffee & Pub.
Coffee as Dessert.
Chocolate Madcap at six.one.six, Madcap Coffee Gelato at Love's Ice Cream, Rowster Coffee Ice Cream at Furniture City Creamery, espresso cheesecake at Nantucket Baking Company, Coffee Maple Bacon doughnuts at Propaganda Doughnuts … just a sampling of coffee-flavored sweets that make occasional appearances on area menus.
Coffee Tasting Classes & Events
More about Grand Rapids Coffee