Beer Tour
It's no secret that Grand Rapids, a Cool City with Great Beer, has gotten a lot of attention for the craft beer scene.  Voted 2012 Beer City USA and again in 2013,  Grand Rapids is home to Founders, the 3rd best brewery in the world, and HopCat, voted both the #1 brewpub in the US and the 3rd best beer bar on Earth.
So why not get a taste of our many local craft breweries with your own self-guided craft beer tour and see for yourself why thestreet.com put Grand Rapids on the Top 10 Vacation Cities for Beer Lovers list!
Not only can you use the craft beer tour map below to forge your own path along our beer trail of over 30 local craft breweries, but you can now go behind the scenes at two of the area's most noted breweries, with guided Founders Brewery Tours and Brewery Vivant Tours every Saturday! Each tour provides a personalized, insider look at every step of the process, from fermenting to bottling.  We're proud of how we brew here in Beer City USA, and we're not afraid to share it!
Brewery Tours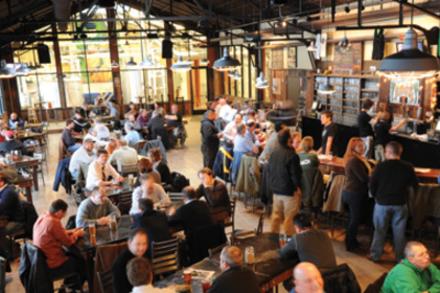 We hope that you will join us for limited tours of our production facility on Saturdays at 11:15am and 11:45am and Tuesdays at 5:30pm. Tours are $10 each and include a Founders logo pint glass. We are also offering a combined tour and tasting experience on Saturdays at 12:30pm for $30. In addition to the tour of our production facility, you will…
Did you know that Schmohz offers tours? If your in the area we would love to have you schedule a tour of our facilities and try some of the Michigan made products served in our tap room. Just fill out the short form on Schmohz.com so we can have staff ready to host your tour. Schmohz is located just west of the 28th street exit of I-96. We hope to…
Area Brewery Tours
Tour the Tap Room at Schmohz Brewery
Discover the new Beer City Ale Trail! Explore the many breweries in the area that make Grand Rapids Beer City USA! 
Click on the map to download a printable map.