This past summer Experience Grand Rapids (EXGR) contracted with nationally recognized travel and tourism consultancy MMGYNextFactor to assist with the creation of a new strategic plan. Significant input was gathered for the process including an extensive DestinationNext survey assessment.
The survey responses from clients, industry, government, community, staff and the EXGR Board of Directors, combined with 24 stakeholder interviews, revealed high marks for our destination. "Grand Rapids should be very proud and pleased with their DestinationNEXT assessment. Compared to over 200 destinations around the world, they received above-average scores for both destination strength and community alignment," said Paul Ouimet, President/Partner of MMGY NextFactor.
High Marks for Meetings
Key findings from the survey indicate Grand Rapids/Kent County received especially high ratings from meeting executives. Our highest-scoring variables for destination strengths included: strong reputation for hosting conventions and meetings, quality hotels, unique and high-quality dining options, events & festivals, and arts & culture offerings. The lowest-scoring variables (although not very low) included: public transportation, transit to the airport, multi-language visitor signage, international passenger flights, and communication infrastructure.
Destination Alignment
Destinations are more competitive in the marketplace when government, community and industry priorities are aligned as much as possible. Our highest-scoring variables for destination alignment included: EXGR's critical role in growing long-term economic development, supportive industry leaders, recognition of the benefits of the destination marketing efforts to the region and strong relationships with economic development agencies. The lowest-scoring variables primarily centered around the workforce and the need for adequate daycare, affordable housing, enough workers for both front-line hospitality and management roles, and quality healthcare options.
Into the Future
The findings from the DestinationNext assessment helped guide the EXGR Board of Directors when they met to develop new strategic priorities and plan for the future. In September, the board voted to approve a new 2022-24 Strategic Plan providing direction for the EXGR team and board efforts.
The EXGR sales and marketing teams are ready to accomplish the 2022 goals and put the new directives into action.
The new 2022-24 Experience Grand Rapids Strategic Plan identified a new Vision, Mission and Strategic Pillars.
Vision – To be the must-experience destination of the Midwest.  
Mission – Creating an exceptional community by sharing Grand Rapids with the world.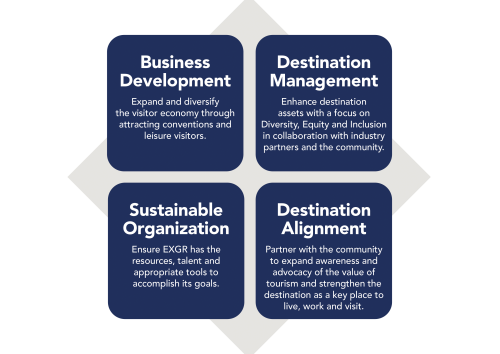 We thank all 117 people who completed the DestinationNext questionnaire and helped guide our work.