One year after Beyoncé's stunning Coachella performance, a Netflix documentary chronicled her journey and took a behind-the-scenes look at creating an impeccable concert. To viewers' surprise, the ending credits rolled to her spin on Frankie Beverley's 1981 "Before I Let Go."
If you ride past any black family reunion or holiday cookout, this anthem is certain to have everyone on their feet, singing aloud to the chorus. Since its release, Beyoncé's sample has gone viral because of the twist she added – giving instructions on how to dance along to her song.
The Grand Rapids National Pan-Hellenic Council decided to take Beyoncé up on her challenge and show the world who they are while they shine a spotlight on the city.
The National Pan Hellenic Council (NPHC) is comprised of nine black Greek lettered fraternities and sororities. Sometimes referred to as the "Divine Nine," the NPHC is rich in history and continues to grow its membership and the impact they have in their communities, especially in Grand Rapids.
Collaboratively, these organizations establish programs and projects that offer educational opportunities, provide awareness about important issues affecting our world, support character and competency development, increase scholarship among secondary education students and participate in fellowship in the community.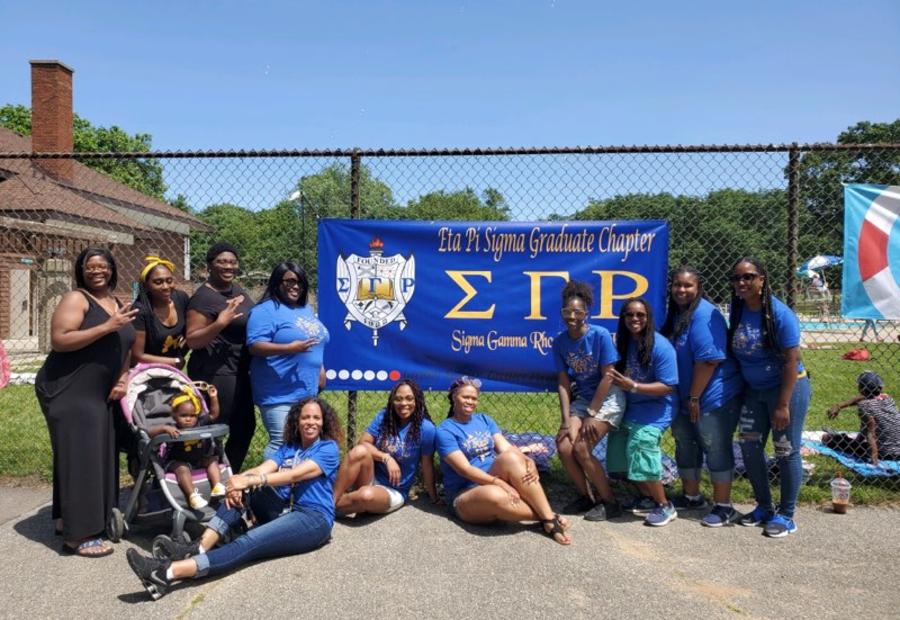 Sigma Gamma Rho- Eta Pi Sigma Graduate Chapter
Photo by Sigma Gamma Rho Eta Pi Sigma Graduate Chapter
The following organizations comprise the Greater Grand Rapids NPHC:
Six out of the nine organizations participated in the #BeforeILetGoChallenge. Members met over a span of three weeks to learn choreography and formations. For the locations in the video, the performers selected Grand Rapids landmarks that best represented Grand Rapids at large along with the black community.
"Choosing the landmarks was, honestly, the easiest part," said Angela Nelson, President of the Grand Rapids Chapter of Delta Sigma Theta Sorority, Inc. "That's because these organizations have worked diligently through the years on community service projects and have hosted many conferences and events to attract visitors from all over the country to experience Grand Rapids."
Check out their take on the challenge in the video below:
Here are other ways Grand Rapids NPHC members are making a difference.
The Eta Nu Lambda c chapter of Alpha Phi Alpha Fraternity, Inc., hosted a Summer Freeze Masquerade Soiree at the ArtPrize Hub where they honored women in leadership in the Grand Rapids community for community advocacy, philanthropy, education, health, business, technology and law. Along with honoring leaders, they awarded five graduating high school seniors with scholarships to assist them as they begin their journey at a four-year university.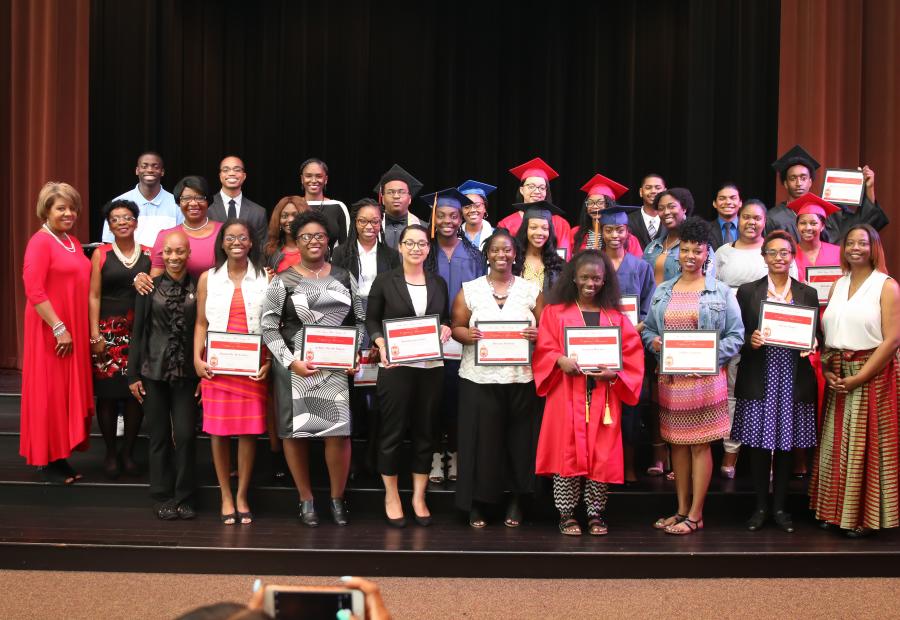 Delta Sigma Theta Sorority, Inc.- Grand Rapids Alumnae Chapter
Photo by Delta Sigma Theta Sorority, Inc. Grand Rapids Alumnae Chapter
Similarly, The Theta Chi Omega Chapter of Alpha Kappa Alpha Sorority, Inc., established the College Admission Process (CAP), offering free assistance to 20 high school juniors and 20 high school seniors with their college searches, applications, test prep, scholarship applications, financial aid resources and other activities associated with college admissions. They also host an annual Stepping Out for Scholarship event, a scholarship fundraiser sponsored by their philanthropic arm, 15 Pearls and a Promise. Since its inception in 2011, they have awarded 93 iPads or laptop computers to graduating seniors and supported 33 high school students with financial support for summer academic programs and travel.
The men of Kappa Alpha Psi Fraternity Inc., host their annual Night with the Nupes in the spring and award leaders in the community with the distinguished educator, youth development, small business, community service and diversity, equity & inclusion awards. Kappa Alpha Psi members take pride in giving back to the community by developing young and integral leaders with high esteem, strong character and extraordinary academia through their auxiliary organization, the Kappa League.
Along with assisting high school and college students, The Iota Pi Chapter of Omega Psi Phi Fraternity, Inc., leads the Omega Scouts (Troop 258 and Pack 3206) – a Boy Scout and Cub Scout troop that supports character building and healthy living in inner-city youth. The men of Omega Psi Phi also host an annual Purple Carpet Ball to highlight Grand Rapids community members' achievements and fellowship during the Charles R. Drew Golf Outing. 
The Grand Rapids Alumnae Chapter of Delta Sigma Theta celebrated 50 years of sisterhood and service in November of 2019 when NPHC members honored their chapter for the progressive work they continue to do in the community. Delta Sigma Theta participated in the Stomp Out Stigma 5k walk for mental health awareness. They also canvased the Grand Rapids community to fight to end gerrymandering and vote for reform that offers transparent, impartial and fairer elections in Michigan. During their May awards ceremony, they celebrate their current scholarship recipients, representing over $20,000 in educational support.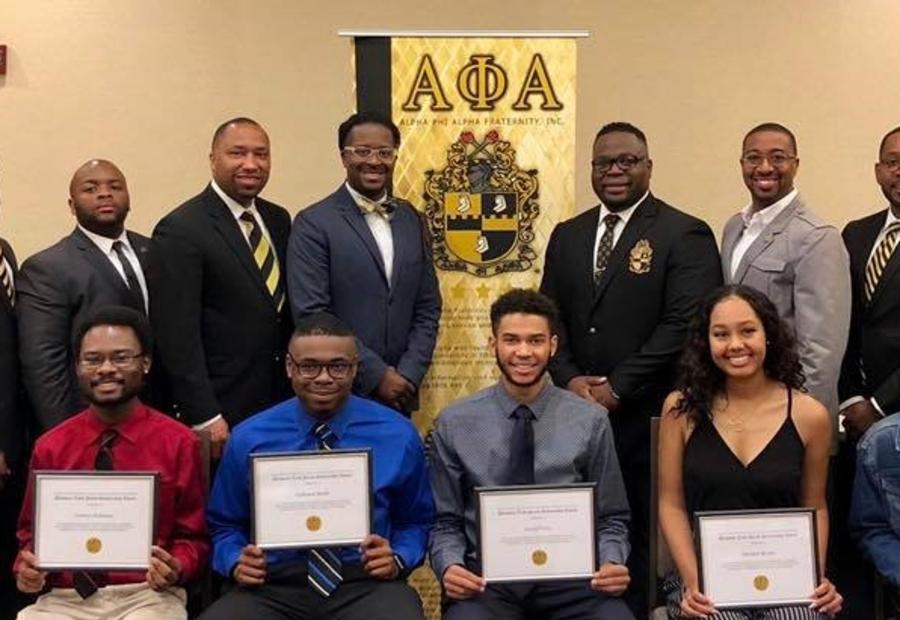 Alpha Phi Alpha Fraternity, Inc.- Eta Nu Lambda Chapter
Photo by Alpha Phi Alpha Fraternity, Inc. Eta Nu Lambda Chapter
As a constitutionally bound fraternity and sorority, Phi Beta Sigma Fraternity, Inc. and Zeta Phi Beta Sorority, Inc., work together to serve proactively in the community, administer financial assistance to high school and college students seeking educational support and maintain a strong brotherhood and sisterhood. In June, the Alpha Rho Chapter host their annual I Am My Brother's Keeper Scholarship Luncheon where two seniors received $1,000 scholarships to assist in their upcoming freshmen year college expenses. In May, the Pi Rho Zeta chapter host their Finer Womanhood Luncheon where they award five outstanding educators in the community and three high school seniors with scholarships to support their educational endeavors. Together, these organizations lead young men and women to reach new heights.
Partnering with the USA Swimming and the City of Grand Rapids, Sigma Gamma Rho Sorority, Inc., host the "Make A Splash" event to help increase swimming participation and minimize drowning rates within the African American & Latinx American communities. Their organization is also hosts family reading nights at MLK Park for families with 2nd and 3rd graders. Both Sigma Gamma Rho and Iota Phi Theta Fraternity, Inc., have worked hard to increase college student participation in NPHC and serve others in the greater Grand Rapids area.
With an ample amount of commitment and resources, NPHC members are essential to a vibrant and growing Grand Rapids. They weave a unique fiber into the fabric that makes up our city. Whether you're taking a stroll around Rosa Parks Circle, enjoying entertainment at Van Andel Arena, taking pictures in front of the Love sculpture, overlooking the amazing view on the Blue Bridge, learning history at Gerald R. Ford Presidential Museum or enjoying Movies on Monroe, you are destined to run into one of the amazing members of NPHC.
For these organizations, the most important challenge is to increase awareness and give back to the community, which makes the #BeforeILetGoChallenge look easy. Don't believe me? Just take a look and see for yourself.