Bridge Street Market, a new neighborhood grocery store from Meijer, opened its doors to the Grand Rapids community in August 2018.
Located on the city's West Side at the corner of Bridge Street and Seward Avenue, Bridge Street Market offers a diverse array of fresh foods, national staples, and supplies for your day-to-day, including pet supplies, cleaning products, gifts, and over-the-counter medical supplies. Plus, it's within an easy walk from Downtown and is a short walk away from the DASH West's Bridge Street stops.
Here's almost everything you need to know about one of the city's newest and most highly anticipated developments:
Michigan-focused design
The 37,000-square-foot store was built with Michigan-specific elements incorporated into the design.
Shoppers will notice reclaimed wood in various areas around the store, including above the Gift Shop. Much of the wood is stamped and stenciled with references to Thome Farms, a family farm near Sparta, (a town 15 miles north of Grand Rapids) that spans back more than four generations.
"The daughter of the current farmer, Kristin Thome, is a longtime Meijer employee, and she pointed out that one of the stencils that reads 'R+L Thome '66' represents both her grandfather's and uncle's initials from more than 50 years ago," says Ken Bair, store manager of Bridge Street Market.
Additionally, there is reclaimed wood from Michigan farms in Hart, Emmett, and Ludington incorporated into the design. You'll also spot reclaimed bricks from multiple West Side buildings, specifically the building at 617 Bridge Street Northwest that dates back to 1888.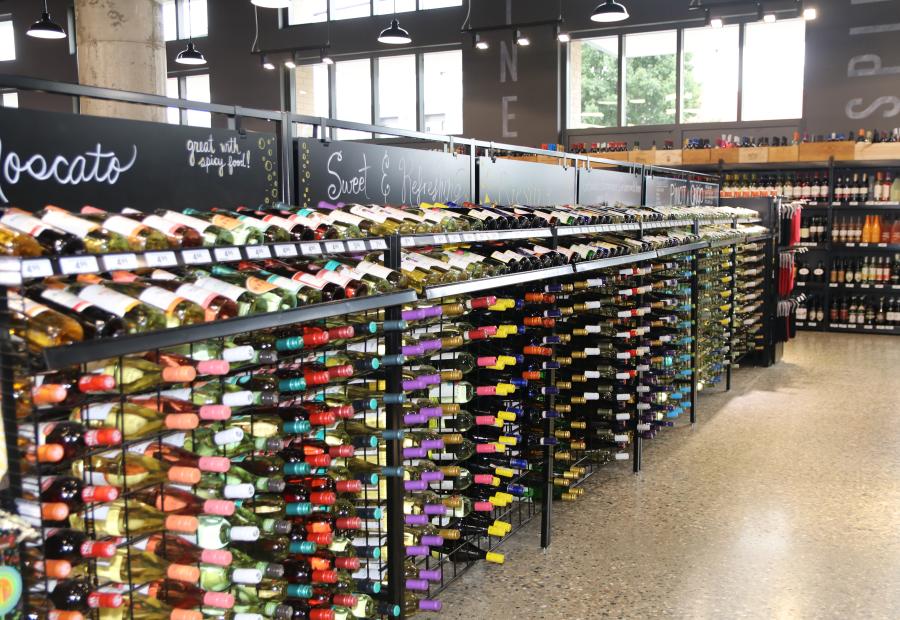 Bridge Street Market has an expansive offering of adult beverages, many of which are made in Michigan.
Photo by Experience Grand Rapids
Local food and drinks
Bridge Street Market places a heavy emphasis on providing a space for local companies to show off their products to the Grand Rapids community.
"We are so proud to be a part of the West Side's renaissance, but we want to make sure that everyone in the community benefits from that growth and energy," says Bair. "We try to do that by balancing low prices everyday on lots of staple items while offering a platform for our local makers."
Those local makers have contributed more than 2,500 products to the store, which include everything from local produce, sweets, coffee, and tea to grocery staples, snacks, meats, seafood, and more. For example, the store's selection of fresh apples were all sourced from orchards just north of Grand Rapids.
Equally as impressive as the amount of locally produced food is the vast selection of locally-crafted beer and spirits.
"We love and stand by the element of empowering the community through investing in local people and products," says Bair. "We are able to offer a space to small, local vendors and let the community get to know them and their products. We offer a huge assortment of unique and local products that simply can't be found at any other grocery store."
It's hard to miss the massive shelving unit near the store's entrance housing craft spirits produced by local producers like Long Road Distillery, Gray Skies Distillery, and New Holland Brewing Company.
And just around the corner, craft beer enthusiasts will delight in the diverse selection of craft beer offerings from local brew houses like Founders Brewing Company, Brewery Vivant, The Mitten Brewing Company, Elk Brewing, Perrin Brewing Company, and more. For the cider drinkers, there are options from Vander Mill and Farmhaus Cider Company, and don't forget to check out the multiple aisles of Michigan-made wines.
We love and stand by the element of empowering the community through investing in local people and products.
Ken Bair, store manager of Bridge Street Market
Customer-driven mentality
Another component to keeping the store accessible is giving customers a voice in the products the store carries.
"One thing that we take pride in is our ability to be flexible and listen to our customers," says Bair. "Every team member has a suggestion pad that they carry, so if a customer recommends that we carry a particular item or brand, we will absolutely look into the feasibility of carrying that item in the future."
Budget-friendly pricing
Much like its parent company, Meijer, the ability to offer low prices every day at Bridge Street Market is a top priority.
"Hosting a custom-made sandwich station or salad bar creates a space where everything else has to increase in price in order to keep up with the price of maintenance," says Bair. "It is an intentional decision for us to forgo more premium items in favor of offering a store that is accessible, open, and affordable to everyone on the West Side and throughout the downtown Grand Rapids community."
The market also accepts manufacturer coupons and will accept the bottle returns slips so long as the slips were generated at the market (that is, Meijer bottle return slips are not accepted here). Be sure to check out the market's FAQ page for more.
Tillie Ruth's Coffee and West Side Deli
Nestled in the store behind the produce section is the quaint Tillie Ruth's Coffee area. The local coffee shop is owned by one of the founders of Mayan Buzz Cafe, who named the shop in honor of her mother.
It's a great place to grab a cup o' Joe on the go during your shopping adventure, or to enjoy as you kick back and relax in the cafe's cozy lounge seating area.
For workers with the flexibility to work out of a normal office setting, the cafe includes plenty of table space and even a raised bar along the store's window providing a stellar view of Bridge Street. As an added perk, there is free WiFi available throughout the store.
Near the coffee shop is West Side Deli, which offers sandwiches, soups, salads, and power bowls, including lots of vegetarian and vegan options. The deli offers call-head, pickup orders, starting at 10am. 
West Side Tastes
The minds behind Bridge Street Market are passionate about food, and they know the Grand Rapids community is too. That's why the store's website features West Side Tastes — a revolving collection of recipes and pairing ideas.
From a Bridge Street Bourbon Old Fashioned recipe that calls for bourbon from Long Road Distillery to vegan burgers that use products by Grand Rapids-based Nutcase Vegan Meats, there's a noticeably heavy emphasis on encouraging the use of local products in your kitchen.
"Our hope is to make West Side Tastes an active and inspiring area with recipes, pairings, local features, and more" says Bair. "The inspiration behind it is to simply be a good neighbor and share some of the things that we are loving ourselves with our community."
West Side Tastes also includes information about what's new in the store, featured vendor stories, and educational resources, such as budget-friendly shopping lists.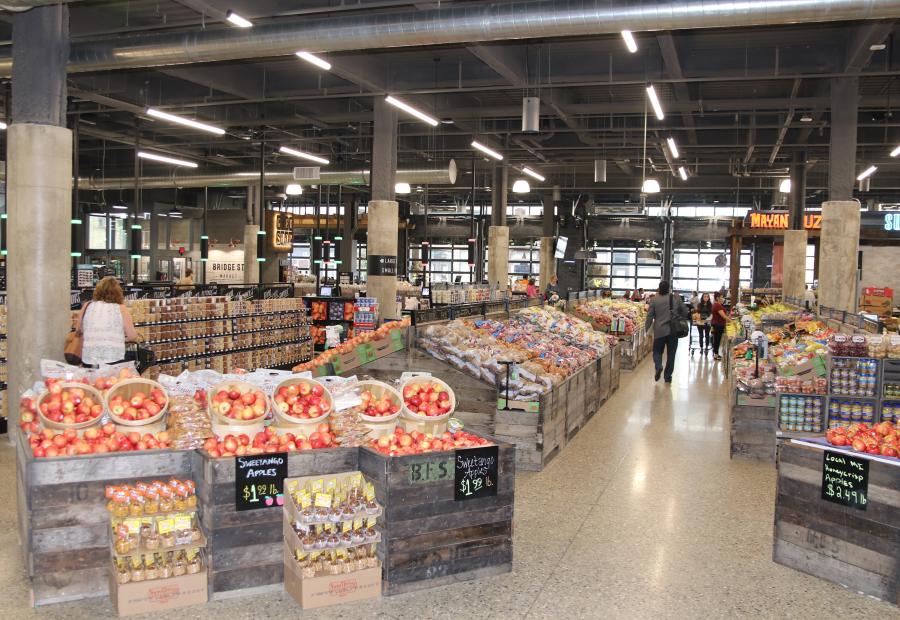 Bridge Street Market offers some of the largest produce offerings in downtown Grand Rapids.
Photo by Experience Grand Rapids
Parking & Transportation
Bridge Street Market offers a convenient and covered parking lot on the east side of the store off Seward Avenue. The first level of the parking ramp is dedicated to the store's customers, and parking is free for the first hour.
There are also metered parking options around the store, so be sure to download Motu, the official parking app for Grand Rapids. With the app, drivers can pay for on-street and off-street parking where signage is present.
For those using public transportation to get the store, there is a bus stop for The Rapid conveniently located in front of Bridge Street Market at the corner of Bridge and Stocking. You can ride route nine and DASH West (fare-free) to land within walking distance of the store.
Events
A part of Bridge Street Market's mission to support the local community involves inviting residents into the store for more than just a shopping experience.
The store's staff is working toward creating and offering educational events like cooking and canning demos and local samplings sessions, as well as more laid back events like board game nights and music performances.
"The idea with all of this is to open our doors to the community and allow them to 'own' a part of the Bridge Street Market space," says Bair.
Bridge Street Market's social media platforms are also great resources for event information, recipes, facts about West Michigan food and beverage-related industries, and staying up-to-date on in-store offerings. Bridge Street Market has a presence on Facebook, Twitter, and Instagram.