No matter what season it is, there's nothing quite like the perfect brunch to brighten your day. Whether it's the food, drinks, or atmosphere, there are many Grand Rapids eateries to choose from that provide snug corners to chat with friends, calming music, a killer Bloody Mary and delicious food.
To find out which cozy brunch restaurants are fan favorites, we asked the locals on the Experience Grand Rapids social media pages to weigh in. Here are just a few places that are perfect for sharing a meal that will start your day on the right track.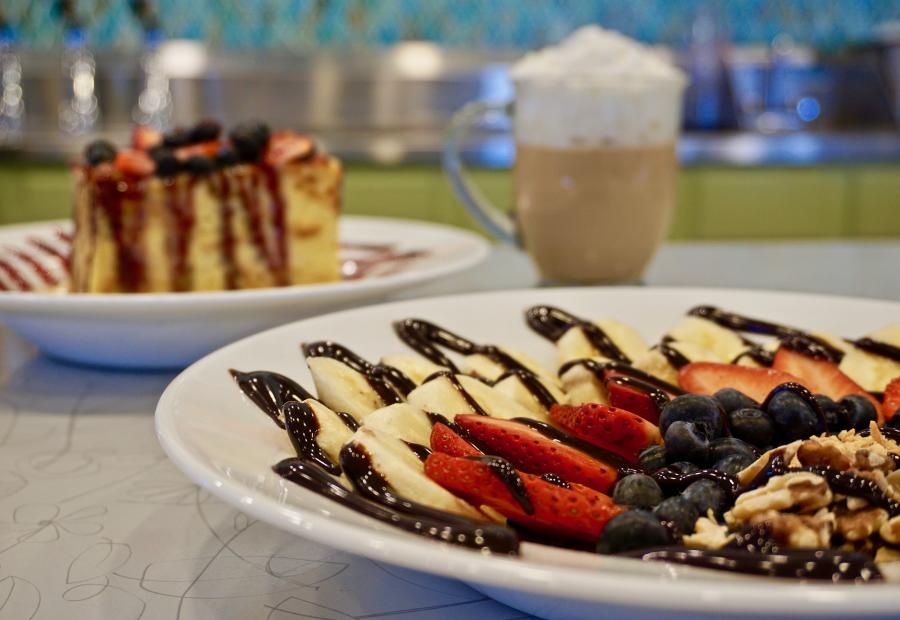 Anna's House offers sweet, savory and vegan brunch options.
Photo by Brian Craig for Experience Grand Rapids
Anna's House
Saving the world from ordinary breakfast is no small feat, but Anna's House expertly accomplishes this mission by providing fresh and local ingredients in all of its menu items.
This eatery's all-natural menu is complemented by a bright and inviting atmosphere that combines soft, cozy lighting and an uplifting blue and green color scheme that makes you feel as though you are sitting down to a family meal at home.
Anna's House offers the above experience at three Grand Rapids locations (Plainfield Avenue, East Beltline Avenue, and Grandville).
What locals say:
"Anna's House! Nothing warms you up quite like a cup of coffee and cinnamon roll the size of your face," says @krisspitz on Instagram.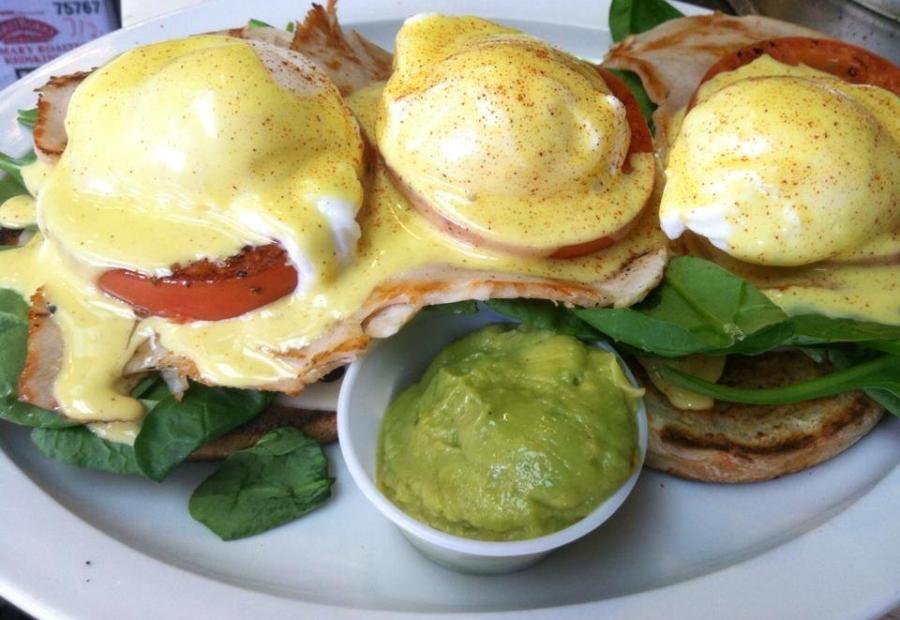 Get the classic or switch it up with one of Wolfgang's eggs Benedict variations.
Photo by Wolfgang's Restaurant
Wolfgang's Restaurant
If you find yourself in the Eastown neighborhood among a small mob of people on the sidewalk, there's a solid chance they are waiting to get into Wolfgang's Restaurant. Despite the typical line that can be found extending out the door, locals say the experience is worth the generally short wait time.
As Grand Rapids' first restaurant to serve breakfast all day, Wolfgang's is a family-owned eatery with roots dating back to the 1900s. Wolfgang's offers an eclectic menu with options ranging from unique takes on the classic eggs Benedict, skillets galore, steel-cut oatmeal, chocolate and peanut butter pancakes and a laundry list of omelets.
What locals say:
"Wolfgang's for certain! Pleasant staff, efficient service, the food of course is spot on (the best naps are taken afterward)...And don't forget to order that Cafe Wolfgang. #treatyourself" notes @grandgrubtours on Instagram.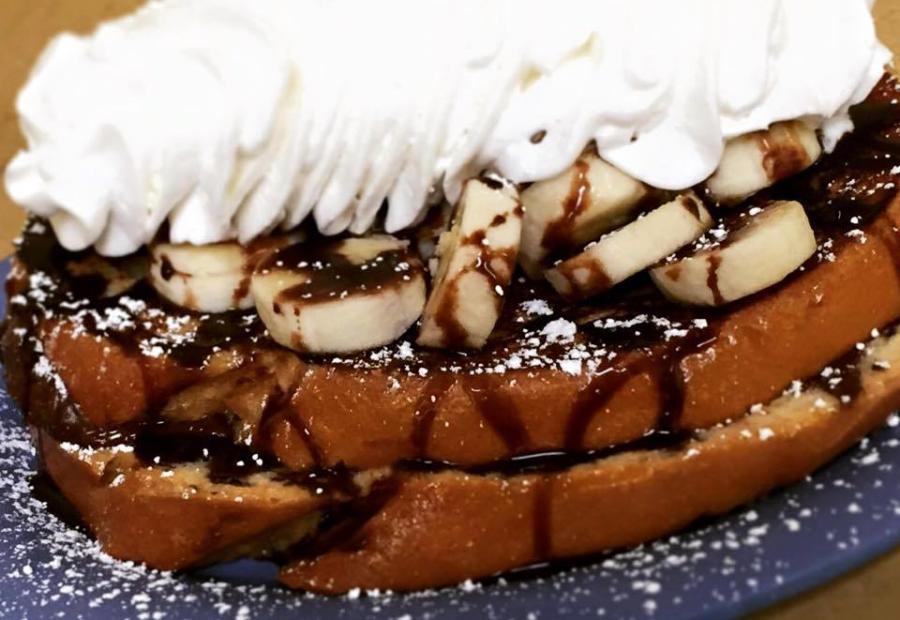 Decadent French toast at Real Food Cafe in Grand Rapids.
Photo by Real Food Cafe
Real Food Café
You'll never go hungry at Real Food Café. Locals praise this quaint restaurant for its large portion sizes and pristine, friendly service.
Whether you sit at the bar to watch the cooks work their culinary magic or grab a table, Real Food Café offers a comfortable and "retro diner" atmosphere at both restaurant locations in Grand Rapids (Plainfield Avenue and Eastern Avenue Southeast).
If your cozy brunch crusade brings you to Real Food Café, be on the lookout for the "baccado" omelet, veggie hash or loaded pancakes. And don't miss out on what could be considered the ultimate brunch indulgence: Nutella-stuffed French toast (filled with chocolate-hazelnut cream cheese and topped with sliced bananas, chocolate sauce, and whipped cream).
What locals say:
"Real Food [in] Alger [Heights Business District]. Real good fresh food. Real good service,"  says Yvonne Hall on Facebook.
Cherie Inn
Cherie Inn is a breakfast and lunch eatery in the East Hills neighborhood that provides homemade cuisine, gracious service, and the sophisticated ambiance of a European-style café.
First opening its doors in 1924, Cherie Inn is Grand Rapids' longest-running restaurant and still resides in a 100-year-old building featuring original tin ceilings, vintage art and furniture that dates back to the 1940s.
Delectable menu options to consider for brunch include its variations on eggs Benedict (crab cake or grilled steak), strawberry cheesecake pancakes, cinnamon French toast or the turkey bacon club croissant.
What locals say:
"Cherie Inn – varied menu, warm and homey atmosphere, rarely a long wait. The staff are always so gracious and make a point to remember their regulars," says @lolomikrut on Instagram.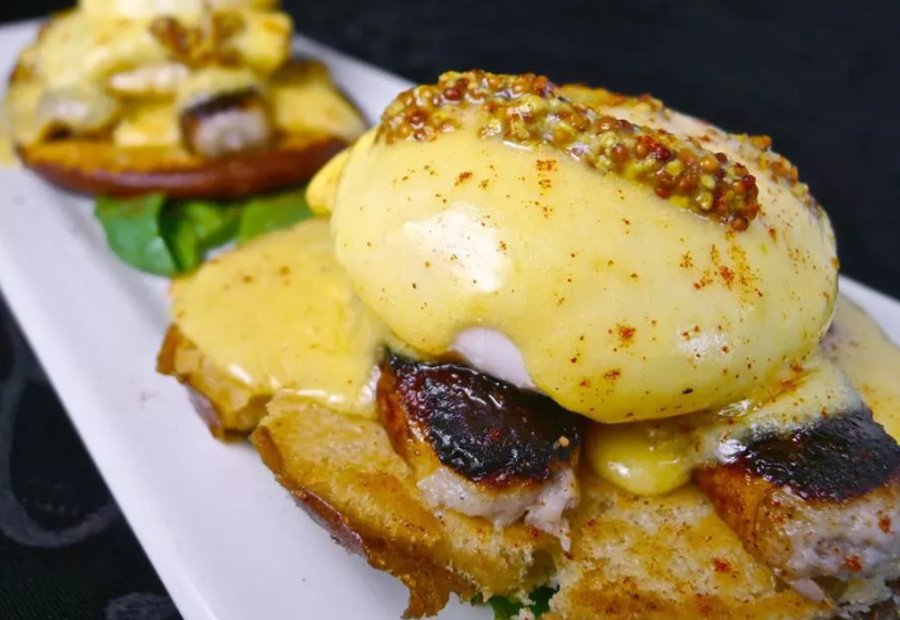 There are plenty of amazing brunch options in the Grand Rapids area. Check out the Experience Grand Rapids Restaurant page for more brunch ideas.
Photo by SpeakEZ Lounge
More Brunch Ideas 
These are just a few cozy ideas to get you started. Additional places that locals recommended include:
Still hungry? Check out the Restaurant page for more foodie hot spots for any time of day.
This post was originally written by Matthew Makowski and has been updated by Experience Grand Rapids.