Grand Rapids may be known as Beer City USA, but that's not the only drink in town. With overflowing apple orchards and skilled producers, craft cider flows as strong as the Grand River. Unlike its ale and porter counterparts, hard cider is full of antioxidants and is naturally gluten-free. Plus, it's delicious – what other reasons do you need to drink up? Our list of apple-tastic places to drink hard cider might entice you to try something new!
Archival Brewing
Opened in northeast Grand Rapids in 2021, Archival Brewing focuses on recreating historic fermented beverages. The drink menu is dominated by beers, but there are also five or so sparkling meads and hard ciders to choose from, all made in house under the supervision of husband-and-wife proprietors Levi and Callee Knoll. Archival also offers a full food menu emphasizing made-from-scratch seasonal dishes, and there's an outdoor biergarten equipped with fire pits and yard games for year-round relaxation.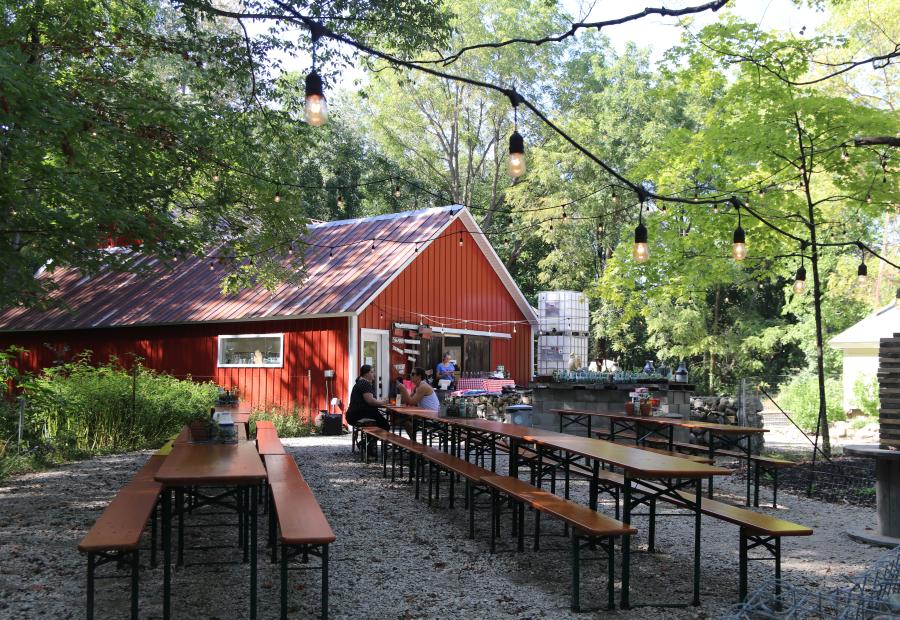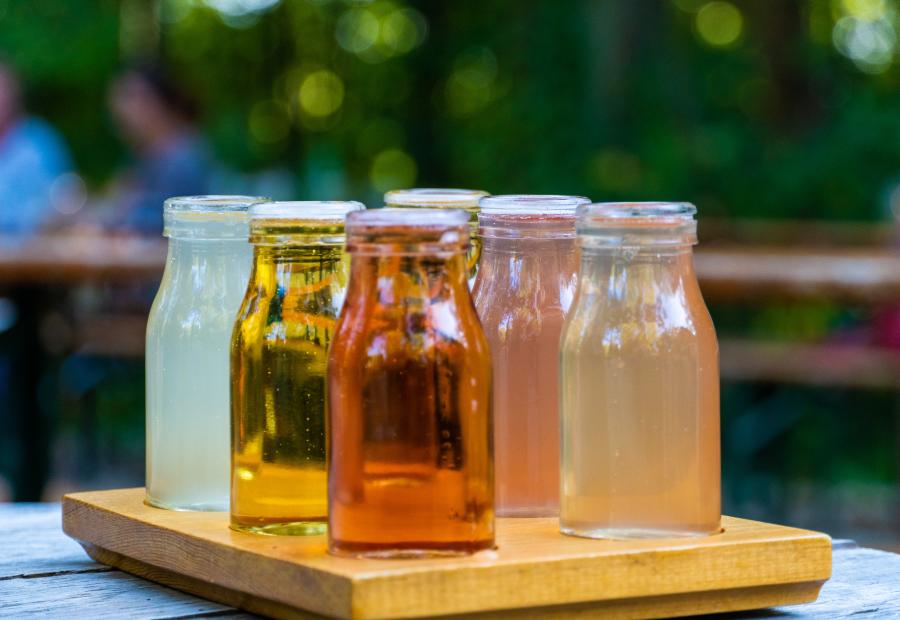 Farmhaus Cider Co is located in Hudsonville, about 15 miles west of downtown Grand Rapids.
Photo by Experience Grand Rapids
Farmhaus Cider Co.
Farmhaus Cider is located on a family orchard in Hudsonville, about 15 miles west from downtown Grand Rapids. The Behrens family purchased the farm in 1866, which was later renovated in 2015 to be a cider-making haven. Its collection of ciders range from a dry cinnamon/maple brew (aptly named, Brunch) to fruity blend called Punch Bowl Sangria. Their taproom is open Thursday-Sunday.  If you have time to spare, check out the alfresco Cidergarten, a woodland take on the traditional biergarten, complete with domed enclosures for winter dining.
Painted Turtle Hard Cider
Located inside the Red Barn Market in Lowell – about 25 minutes from downtown Grand Rapids – Painted Turtle Hard Cider is the cider-making operation of a 5th generation family farm. Painted Turtle ciders begin with apples harvested and grown right here, hand-selected for fermenting and aging, and soaked and blended with the finest local ingredients to create unique flavors. Try a cider flight in the tasting room and or purchase cans, growlers and howlers to go.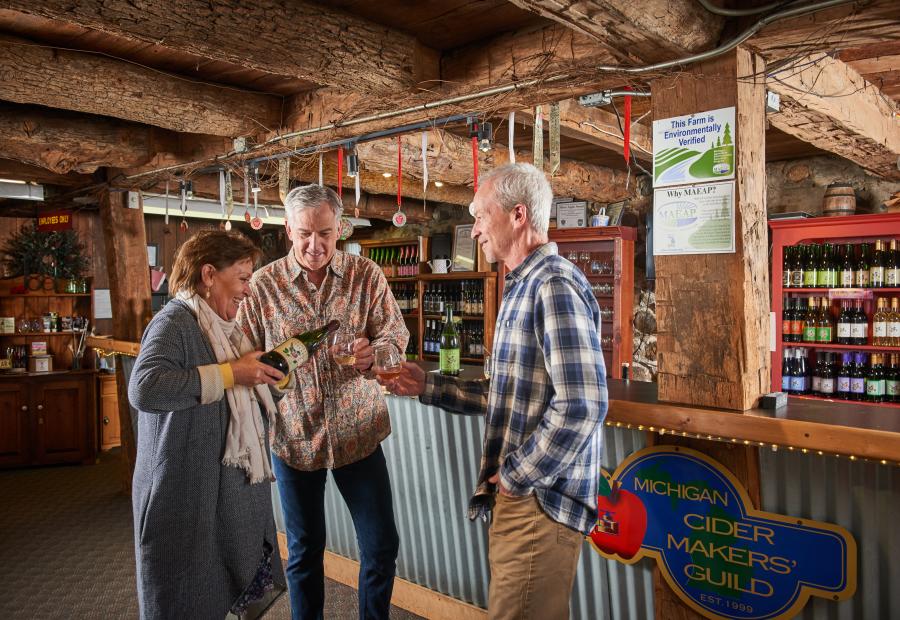 Find your favorite hard cider or wine with a little help from Robinette's tasting room.
Photo by Experience Grand Rapids
Robinette's Apple Haus & Winery
Robinette's is known for being a hotspot for family fun and fresh-pressed apple cider. But, if you're seeking adults-only cider, you'll want to head there too. In the lower level of the barn, you'll find a tasting room where you can sample (and buy) a wide range of private label wines and ciders. For $8, you'll receive a souvenir glass and five tastings (wine or cider), and if you bring your souvenir tasting glass the next time you visit, you'll get a discount! The tasting room is open anytime the gift barn is, typically Monday-Saturday from 10am-6pm. The last wine tasting is 30 minutes before closing.
Sierra Rose Cellars
Sharing space with Cascade Winery and Jaden James Brewery in southeast Grand Rapids, Sierra Rose Cellars offers a broad selection of year-round, limited-release and seasonal hard ciders. They use apple wine as their base and add all-natural fruit juices to get a truly unique and refreshing taste. Sierra Rose ciders are available in stores across Michigan and can be enjoyed in the Cascade Winery tasting room Tuesday-Saturday.
Thornapple Brewing Co.
Billing itself as the first full-service microbrewery, winery, distillery and restaurant in the Grand Rapids area, Thornapple Brewing Co. also serves up a selection of made-in-house seltzers, meads and ciders. Ciders features flavors as varied as cherry, peach, coconut, jalapeno, beet, ginger and mango, and there's also a rough cut hopped cider that pleases beer lovers and cider fans alike. Open seven days a week in Cascade.
Use the Beer City Ale Trail Map to plot out these hard cider destinations and create your own cider-tasting tour – just look for the "Beyond Beer" selection. If you'd like to try cider without the alcohol kick, mark your calendar for fall – it's the perfect time to enjoy "soft" cider fresh-pressed on the farm.
Craft ciders are just one of the many Grand Rapids area craft beverage offerings. Try them all!
Warm up with picture-perfect coffee, wine, & spirits.