For 20 years, visitors and locals have used Grand Rapids' free Downtown Area Shuttle known as the DASH. In August 2018, the bus service rebranded and has since offered more routes and times, plus the buses are easily identifiable with their bright pink design.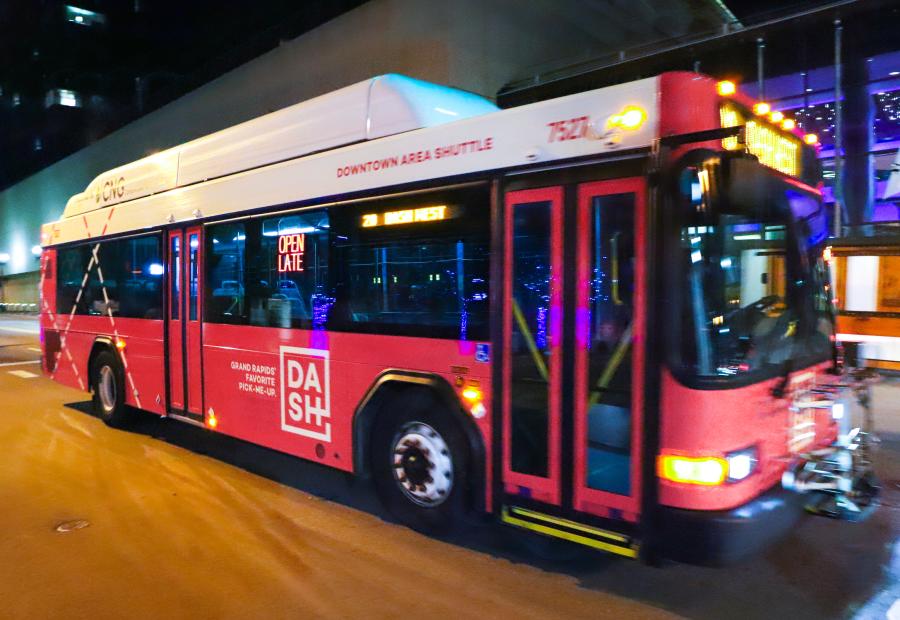 DASH buses are easily identifiable due to their bright pink design and extended availability.
Photo by Experience Grand Rapids
Hours of operation with live updates
All stops along the DASH routes are visited every eight minutes, so you never have to wait long for a ride. No tickets or passes are needed, making boarding quick and easy.
Current operational hours for DASH routes are:
Monday through Friday, 6:30 AM to 10:00 PM

Saturday, 10 AM to 1 AM

Sunday, No Service
You can get real-time DASH departure times on the Transit and MyStop mobile apps available for Android and iOS.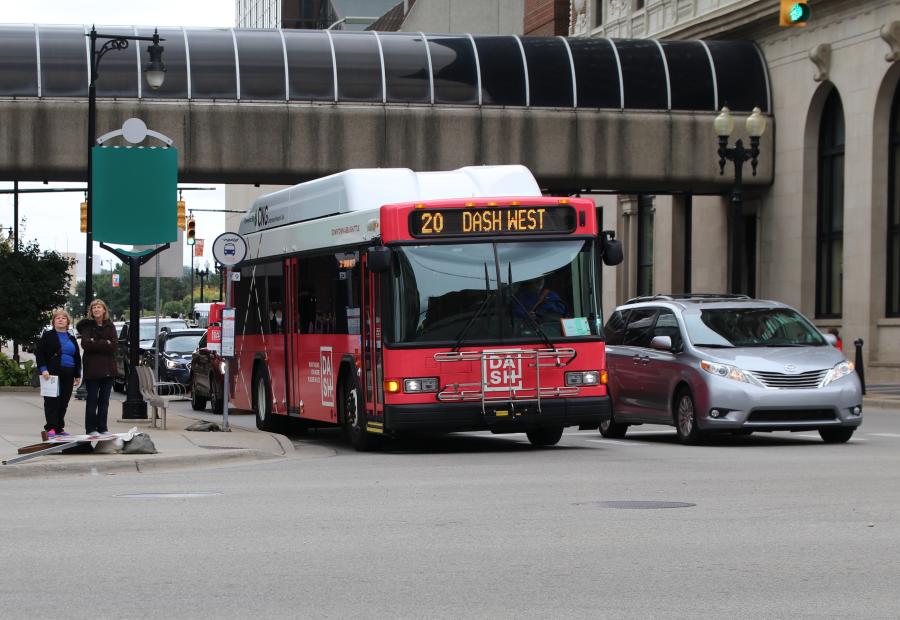 Fact: All stops along the DASH routes are visited every eight minutes
Photo by Experience Grand Rapids
Offering convenience throughout downtown
The convenient DASH West line services the Monroe Center, Heartside and West Side areas of downtown, which include the David C. Hunting YMCA and Kendall College of Art & Design, as well as many museums, restaurants, hotels, and more.
You can ride your bike to any of the DASH stops and use the DASH bike rack to transport it to your destination. If you're driving, you can park your car at a nearby DASH parking lot. There are tons of destinations within a five-minute walk of the DASH West line bus stops, and all DASH buses are wheelchair accessible and air conditioned. Strollers and guide dogs/companion animals are allowed.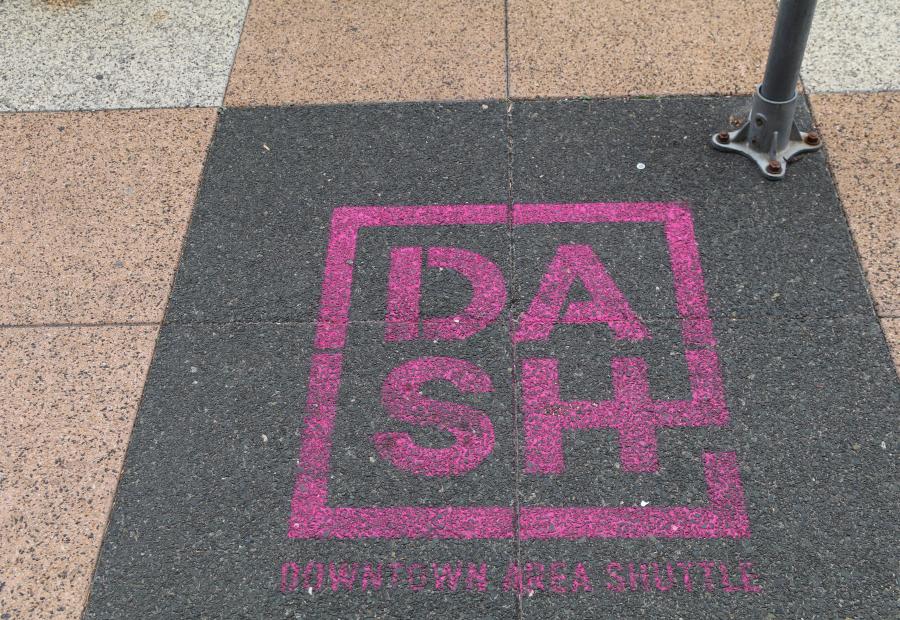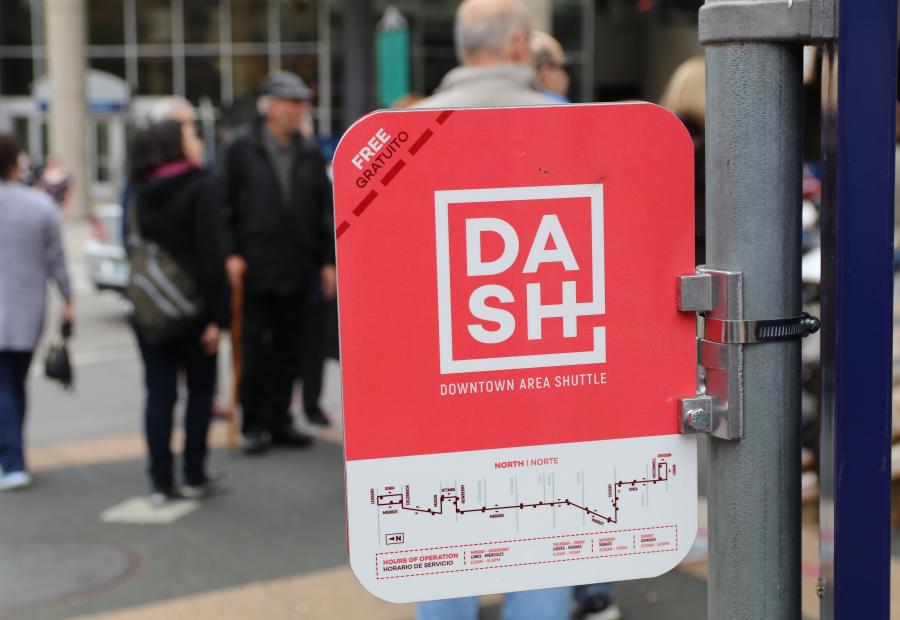 DASH markers on the sidewalk along with signs help riders find designated stops.
Photo by Experience Grand Rapids
Here are a few ideas to get you started:
The DASH bus driver will need to be signaled that you'd like to make a stop. To do that, just pull the cord above your seat when you're about a block away from your stop to let the driver know your stop is coming up. If you're not sure where your stop is, talk to your bus driver when you board and he or she will assist you.
Markets
Hop off your DASH bus at the stop near Ionia/Bridge to visit the new Bridge Street Market.
Museums
It's a quick, five-minute walk from the Pearl Street stop (just east of US 131) to visit the Grand Rapids Public Museum and the Gerald R. Ford Presidential Museum. The Monroe/Ionia Street stop brings you steps away from the Grand Rapids Art Museum and Grand Rapids African American Museum & Archives. The stop on Division Avenue (near Fulton Street) is nearby the Urban Institute for Contemporary Arts, and the Grand Rapids Children's Museum.
Shows and Concerts
Take the DASH West line to your next event at one of Grand Rapids' many downtown venues, several of which are near DASH West line bus stops.
Family Fun
Riding the DASH bus is an exciting adventure for kids. Make your family outing even more exciting by riding the DASH to many of the areas listed above such as venues, museums, and shopping centers. Additionally, riders can access the Grand Rapids Public Library by hopping off the DASH bus at the Division/Monroe Center stop. Or, to visit Rosa Parks Circle with the family, you'll want to exit the bus on Pearl Street or at the Monroe/Ionia stop.
Hotels
If you're headed to the Amway Grand Plaza, disembark your DASH bus at the Monroe/Pearl stop. Both the JW Marriott and the Courtyard by Marriott are easily accessible when you get off the DASH bus at the Monroe/Louis stop. Exit the DASH bus by the US 131 overpass on Pearl Street to access the Holiday Inn. If you're heading to CityFlatsHotel, disembark your DASH bus at the Monroe Center stops.
Restaurants & Bars
There plenty of great restaurants to visit along the DASH West Route. Here are a few of the restaurants that are near DASH West stops:
To find even more restaurants along any DASH route, you can use the Restaurant Search menu, and customize your search by adding the "downtown" filter.
Update: May Mobility autonomous vehicle shuttles also follow the DASH West route as part of a pilot project that will last though the summer of 2020. The six-seat self-driving shuttles do have an attendant and are free for riders, though seating is limited to five and is on a first-come, first-served basis.