For 20 years, visitors and locals have used Grand Rapids' free Downtown Area Shuttle known as the DASH. In August 2018, the bus service rebranded and has since offered more routes and times, and the buses are easily identifiable with their bright pink design.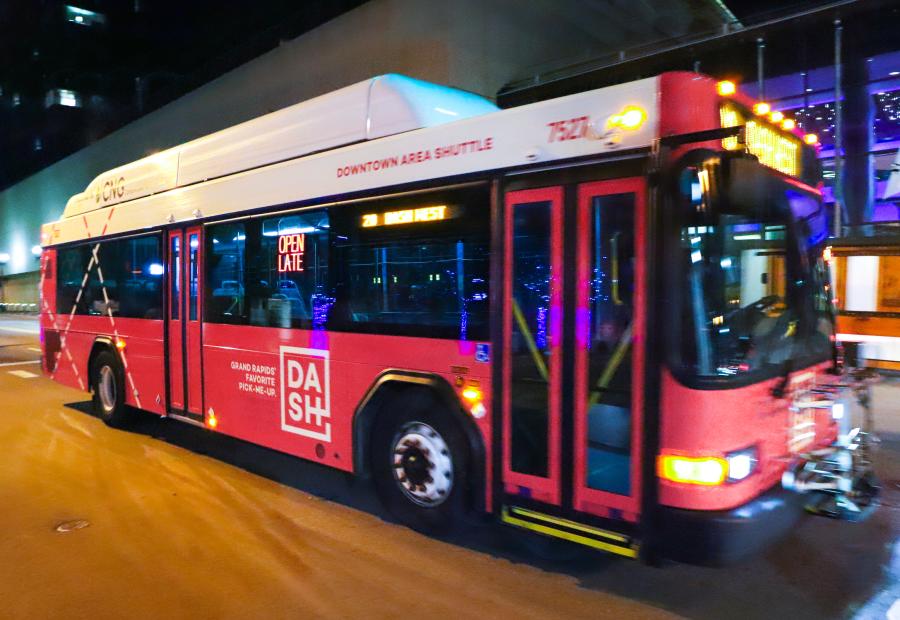 DASH buses are easily identifiable due to their bright pink design and extended availability.
Photo by Experience Grand Rapids
Hours of operation with live updates
All stops along the DASH routes are visited every eight minutes, so you don't have to wait long for a ride. No tickets or passes are needed, making boarding quick and easy.
Current operational hours for DASH routes are:
Monday through Friday, 6:30 AM to 10:00 PM

Saturday, 10:00 AM to 10:00 PM
You can also get real-time DASH departure times on the Transit and MyStop mobile apps available for Android and iOS.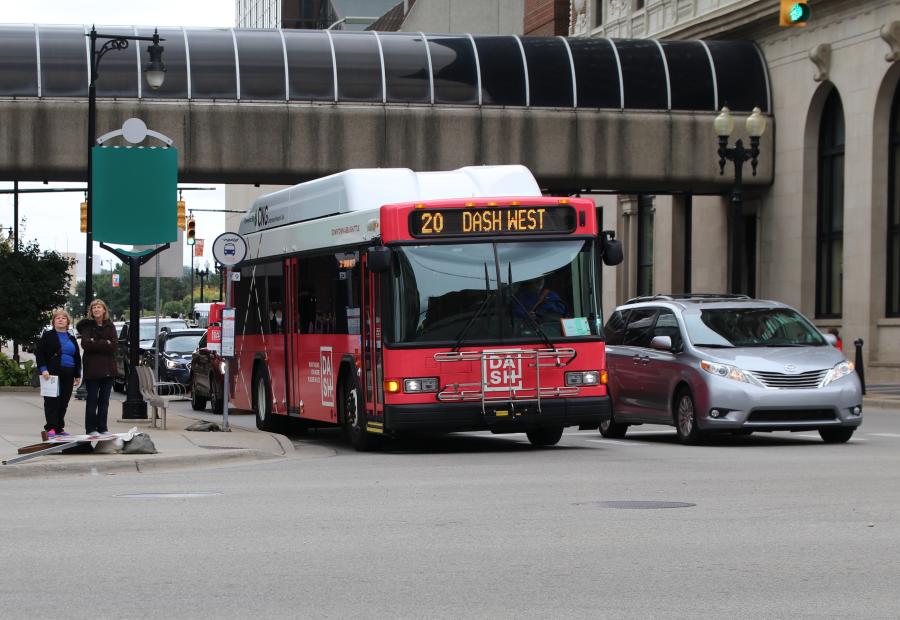 Fact: All stops along the DASH routes are visited every eight minutes.
Photo by Experience Grand Rapids
Offering convenience throughout downtown
The convenient DASH West line services the Monroe Center, Heartside and West Side areas of downtown, which include the David C. Hunting YMCA and Kendall College of Art & Design, as well as many museums, restaurants, hotels and more.
You can ride your bike to any of the DASH stops and use the DASH bike rack to transport it to your destination. If you're driving, you can park your car at a nearby DASH parking lot. There are tons of destinations within a five-minute walk of the DASH West line bus stops, making it an easy way to get around.
In addition to being convenient, the DASH is an incredibly accessible mode of transportation: all DASH buses are wheelchair accessible and air-conditioned. Strollers and guide dogs/companion animals are allowed as well.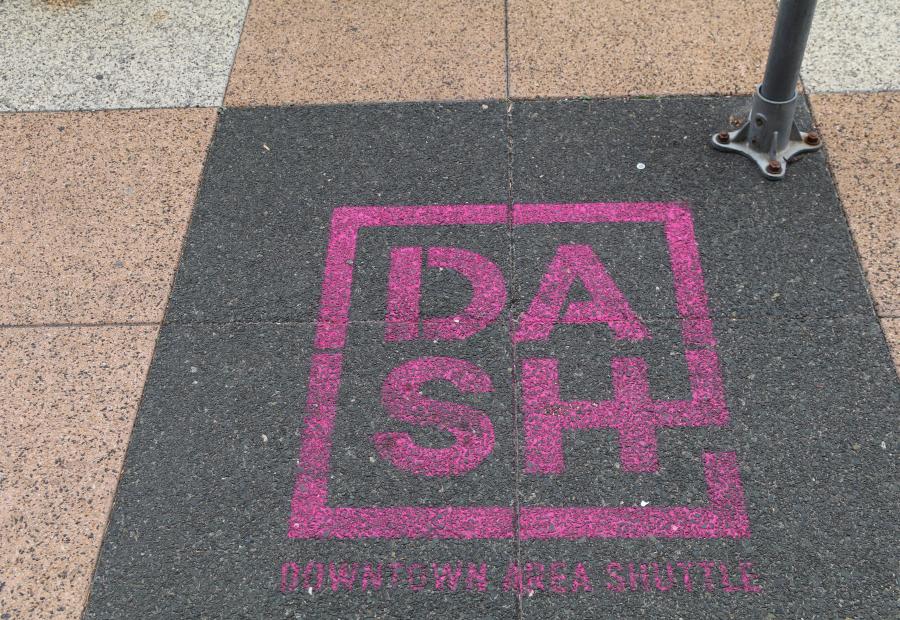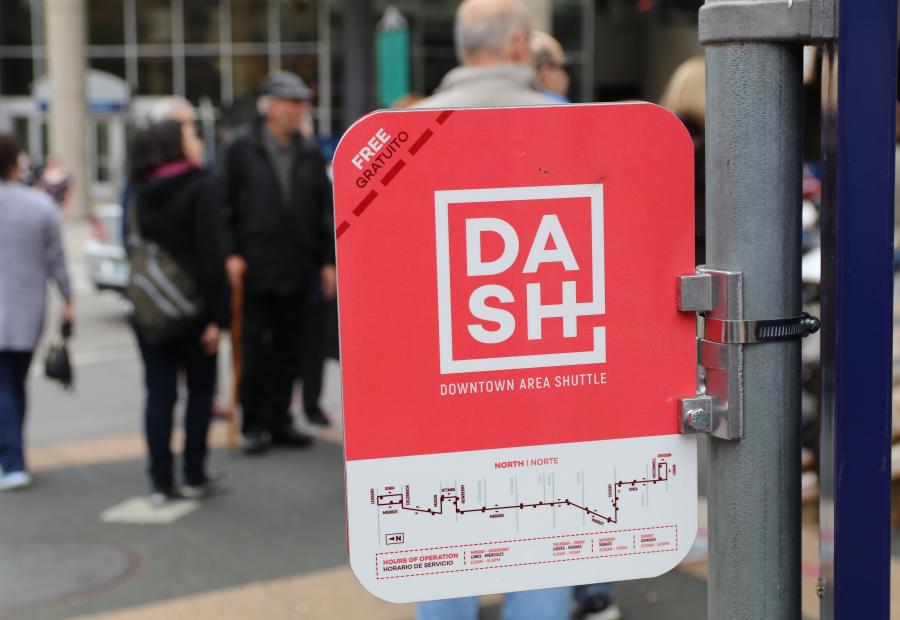 DASH markers on the sidewalk along with signs help riders find designated stops.
Photo by Experience Grand Rapids
Here are a few ideas to get you started:
The DASH bus driver will need to be signaled that you'd like to make a stop. To do that, just pull the cord above your seat when you're about a block away from your stop to let the driver know your stop is coming up. If you're not sure where your stop is, talk to your bus driver when you board and he or she will assist you.
Museums
The DASH West line also brings you within reach of the many museums downtown. It's a quick walk from the Pearl Street stop (just east of US 131) to visit the Grand Rapids Public Museum and the Gerald R. Ford Presidential Museum.
The Monroe/Ionia Street stop brings you steps away from the Grand Rapids Art Museum, the Urban Institute for Contemporary Arts, and the Grand Rapids African American Museum & Archives. If you want to visit the Grand Rapids Children's Museum, get off at the stop on Division Avenue near Fulton Street.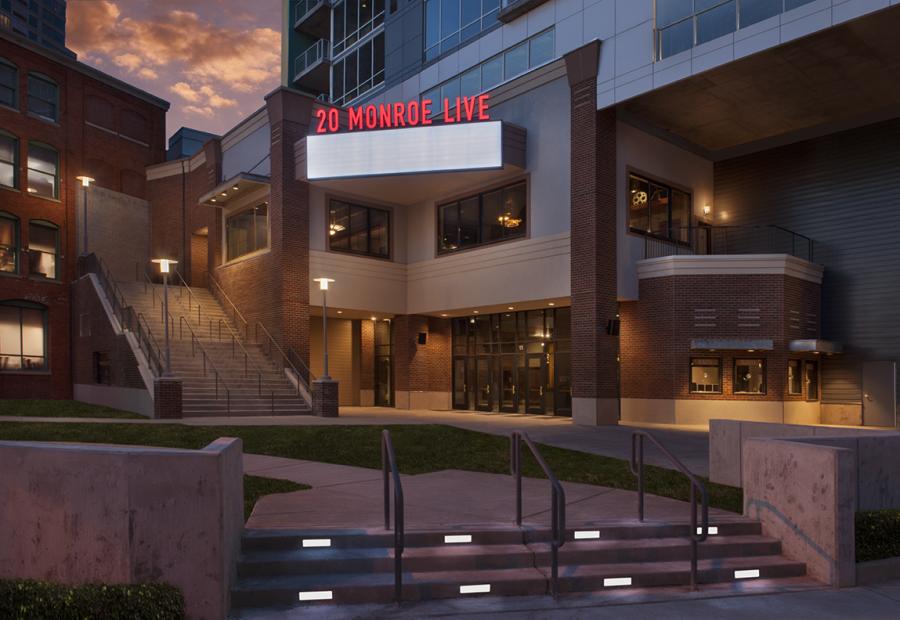 Several Grand Rapids venues, like GLC Live at 20 Monroe, are conveniently located near stops on the DASH West route.
Photo by Ryan Forbes
Theatres and Concert Venues
Take the DASH West line to your next event at one of Grand Rapids' many downtown venues, several of which are near DASH West line bus stops. To get to the Grand Rapids Civic Theater, take the Division/Library stop. For Van Andel Arena or GLC Live at 20 Monroe, you'll want the Ottawa/Fulton stop.
Family Fun
Riding the DASH bus is an exciting adventure for kids. Make your family outing even more fun by riding the DASH to your destination. In addition to museums and venues, riders can access the Grand Rapids Public Library by hopping off the DASH bus at the Division/Monroe Center stop.
Or, to visit Rosa Parks Circle with the family, you'll want to exit the bus on Pearl Street or at the Monroe Center/Ionia stop. Other parks on the DASH West line include Crescent Park, a short walk from the Division/Fountain stop, and Ah-Nab-Awen Park, near the Pearl stop just east of US 131.
Hotels
The DASH also runs along several popular Grand Rapids hotels, allowing visitors to get around the city without having to drive. If you're headed to the Amway Grand Plaza, the JW Marriott or the Courtyard by Marriott hop off the DASH bus at the Pearl/Monroe stop. Exit the DASH bus by the US 131 overpass on Pearl Street to access the Holiday Inn. If you're heading to CityFlatsHotel, get off at the Ionia/Monroe Center stop.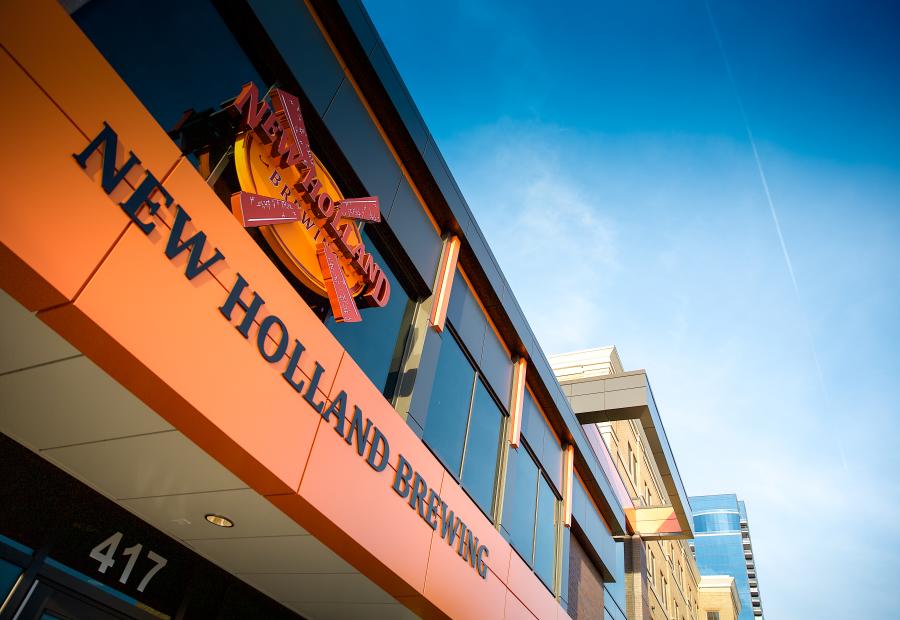 The DASH West line brings riders within reach of dozens of restaurants all over Grand Rapids.
Photo by Terry Johnston
Food & Dining
There plenty of great places to eat along the DASH West Route. At the Bridge/Seward stop, you'll find One Bourbon and Harmony Hall, both of which offer a wide variety of beverages perfectly paired with comfort food. The Bridge/Broadway stop brings you straight to a Grand Rapids favorite: New Holland-The Knickerbocker, where you can get into the craft beer scene. Also nearby are Condado Tacos and Butcher's Union, as well as Bridge Street Market , which features a wide selection of local and artisan groceries in addition to popular name-brand products.
The Monroe/Pearl stop brings you to a hub of exceptional cuisine. You're just steps away from The Kitchen by Wolfgang Puck and MDRD, both of which are located in the Amway Grand Plaza. Margaux, a classic French bistro inside the JW Marriott, is also nearby. Continuing south on the DASH will bring you to Rockwell Republic near the Weston/Division stop, equipped with a menu for brunch, lunch, dinner and cocktails. 
The Oakes/Commerce stop has a lot to offer as well, from the ambiance of Lantern Coffee Bar and Lounge to the night life at The Pyramid Scheme. Some must-try restaurants are located nearby as well, including Luna and Stella's Lounge. Head north on the DASH to get to the Ottawa/Fulton stop and you'll be steps away from great finds like Stan's Tacos and Bistro Bella Vita. Or stop by Social House Kitchen and Bar for a mouth-watering menu and an unmatched list of beer, cocktails, wine and more.
The list keeps going once you get to the Monroe Center/Ionia stop. If you're looking for a craft beverage paired with a delicious entre, Brick & Porter, HopCat and Grand Rapids Brewing will all meet your expectations. Soho Sushi is also a nearby favorite, sporting a diverse menu of Japanese, Chinese and Thai food.
To find even more restaurants along any DASH West route, you can use the Restaurant Search menu, and customize your search by adding the "downtown" filter.
No matter what's on your itinerary for your day in downtown Grand Rapids, the DASH can get you there!