Taking cues from design pioneers
In a design-centric region that is home to furniture design pioneers like Herman Miller (think the iconic Eames Lounge and Aeron chairs) and Steelcase (check out the SILQ office chair that intuitively responds to its occupant's movements), it may come as no surprise that design thinking is driving innovation in education, as well.
In West Michigan, educational institutions and enterprises are becoming purveyors of the collaborative problem-solving methodology that employs empathy to understand and clearly define a problem, then engages in collective ideation and several rounds of prototyping, trial and error before landing on – and employing – a solution.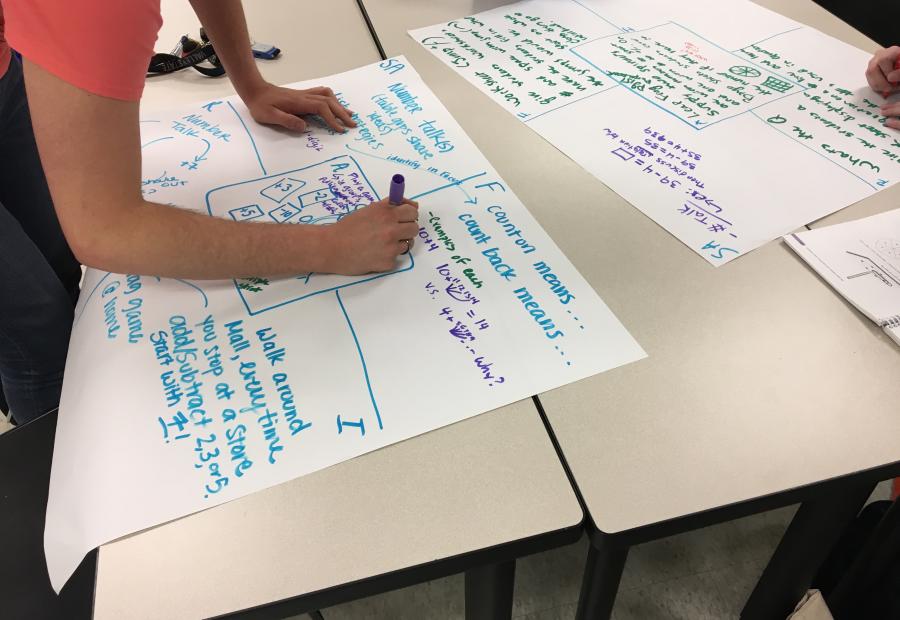 Design thinking drives innovation learning at schools and business throughout the Grand Rapids area.
Photo by Dr. David Coffey of Grand Valley State University
A human-centered approach
The process is human-centered. According to Tim Brown, CEO and president of global design company IDEO – formerly a division of Steelcase – innovation born of design thinking is powered by a thorough understanding, through direct observation, of what people want and need in their lives and what they like or dislike about the things designed to meet those wants and needs. This goes well beyond product design and applies to services, processes, experiences and strategies. Design thinking brings a human-centered approach to how these things are conceptualized, made, marketed, sold, delivered and supported.
Dr. David Coffey, a mathematics professor at Grand Valley State University (GVSU), points to these human-centered solutions as a reason design thinking is critical to innovation in education.
"We have de-humanized the profession of teaching by focusing almost entirely on quantitative data from test-scores," he says. "Design thinking brings empathy back into the decision-making process; this helps us to plan lessons, curricula, classrooms, schools ... with children in mind."
Empowering students to be problem solvers
Coffey, who was trained at the Stanford d.school, is part of the Design Thinking Initiative through the Pew Faculty Teaching and Learning Center at GVSU and is a consultant for the university's Design Thinking Academy.
The academy is a non-credit program on design thinking patterned after the Stanford d.school and aims to prepare students to be innovative problem solvers who will find and lead solutions to civic, social and business challenges. It's the first program of its kind for undergraduate students.
Participants begin with a design thinking deep dive, then they are assigned a client. The students work with that client and a small academy team – including a GVSU faculty coach – to develop a solution to a community-based issue.
"Design thinking is essentially creative problem solving," explains Coffey.  "And the current problems in education could use some creative solutions. Too often we tinker around the edges or repurpose old ideas and nothing really changes. Design thinking offers a set of mindsets and methods that can bring creativity back into educational decision-making; it encourages out-of-the-box thinking."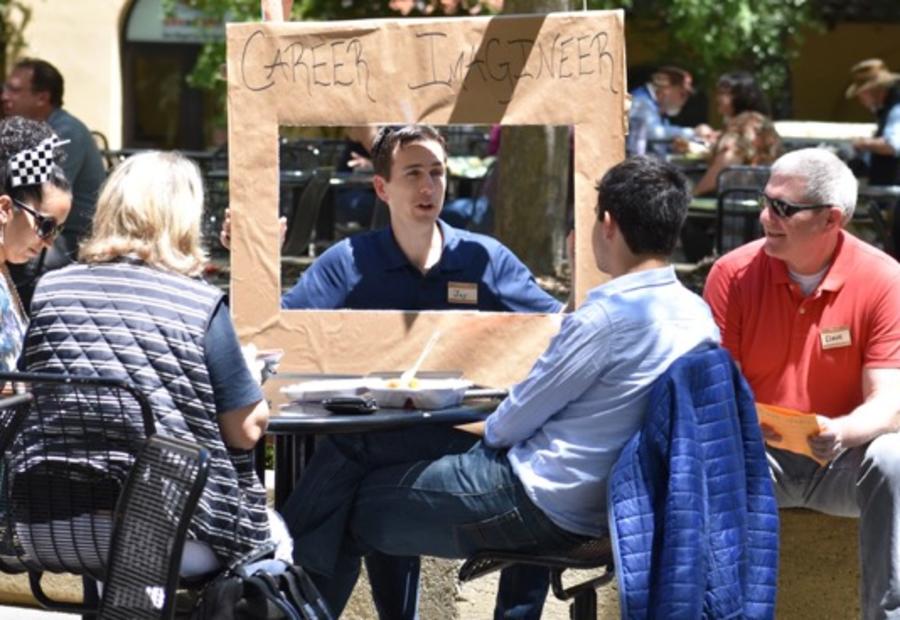 A group discussion at California's Stanford d.school, whose philosophies inspire local design thinking leaders.
Photo by Standford d.school
That's why many Grand Rapids-area educators are applying design thinking to everything from corporate workshops and career training to after-school programs, university curricula, model school development, facility design, K12 school district strategy and pedagogy.
Goals are to enhance equity and inclusion and create immersive learning experiences that promote problem solving, encourage student and community engagement, and deliver a more satisfying and successful educational experience.
Out-of-the-box and out-of-the-classroom thinking
Grand Rapids Public Schools recognizes the power of design thinking and uses it to shape facility renovations and design, model programs, Centers of Innovation, professional development and community engagement. 
The Grand Rapids Public Museum School illustrates just how integral design thinking is to the district's vision and growth.
The idea for an urban middle and high school housed in the city's former public museum was sparked by a 2012 chat between running buddies – the Grand Rapids Public Museum director Dale Robertson and the then Grand Rapids Public School Board president and professor at Ferris State University Dr. Tony Baker. They brought the idea to then-GRPS Superintendent Teresa Weatherall Neil, who picked up the baton and included the idea in the District Transformation Plan later that year.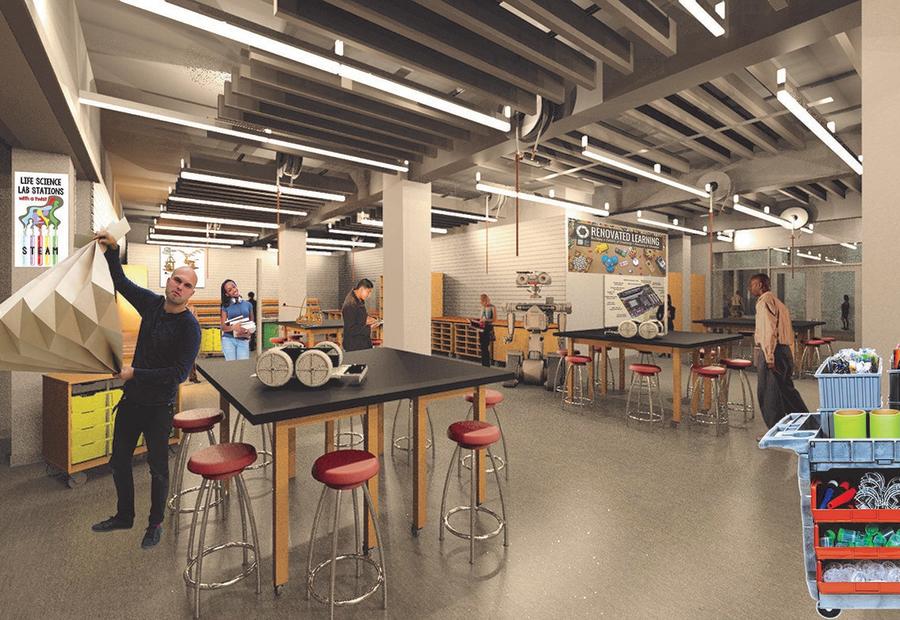 A mockup of a classroom setting in the Public Museum School shows how students would engage with the space.
Photo by Media 3 Design
From the beginning, the concept was for a school with a design-thinking, place-based curriculum that would use the community as a classroom. So, when it came time to transform the concept into reality, naturally, design thinking drove the collaborative, human-centered solution-building process. Community engagement was key, so several partners were brought on board.  
District and public museum leaders engaged design thinking practitioners from Kendall College of Art and Design (KCAD) of Ferris State University. They also brought on faculty and administrators from the College of Education and Office of Place-Based Education at GVSU.
And because organizers firmly believed that schools can help drive community revitalization and civic engagement, partners and planners from the City of Grand Rapids and Downtown Grand Rapids, Inc. were invited to the table.
"We recognized immediately that we would need the city as a partner because we're training students to be civically engaged," explains Gayle DeBruyn, professor and chair of the Collaborative Design, and Master of Arts in Design programs at KCAD and one of the architects of the Museum School.
The plan was to "tear down the walls" of the traditional school, use the community as a classroom and empower students as problem solvers, active learners, creative thinkers and engaged citizens.
"Design thinking requires learning, doing and making," DeBruyn says. "We learn by listening – by hearing each other. We brought together a city, two universities, a public school district and a cultural institution to build this school. We heard what each had to say, and we created a new way to think about education."
The Museum School launched as a sixth grade program with 60 students in 2015 today serves scholars in grades six through 12. The middle school is housed on the fourth floor of the Grand Rapids Public Museum, nestled on the banks of the city's namesake Grand River, while the high school is housed in the former museum building about a mile east of the riverside facility. The high school building is adjacent to the public museum's Community Archives and Research Center, which serves as an extended classroom.
John Helmholdt, Executive Director of Communications & External Affairs at GRPS, describes the impact of design thinking on the way students learn at the Museum School.
"It's not just sit and get. It's collaborative. Students work together on ideation and problem solving, with the museum, its exhibits and archives, the river, cultural institutions, city hall, and every community asset within a two-mile radius serving as their classroom."
The partnerships with KCAD and the GVSU College of Education continue today, with faculty deeply involved in developing Museum School curriculum.
Christopher Hanks, Museum School principal and former faculty member in the GVSU College of Education, describes the impact of infusing design thinking into the curriculum this way: "We want to transform the students from consumers of education to producers of it."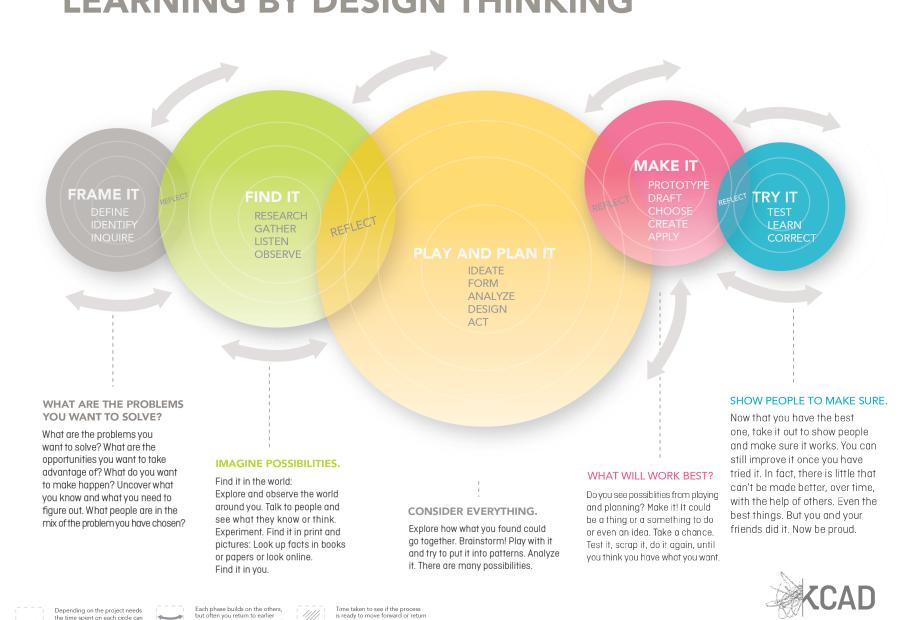 This diagram maps out the interactive nature of learning by design thinking.
Photo by Kendall College of Art and Design
XQ Super School
By all accounts, they're on the right track, and they have a $10 million XQ Super School award to prove it.
The XQ Super School project is a competition inviting America to reimagine high school. Innovative high schools compete for $100 million in grant money, and the Museum School was one of 18 first-round winners.
In addition to funding buildout of the high school, GRPS has earmarked grant dollars to invest in an Institute for Design Thinking and Place-Based Education. They are partnering on plans with KCAD and GVSU and envision an institute where teachers from throughout the region could visit to learn about the Museum School's teaching model.
Listening to community
The Grand Rapids Public Museum and a group of community partners used design thinking to create an out-of-the-box Museum School that uses the community as a classroom and encourages students to be creative problem solvers. But that's not the only place GRPS applied design thinking to enhance K12 education in Grand Rapids.
In March 2018, the district employed design thinking to build on the success of its 2012 Transformation Plan. For this process, they engaged Public Agency, a design thinking consultancy and social enterprise of the West Michigan Center for Arts and Technology (WMCAT).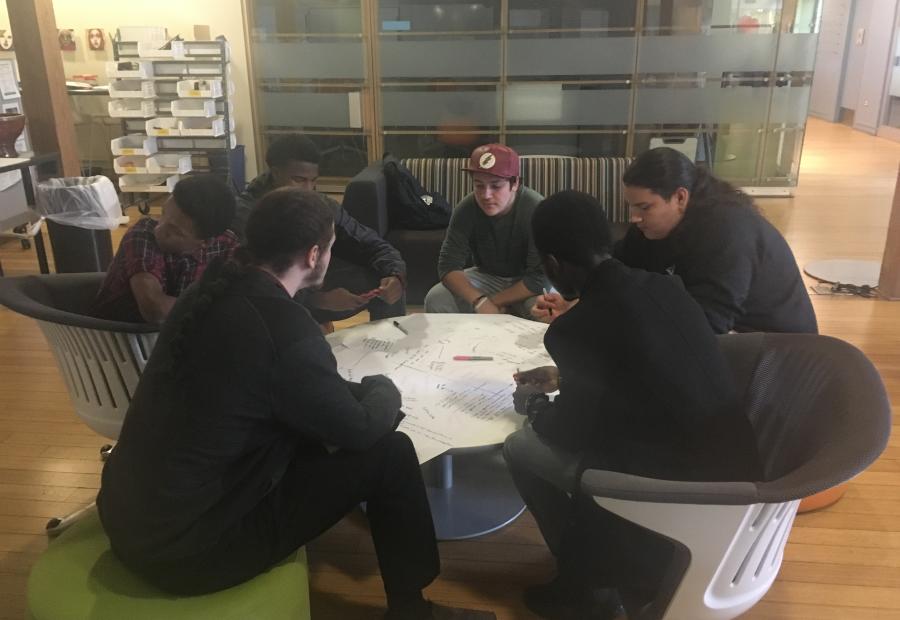 West Michigan Center for Arts and Technology teens discussing problem solving using design thinking strategy.
Photo by West Michigan Center for Arts and Technology
A team of Public Agency facilitators called Community Catalysts led GRPS students, parents, administers, teachers and community partners through a design thinking approach to community engagement.
It included a two-week listening tour with meetings in four corners of the city. Community Catalysts sought answers to four questions:
What's working in our schools?
What's not?
What are the barriers to success?
What could we be doing? What are the opportunities for innovation and growth?
"What we experienced was a new and exciting way to engage the community," says GRPS's Helmholdt. "This wasn't your typical 3-minutes-at-the-microphone vent session. This was a healthy, well-organized and constructive dialogue. Every individual who showed up was engaged. Their voices were drawn out in an authentic way in answer to every question."
The district also conducted a survey among parents, students, teachers and community partners. In all, 500 people engaged in the process.
GRPS listened to those 500 voices to better define the district's issues and understand the community's needs and wants. They're now using what they learned to design solutions to include in the next phase of the district's Transformation Plan.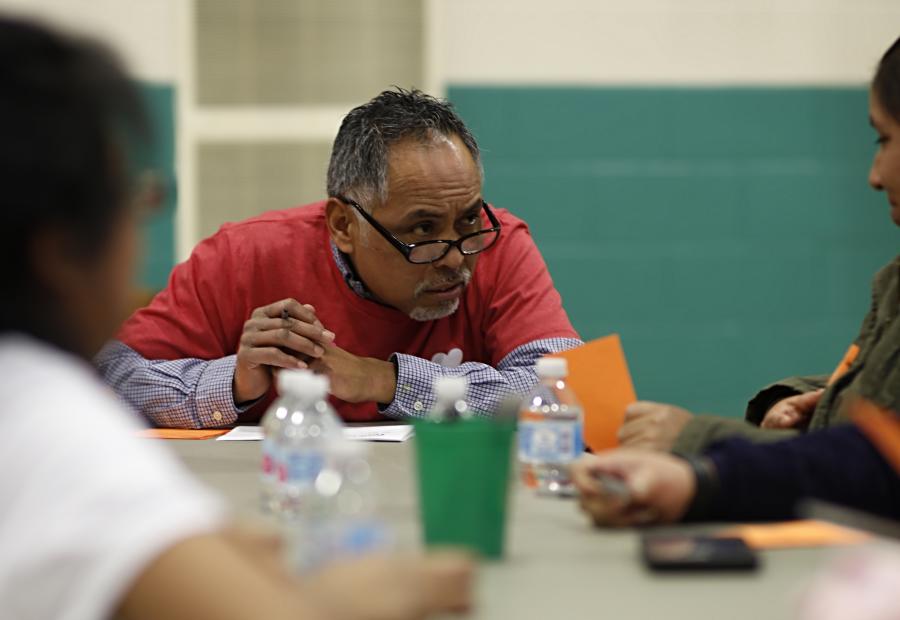 Public Agency facilitator leads a group of Grand Rapids Public School students through a listening tour.
Photo by Grand Rapids Public Schools
Stretching the boundaries of design
This process was overseen by Adam Weiler, who was then WMCAT's director of social enterprise and leader of Public Agency (and is now global manager for social innovation at Steelcase). Weiler applied in past experience as an executive coach at the Stanford d.school both in design thinking consultancy and in WMCAT's programming.
WMCAT provides a culture of opportunity for people to create social and economic progress in their lives and community. They do so by providing access to arts and technology programming for teens, career training for adults in various healthcare fields and through social expertise.
WMCAT uses design thinking on two levels. First, the process helps the staff identify pain points and opportunities to increase the effectiveness of their programming. Their adult program staff recently used behavioral insights to redesign their orientation which has led to increased student retention. Second, they teach the methodology to their high school students to become better problem solvers. WMCAT teens are paired with community partners and use the design thinking framework to create solutions that address the partners' creative needs (such as murals, photo-essays, videos, or promotional campaigns).
The applications of design thinking in education are seemingly endless.
As Weiler observes, "Design is a powerful tool that has helped corporations gain insight and create new opportunities that increase the value of their offerings. With design thinking, those tools, methods, and mindsets are pushing into the public realm helping people in social services, K12 education, governance, and community development improve their services.
"At the core of design thinking, there is a unique blend of optimism and empathy – a belief that 'whatever is' might be reimagined to be more beautiful, sustainable and healthier for everyone it touches."
With design thinking one looks for surprises, contradictions, and tensions as fertile territory to design in, Weiler points out. For WMCAT students and for our community, that helps create more equitable access to opportunity.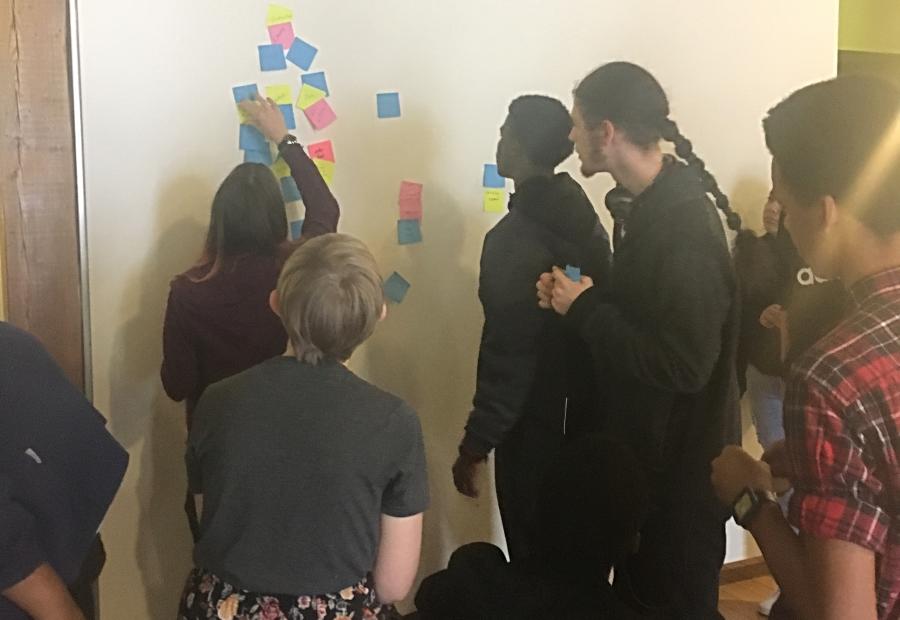 West Michigan Center for Arts and Technology youth using design thinking to figure out a problem.
Photo by West Michigan Center for Arts and Technology
Grand Rapids is fueled by a creative, collaborative spirit that generates global, national and entrepreneurial investment. Experience Grand Rapids highlights leading sectors of the local economy to underscore the city's suitability for innovation-focused meetings.