"What does Experience Grand Rapids do?" That's a question we're often asked. Our reply is saying we inspire people to visit Grand Rapids for leisure and conventions. Which is the short, not so fun, answer.
Recently we've been telling people that what we do is similar in many ways to online dating.
When you come across an online profile that catches your eye, you take a closer look to see if the person looks like the right fit for you. When a visitor researches a destination by checking out the website, we know their interested. At this point we'd start "flirting" by targeting ads and continuing to intrigue them with our content.
When you get ready to meet someone, you want to put your "best self" forward. You think about what you're going to wear and maybe even purchase something new. This is a lot like what we do when we introduce our city to someone. We want to show the best our destination has to offer through powerful images and messages.
Next the dating phase begins. Those "dating" Grand Rapids are our visitors. They may have read online reviews and checked with their friends for advice. They likely came here because they want to explore local attractions or activities they're interested in.  Or, maybe, a family member or friend "set them up" by recommending a visit.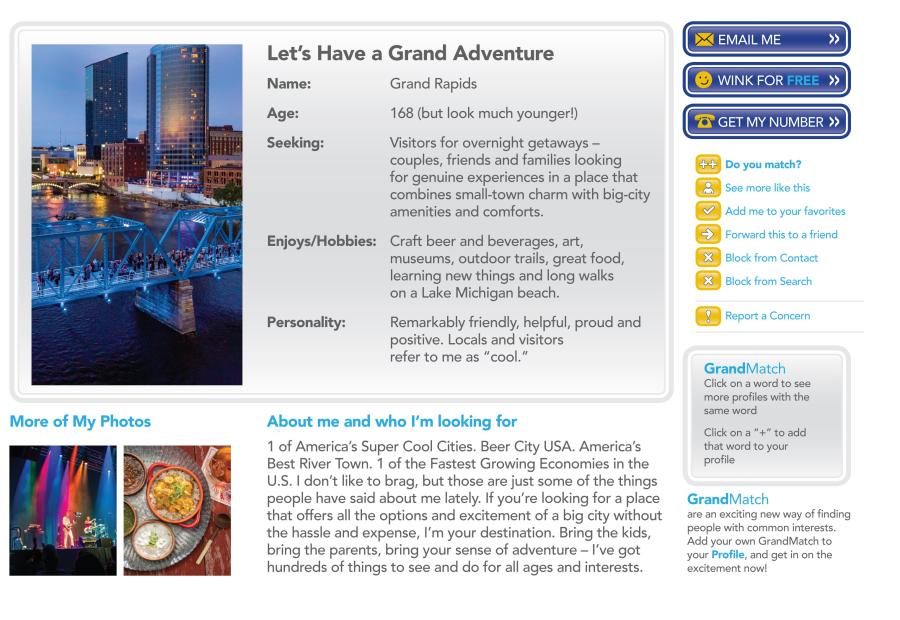 Grand Rapids is searching for a great connection that enjoys being active outdoors, sipping on craft beer and listening to music. Swipe right on Grand Rapids!
As time goes by, you grow more interested in the background of the person you're dating.  In our case, visitors want to follow the story about this place. People who are "dating" Grand Rapids are more likely to read and spend time with our content. – that's where our blogs and extensive web content come in.
As relationships get stronger you look for common interests – things you can enjoy doing together. You spend more time together.
Fans of Grand Rapids plan their next trip here. They share their experiences with others and post about them online. These fans help support and extend our storytelling.
In fact, our research tells us that 67% of our visitors come here more than once a year and 82% have been here at least once before.  These are the people who have fallen in love with Grand Rapids, and their stories help us nurture new relationships with people who are flirting with our town.