Grand Rapids residents and visitors now have another option for convenient transportation in the downtown area. The city has partnered with Ann Arbor, Michigan-based May Mobility to maintain a fleet of autonomous shuttles that are available on-demand … and they're totally FREE to ride!
An autonomous shuttle is a vehicle that is capable of sensing its environment and operating without human involvement. It's equipped with self-driving software that allows for curbside pickup and drop-off at designated stops along a preprogrammed route.
Safe and Reliable
If you're leery about riding in a car that drives itself, you can take comfort in the fact that this service has been safely operating in Grand Rapids since July 2019. Plus, each vehicle has a fleet attendant who sits behind the wheel for every ride and is able to regain control of the car. Attendants can also talk riders through autonomous vehicle technology and announce stops for the visually and hearing impaired.
Service Route and Hours
The autonomous fleet includes four Lexus SUV hybrids and one wheelchair-accessible Polaris GEM electric vehicle equipped with May Mobility's autonomous technology. They operate within a 1.36 sq. mile service zone that includes more than 20 designated pickup and drop-off areas in downtown Grand Rapids and the near West Side. (Click here for a service map.) The shuttles accommodate three riders (in addition to the attendant) and are available on a first-come, first-served basis. They operate Monday-Friday from 7 am-7 pm.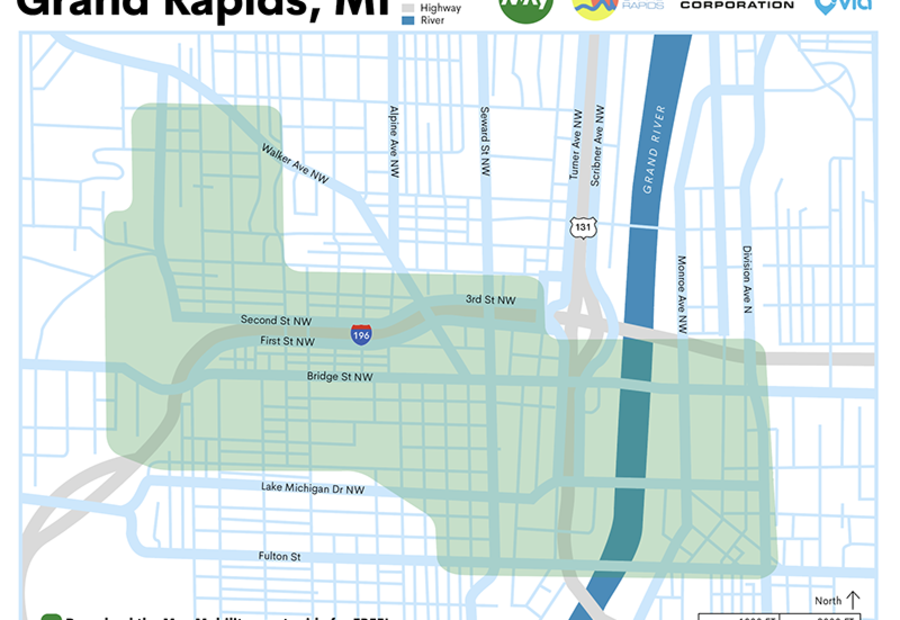 Download the May Mobility app to ride for FREE!
How to Hail a Ride
To request a ride, you must first download the May Mobility app, which is available for both Android and iOS devices. The app will show you the nearest pickup location and suggested drop-off location closest to your point of interest, as well as the current wait time for a vehicle. Then just follow the in-app directions to make your way to the pickup spot for your FREE ride.
Why Choose Autonomous?
Self-driving shuttles decrease traffic congestion, reduce emissions and expand the scope of accessible transportation available to the community. They're also a fun and novel way to travel – so be sure to share your trip on social media with the tag #AVGR.