Grand Rapids has a vision for transportation in the city of tomorrow. And while it includes a world where ridesharing and autonomous vehicles change how we get around town, the vision extends well beyond cars. It's a vision rooted in a comprehensive master plan and supported by a thriving bus rapid transit system and a growing bicycle infrastructure, among other elements. The vision is multi-modal, reflecting the city's deep appreciation for the varied types of transportation needed to enhance quality of life and support future economic growth. What you find here is:
An all-encompassing Vital Streets master plan to ensure every street in the city works to move everyone in the safest, most efficient and most pleasant, as well as the most environmentally friendly, way possible;
An award-winning public transit system known as The Rapid, which encompasses two bus rapid transit (BRT) lines; and
A progressive bicycle infrastructure and a sharp focus on bike safety – over 80 miles of bike lanes constructed since 2012 (with plans for another 150 miles) and the first Michigan city to adopt a rule requiring five feet of clearance (rather than the typical three) between a passing vehicle and a cyclist.
"Grand Rapids is quickly becoming a hot-growth city, and we're looking to get ahead of the curve in terms of population trends, the housing market, and future mobility demands," said Tim Mroz, of The Right Place Inc., West Michigan's economic development organization. "We want to be a beacon for growth, stay true to our green roots, and avoid transit congestion to ensure Grand Rapids is a place where people and businesses thrive."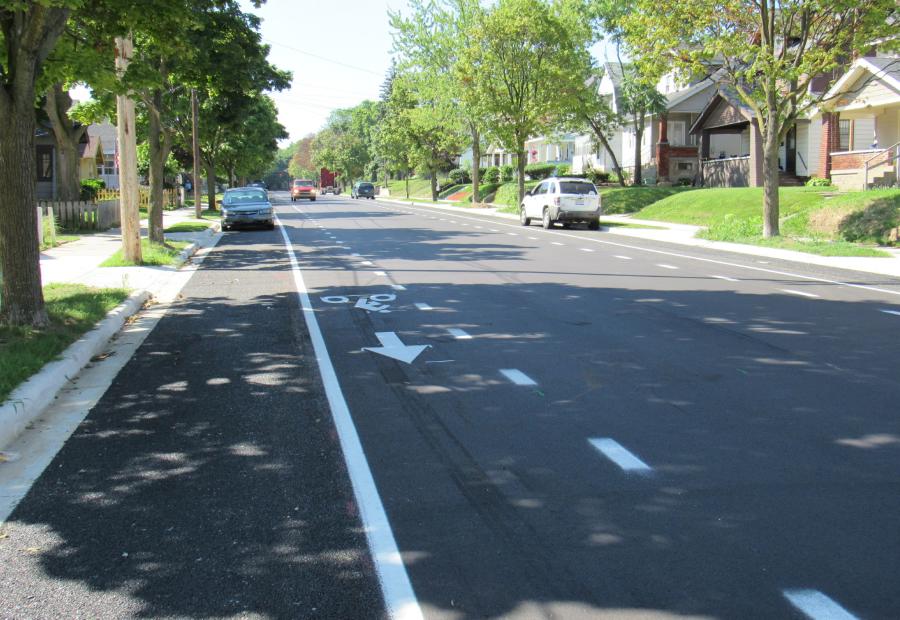 Vital Streets bicycle infrastructure
Photo by City of Grand Rapids
A master plan for vital streets
So, yes, creating a top-tier city is on the agenda. And providing an infrastructure for that ambitious goal is the city's Vital Streets plan.
This master plan classifies every street in Grand Rapids according to its use, outlining best practices for future sustainable development. It identifies the kind of transportation major roads are best suited for, whether vehicles, bicycles, freight, public transit or a blend of all. Adopted by the city in December 2016, Vital Streets combines the "complete street" philosophy of roads for all modes of transportation and every user with the "green street" philosophy of green infrastructure and stormwater management.
Grand Rapids voters established the Vital Streets fund in 2014 and the public continues to engage in project planning. In 2018, Vital Street Plan won a National Planning Achievement Award from the American Planning Association for implementing design guidelines to rebuild safer, more accessible streets and revitalize neighborhoods. 
Grand Rapids has nearly 200,000 residents, and about 6,400 currently live downtown. But the city is planning for 12,000, with hundreds of housing units coming online downtown and in surrounding neighborhoods.
Public investment in infrastructure has spurred private investment in downtown businesses, restaurants, retailers, entertainment venues and leisure attractions, which has in turn increased demand for center-city housing. The result is more thriving storefronts, stronger neighborhoods and a higher quality of life for all.
Making all of that work is the Vital Streets plan, which uniquely marries the complete streets and green street philosophies. The city put that thinking to work in creating the 2.2-acre Joe Taylor Park on top of a storm water treatment facility.
Merging public infrastructure to leverage quality-of-life improvements with a park in the middle of a neighborhood is an example of the innovative approach Grand Rapids takes to urban planning.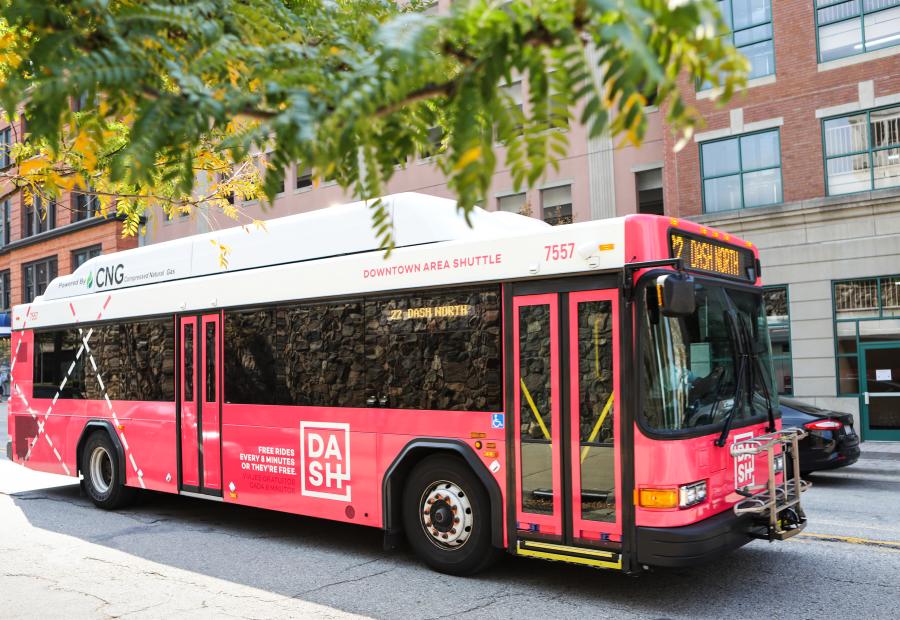 The DASH was re-branded in 2018.
Photo by Experience Grand Rapids
Public transit: moving the city's lifeblood
That comprehensive approach is also part of Nick Monoyios' thinking. The long-range planner for The Rapid public transit system said the city is working with several agencies to create robust public transportation options.
"It's more than drawing lines for routes," Monoyios said. "We want to develop a system that is inviting for people to use on a regular basis, sparking business attraction and retention." In addition to dependable service, that involves attractive and convenient bus stops, mobile ticketing and Internet applications that show real-time arrival schedules, for example.
"We're not anti-car or anti-parking, but transportation is the second-highest household expense after housing, and we want to provide choice," Monoyios said. "We're shooting for efficiency and convenience, but also equity in terms of meeting the needs of all residents, at all income levels."
Ridership has consistently increased on the city's (North/South) Silver Line BRT service, which has drawn the attention of other cities looking to improve their public transit infrastructure. A second BRT service – the (East/West) Laker Line, for which Monoyios serves as project manager – connects downtown Grand Rapids to the Allendale campus of Grand Valley State University, passing through four cities/townships and two counties along the way.
In addition, the city's Downtown Area Shuttle (DASH) system provides free shuttle service so people only have to park once when they are downtown.
But further improvement is Monoyios' top priority, and he's passionate about the mission. "Public transit is the veins and arteries of the city, providing for the movement of people who are the city's lifeblood," he said.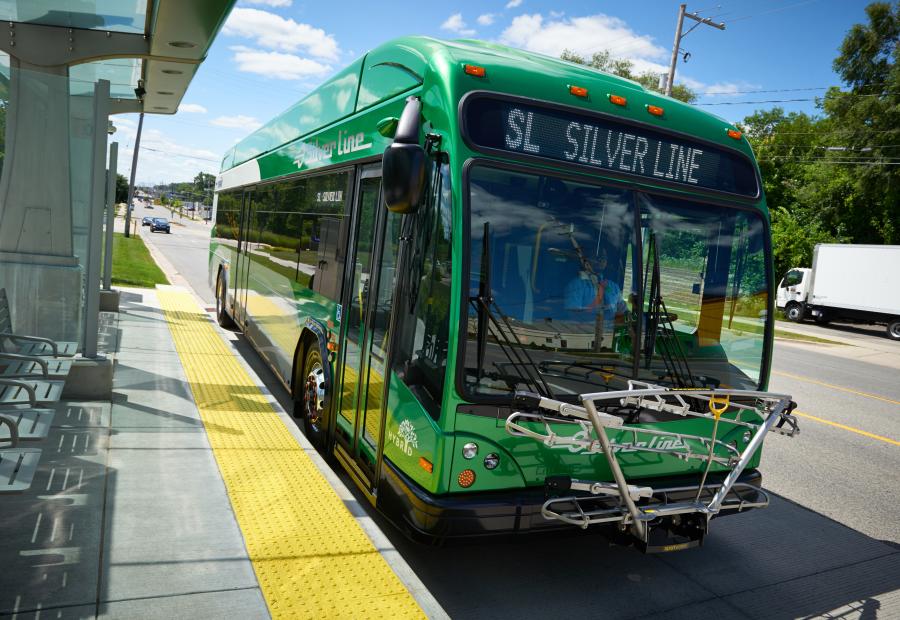 Silver Line BRT
Photo by The Rapid
From buses to bikes
Enhancements to the city's bicycle infrastructure are also in the works. The city adopted a Bicycle Action Plan in 2019, which laid out a roadmap for tripling the existing bicycle network and developing a public bike-sharing program.
In September 2020, the city launched a pilot program making hundreds of electrically assisted bikes and stand-up electric scooters available over a 12-square-mile radius encompassing downtown and about a dozen surrounding neighborhoods. The results of the nearly two-year "micromobility" pilot – which included roughly 587,000 e-vehicle trips covering 917,000 miles – prompted the city to implement the sharing program as a permanent ride option for residents.
"We're looking to make bike sharing a part of the city's larger transportation strategy, to make Grand Rapids a truly multi-modal community," says John Naramore, Mobile GR Director for the city of Grand Rapids. "Our focus is on moving people and providing services so they can traverse the city in a way that enhances the city's economy and quality of life."
That requires sound bicycle infrastructure, including bike paths, protected bike facilities, and strategies for bikes to share the roadway with other modes of transportation on well-maintained streets – all elements of the Vital Streets plan.
"We want to reduce the need for people to have a car and drive alone, and to provide options for people to do that," Naramore said. "If you don't want to own two or more cars, what are the services we can offer?"
There's a "loose target" to increase the number of people not driving alone in Grand Rapids to 10 percent of the population, he said. Currently, just 2 percent fall into that category, but bicycles are a way to help get that up to 6 or 7 percent over the next 15 to 20 years.
Grand Rapids is at a distinct advantage for addressing such infrastructure challenges because it is a smaller mid-size city with great support from the public sector, including universities, and also from the private sector, Naramore said. Additionally, the city has geographic proximity ­– it's not spread over a large area.
But what has most impressed him are the high goals the city sets for itself in addressing the challenges of modern urban living.
"Whatever the city does, the ultimate question is always: How does it improve the economy and quality of life for people who live here? The city is committed to having honest conversations about what Grand Rapids has been and what it can be."
What those conversations have produced is a city that addresses the infrastructure challenges of today with a determined focus on what tomorrow may bring.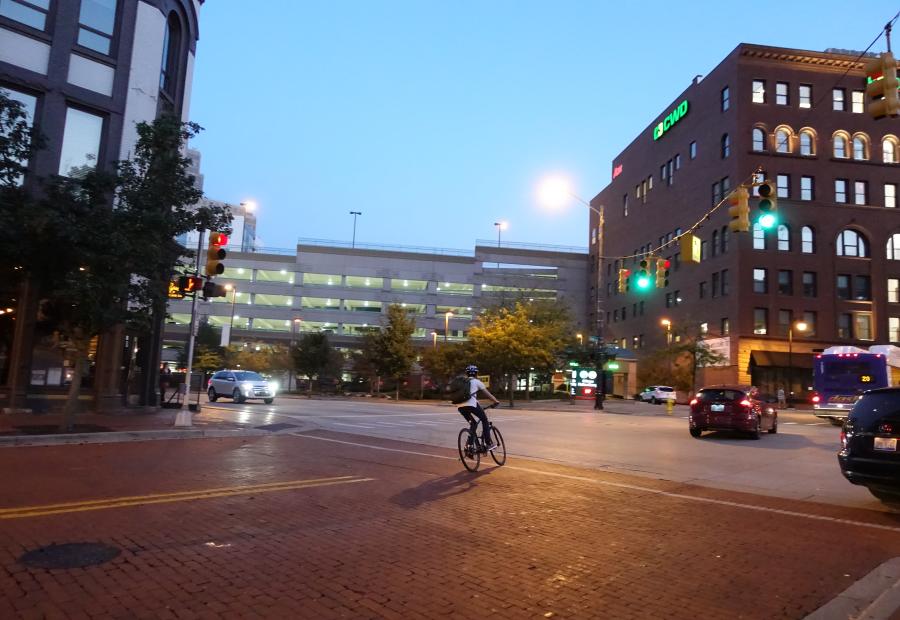 Ionia Fulton Bicyclist
Photo by City of Grand Rapids
Michigan's fastest growing metro area and one of the nation's strongest economies, Grand Rapids is fueled by a creative, collaborative spirit that generates global, national and entrepreneurial investment. Experience Grand Rapids highlights leading sectors of the local economy to underscore the city's suitability for innovation-focused meetings.