As the region's destination marketing organization, Experience Grand Rapids takes pride in – and leverages – the fact that Grand Rapids is a fantastic four-season destination. As a tourism organization that embraces the beauty of each season, it's vital that we have a strong and meaningful presence in the community year-round, as well. Having that presence means embracing and working to strengthen the cultural diversity that enhances our local quality of life and appeals to people who want to visit and even move to Grand Rapids.
It's About More Than Tourism
Through community outreach and engagement events, Experience Grand Rapids aims to be more than a tourism organization. We can also be a catalyst for community development. Here's how.
Understanding the point of engagement is critical. We learn more about our diverse cultures and cultural offerings as we engage in our local community. We learn where the locals go, what events they love, and what visitors might be interested in. So, instead of promoting an event just because it's what was done before, we promote the unique cultures and distinct offerings of our community.
For instance, over the summer, Experience Grand Rapids has had the incredible opportunity to diversify its palette of exciting events and activities to promote by leaning into different communities and initiatives — understanding which communities to engage and when is part of the process. By being intentional about our community outreach, we deepen our understanding of this community and all it offers. By extension, we become a trusted asset to visitors and the community we serve.
Impactful Events as the Weather Changed
As the weather became more favorable for outdoor events, Jordoun Eatman, vice president of engagement & inclusion, and his team thought about how they could intentionally and authentically immerse themselves into the different communities' trusted spaces. Once the community frequently saw Jordoun and his team in these spaces, they began to welcome the Experience Grand Rapids team with smiles and hugs.
A few examples of meaningful community activations include:
The Grand Rapids Neighborhood Summit
This event is the most extensive city-run diversity program in Grand Rapids. It brings in speakers from across the nation to discuss a particular theme. The Neighborhood Summit is where the community shows up tenfold — residents, local community leaders, neighborhood associations, and more. This year's theme was placemaking and belonging, and Experience Grand Rapids positioned itself as a resource in a space where the community has historically come to get trusted information.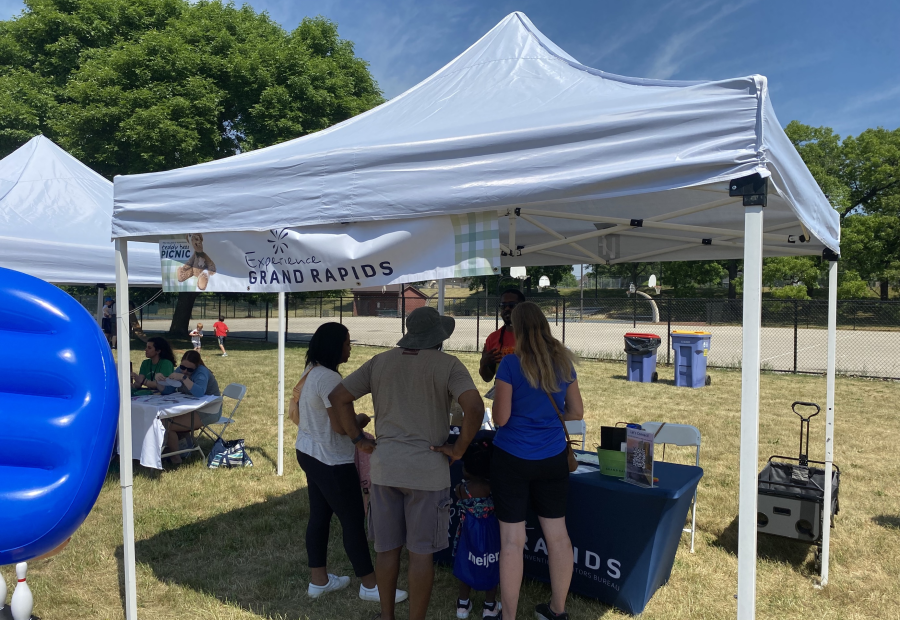 The MSU College of Human Medicine Teddy Bear Picnic event.
MSU College of Human Medicine Teddy Bear Picnic
This summer was the first time Michigan State University College of Human Medicine brought its Teddy Bear Picnic to Grand Rapids. The Teddy Bear Picnic invited families with children to interact with doctors, health care providers, and first responders in a fun, safe environment by bringing their favorite stuffed animal for a wellness check-up.
Experience Grand Rapids supported the event, and Jordoun and his team were on hand to let families know that Experience Grand Rapids can be a resource. For example, if someone from out of town comes to Grand Rapids for medical treatment, The tools that Experience Grand Rapids provide can come in handy if the family needs somewhere to stay and things to do during that time.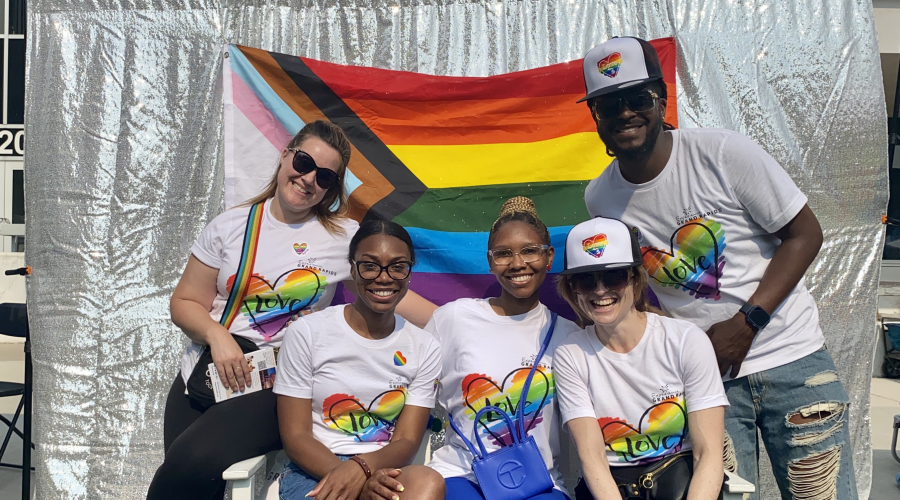 Our staff getting a quick photo in at our photo booth at Pride Festival
Grand Rapids Pride Festival
Experience Grand Rapids also intentionally supports Pride events and activates our resources in the LGBTQ+ community. We are aware of rainbow-washing that removes the human aspect of pride, which is why our presented experience focused on human interaction. When Jordoun's team attended the Pride Festival in Grand Rapids, they wanted to be more than just a booth. They wanted to create an inclusive and fun experience.
To achieve that, the team curated its garden photo-op booth to provide a sense of belonging to people attending the festival.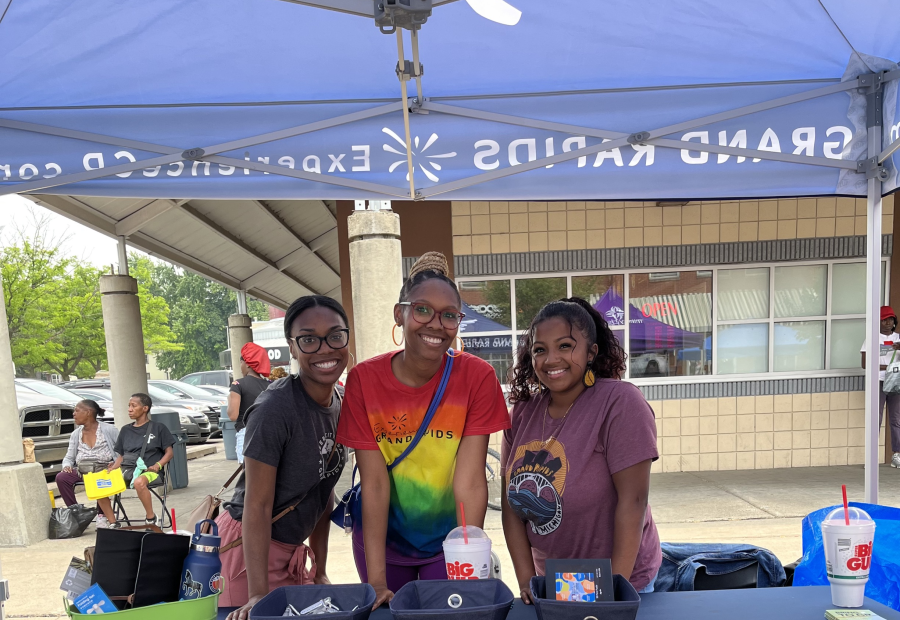 Experience GR Staff out supporting our community events
Juneteenth Celebration
Experience Grand Rapids supported the Juneteenth event hosted by West Michigan Jewels of Africa  (WMJOA), a traditional African drum and dance troupe. At this event, WMJOA honored member and Grand Rapids resident Jewellynne Richardson's 30 years of contributions around Juneteenth – even before it became popularized.
Jordoun and his team also honored the Juneteenth holiday by supporting multiple Juneteenth events across the city of Grand Rapids.
We've learned through these experiences that community activation is only effective if it is intentional. Leaning into communities, being an asset, ally, and trusted partner is all a part of Experience Grand Rapids' big picture of showcasing the fantastic city of Grand Rapids.