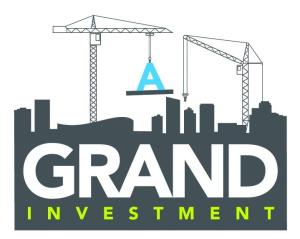 Today's young professionals know that where you live is where your life happens. Work life, personal life, and community life are all wrapped up in place. And place is determined not only by geography, but also by the culture created by the people who share that space with you.
We hear a lot about the importance of work-life balance. In Grand Rapids, it's much more than just talk.
Grand Rapids' business culture includes ensuring that employees get a life. That's true in the workplace, for sure, where CEOs regularly walk through offices and across plant floors, and where companies offer creative opportunities, professional development and career growth. Many wrap it all up in a corporate mission that naturally engenders comradery and teamwork.
But business leaders also know that's only part of the equation – employees need to go home to a place they love and interact in a community that embraces them.
Hello, and welcome!
Grand Rapids corporate leaders got down to business on sustaining and enhancing that culture more than a decade ago, when the genesis for the nonprofit, member-led talent-attraction organization Hello West Michigan took root. Their mission was simple but challenging: Build a community where professionals want to live and work – for the long haul. Today more than 80 corporate members belong, including major employers such as Steelcase, Meijer, Spectrum Health and Haworth.
"This is the only employer-driven organization in the country dedicated 365 days a year to talent attraction and retention," said Cindy Brown, executive director. "Other communities run short-term campaigns, but we do this every day. We want talented professionals looking at our community to understand what it really feels like to live here, and once they get here, we want to make sure they can easily plug into everything they're looking for."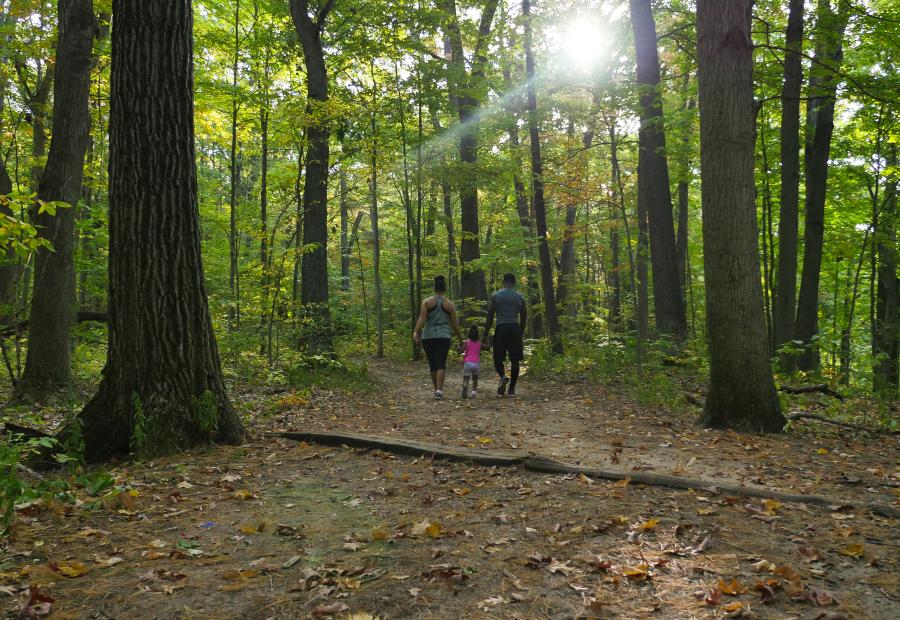 A strong work-life balance is the reason many people are choosing to move to West Michigan.
Photo by Experience Grand Rapids
There's evidence their efforts are paying off. A February 2018 survey by the personal finance website MagnifyMoney.com ranked Grand Rapids No. 1 among the 50 largest U.S. metropolitan areas for work/life balance. Other cities in the Top 10 included Minneapolis, Portland, Ore., Cincinnati, OH; and Raleigh, N.C. Not bad company.
Metropolitan areas like Grand Rapids and others in the Top 10 speak directly to what young professionals want, as MagnifyMoney.com noted in announcing the findings: "It's not just how much we earn, it's what we have to do to earn it, what we get in exchange for it and whether we have the time and health to enjoy our friends and family – in other words, a balanced life."
Hello West Michigan puts that focus front and center on its website, with more than 1,000 links to area assets and resources.
Home to boomerangs and trailing significant others
A big part of the focus is on potential "boomerangs," people with Michigan ties who have left but may be interested in returning.
"We all grow up saying, 'There's no way I'm coming back here,' but in doing this work we've discovered that in our culture today, people want to come home to be with family," Brown said. "West Michigan definitely has that pull, and companies here are really open to that."
The organization also helps new residents find their fit in West Michigan, especially the "trailing significant other" of employees. "We want significant others to feel welcome and engaged living here, too," Brown said. "We're just 30 minutes from Lake Michigan, we have four seasons, you can live and work downtown – we offer the ability to a have fun and fulfilling life and a good job."
That's true for Mark Holzbach, who came to Grand Rapids from Austin, Texas, in 2011, when his partner, Dana Friis-Hansen, was named director and CEO of the Grand Rapids Art Museum. Prior to Austin, one of the fastest growing cities in the country, the couple had lived in the cosmopolitan cities of Boston and Tokyo. Their friends weren't sure about their move to Grand Rapids.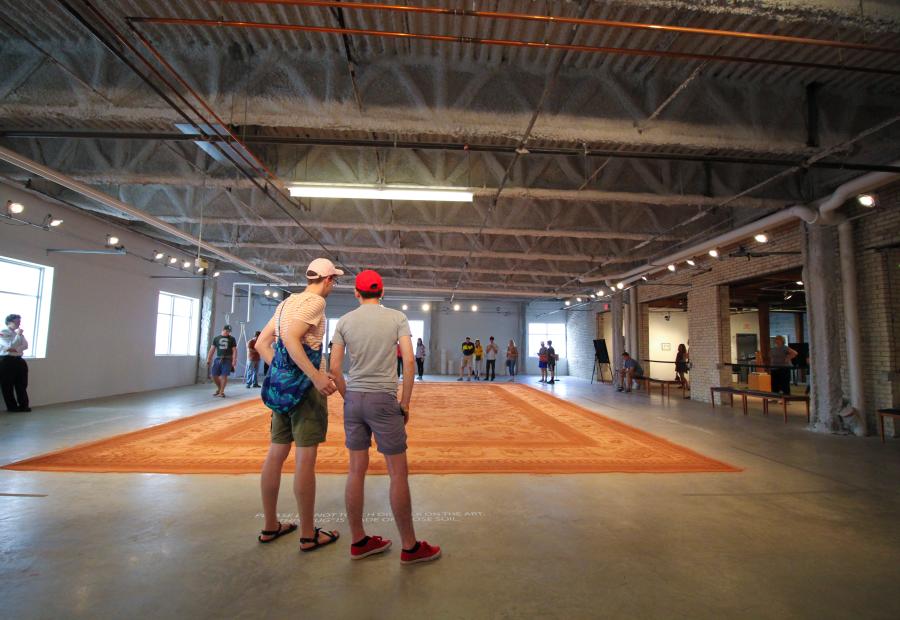 Annual events like ArtPrize adds to Grand Rapids' vitality.
Photo by Experience Grand Rapids
"But we were so confident about Grand Rapids, we convinced them," Holzbach said. "We could see similar ingredients here that we saw come together in Austin – a sense of energy and opportunity." This was around the time the "Grand Rapids Lip Dub"– a YouTube sensation garnering more than 1.6 million views – was made, so the two had plenty of evidence of the city's vitality. "Now we invite our friends from around the world to come here, to events like ArtPrize, and they say, 'Yes, I can see what you see in this place.'"
Holzbach has harnessed the city's energy and started two companies that he runs out of his home, Tiny World Tours, a boutique tour company, and The Plant at Kyle, a vacation and event property he manages in Austin.
That's when he isn't busy hosting fund raisers for nonprofits at the couple's home in River House, a downtown condominium development, or volunteering on various local boards. Those include the Grand Rapids SmartZone (Local District Financial Authority) Board, which helps spur the growth of technology- or research-related businesses.
"This region is very unique – the things that are wonderful include the authenticity of the people, who are thoughtful, respectful and curious," Holzbach said.
Tech talent trades the hamster wheel for a sense of community
More and more employees in the tech industry are also finding a place in West Michigan, including happy relief from the hamster-wheel mentality of companies in other parts of the country.
"There's a very different culture here than in Silicon Valley, where it's dog eat dog, hopping from company to company, with no loyalty given or taken," Brown said. "Here you can put down roots and be part of something. You can work for some of the best companies in the country and make an immediate difference in your community."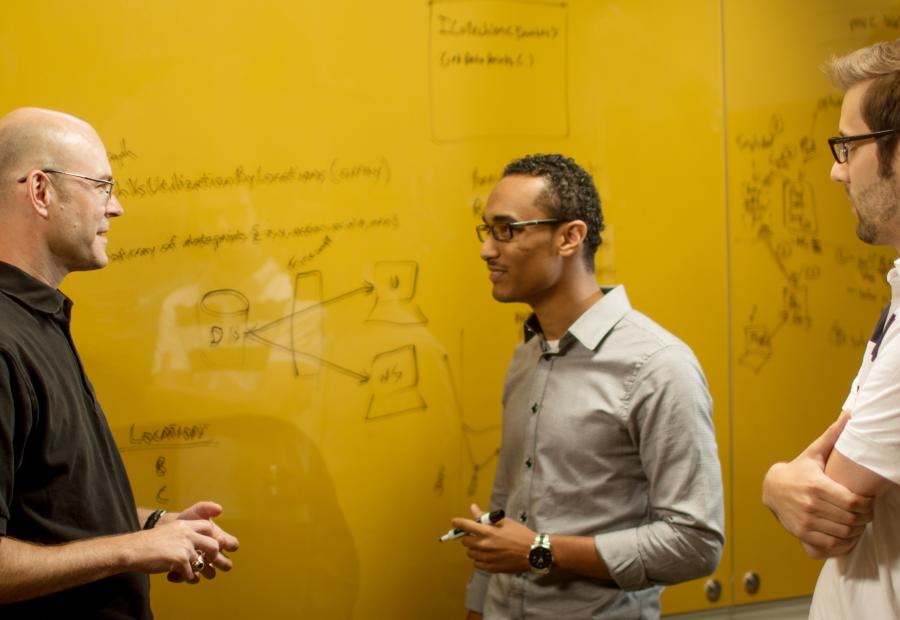 Workers at Open Systems Technologies working on a problem.
Photo by Open Systems Technologies (OST)
There's definitely something beyond training programs and solid benefits packages that attracts and retains talented people at West Michigan's tech firms, agreed Michael Lomonaco, director of marketing and communications for OST, a 225-person technology and strategic design firm whose clients include Spectrum Health, Nest, Johnson Controls and Thomson Reuters.
The tech talent turnover rate nationwide is about 25 percent; industry leaders put the Grand Rapids area turnover rate in the 3-7 percent range.
"For us, it's all based on culture," Lomonaco said. "We have always held to certain guiding principles, including honoring employees and their families first. We are also committed to hiring people who are passionate about this work, and we are just as committed to listening to those employees when they have ideas."
That focus has not gone unnoticed. OST was named one of the 2017 Best and Brightest Companies to Work For in the Nation by the National Association of Business Resources. The honor recognizes companies with the "most innovative and thoughtful approach to human resources."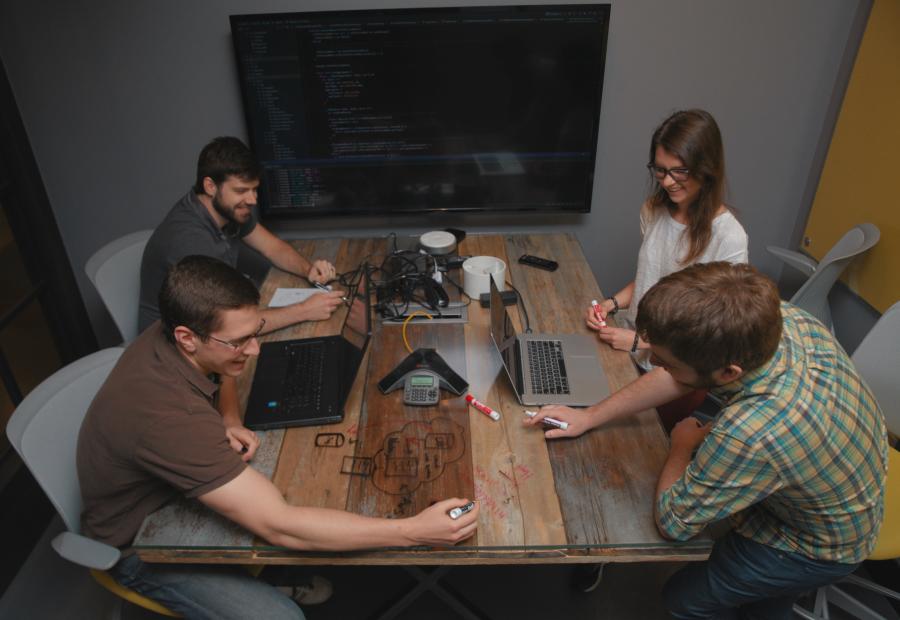 Group meeting at Open System Technologies
Photo by Open Systems Technologies (OST)
Over the past 21 years, OST has grown its global footprint and today generates revenue of $150 million.
"The unique thing about Grand Rapids is that there are so many people and companies that found success here and stayed, helping to make this a community where you can have both a fulfilling work life and a fulfilling personal life," Brown said.
A Grand Investment is an ongoing series exploring the business landscape of Grand Rapids. Michigan's fastest growing metro area and one of the nation's strongest economies, Grand Rapids is fueled by a creative, collaborative spirit that generates global, national and entrepreneurial investment. This series highlights leading sectors of the local economy and underscores the city's suitability for innovation-focused meetings.