The Grand Rapids economy is consistently ranked as one of the best and fastest growing in the country – and there's no better evidence of that than the pace of downtown development. Capital investment in the city center has continued to flow from our first ExperienceGR.com feature on it in 2017 through our 2019 update and on to today. Here's a look at where we were, where we are and where we're going.
In 2017, various sources ranked Grand Rapids #1 for the fastest growing big-city economy in the U.S., #1 for job growth and #1 for housing growth. In 2019, it was recognized as the nation's top metro area for sustainable development and the #2 city for hiring plans. In 2021, prognosticators foresaw enduring success, naming us the #2 U.S. boomtown of the future and 1 of 11 markets positioned to thrive in the decade.
Thrive, it has. Even as the COVID-19 pandemic brought much of the world to a virtual standstill, tower cranes dotted the skyline, deals were struck and dreams were advanced. 
Downtown development shows no signs of stopping
The Michigan State University Grand Rapids Research Center, under construction at the time the original article was published, opened its doors in September 2017. It is now the anchor of MSU's Grand Rapids Innovation Park, joined by two new facilities opened in 2022: the $85 million Doug Meijer Innovation Building and the $45 million corporate headquarters for global pharmaceutical and self-care company Perrigo.
Other recent and ongoing projects in downtown's life sciences cluster – which has seen more than $2 billion in investment since 2000 – include the $60 million Mary Free Bed Children's Rehabilitation Center, $70 million Daniel and Pamella DeVos Center for Interprofessional Health, and $100 million Spectrum Health Center for Transformation and Innovation. 
There were six hotels serving downtown Grand Rapids visitors in 2017. Today, there are 15, including such newcomers as Canopy by Hilton, Hyatt Place and Residence Inn by Marriott. The Canopy by Hilton is part of Studio Park, an entertainment-living-business complex opened in 2019. Studio Park now plans to add a $50 million high-rise apartment building on its property.
Local entrepreneurs and national brands continue to invest in new downtown restaurants and retail outlets, adding to a base of 200+ dining and shopping destinations within a 10-minute radius. The project to restore the rapids to downtown's Grand River and revitalize the riverfront area is nearing construction after a decade of design and development. In a separate area of downtown, a 12,000-seat riverfront amphitheater project got the green light in 2022 and construction will likely begin in 2024.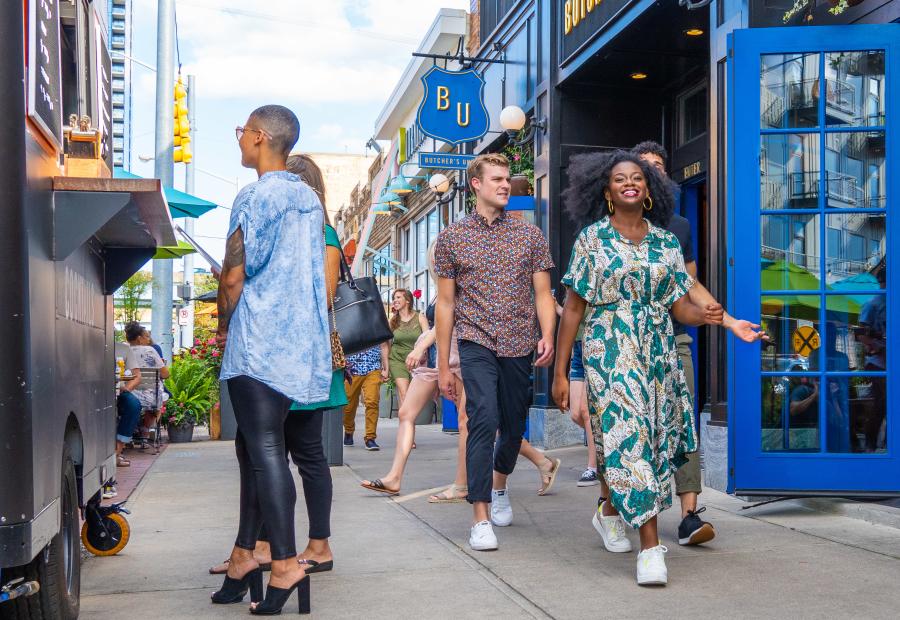 The Bridge Street corridor has grown considerably, in part, due to its proximity to downtown.
Photo by Butcher's Union
Nearby neighborhoods flourish
Healthy downtown development – and the workers, residents, retail and other amenities it brings – has spilled over into nearby neighborhoods. Grand Rapids' historic West Side, for instance, is flourishing anew, welcoming an eclectic mix of brewpubs, restaurants, coffee shops and retail over the past five years.
In 2022, Kϋsterer Brauhaus joined three other breweries and a meadery on a half-mile stretch of Bridge Street, just over the Grand River west of downtown. A fifth brewery, a cocktail lounge and an LGBTQ+ bar will also open there before the end of the year. The revitalization of this historic district has spurred demand for new housing, and a variety of multi-use developments have opened recently and more are planned to complement the existing home stock.
Drive, bike or bus a couple miles east up the Bridge-Michigan Street corridor and you'll find Midtown, another flourishing neighborhood just east of Grand Rapids' Medical Mile. Midtown has seen a resurgence of commercial development to support local residents and nearby healthcare, research, and educational institutions. The Brix at Midtown and Diamond Place both offer urban living in mixed-use properties with easy access to area colleges and universities, restaurants, shopping and the region's largest employer – Spectrum Health. 
The Belknap Lookout neighborhood, just north of Midtown, has also benefited from new investment, with an influx of new single-family homes, townhouses, brownstones and apartments being erected atop the highest point of the city.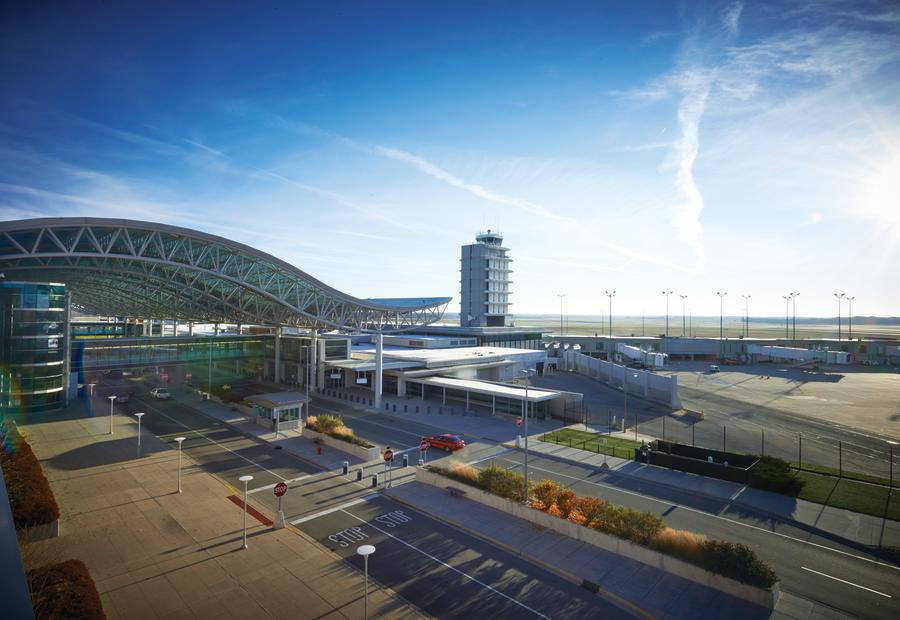 Investments at Gerald R. Ford International Airport have contributed to Grand Rapids' development.
Photo by Experience Grand Rapids
Why Grand Rapids?
What makes this city – historically part of the long-declining Rust Belt – such a magnet for continuing investment? Inc. columnist Jeff Barrett – a journalist, entrepreneur and serial traveler who has toured the country talking to fellow entrepreneurs and writing about the best startup scenes in America – attempted an answer in his 2019 article, "Why Grand Rapids Is One of the Fastest Growing Cities in America and a Hotbed for Entrepreneurs."
"After visiting and writing about 30+ cities last year, I gained a unique and valuable perspective on what makes a city great and creates momentum," Barrett says. "At their core, all great cities are about 85% similar. There are revitalized neighborhoods, co-working spaces, open office plans and craft breweries. But the best cities play into their strengths and are frank about their weaknesses." 
Barrett's article describes his hometown of Grand Rapids as a place where entrepreneurs have thrived for 100 years. But, he points out, that's not really what distinguishes this community.
"We're not solely defined as a furniture city, a craft beer city or a Medical Mile," he says. "Grand Rapids had the good fortune of great philanthropists. They and other leaders were strategic, never resting on past accomplishments."
He goes on to explain, "We are a city that punches above its weight, sets strategic goals every ten years and meets them. Recent improvements to the airport and being home to MSU's College of Human Medicine and new research facility, for instance, position us for future success. But the greatest quality Grand Rapids has is that it's never content with where it is. It's always striving to be something greater."
The airport improvements Barrett mentions have since accelerated at Gerald R. Ford International Airport, located 20 minutes from downtown. After completing a gateway transformation project in 2017 and improvements to ticketing, baggage screening and baggage claim areas in 2018, the airport embarked on $500 million expansion plan dubbed Project Elevate, which will include doubling the capacity of its main concourse, creating a federal inspection station capable of screening international commercial flights and moving the air traffic control tower to make way for diverse terminal-area developments. 
All of which will help facilitate the arrival of even more new investors, employees and residents, and the continued growth of Grand Rapids and Kent County. 
Grand Rapids is Michigan's fastest growing metro area and one of the nation's strongest economies, fueled by a creative, collaborative spirit that generates global, national and entrepreneurial investments. Experience Grand Rapids highlights leading sectors of the local economy to underscore the city's suitability for innovation-focused meetings.