Whether you're trying to reach your New Year's fitness goals, looking to adopt a new hobby, or simply looking to explore the beautiful city of Grand Rapids, joining one of the local community running groups may be the solution for you.
Local running groups are offered for runners of all types, and provide a welcoming, challenging, and supportive environment to meet your goals and make some fitness-oriented friends.
Are you just visiting Grand Rapids for a week, but looking to explore the city and work on your fitness? Don't worry. Some running groups allow for drop-ins, too.
Explore the beauty of Grand Rapids by joining one of these local running groups: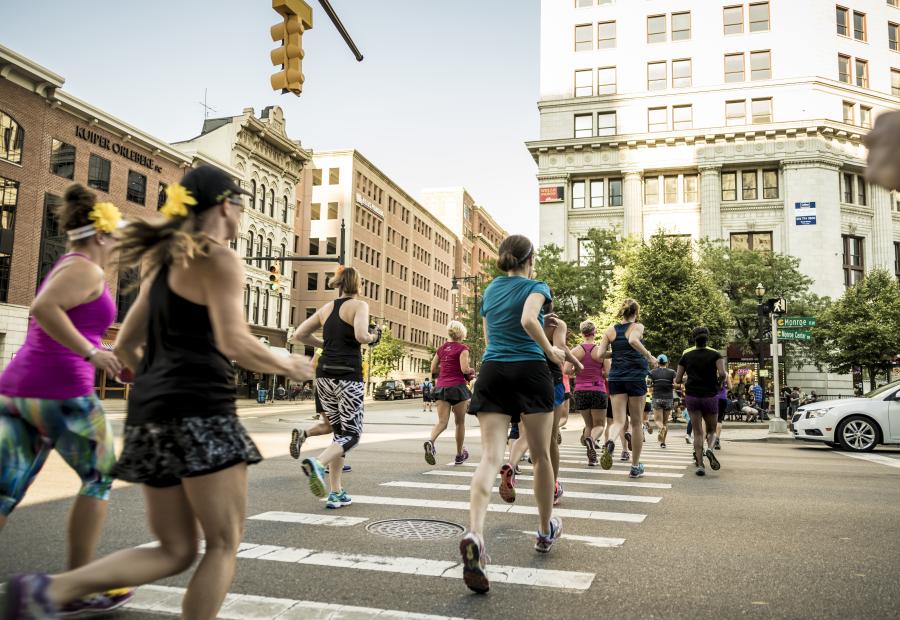 Grand Rapids' locals know the best running routes.
Photo by Brian Kelly Photography
The Dirty Herd, an offset of Gazelle Sports, is a trail running group that meets every Sunday at Robinette's Apple Haus & Winery. Drop-ins are welcome, as long as they complete two mandatory registration forms which can be found on the Dirty Herd's website.
Runners can explore the orchard's winding pine trails every week, rain or shine. The Dirty Herd is perfect for recreational runners as no timing mechanisms are involved in this fitness group.
Dirty Herd meeting times vary by season, so make sure to visit their website and Facebook page for accurate information.
Another brainchild of Gazelle Sports, the Rapid Herd is a free, weekly running group for experienced runners. Each run is a minimum of six miles, and drop-ins are welcome. A Gazelle Sports running coach leads each weekly outing and designs workouts ranging from tempo runs to hill climbs, making for a high-intensity workout.
Runners that are interested in joining Rapid Herd can meet in the front lobby of the David D. Hunting YMCA on Tuesdays at noon. Plus, as a Rapid Herd member, you'll have access to the YMCA locker room post-run.
Interested in joining Rapid Herd? Request to join their private Facebook group here.
The November Project is a national community that's established in over 40 cities across the country, including Grand Rapids. November Project Grand Rapids' is free to join, and meets every Wednesday morning at 6:14 AM on the corner of Lyon Street and Bostwick Avenue.
As a member of November Project, you'll find a group of friendly and motivating workout buddies, qualified trainers, and an optional breakfast following your run. What more could you ask for? For more information, visit the Grand Rapids' November Project Facebook page.
(Note: Created in December 2017, November Project Grand Rapids' was formerly known as Carpe Diem GR.)
Just like their name states, Wednesday Nights Hills and Stairs gathers every Wednesday night at 6:30 PM in front of Founders Brewing Co. to run hills and stairs. Visit Wednesday Nights Hills and Stairs' Facebook page to view seasonal running routes and general information.
The group meets all year round, regardless of weather, and often stops at Founders Brewing Co. for food and a beverage following their run.
Every Tuesday at 6 PM during warm weather months, you can find a group of West Side Stride runners at Swift Printing on the corner of Turner Avenue and Bridge Street on the city's West Side. The running group completes the same 5K course every week and welcomes runners of all skill levels.
Fear not, if you're a bit late to the weekly West Side Stride meetup, as their Facebook Group lists times and locations for latecomers to join in on the fun. It's recommended that first time West Side Stride runners show up early to sign a waiver form.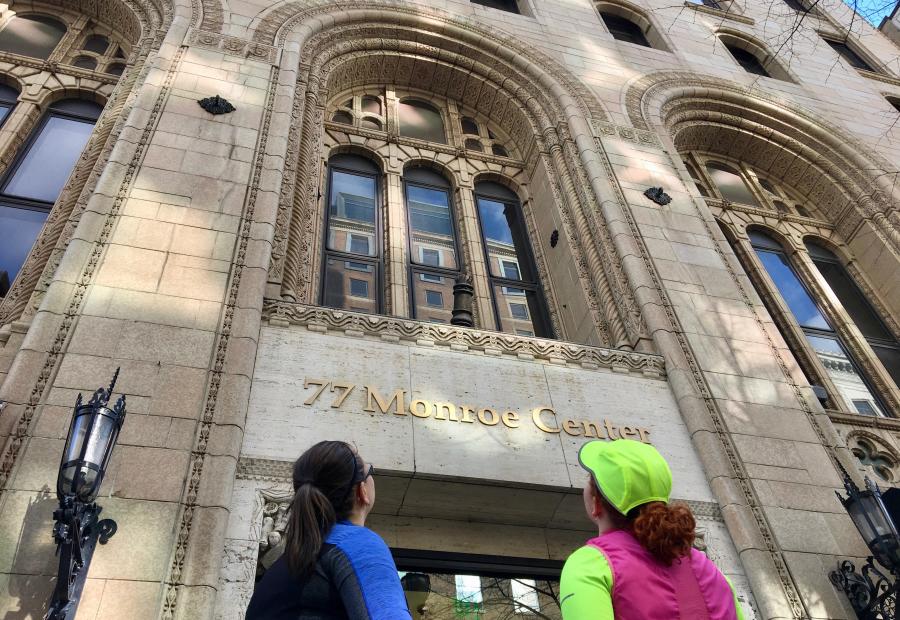 Learn about Grand Rapids and get some exercise while on a tour with Grand Rapids Running Tours.
Photo by Grand Rapids Running Tours
Grand Rapids Running Tours
If you're in town and want an in-depth tour of Grand Rapids while also getting some exercise, Grand Rapids Running Tours offers over 20 different tours that you can schedule in a time frame, distance, and pace that works for you.
Grand Rapids Running Club
Grand Rapids Running Club (GRRC) offers options for both drop-ins and due-paying members. GRRC offers annual memberships and member-only events, but their most robust programming revolves around their mentor group and training plans for the popular Fifth Third River Bank Run.
Visit GRRC's website for more information on what program is the best for you.
RunGR
RunGR is an ideal running group for people who have a passion for physical fitness and living a healthy lifestyle. Led by Level II certified USA Track & Field coach, Michael Wojciakowsi, RunGR is, "a group of everyday people accomplishing amazing things on the road and the trails."
A variety of RunGR membership options are offered including: individual, family, corporate wellness partner, student, and more. Check out RunGR's website for more information including its membership plans, nearby races, social media accounts and how to sign up.