The lure of spring fishing brings people from far and wide to the lakes, rivers and streams of Grand Rapids and Kent County. Fish are hungry and readily take bait, lures and flies cast from boats, banks, piers and river shallows. Here's what you need to know to join in the fun.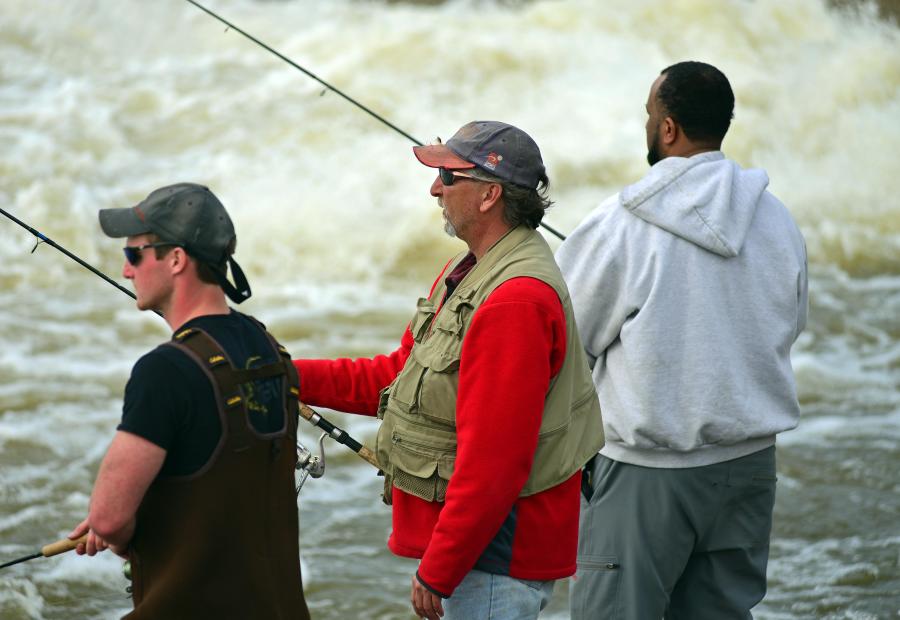 Anglers fish for hard-charging spring steelhead in the shallows of downtown's Grand River.
Photo by Photo by Howard Meyerson
April 1 is the start of the new fishing season and anglers 17 years and older are reminded that a new fishing license is required every year. Annual fishing licenses can be purchased at Meijer stores and other retailers, or online through the Michigan Department of Natural Resources (DNR). Visitors and anyone who wants to give fishing a try can purchase a license good for one to six consecutive days.
The new fishing season coincides with the spring steelhead run on the Grand River in downtown Grand Rapids. These large, chrome-colored sport fish charge upstream to spawn, giving anglers ample opportunity to snag them at the Sixth St. Dam or from the concrete flood wall along the river. Be extremely cautious if you're wading or boating – the current near the dam can be quick and strong, especially in high spring waters.
Steelhead (and trout) are also abundant on the Rogue River near Rockford, just 15 minutes north of downtown Grand Rapids. A favorite gathering spot for steelhead anglers is just below the Rockford Dam. Brown and rainbow trout are typically found further upstream.
Walleye and northern pike fishing opens on the last Saturday in April for all Lower Peninsula inland waters, but trout fishing seasons vary by stream. Many are open year-round while others open the last Saturday in April. To be sure, check the annual Michigan Fishing Guide published by the DNR. You can download it here or pick up a copy where fishing licenses are sold.
You can also check the Weekly Fishing Report for insight into current fishing conditions in Kent County and around the region.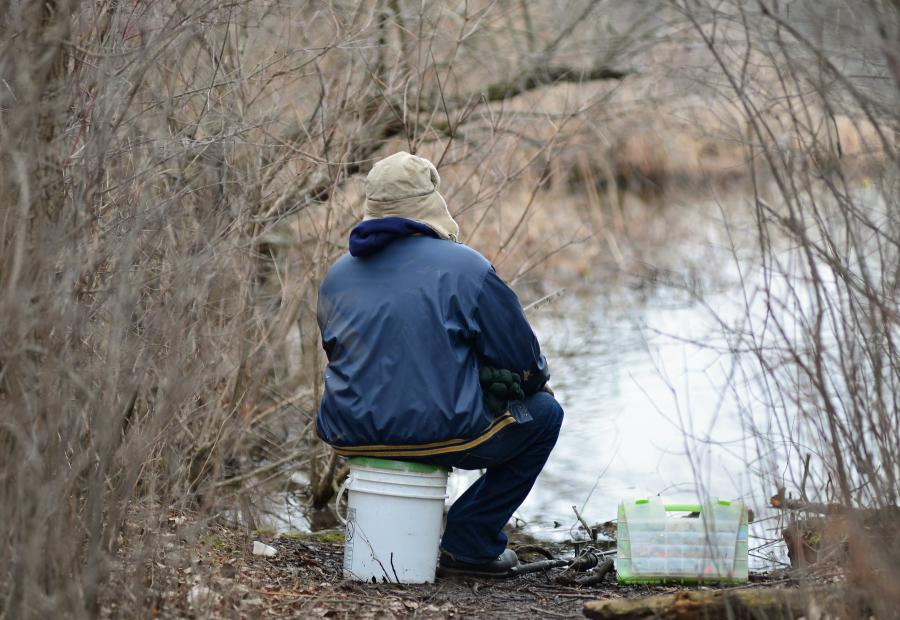 Reeds Lake offers secluded fishing spots like this as well as easily accessible fishing platforms.
Photo by Photo by Howard Meyerson
Big Fish, Great Fishing
Grand Rapids is surrounded by some of the most productive fishing waters in southern Michigan, so it's no surprise that many of the state's largest fish are caught in Kent County lakes and streams.
In 2021, for example, anglers caught a 40" salmon in the Grand River, 33" rainbow trout in the Flat River, 23" whitefish in the Rogue River, 22.5" largemouth bass in Reeds Lake, 15.75" crappie in Myers Lake and 9.25" green sunfish in Wabasis Lake … all in Kent County.
Michigan's Master Angler Database is the official listing of big fish and the waters in which they were caught. You can search the database to find out where big fish have been hauled in locally and plan your fishing expedition accordingly.
You can also consult this PDF document prepared by the DNR to find out the best local places to fish for 13 popular species – just scroll down to Kent County. The Grand River, Lincoln Lake and Wabasis Lake are listed the best walleye waters in the county. When it comes to fishing an apex predator like muskellunge, Campau and Murray lakes are tops.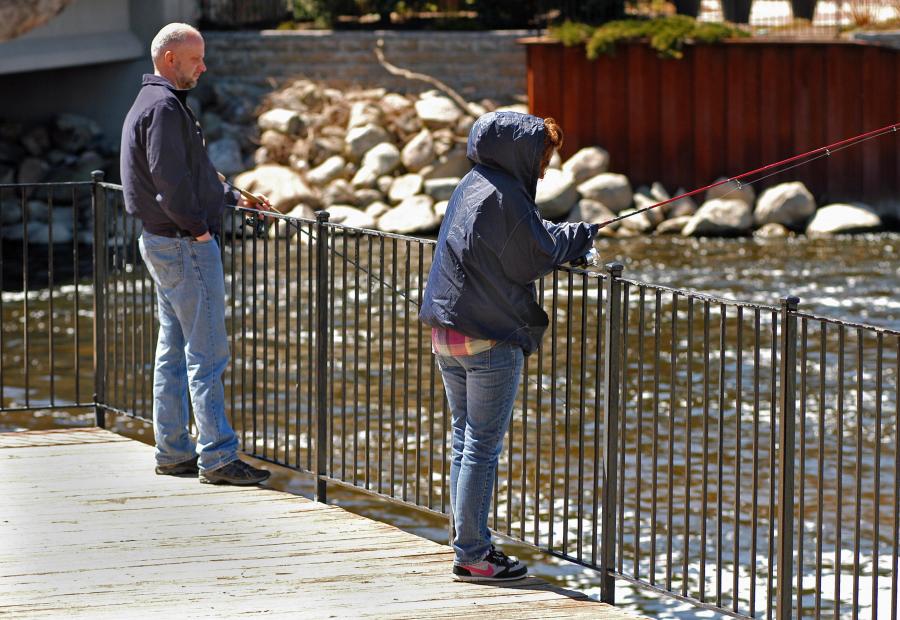 Two anglers fish the Rogue River from the dam overlook in downtown Rockford.
Photo by Photo by Howard Meyerson
Family-Friendly Fishing
Inland lakes are often fished by anglers in boats and those who have property on them, but Kent County has several waters that don't require a watercraft to enjoy a day of fishing. You can find them by visiting the DNR's "Family Friendly Fishing Waters" site, launching the map, and filtering it by pier and/or shore fishing. You can also filter your search by fish species and amenities like pet-friendly, bait store, concessions and equipment rental.
Family-friendly fishing sites in Kent County include Bass Lake, Bear Creek, Lincoln Lake, Pickerel Lake and Reeds Lake. The latter is a popular and pleasant East Grand Rapids locale, just steps away from the town's bustling business district.
Three floating boardwalks extend out onto Reeds Lake from Waterfront Park on the west shore off Reeds Lake Blvd. Parking is available in a small lot across the street. There are also fishing platforms (as well as a boat launch and picnic tables) at John Collins Park on Lakeside Dr. Both parks provide easy access to the water and a place to enjoy the sights and sounds of nature.
Dunking worms for panfish like bluegills, crappies and pumpkinseeds is a great way to start kids fishing. These species are easy to catch and good to eat, too. If you're new to family fishing, the Michigan DNR offers a series of YouTube videos and other tips to help you get started.
Whether you're a master angler or it's your first time fishing, you'll have a great time casting about the waters of Kent County. Get your license and get started!
This story was originally written by Howard Meyerson and has been updated by Experience Grand Rapids Staff.