West Michigan farmers and food processors have created a $1.5 billion agri-food industry, propelling the region to the top 25 percent of similar regions nationwide, according to the Right Place, West Michigan's economic development organization. Learn how abundant fresh water, a diverse supply chain, a skilled labor force, an integrated logistics system and a strong entrepreneurial spirit feed a healthy agri-food industry – and help West Michigan feed the world. 
West Michigan has what it takes to feed the agri-food industry
There's growing demand for healthy, diverse foods and few places better than West Michigan to provide them.
First, Michigan has the goods: The state produces a larger array of agricultural products than any state but California – more than 300 different commodities.
Second, Michigan has the means: The state has more of what it takes to deliver healthy food to a hungry region and nation, including:
abundant fresh water and wastewater treatment systems,
diverse supply chain,
skilled labor force,
regulation-friendly business environment and
research and development expertise to commercialize new products.
Third, these synergies are all hard at work in West Michigan. The region's farmers, food processors and manufacturers have created a $1.5 billion agri-food industry that's put West Michigan among the top 25 percent of similar U.S. regions in overall production and output.
No wonder global companies like the Kellogg Co. in Grand Rapids, Nestlé Gerber in Newaygo and Conagra Foods in Quincy have chosen West Michigan.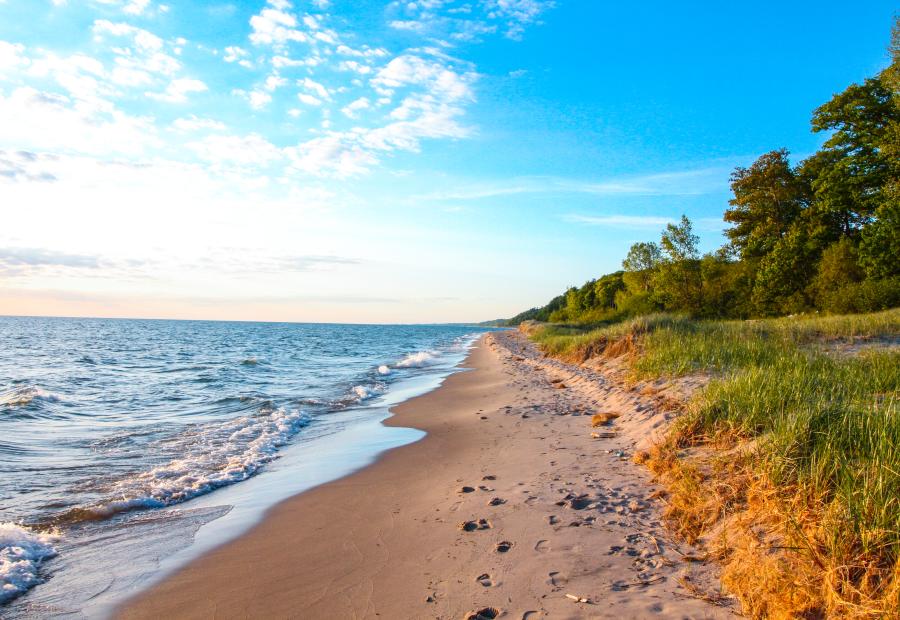 Easy access to the fresh water of Lake Michigan means West Michigan is ripe for food production.
Photo by Paul Jendrasiak - Experience Grand Rapids
Growing good things
But there are also plenty of opportunities for smaller start-ups.
Consider Grand Rapids natives Marshall and Elliott Rader, who were living in Chicago in 2008 when they decided they needed to make the best gluten-free protein snacks around. Marshall had just been diagnosed with celiac disease, and he couldn't find gluten-free products that tasted good. Surely he wasn't the only one.
The brothers rented a bakery space about an hour outside Chicago and started making small batches of bars and selling them door-to-door.
They got their big break about a year later by calling on Meijer, Inc. They had to scramble to fill the grocery giant's order, but it got them thinking about what their home region could offer them as entrepreneurs.
The two decided to return to Grand Rapids in 2011, first renting a 3,000-sq.-ft. industrial condo and eventually moving to their current 28,000-sq.-ft. facility near Gerald R. Ford International Airport. They got a chef to help perfect the recipe, and in 2010 The GFB: The Gluten Free Bar was launched.
"We saw this as an opportunity to come back home and support the local economy," Marshall said. "By owning our own manufacturing facility, we figured we could have the biggest impact here."
Today they have over 40 employees, about 30 of them on the production team.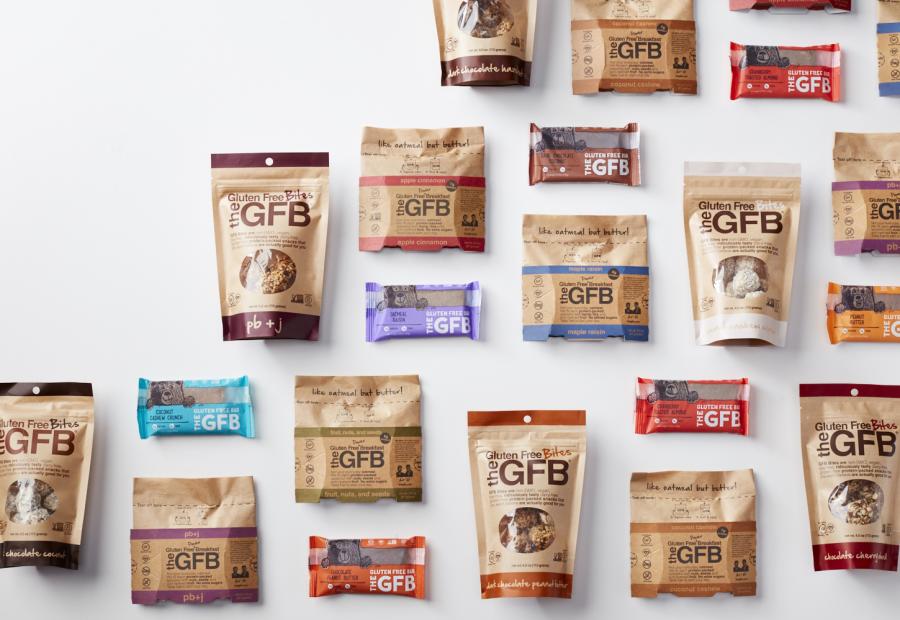 Variety of The GFB: Gluten Free Bar Snacks
Photo by The GFB: Gluten Free Bar Snacks
Good for you, good for the community
The health and natural food movement has been a boon. "The consumer today is a lot more aware of ingredient lists and understanding nutrition," Marshall said.
GFB is a certified B Corp, which means it's a for-profit company that meets rigorous standards of social and environmental performance, accountability and transparency. The goal is to limit the company's impact on the planet, pay living wages and hire local employees, including disadvantaged individuals.
"We make good-for-you food in good-for-you ways that are beneficial to the community and environment," Marshall said.
The company has seen 360 percent growth over the years 2013-2018, with $10-20 million in annual sales.
"We're definitely proud of where we've come, but we see a lot more good things in the future," Marshall said. "We're in more than 10,000 stores in the U.S. and Canada, and we're continuously working to make better products and happy customers."
How does a company make that happen? With good ideas, hard work and the resources to make things happen.
For the first few years the brothers worked with the Michigan State University Product Center to get their brand going. The center helps develop and launch new product and service ideas, helping some clients with specialized issues such as packaging, labeling or nutritional analysis, while taking others from concept development to launch.
Today GFB works with the Michigan Department of Agriculture & Rural Development, which Marshall said has been vital in facilitating their exports to Canada and helping them grow.
Marshall also credits the region's food industry network – including Meijer and Spartan Stores – for providing his company with strong business opportunities. In addition, he noted West Michigan's talented food production workforce, which supplies skilled, hard-working employees for GFB.
Then there's Michigan's wealth of agricultural products, including dried fruit from Cherry Central suppliers, which makes The GFB so good. Michigan is the nation's No. 1 producer of tart cherries, supplying 75 percent of the U.S. crop, and is No. 1 in blueberries, producing more than 100 million pounds in 2016.
All the ingredients for success
Those synergies and more helped West Michigan's food processing industry grow 14.9 percent between 2012 and 2017, 4.5 percentage points above the national average, according to Emsi (Economic Modeling Specialists International).
When it comes to the water supply and water treatment facilities required to support the industry, there are few places like Michigan. The state is surrounded by nearly 10,000 miles of freshwater shoreline and West Michigan has several large-scale wastewater treatment facilities with excess capacity. In Grand Rapids alone, businesses have access to over 61.1 million gallons per day, with over 10 million gallons per day excess capacity, making it ideal for food processing.
West Michigan is also within 500 miles of half the U.S. and Canadian markets, a key reason some of the country's largest food brands and contract food manufacturers call the region home. In 2017, these included 45 bakeries and tortilla manufacturers, 31 beverage manufacturers, 23 food/vegetable manufacturers and 223 dairy product manufacturers.
Propelled by such companies, food processing jobs in West Michigan totaled more than 17,000 in 2017, with average annual earnings of over $59,000.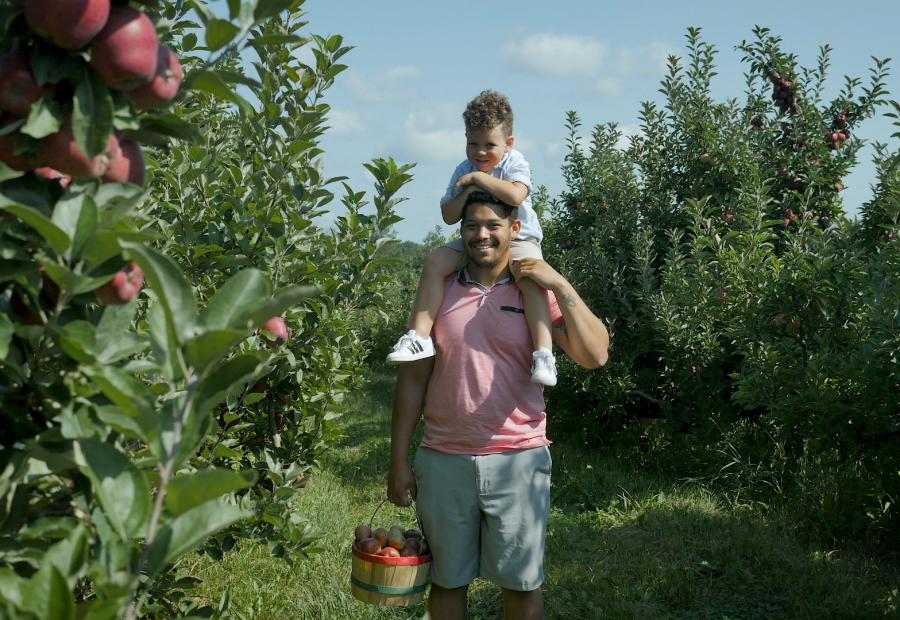 Michigan is second only to California in its agricultural output.
Photo by Experience Grand Rapids
Another key factor to the success of West Michigan food processors is affordable, integrated logistics systems. Michigan has the country's 12th-largest rail system and the state is well-served by regional hubs in Grand Rapids and Detroit. More than 40,000 tons of air cargo is shipped out of the Gerald R. Ford International Airport every year.
Then there are the state's deep-water ports. The West Michigan Port Operators port sites are positioned to connect Michigan highway and railroad infrastructure to the St. Lawrence Seaway and the U.S. Inland Waterway system of rivers.
With 150 years of feeding the United States under its belt, Michigan has set the table to meet the country's needs this century and beyond.