Once winter arrives in West Michigan and fields get blanketed with snow, shooting sports enthusiasts turn to area clubs for fun and camaraderie.  Regardless of their shooting preference, trap, skeet and sporting clays or dressing up like a cowboy for a Wild-West experience, most say winter target shooting is a great way to beat cabin fever.
Cowboy Action Shooting participants enjoy a winter day.
Photo by Tintype Charlie, Rockford Sportsman's Club
Gordon Pickerd, vice president of Rockford Sportsman's Club, said its Cowboy Action shooting events have become very popular. Participants dress in western garb and come with lever-action rifles and other turn-of-the-century guns and spend blustery winter days shooting at metal targets.
 "Teasingly, I say it's a bunch of guys (and gals) that never grew up and still play cowboys and Indians," Pickerd notes. "They take on aliases like 'Tucson Stew' and wear cowboy hats and shoot 20th century firearms and have a lot of fun."
Rockford Sportsman's Club, 11115 Northland Dr. NE, Rockford, is one four shooting venues found within 30 minutes of downtown Grand Rapids. It was founded in 1945 and boasts a clubhouse and banquet facility set on 40 acres.  The Cowboy Action League is held the first Saturday of every month. Trap and skeet winter leagues begin in January. Public non-league shooting times are scheduled on Sundays, Mondays and Thursdays. Check with the club for complete details.
"People don't need to be a member to shoot here," Pickerd explains. "They can just come out. If someone wants to bring a group, we'd like them to call and reserve a time. We have private groups out here often, including bachelor and bachelorette parties, who shoot trap and skeet."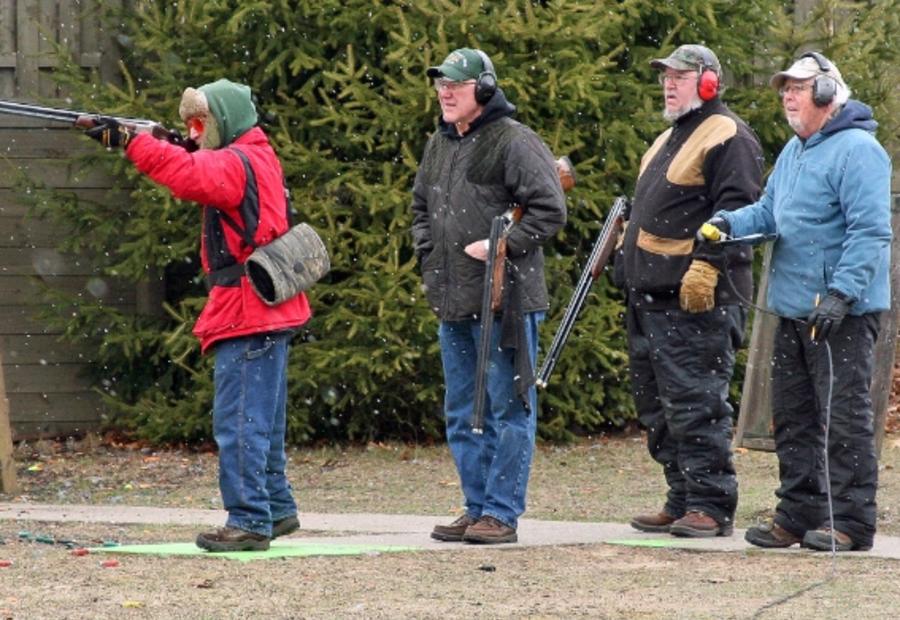 Shooting skeet as the snow flies.
Photo by Ron Parker
Public shooting hours vary from club to club so it's a good idea to check their websites for times. Most have weekday and weekend open-shooting hours. Nominal fees are charged for each line of trap and skeet, which consists of 25 clay pigeons, or "birds." Target load ammunition is usually available for purchase. Some clubs rent guns and offer lessons.
Clay target sports and handgun shooting are two of the fastest growing shooting sports in the U.S. The Kent County Conservation League is the oldest club in the region. It was founded in 1930. Many lessons are given to women who want to shoot clay targets. The demographic really has changed over the years and now more woman are shooting.
KCCL, 8461 Conservation NE, Ada, is a full-service club that offers lessons. It has skeet fields, trap fields, five-stand and sporting clays. The public is welcome every day. Non-members pay a daily fee along with standard line fees.
The KCCL gest a fair number of calls from out-of-state people or business people who want to come out and use the facility. The offer guns for rent and give lessons.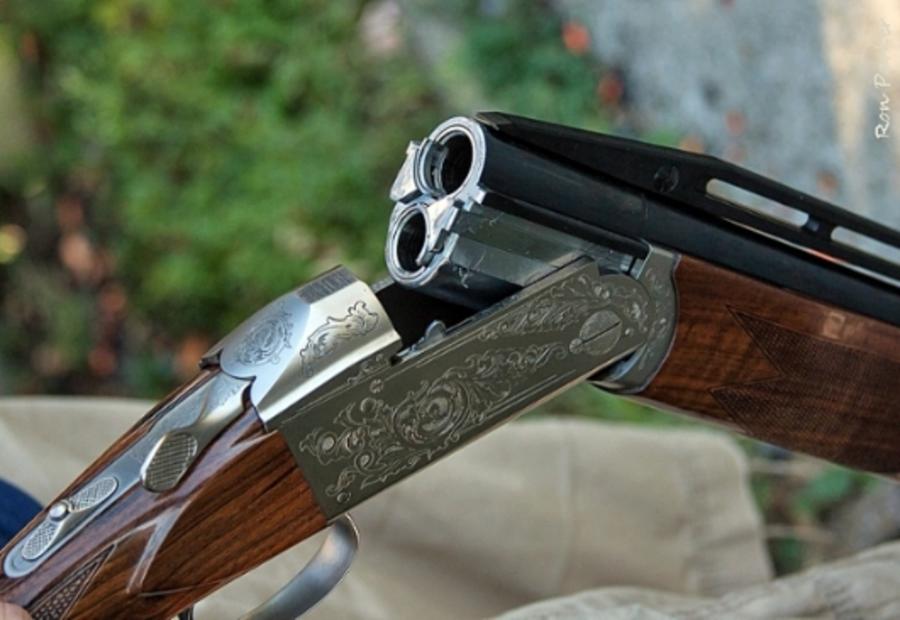 Over/under double-barreled shotgun.
Photo by Ron Parker.
Sporting Clay enthusiasts have another excellent area option at Blendon Pines Gun Club, 8455 88th Ave., in Zeeland. The popular shooting sport involves shooting clay pigeons with different characteristics. Some float in like a landing duck, Others cross like a flying pheasant. Still others bounce along the ground like a hopping rabbit. Each shot requires quick thinking.
Blendon Pines is open Wednesday through Saturday. Lessons are offered and target loads are available. Shooting a round costs $26. Two boxes of shotgun shells are required for each round.  
The West Walker Sportsmans Club, located at 599 Leonard St NW, Grand Rapids is approximately 15 minutes from downtown. The club has public shooting hours on Wednesday, Saturday and Sunday. Shooters are welcome on its trap and skeet fields and can warm up inside. It's a friendly place where people often bring snacks.
This story was originally written by Howard Meyerson.