West Michigan offers lots of opportunities for outdoor winter activities, such as fat-tire biking, snowshoeing, skiing, and with so many inland lakes nearby, outdoor enthusiasts can enjoy ice fishing, too.
"Ice fishing can be either be a peaceful experience, or lots of fun with friends," says Anthony Rodriguez, a guide at Betts Guide Service, world-class angler, and experienced member of the USA Ice Team.
Tom Werkman, owner and guide at Werkman Outfitters, agrees with Rodriguez.
"[Ice fishing is] great for getting a bunch of people together...You go out on the ice, set up your tip ups and your ice fishing gear. We'll have a really good time fishing, having a big cookout on the ice, and then eating it in the shanty."
Here's what local experts have to say to beginners looking to try ice fishing: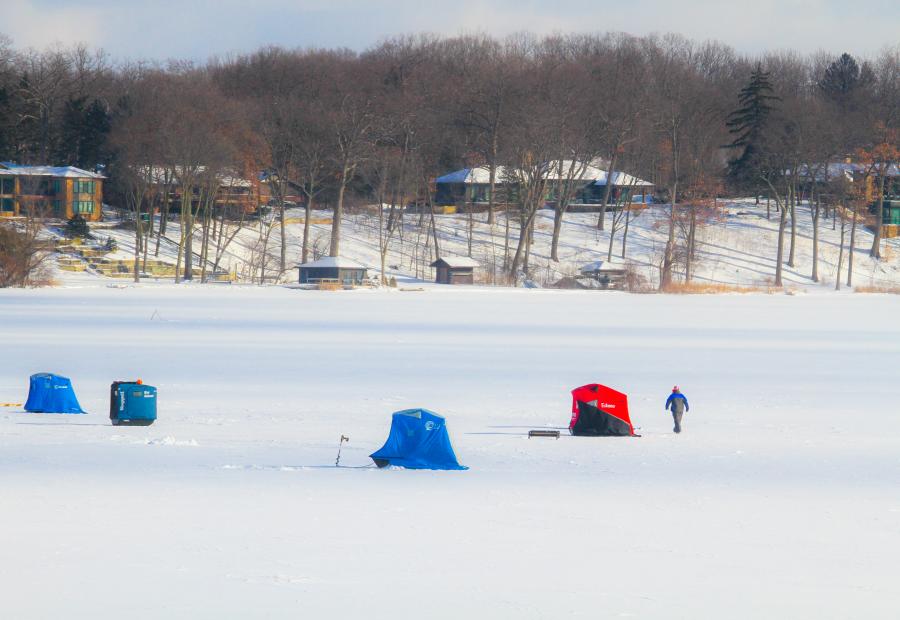 Ice fishing is a great winter activity, whether done solo or with a group.
Photo by Experience Grand Rapids
Key terms
If you're unfamiliar with ice fishing terms, we've compiled a few commonly-used terms that will help you become familiar with the sport.
"Spud bar:" is a long metal bar with a pointed end, that makes it easier to break up compacted materials, like frozen ice.

"Ice Auger:" is a spiral cutting tool you use to drill a hole through the ice, so you can catch fish.

"Tip-up:" refers to a device that suspends bait through a hole you've drilled into the ice. Tipping up is helpful because a flag snaps up through the hole in the ice when a fish strikes at the bait.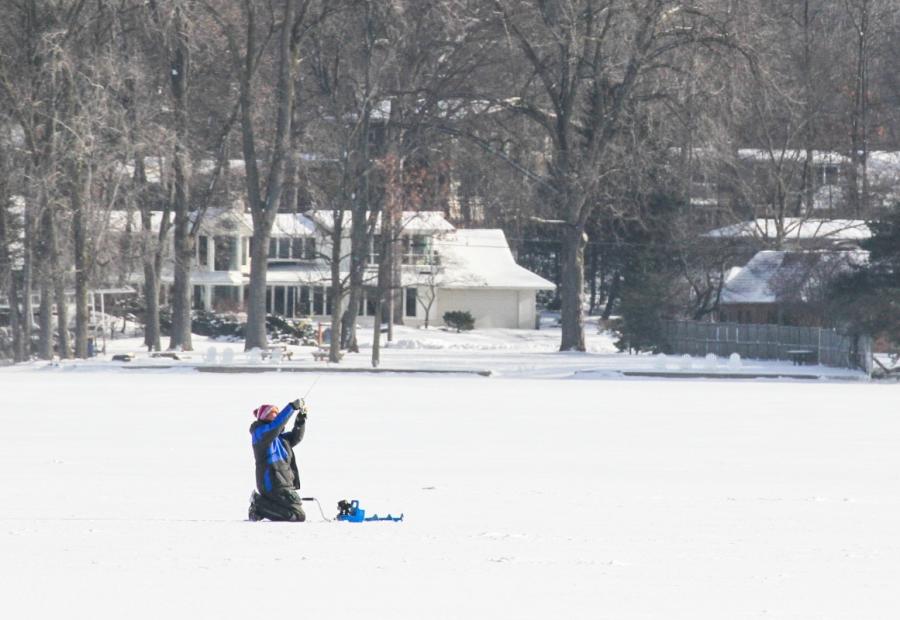 Ice fishing doesn't require too much equipment, but don't forget to bundle up once you get there.
Photo by Experience Grand Rapids
Equipment
Ice fishing takes less gear than many winter sports.   
"What I loved was that the lakes opened up to me in the winter. I didn't have a boat but, in the winter, I could tackle any lake I wanted by walking across it," Rodriguez explains.
In terms gear, Tom Werkman has this to say: "the three things that are super important in ice fishing are your smaller ice fishing rod, tip ups, and your ice auger."
In addition to these three things it's handy to have:
Ice fishing rod, tip ups, and ice auger- these are the three essential items for ice fishing, according to Werkman.

Scoop or strainer- this will help take ice shavings and snow out of the holes after you drill them

Lures or bait- try using perch minnows, mousies, and wax worms, depending on which species you're fishing for

Spud bar- this important device helps test the depth of the ice

Bucket- this will come in handy when you need somewhere to sit on the ice

Sled- this will help tote your gear across the ice, but isn't a necessity

Shanty and small heater- these items will protect you from the elements, but aren't a necessity
Other important safety devices include:
"Make sure you bring an ice pick that you keep around your neck so if you fall in, you can grab the ice with it," Werkman suggests.

Also bring a [throw] rope, even if you go with a buddy," says Werkman.

PFD or, if you decide you're committed and want to make a bigger investment, a float suit (see "clothing" section, below).
"I didn't have a boat but, in the winter, I could tackle any lake I wanted by walking across it."
Anthony Rodriguez, Betts Guide Service
Where to find the fish
West Michigan has plenty of areas to ice fish thanks to the area's many inland lakes.
Rodriguez and Werkman both recommended ice fishing at Reeds Lake in East Grand Rapids.
"There are lots of crappies and bluegills in Reeds Lake. A beginner fisher could really find some fish there!" said Rodriguez.
Other recommended lakes within 40 miles of downtown Grand Rapids include: Murray Lake, Wabasis Lake, Campau Lake, Big Pine Island, and Little Whitefish Lake near Howard City.
Camp Lake, Cranberry Lake, Lime Lake and Long Lake are all great options, too, that are within 20 miles of downtown.
If you're interested in ice fishing outside of Kent County, check out Hess Lake (45 miles north of Grand Rapids in Newago), Croton Dam Pond and Hardy Dam Pond (both reservoirs are on the Muskegon River located 60 miles northwest of Grand Rapids), and the connected lakes Lake Cadillac and Lake Mitchell (90 miles north of Grand Rapids).
"Start by calling a local tackle shop and ask where people are ice fishing and what they're using to catch fish," says Werkman. "There's nothing like getting the local knowledge from the bait and tackle shops.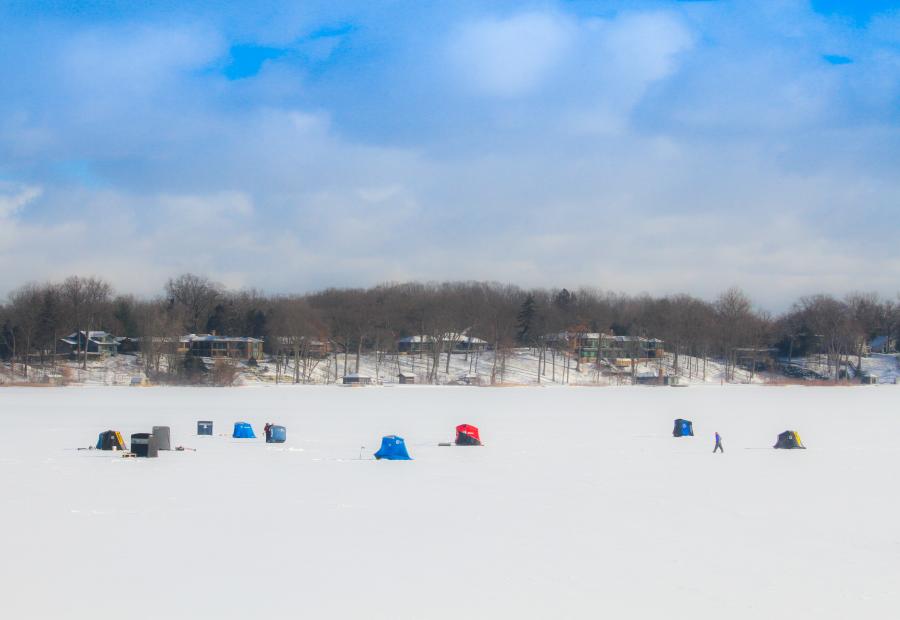 Reeds Lake is one of the many inland lakes that are popular for ice fishing in the Grand Rapids area.
Photo by Experience Grand Rapids
Where to go on the ice
So you've picked where you want to ice fish, but where on the ice should you go?
"I usually start with where people are congregating and make my way towards there," says Werkman. "Then I drill holes until I find weeds. Once I do, I fish that spot for awhile."
Rodriguez agrees that heading towards other fishermen is a good starting point.
"If I showed up to a brand-new lake and saw a big group of guys to the left and nobody to the right, I'd definitely start off to the left," he says. "There's not going to be a big group of people fishing nothing!"
Rodriguez also recommends using the Navionics app. "It gives you topographical information, has an interactive map, and is an outstanding app for fishing in any season."
Tips from the experts
Don't dress until you get there.

"If your feet are sweating in your big boots when you arrive, you're not going to last an hour on the ice, even if your boots are $10,000!" says Rodriguez. He wears sweatpants and a pair of light sandals or slippers in the car and puts on his winter gear when he arrives at the lake.

Bring shades.

"If the sun's out, you'll want sunglasses for sure. The reflection off of the snow can be blinding," advises Tom Werkman.

Safety in the shanty.

"When you have heater in an ice shanty, carbon monoxide poisoning is a danger," warns Betts. "Make sure you have some oxygen airflow. Crack the zipper and don't seal the shanty super tight."

Those sticks aren't decorations.

"Sticks in the ice might indicate an open hole," says Betts. "People typically mark their old holes with twigs."

Water warning!

"Be aware of any water on the ice, especially early in the season," suggests Betts. "It's a sign that the ice might be thin there."

Warm toes.

"The super-ninja trick to keeping your feet warm is wearing polypropylene sock liners under your socks. They're a game changer!" says Betts.
If you're intrigued and want to give ice fishing a trial run, why not try a guided ice fishing trip?
Both Werkman Outfitters and Betts Guide Service offer full-day and half-day all-inclusive trips. Both businesses take care of the gear, tackle, bait and where to find the fish; you simply go along to catch the fish!
Whether you decide to take a guided ice fishing trip, or hit the ice without a guide, be sure to reference the fishing page for more information on area lakes, and the winter activities page for more outdoor fun this winter.