Beer City Eats is an eight-part video series launched in 2019 that follows Grand Rapids native, Adrian "AB" Butler as he samples his way through the nuances of Grand Rapids' breweries and learns that there's more to Beer City, USA than just beer. The eight breweries highlighted in the series were chosen by crowd-sourcing the Experience Grand Rapids' social media audience. Check out the initial teaser video to learn more about the series.
We sat down with AB over a couple beers to find out what he's learned about his hometown city's beer scene and what recommendations he has for someone who's looking to broaden their beer horizons.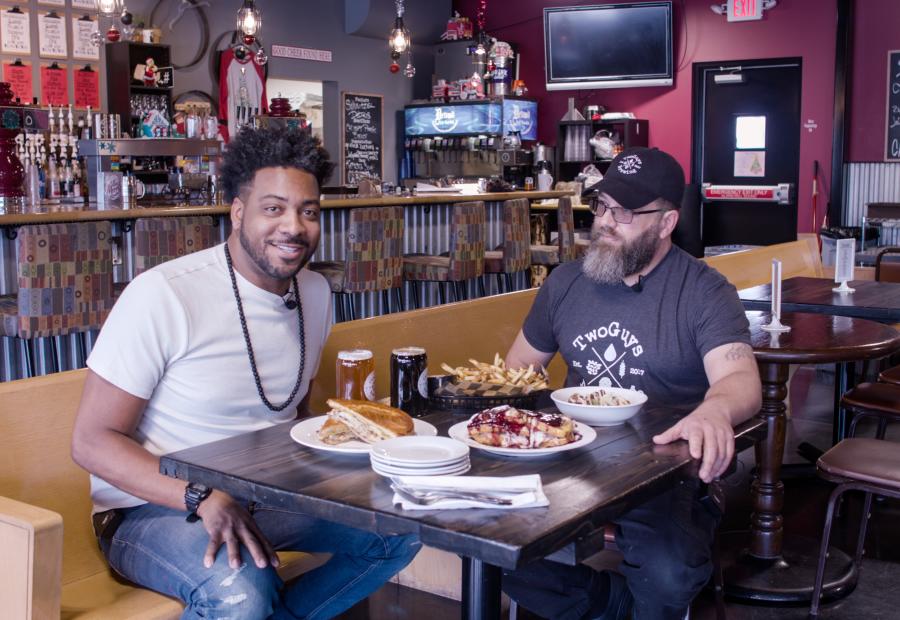 Beer City Eats host, Adrian "AB" Butler, during his interview with Thomas Payne, TwoGuys Brewing's Brewer, Chef, and Owner
Photo by Experience Grand Rapids
What do you think makes Grand Rapids' craft beer scene special?
Adrian Butler: Each brewery has its own distinct vibe and philosophy. That may sound cliché, but it's significant. We filmed at [in alphabetical order] City Built [Brewing Co.], Founders Brewing Co., Harmony [Brewing Company - Eastown], The Mitten [Brewing Company], Perrin Brewing [Company], TwoGuys Brewing, and [Brewery] Vivant—and every experience was completely unique. Everyone I met cared about everything they did to put beer in the glass and food on the table.
What have you learned from filming Beer City Eats?
AB: We filmed the initial batch of episodes at some of the breweries in and around [Grand Rapids]-proper that have amazing kitchens. It was awesome to see how they all approach their food in completely different ways. It was clear that their food had to be just as important—if not more, in some cases—than the beer. At the highest level, they care about their beer and their food. It's surprising how good brewery food is here.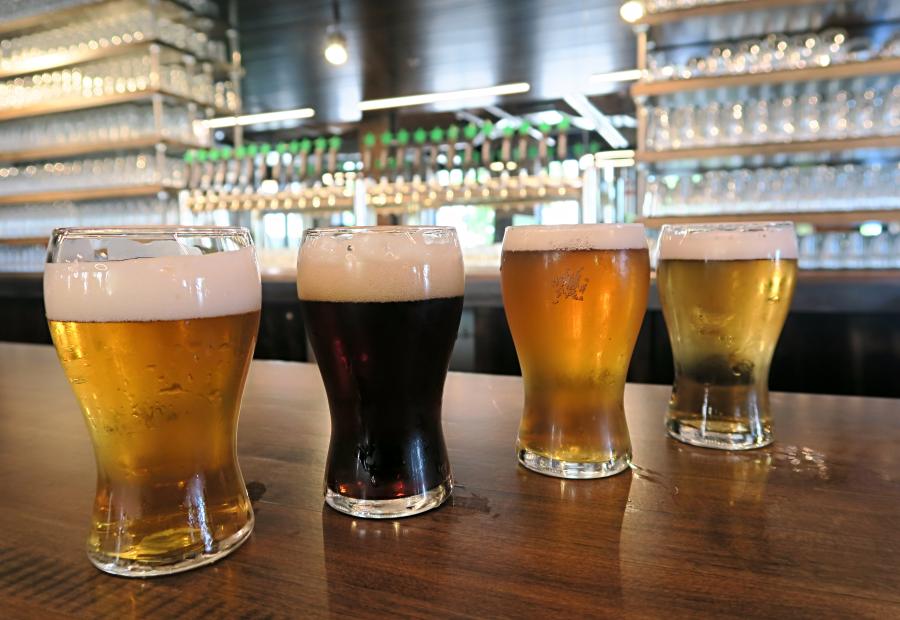 City Built Brewing Co. is setting standards high with its craft beer selection combined with tasty food inspired by family recipes.
Photo by Experience Grand Rapids
How would you describe the food at the breweries you've visited?
AB: No two pepperoni pizzas are the same [laughing]. Seriously though, filming this series has allowed me to have bone marrow for the first time, at [Brewery] Vivant. Yeah, they're known for their burger, and it's worth the hype, but man—that bone marrow! City Built [Brewing Co.] stands out. 
Is there anything you ate while filming that you probably wouldn't have ever tried otherwise? Other than Vivant's bone marrow?
AB: Oh, yeah, at TwoGuys, in Wyoming, Michigan. First, I have to admit I probably wouldn't have known to stop if I was just driving past the brewery, which is a converted 7-Eleven. Tom, their owner, makes sure their food is 'on point.' I'm telling you—their sandwiches are amazing, amazing, amazing. [Brewery] Vivant, by the way, has their own pastry chef?! I had no idea. I've been there for their burger so many times, but I'd never paired beer with chocolate, and [Brewery] Vivant introduced me to that.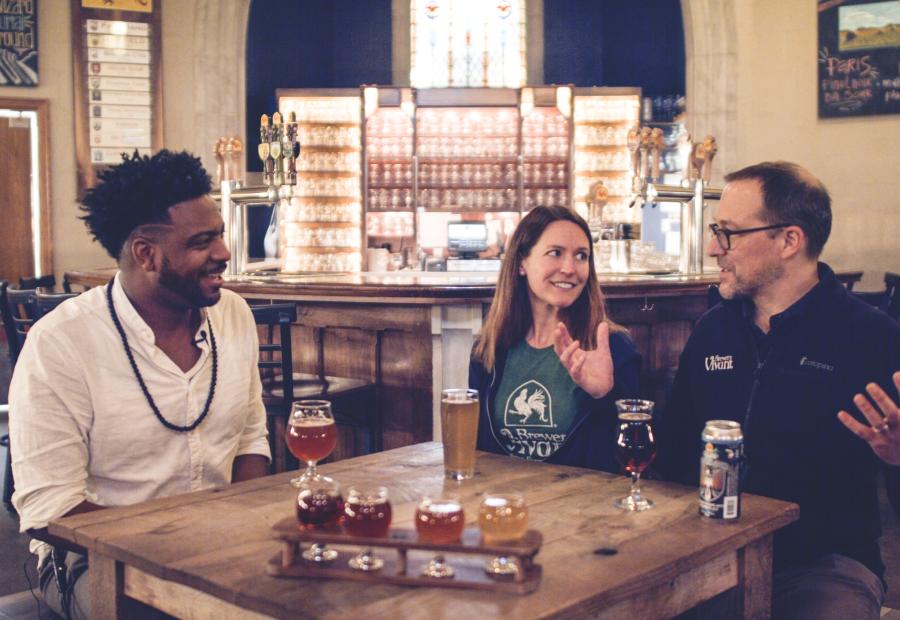 AB Butler talks with Brewery Vivant owners for Beer City Eats
Photo by Experience Grand Rapids
Prior to filming Beer City Eats, what was your experience with craft beer?
AB: I used to do open mic nights at the original Founders location. Then, while fronting my band, AB and Coconut Brown, we played around a lot, circa the late 2000s. We'd get a bar tab, and I'd try whatever was available. If we were out playing a local festival or another place with craft beer, all of a sudden our options weren't limited to Bud, Bud Light, or whatever else. We had a choice.
Why do you think the craft beer industry has become so popular?
AB: I think part of it taps into the drive to do your own thing. That entrepreneurial spirit—creating something on your own that brings so many people together is pretty special. The world is getting smaller, people are evolving, and tastes are changing. We all come from somewhere different, but we all want something better, and the craft beer scene offers that.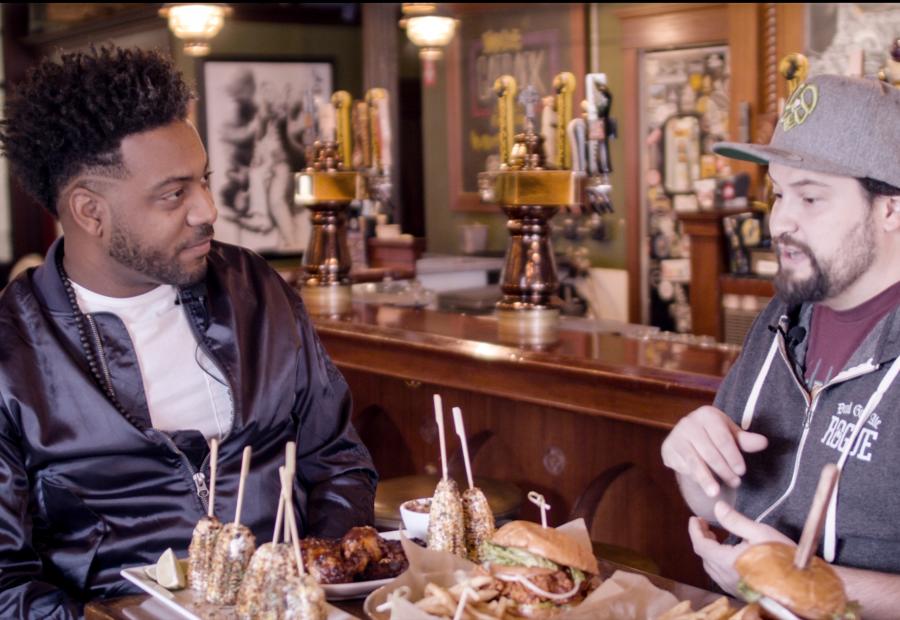 Rick Martinez, HopCat's Beer Program Director & Event Coordinator, talks beer and food with AB.
Photo by Experience Grand Rapids
In your opinion, as a lifelong Grand Rapids resident, how has the city and the craft scene changed over the years?
AB: It seemed like as soon as HopCat opened and Founders moved locations, craft beer, almost overnight, seemed to be everywhere. It just became really accessible. So living here, you got to be a part of it while it was happening. But, I gotta go back to the food. It's become such a complement to the beer. Now, it feels like if you're sitting in a brewery with a beer and haven't ordered any food, the overall experience is incomplete.
How do you think craft beer has affected Grand Rapids?
AB: There's beer literally everywhere—bottles and cans on-draft at almost every restaurant you go to. The thing is—you can go to any store you want and grab your favorite beer, and that's great. But, if you actually go to where it's made and they have a kitchen, you don't necessarily always have to drink, but you will always have a great meal. [Grand Rapids'] beer scene has definitely raised the bar for everyone's food game.
What's your advice for people who are interested in getting started with craft beer?
AB: Go to the Winter Beer Festival [which takes place in February]. It's the quintessential Grand Rapids beer experience. Besides that, go where the food is going to be great—where you're going to enjoy the food. Then, you'll always be able to find a beer to accentuate whatever you enjoy eating. I think we point people to all the beer first, but let's flip it. It's easier to attract a non-craft beer drinker to good food than it is trying to sell them exclusively beer that might be too intimidating. You can also seek out the breweries that have a full bar, like Harmony. And, if you really have no idea what you're doing, just ask. Bartenders and servers are excited to convert novices.
Where do you think the craft beer scene is going to go from here?
AB: From here? If you open a new place and your food's not on point and you don't have an amazing beer list, well... it's probably going to be difficult for you, especially in this city. In a broader scope, craft beer has the power and influence to be a reflection of its city. It's an opportunity to be inclusive. This is a perfect time for Grand Rapids to shine—to show everyone everything that the city has to offer.
Clearly, as Beer City, USA has grown, the standard for food has as well. That makes it no surprise that Grand Rapids won The Best Food City in Michigan in 2019.
Be sure to download the Beer City Brewsader® Passport app, to collect digital stamps for visiting participating breweries. Eight stamps will give you Brewsader status (and a free t-shirt), while 40 stamps give you Ultimate Brewsader status. AB visited nine breweries while filming Beer City Eats, which means he's officially a Brewsader!
Check out the full 'Beer City Eats' series and other Grand Rapids beer-related videos at the Beer City YouTube Channel, visit BeerCityEats.com, and check out the teaser video below: 
Note: HopCat Grand Rapids is now a brew pub and no longer a brewery, therefore HopCat does not count for a Brewsader pass.