Looking for some opportunities for fun, learning, and up-close experiences with animals this summer? A whole world of learning fun waits for kids - and adults - at John Ball Zoo. Visitors can get guided tours of different zoo exhibits and animals, experience the zoo after dark on a Twilight Tour and even step inside a red panda or brown bear habitat. The zoo also hosts a variety of classes and camps.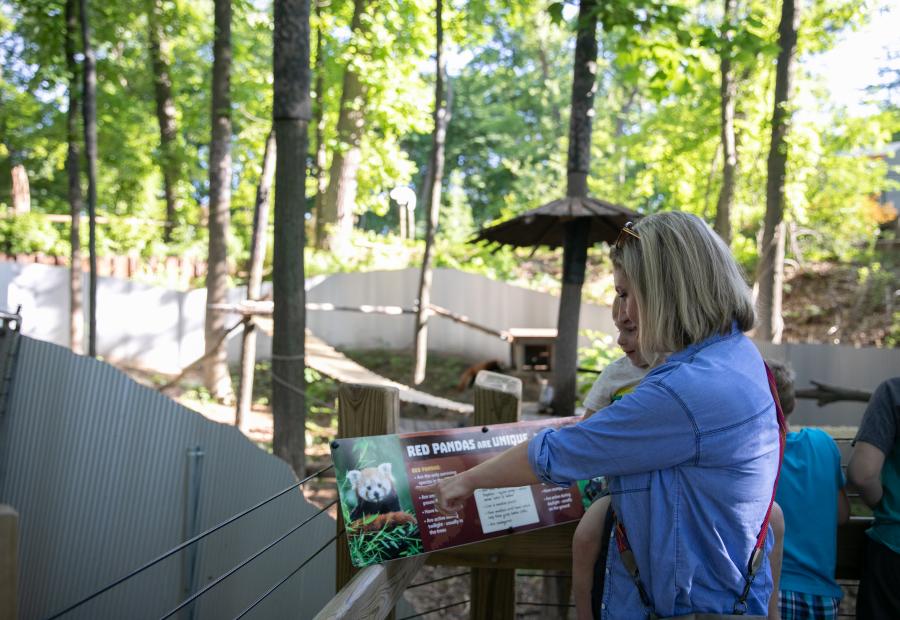 Participate in an early access tour to see the Red Pandas at John Ball Zoo.
Photo by Experience Grand Rapids
Early Access Tours
Start your day with a guided tour of your favorite area of the zoo. You'll have the whole place to yourself while a Zoo Educator guides you along and answers all of your zoo questions. There are three tours available:
North America and Aquarium
Natural Treasures and Chimpanzees
Red Pandas and Meerkats
The cost is $25 per person a minimum of four people. Email the zoo education department (education@jbzoo.org) if you're interested in an early access tour.
Twilight Tours
Bring your family, flashlight and a sense of adventure for this guided tour of the zoo as the sun goes down. You'll learn how to use your senses at night and how animals are adapted to life in the dark. The program includes an animal encounter and hands-on activities for children ages 5 years and above.
Twilight Tours for groups can be scheduled for a variety of times and dates, depending upon the time of year and needs of your group. Group tours are priced at $10/person, with a 15-person minimum. You can book your tour online or call 616-336-4302.
Under The Sea
You and up to 15 other people ages 6 and above can join zoo staff for a behind-the-scenes tour to see where animals spend their time while not on exhibit and learn how much goes into caring for the animals at the zoo. The Under the Sea Tour shows you how the zoo keeps aquarium habitats up and running.
Advance registration is required for this tour, which is conducted for a minimum of four people and costs $25 per person.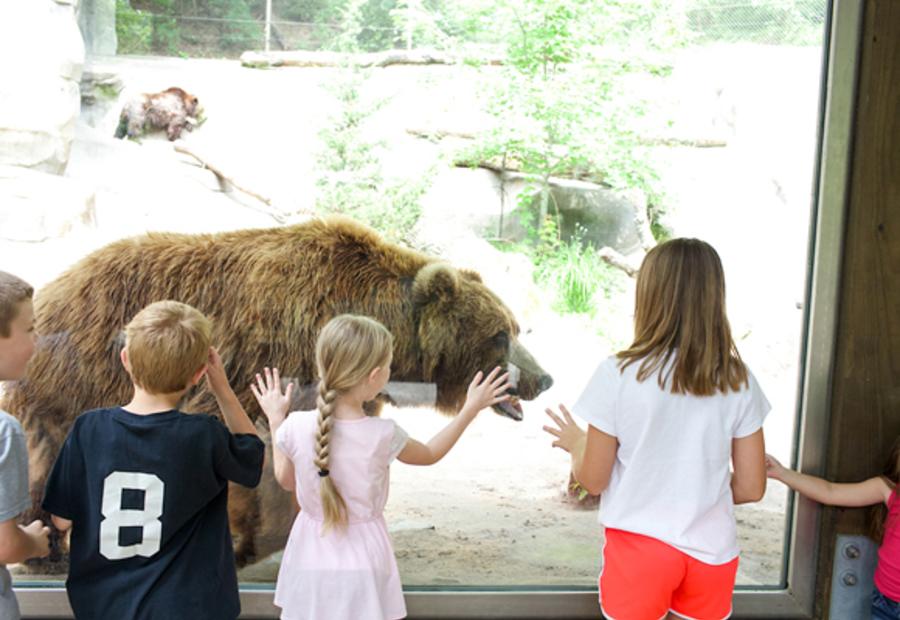 Summer camp at the John Ball Zoo gives children the opportunity to go on behind-the-scenes tours.
Photo by Experience Grand Rapids
Close Encounters
Have you ever wanted to feed a bear or red panda? How about meeting penguins up close? Join zoo keepers for one of these unique experiences:
Red Panda Encounter: step inside the red panda's indoor habitat and feed one out of your hand. Cost is $250 person with a two-person maximum. Participants must be at least 8 years old.
Penguin Feeding: one person can venture onto the penguin deck with a zookeeper to feed the penguins and learn what they do to care for the animals in aquarium habitats. Participants must be at least 13 years old and cost is $160 per person.
Penguin Encounter. Meet up to two Magellanic Penguins and their zookeeper in a personal, behind-the-scenes encounter space. Cost is $350 per person and participants must be at least 6 years old.
Brown Bear Encounter. Step into the bear habitat with a zookeeper to disperse the bears' morning diet and enrichment. Cost is $60 per person for 2-6 people ages 6 and above.
Find out how one dad used the Brown Bear Encounter as the centerpiece of a John Ball Zoo field trip for his kids. Visit this page and scroll down to Field Trip Add On Menu to plan your own family adventure.
Advance registration is required.
Zoo Summer Camp
Summer camp at John Ball Zoo is unique and always very popular. Classes often will sell out in early spring.
If you are lucky enough to score a spot in a Zoo Summer Camp, your child will be treated to a hands-on learning experience on a specific theme. Campers get behind-the-scenes tours, play games and do activities related to their camp theme. Summer zoo camps are available for kids as young as three and up through ninth grade.
Click here for a pdf schedule of 2023 summer camps.
Breakfast with the Animals
Start your day off with breakfast on the Zoo's South American Boardwalk, followed by a guided tour of two animal exhibits of your choosing. One group will take a stroll through North America and Otters, while the other goes to hang out with the Chimpanzees and Meerkats. June 21, July 5 and August 2. Visit the John Ball Zoo events page for ticket info.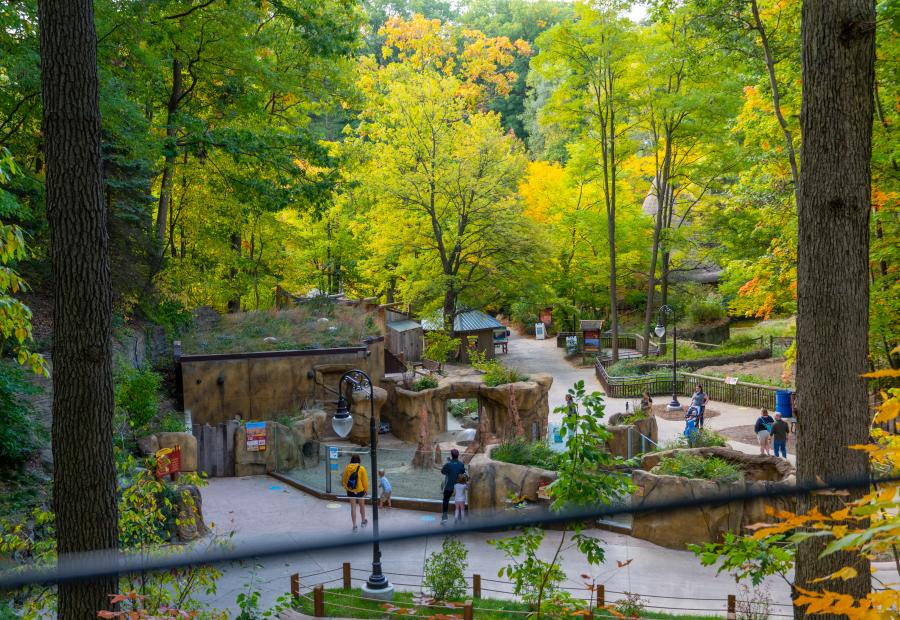 In addition to learning programs, the zoo offers many special events for children and adults.
Photo by Brian Craig for Experience Grand Rapids
Special Event
The Zoo's 2023 schedule also includes a number of special celebrations that also serve as learning opportunities:
The Grand Rapids Lantern Festival (April 19-June 11) features handcrafted Asian lantern displays that illuminate the Zoo and tell the intersecting story of wildlife and Asian culture. Get tickets here.
World Turtle Day is a "shellebration" of Michigan's native turtles. May 20.
World Ocean Day includes appearances from your favorite Disney sea characters. June 15.
Beat the Heat offers ice treats for animals and frozen activities for kids. July 6.
World Chimp Day features animal programming, keeper chats, Disney characters and more. July 14.
World Lion Day is a "feline festival" that includes authentic African dancers and musicians. August 10.
Visit the John Ball Zoo events page for ticket info.
Roaring Nights
Adults (21+) who'd like to explore the Zoo without children present can take advantage of six Roaring Nights every summer. Guests can stroll through the Zoo to see animal activities, while enjoying live music, craft beer and wines, and specialty food! Dates for 2023 are June 15 & 29, July 13 & 27, and August 8 & 24. Visit the John Ball Zoo events page for ticket info.
Beyond Summer
John Ball Zoo offers additional programs for kids throughout the year, including a Spring Break Camp, a fall and spring Sprout Series for 3 and 4-year-olds, Winter in the Woods for 3 and 4-year-olds in December-March, and the occasional Kid's Night Out, when parents can drop kids off to enjoy a zoo adventure.
Like summer camps, these experiences sell out quickly. You can sometimes get on a waiting list. Check current class availability here.   
The prices quoted above are for non-members. You can become a John Ball Zoo member to enjoy discounts to these programs as well as free general admission to the zoo, reciprocal admission to other AZA-accredited zoos and aquariums, and additional perks.