The West Michigan Mountain Biking Alliance (WMMBA) is a group of individuals who help to maintain and develop mountain bike trails in the local area. In West Michigan alone, the WMMBA has designed, developed, and maintained over 100 miles of off-road trails. The number of available single-tracks and trails grows each year. You don't have to be a serious biker to enjoy our local single-tracks either. Each mountain bike trail is designed to minimally impact the local environment and to provide a really fun recreational activity for trail users at any level!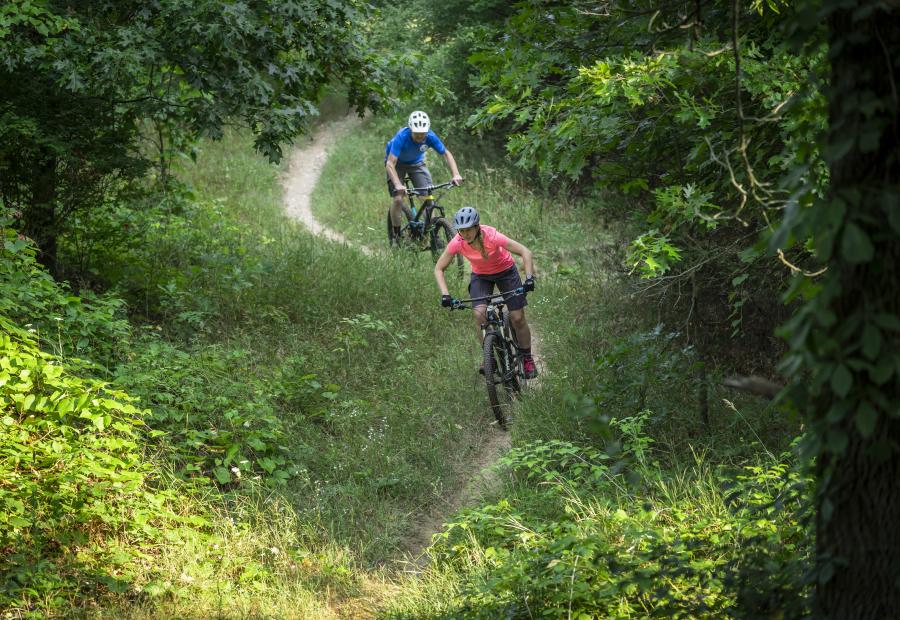 Two mountain bikers biking through a trail in West Michigan.
Photo by Experience Grand Rapids
Family Friendly: Cannon Township Trail
The West Michigan Mountain Biking Alliance maintains 12 different trails in the greater Grand Rapids area. Some of the trails, such as the Cannon Township Trail in Rockford, are located just off a paved bike trail, making the dirt easy to access and fun for the entire family. The single-track at Cannon Township Trail is limited to just over a mile in length, which makes it perfect for someone who is interested in checking out a mountain bike trail without overwhelming them with too much climbing or too long of a distance. For the experienced mountain biker, this area of trail is an added bonus loop on the way to or from two other beloved local trails: Luton Park or Cannonsburg Ski & Ride Area.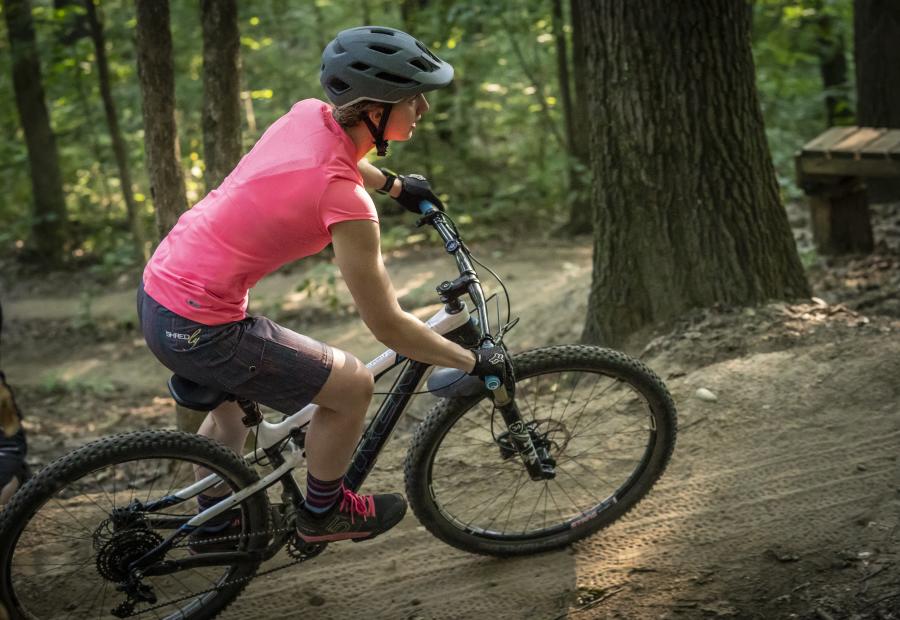 Mountain biking trail outside of Grand Rapids.
Photo by Experience Grand Rapids
Great for Beginners: Luton Park
Luton Park is another great option for those who are just beginning the sport of mountain biking, as it has one main blue loop – the widest and flattest loop at Luton – that riders can cruise on as they get used to their bikes and being on a dirt trail. More experienced and confident riders can begin to add in the other loops, with the yellow loop having the biggest climb. Worried you'll get lost or end up on the wrong trail? This trail has you covered! All loops and their difficulty level are marked at each of the WMMBA's trailheads and each loop at Luton has a trail map indicating the correct direction to roll.
Something for Everyone: Cannonsburg Ski Area
Cannonsburg Ski Area has some of the most variety in its trails with segments of fast-rolling and flowy single-tracks as well as a pump track and an ever-growing skills area. Cannonsburg works with mountain bikers to create the best experience possible by teaming up with the WMMBA to help build and maintain new trails each summer. Ben LaDuke, former head trail coordinator for the WMMBA, describes Cannonsburg Ski Area as "hard climbs, fast descents, flowy, technical, jump lines, pump track, and it all adds up to a very entertaining and diverse trail system."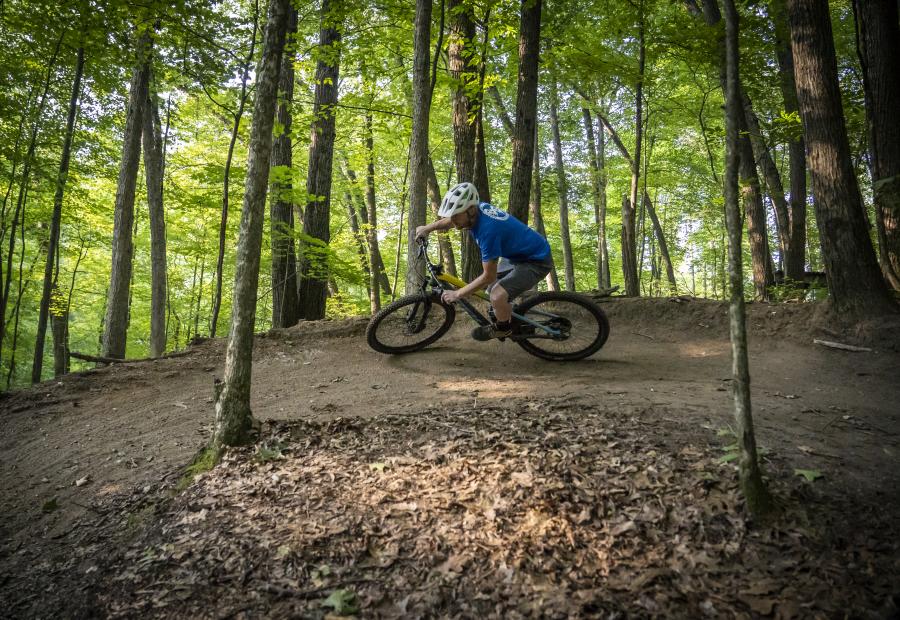 Mountain biking trails in Cannonsburg Ski Area.
Photo by Experience Grand Rapids
A Fun Challenge: Cannonsburg State Game Area
Once you've conquered the Cannonsburg Ski Area, you can take the connector trail to the Cannonsburg State Game Area for even more mountain biking fun. The State Game Area takes trail-users through pine trees, across bridges, and through a beautiful, changing landscape. With a few tricky climbs and some fast descents, this trail isn't recommended for first-timers, but it is absolutely stunning and a total blast to ride!
Local riders love that the State Game area has four segments of trail with terrain completely different from each other. Each segment is separated by a small stretch of gravel road, perfect for snacking and staying hydrated. From start to finish at the trailhead, the State Game Area is about seven miles in length, but if you have less time to ride or you want to cut it short, you can navigate your way back to the parking lot on the roads.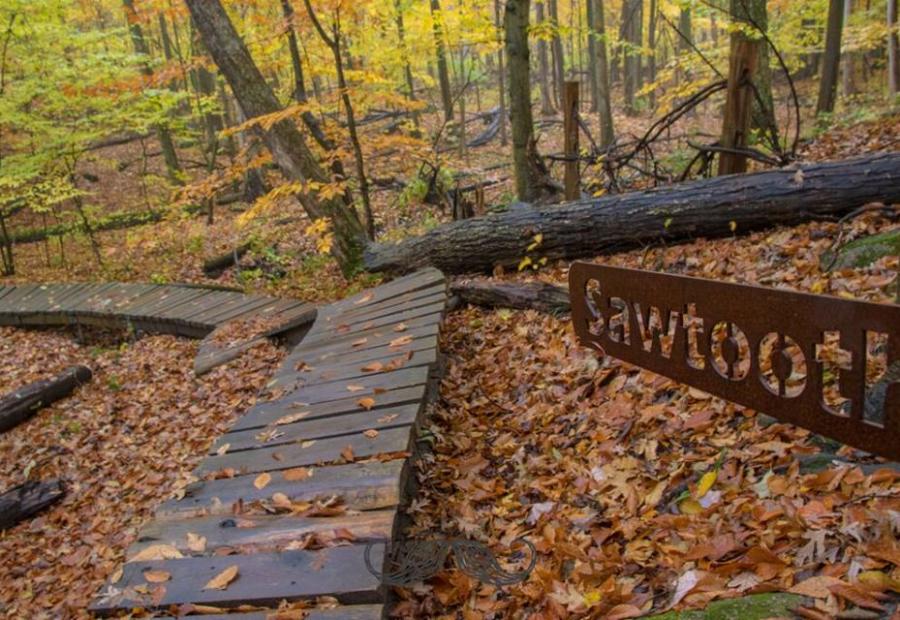 Merrel Trail Sawtooth
Photo by Rob Meendering, West Michigan Mountain Biking Alliance (WMMBA)
Experienced Bikers Only: The Merrell Trail
The Merrell Trail in Rockford is another local favorite for its fast descents, table-top jumps, roots, rocks, and elevated bridges and structures. Although it is open to all trail users, this trail was built and designed specifically for intermediate and experienced mountain bikers. You've been warned: Sawtooth, the most advanced section of Merrell Trail, is quite challenging and not for the faint of heart.
Unlike some of the other trails in the area, Merrell Trail users can expect the direction of the trails to change depending on the day.  Despite these changing trails, all trails are marked well and you'll be able to determine which direction to ride and what segment of trail you're on once you've started. Pro Tip: if you're in the mood for a longer ride, you can cruise north from Grand Rapids up the White Pine Trail to access both Merrell or Luton from 10 Mile in Rockford.
For a comprehensive look at mountain and road biking in West Michigan, check out our list here.
Remember: Be safe, wear your helmet, avoid the trail if it's muddy, and please be courteous to other trail users while you're out there enjoying some super fun single-track! Enjoy the ride and have fun!
This was originally published in 2018 and has been updated by Experience Grand Rapids.