There are several locally-owned coffee shops in the Grand Rapids area that can help keep you energized throughout the day.
But, perhaps you've just clocked out of work after a long day or you're a night owl who enjoys burning the midnight oil. Either way, a little caffeine can go a long way during the evening hours.
To help guide you toward your late night caffeine kick, we've compiled a list of local coffee shops that keep their doors open in the evening.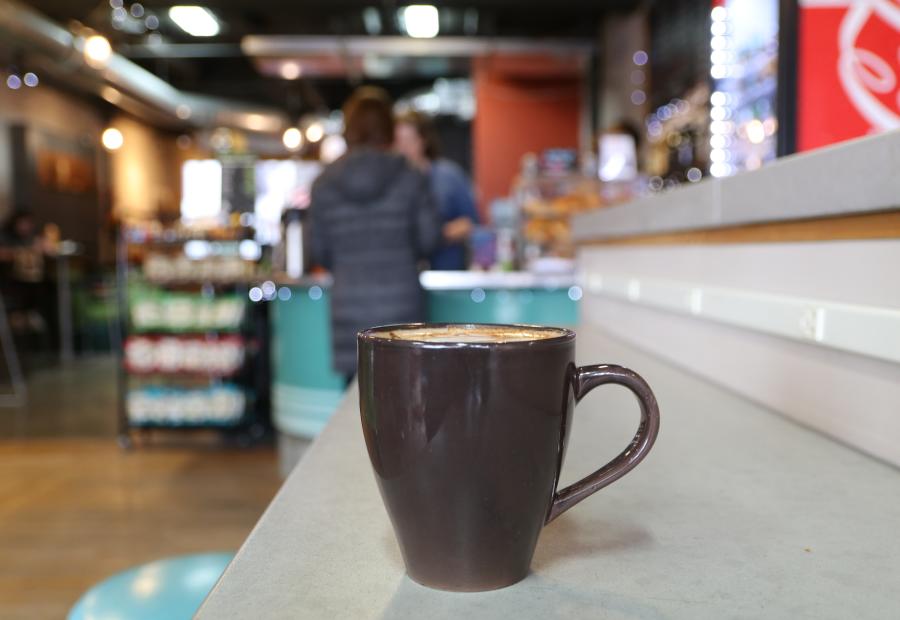 Mayan Buzz Cafe offers Central American-derived coffees, organic espresso, organic teas, smoothies, and sandwiches.
Photo by Experience Grand Rapids
Mayan Buzz Cafe
Location: 208 Grandville Avenue Southwest
Hours: Sunday: 7 AM - 9 PM; Monday to Saturday
Stepping into Mayan Buzz Cafe is like stepping onto Central American soil because this cafe offers a culturally diverse environment paired with a unique menu that head barista Alysha Burd describes as "one-of-a-kind."
"We have options for those who are a little tamer in their coffee preferences, but also options for those who have a wild side," says Burd. "My favorite beverage on the menu is the Mayan Mocha, which embodies our shop's unique flavors perfectly — a little sweet with a dash of spicy cayenne."
The drink menu at Mayan Buzz is heavy on coffees from Central American countries, and also includes locally-roasted organic espresso, organic teas, smoothies, and sandwiches.
The staff at Mayan Buzz Cafe is passionate about providing premium products within a community-style culture of respect and friendly service.
"The most gratifying feedback I have received from customers has been that they love the inclusivity of our cafe and how we accommodate all walks of life that come through our doors," says Burd.
Mayan Buzz provides a relaxing space where customers can simmer over a beverage in the cafe area while curling up near the fireplace, take advantage of free WiFi and various electrical outlets for productivity's sake, watch a big screen TV, or enjoy one of the free books or games available.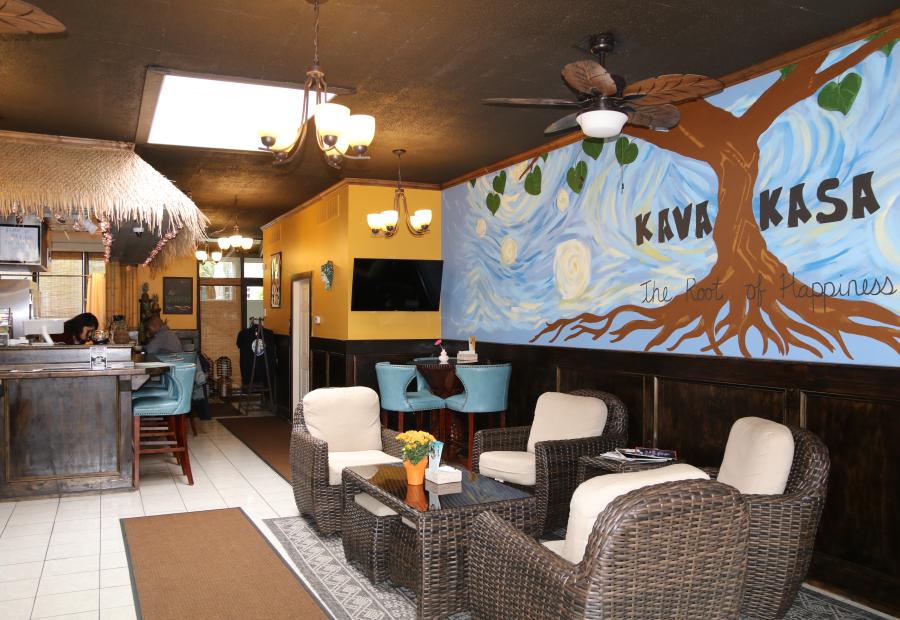 Kava Kasa's interior matches its island-type menu by paying homage to the South Pacific.
Photo by Experience Grand Rapids
Kava Kasa
Location: 962 Cherry Street Southeast
Hours: Sunday to Thursday 11 AM - Midnight; Friday to Saturday 11 AM - 2 AM
Located in Grand Rapids' Uptown neighborhood, Kava Kasa's interior matches its island-type menu by paying homage to the South Pacific. Featuring a tiki bar, wicker seating, a calming mural of a kava plant, lots of natural lighting, and a chill playlist to help enhance your mood, Kava Kasa is an ideal setting for sipping on a cup 'o joe.
Kava Kasa's unique menu features hot and iced coffee, herbal teas, and "kava" drinks infused with kava milk: a mixture of water and dried, ground kava root.
Kava is a root derived in the South Pacific, and is known for its calming effects. As Grand Rapids' first kava shop, plus its late-night hours, Kava Kasa is a great location for customers look for a late night boost of energy or relaxing setting.
As an added bonus, customers can fill growlers and howlers to make beverages at home or on-the-go.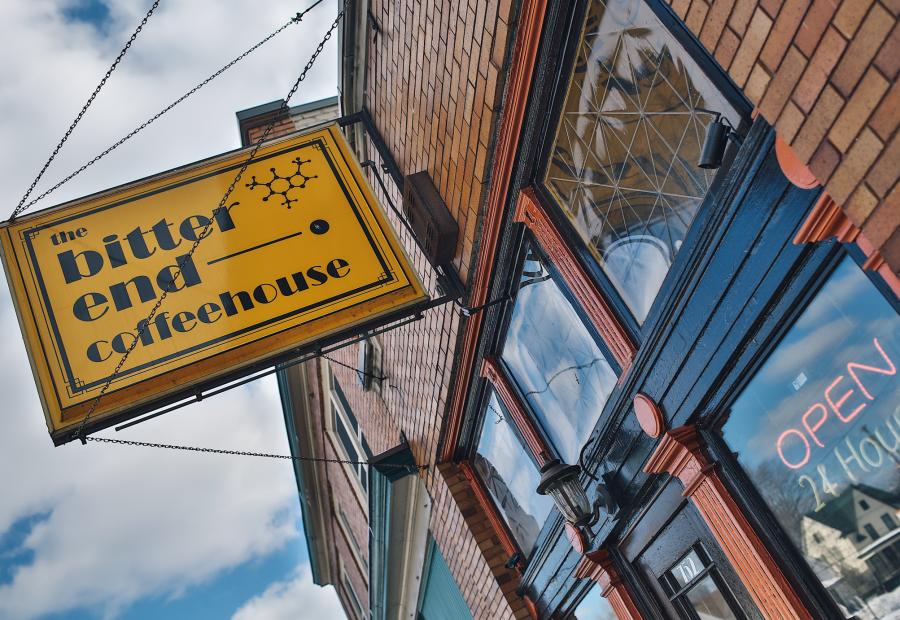 The Bitter End Coffee House is Grand Rapids' only coffee shop that's open all day, every day.
Photo by Experience Grand Rapids
The Bitter End Coffeehouse
Location: 752 Fulton Street West
Hours: Open 24 hours a day, seven days a week
When you walk through the doors of The Bitter End Coffeehouse, you may feel like you're stepping back in time because this venue has retained much of its historic look from when it was built in the 1900s.
The shop was originally the first branch of Kent State Bank, which later became Fifth Third Bank. It operated as the bank until the 1930s, a beauty shop until the 1940s, and then a radio sales and repair shop for nearly 70 years before becoming The Bitter End Coffeehouse just 15 years ago.
In 2004, the coffee shop was completely renovated to its early 20th century appearance, complete with a Grecian facade, tin ceilings, porcelain tile floors, oak woodwork, and leaded glass windows.
You'll find a vast menu of reasonably-priced espresso and espresso-based beverages created with craft-roasted fair trade and organic beans, as well as coffees from Africa, South and Central America, the Caribbean, and Indonesia.
The Bitter End's diverse menu also includes frozen coffees, many teas, smoothies, and even Ghirardelli hot chocolates. If you're hungry, the shop's bagels and baked goods are all locally-sourced and delivered fresh daily.
The Bitter End, which is open 24/7, offers an inviting ambiance with dim lighting, comfortable seating, and walls covered with unique artwork and images. If you need to get some work done, there are plenty of wall outlets to plug into as well as complimentary WiFi. And take note that there is a free city parking lot across the street as well as plenty of curb space for one-hour parking through the Grand Rapids parking mobile app, Motu.
I believe a beer or coffee is a vacation that you can afford every day, so come out, take a trip, and relax.
 Justin Nichols, owner of EB Coffee and Pub
EB Coffee and Pub
Location: 8980 North Rodgers Court Southeast, Suite D, Caledonia
Hours: Sunday: Closed; Monday to Friday: 7 AM - 8 PM; Saturday: 7 AM - 8 PM
For more than a decade, family-owned EB Coffee and Pub has provided a café-style atmosphere and live music on Friday nights in the heart of Caledonia. Customers can enjoy four mainstay craft beers and four rotating specialty beers at Michigan's first coffee shop and brewery that are all brewed on-site as well as a myriad of coffee options.
Owner Justin Nichols says many patrons choose his favorite coffee drink called the "Maple Leaf," a refreshing beverage that combines notes of maple and vanilla.
While relaxing in the rustic and contemporary motif of EB Coffee and Pub, Nichols also recommends spicing up your late night coffee cravings with a coffee/beer mix of "The Dirty Dancer" — a light blond ale with a shot of espresso.
"Drink two and it makes you feel like Superman," says Nichols. "I believe a beer or coffee is a vacation that you can afford every day, so come out, take a trip, and relax."
Visiting EB Coffee and Pub can also bring you one step closer on your quest to become an official Beer City Brewsader ® or Ultimate Brewsader by checking this participating brewery off your list. Either bring in your physical Brewsader Passport to get a stamp, or download the Brewsader app to conveniently check-in.
Check out this handy map to find all of these late-night coffee shops: