Greater Grand Rapids is home to one of the largest manufacturing centers in the country, including leaders in sustainable practices and industrial design. Our IT industry is growing at a rate of nearly 18 percent. Fifteen colleges and universities, including a Big Ten medical school, call Grand Rapids home. Innovation and strong work ethic, unique public-private partnerships, and a collaborative spirit are hallmarks of this community. It's no wonder that the life sciences industry is thriving here. We take a closer look as part of our series on local investment.
Investment, Infrastructure and Human Capital
With more than 60,000 local jobs tied to biosciences in 400+ health sciences establishments and over $2 billion invested in related infrastructure over the past 20 years, West Michigan is one of the fastest growing life sciences clusters in the country.
Cutting edge biomedical research, world-class hospitals and healthcare providers, rigorous health professions programs at diverse higher educational institutions and a medical device manufacturing community of 80+ companies have all contributed to the nearly 39 percent industry growth West Michigan enjoyed over the past 10 years.
Accessibility and Collaborative Spirit
For an outsider looking to tap into this growth, the most important factor is access – and access comes through collaboration. West Michigan life sciences leaders hold to the old adage that a rising tide lifts all boats. So here, collaboration is an expectation not an exception.
For example, MI-Device is the only Michigan-based consortium dedicated to medical device design, development, manufacturing and distribution. The 26-member consortium, sponsored by the region's economic development organization, The Right Place, works to speed the growth and development of medical devices by emphasizing and encouraging collaboration among members to meet overall product lifecycle and supply chain needs. The group includes both established companies and start-ups with capabilities in everything from precision machining to plastics to micro-springs.
But even before the medical device industry built a stronghold here, collaboration laid the groundwork for much of the growth in life sciences in this community. The expansion of the Michigan State University College of Human Medicine to Grand Rapids in 2010 is a good example.
In the late '90s, the community contemplated how to leverage its current investments to build an even more robust life sciences sector. One gem within the sector was the recently opened Van Andel Institute (VAI), an independent $238 million biomedical research institution dedicated to determining the epigenetic, genetic, molecular and cellular origins of cancer, Parkinson's and other chronic diseases. The institute – somewhat of an anomaly in that it is privately funded and independent of any university, hospital or public research institution – had already attracted distinguished investigators and research teams from the National Cancer Institute, National Institutes of Health and renowned research institutions around the world. It was also opening doors to research collaborations with area hospitals and universities, as well as with research teams worldwide.
Leaders at VAI and others vested in the life sciences industry came together to create a vision for growth predicated on the knowledge that they had to think big and draw upon the region's history of collaboration and innovative public-private partnerships.
Amidst these discussions, a 2003 study commissioned by The Right Place identified a medical school – specifically, the potential expansion of the Michigan State University College of Human Medicine to Grand Rapids –  as an important component for Grand Rapids to become a life sciences center. The study pointed to expanded research and clinical trials, intellectual property, physician recruitment and jobs as the critical components that a medical school would bring to the community.
In 2004, Grand Action, a nonprofit downtown development organization, convened a formal stakeholder group to explore the feasibility and value – to the community and to MSU – of bringing the MSU medical school to Grand Rapids. The stakeholder group included Spectrum Health, Saint Mary's Health Care (now Trinity Health Saint Mary's), MSU, Grand Valley State University, The Right Place and VAI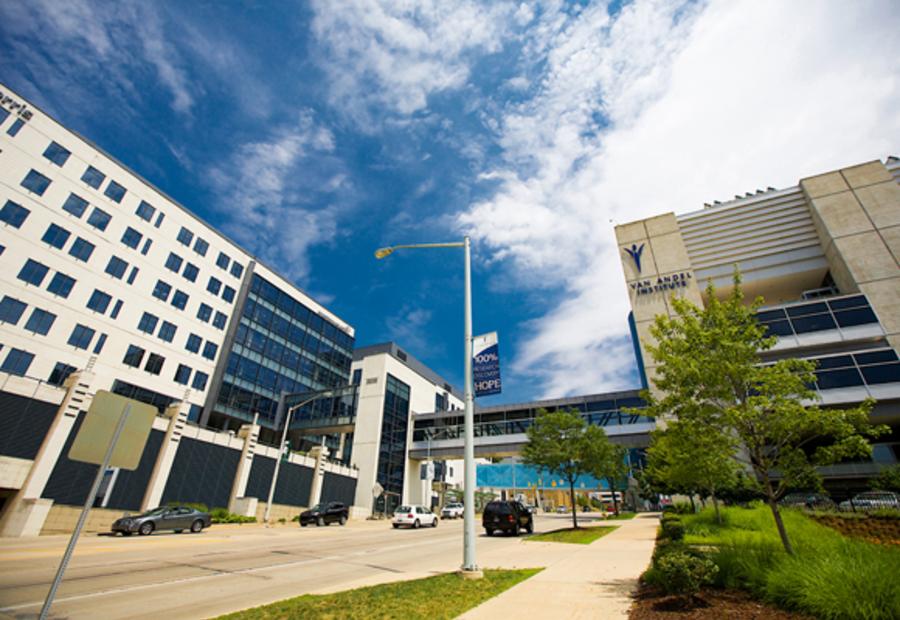 Van Andel Institute in Medical Mile neighborhood
Photo by Experience Grand Rapids
After several years of study and community engagement, the group developed a plan, raised the funds and, in September 2010, collectively celebrated as the MSU College of Human Medicine opened the doors to its new $90 million home in the Secchia Center. PDF File in downtown Grand Rapids.  
In addition to educating more than 300 first- and second-year medical students each year, the College of Human Medicine in Grand Rapids employs approximately 20 principal investigators who work in leased lab space at VAI and Grand Valley State University's Cook-DeVos Center for Health Sciences focusing on women's health, Parkinson's and other chronic disease. These teams collaborate with MSU research faculty and colleagues around the globe.
A Growing Biosciences Cluster
The university has expanded research facilities in Grand Rapids to accommodate new research strengths, with the MSU Grand Rapids Research Center opening in fall 2017. This $80 million, 163,000 square-foot biomedical research facility is designed as collaborative space and it anchors the west end of Grand Rapids' Medical Mile. This one-square-mile section of downtown stretches east up Michigan Street encompassing the Secchia Center, VAI, Spectrum Health's main campus – including a dedicated pediatric hospital, heart center and cancer center – GVSU Cook-DeVos Center for Health Sciences, the Calkins Science Center at Grand Rapids Community College,  Grand Rapids Women's Health Center and the Orthopaedic Associates of Michigan Surgery Center, along with numerous provider offices.  
The six-story Grand Rapids Research Center building houses 33 research teams that focus on improving treatment of diseases like cancer, Parkinson's and Alzheimer's, and exploring new approaches to women's health, reproductive medicine, and stroke prevention and treatments. The Center is part of MSU's Grand Rapids Innovation Park, designed as a collaborative health innovation hub for biomedical research, bioengineering and health technology.
The park also includes MSU's Secchia Center College of Human Medicine and the Doug Meijer Medical Innovation Building. Opened in early 2022, the $85 million, 210,000-square foot Innovation Building encourages public-private partnerships in medical science by facilitating relationships across tenants. One tenant, BAMF Health, has opened "the most modern and advanced dual-cyclotron radiopharmacy in the world" in the building, offering cutting-edge medical imaging and treatment of cancers and other diseases.
In summer 2022, Perrigo – one of the world's leading providers of consumer self-care products – opened a new $45 million corporate headquarters in Innovation Park. More than 150 Perrigo employees now work in 63,550 square feet of office space on the top three floors of a 10-story, 125,000 square foot building. The remaining seven floors will house tenants in health care and related fields.
MSU's growth along the Medical Mile is estimated to support just over 2,000 jobs, increase local earnings by $142 million and have an annual impact of $339 million in gross sales each year in Kent County.
The center will serve as an economic engine, underscored by the fact that MSU is a member of the Big Ten Academic Alliance, a model for effective collaboration among research universities. With more than $10 billion in funded research, it is one of the best-funded research alliances in the world. The Grand Rapids Research Center will help MSU College of Human Medicine and its Grand Rapids partners tap into this alliance on a deeper level, expand medical research, and serve as a stimulus for growth in biotechnology and life sciences business attraction.
Nearby, on the east end of the Medical Mile, Grand Valley State University opened the Raleigh J. Finkelstein Hall in spring 2018. This $37.5 million health campus expansion features 84,000 square feet of classroom space, teaching laboratories, computer labs and faculty office space for GVSU's health professions programs. GVSU expanded its health campus on the Medical Mile even further in 2021 with the opening of the five-story, 166,000 square-foot Daniel and Pamella DeVos Center for Interprofessional Health. The $70 million facility houses GVSU's college of nursing along with 17 classrooms, 12 interactive labs and state-of-the-art learning technologies.
World-Class Care
Spectrum is one of the nation's Top 15 health systems, employing 31,000 people at 14 hospitals and a robust network of care facilities throughout West Michigan. Its main downtown Grand Rapids campus is home to the Helen DeVos Children's Hospital,  Lemmen-Holton Cancer Pavilion and Fred and Lena Meijer Heart Center, as well as a Level I trauma center, all located along the Medical Mile.
Spectrum is currently building a new 11-story, 240,000 square-foot ambulatory medical center on the downtown campus as well as a $100 million Center for Innovation and Transformation in Grand Rapids' Monroe North neighborhood, a half-mile from the Medical Mile. The Monroe North facility will consolidate 18 offices and serve as the organization's system-wide headquarters.
Just a mile south of Spectrum's downtown campus, Trinity Health Saint Mary's operates a 344-bed acute care hospital, as well as the Lacks Cancer Center and Hauenstein Neurosciences Center.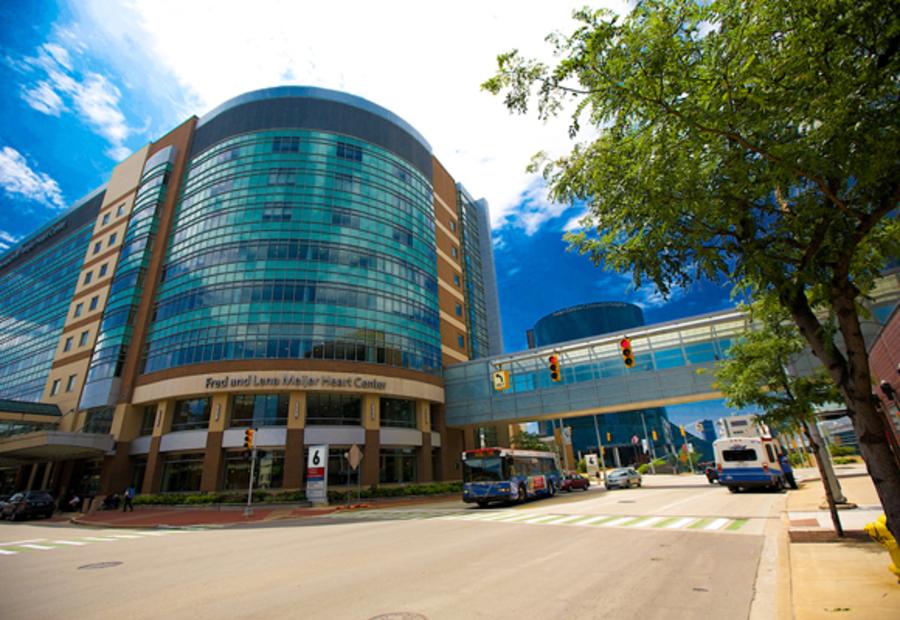 Fred and Lena Meijer Heart Center
Photo by Experience Grand Rapids
The $60 million Hauenstein Neurosciences Center is the only comprehensive neurological center of its kind in the country and offers patients access to fellowship-trained physicians specializing in epilepsy, spine and brain disorders, Parkinson's disease, sleep disorders, stroke, dementia and overall nervous system care.
Next door, Mary Free Bed Rehabilitation Hospital – a 130-year-old, 167-bed hospital providing acute care inpatient physical and cognitive rehabilitation and post-acute services – unveiled plans for a $60 million children's rehabilitation hospital across the street from its main campus. Scheduled to break ground in 2023, the project is a collaboration between Mary Free Bed and Spectrum Health's Helen DeVos Children's Hospital.
Mary Free Bed Rehabilitation Network extends the hospital's specialized services across an alliance of more than four dozen hospitals in five states.
And finally, University of Michigan Health-West, a 208-bed teaching hospital in the southern Grand Rapids suburb of Wyoming, extends the excellence of Ann Arbor's highly respected health system to West Michigan. The hospital anchors The Village, a 170-acre complex of health care buildings and offices, as well as a hotel and retail stores for the convenience of out-of-town patients and their families. UofM Health-West also operates 20+ additional care centers throughout West Michigan.
Investing in Innovation and Access
The people behind Grand Rapids' burgeoning life sciences industry would be the first to say, they don't know exactly where the industry will grow from here, but they know there is no end in sight. Strong investment continues.
Spectrum Health in Media Mile
Photo by Experience Grand Rapids
Spectrum Health, for instance, has established a venture capital fund to invest in health-related companies. Specifically, Spectrum Health Ventures will invest up to $2 million per deal in established health-related companies in the areas of:
Genomics and personalized medicine
Artificial intelligence and cognitive computing for disease prevention
Behavioral health and well-being
Digital innovations for consumers, and
Population and health analytics
The aim is to support innovations in new technologies, products and services that improve patient health and drive down costs.
And while these investments mean Grand Rapids is growing its healthcare, biomedical research, health science education and medical device manufacturing assets and capabilities, they also ensure greater access – for entrepreneurs, investors, talent, students and patients – to all that a robust life sciences industry has to offer.
Grand Rapids is Michigan's fastest growing metro area and one of the nation's strongest economies, fueled by a creative, collaborative spirit that generates global, national and entrepreneurial investments. Experience Grand Rapids highlights leading sectors of the local economy to underscore the city's suitability for innovation-focused meetings.