Come for a visit!
That opportunity for adventure attracts fun-loving visitors to Kent County and across the state.  In fact, tourism consistently ranks among Michigan's top three industries, with outdoor recreation being a big driver of that tourism. In 2020, Michigan was named the best travel destination in the world for outdoor enthusiasts.
The economic impact is huge. In 2019 – the year before the COVID-19 pandemic suppressed the travel economy – 125.6 million visitors spent $26.3 billion in Michigan, generating $6.0 billion in total governmental revenues and $2.9 billion in state and local taxes. The tourism industry accounted for 230,792 jobs statewide in 2019.
But tourists aren't the only ones enjoying the great outdoors. Plenty of locals love the woods, water, parks, courses and trails, too.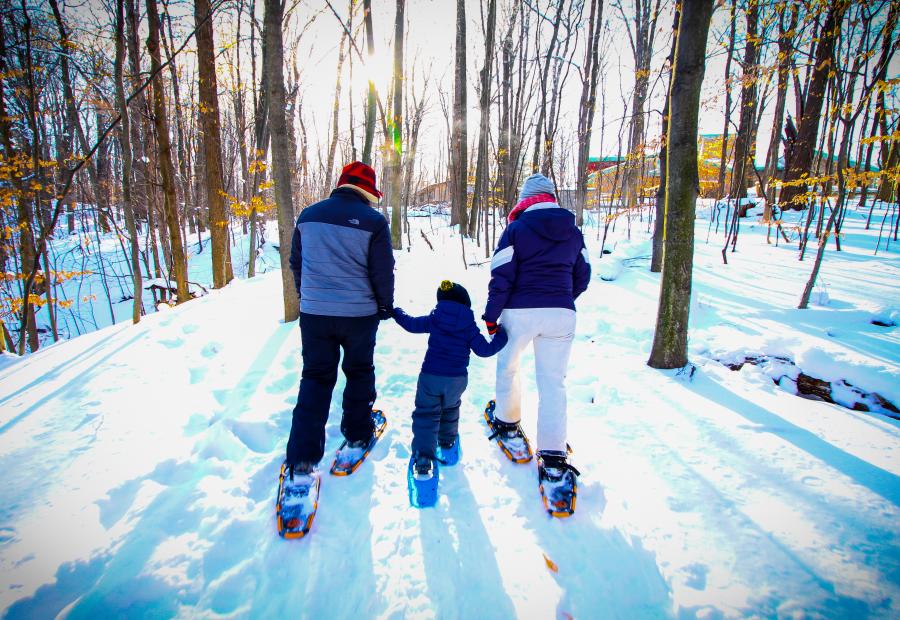 Four full seasons of outdoor recreation opportunities make West Michigan attractive for visitors and adds to the quality of life for residents.
Photo by Experience Grand Rapids
Driving the Michigan economy
According to the Outdoor Industry Association, 63% of Michigan residents participate in outdoor recreation each year. The association points out that investing in outdoor infrastructure attracts employers and active workforces, ensuring those communities thrive economically and socially.
The numbers bear that out. According to a 2017 OIA report, Michigan outdoor recreation generates:
$26.6 billion in consumer spending annually
232,000 direct jobs
$7.5 billion in wages and salaries, and
$2.1 billion in state and local tax revenue
To help protect and further advance our outdoor recreation industry, Michigan joined the Confluence of States in 2019. This bipartisan coalition of 16 states works together to develop a national platform to grow the outdoor recreation industry, protect the nation's wild places and transform conservation into a driver for economic prosperity. 
Around the same time, Michigan created the Office of Outdoor Recreation Industry as part of the Michigan Department of Natural Resources. This office collaborates with industry partners to leverage emerging trends, create effective policy and elevate outdoor recreation opportunities and resources across Michigan.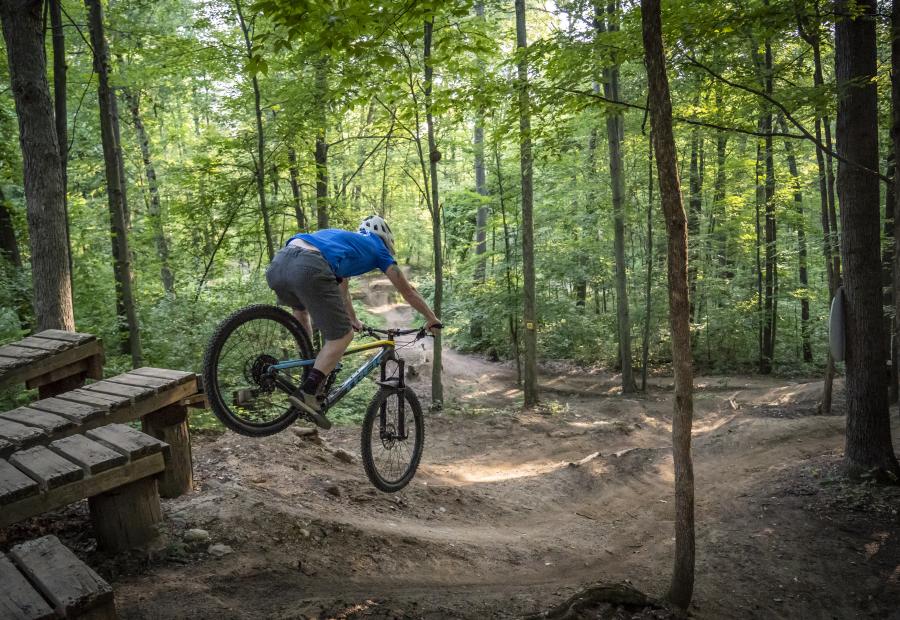 Outdoor recreation has led to the creation of local businesses that support the industry.
Photo by Experience Grand Rapids
West Michigan businesses thrive on fresh air
The state made the announcements at Outside Coffee Co. in Grand Rapids. The coffee shop is affiliated with Woosah Outfitters, a Grand Rapids-based art and outdoor apparel company whose founder, Rae Lang, says their work is inspired by the stillness and beauty of nature. 
Other local companies find similar inspiration – and economic success – in the outdoor recreation industry. Beyond of Ada, Bill & Paul's Sporthaus, Gazelle Sports and Switchback Gear Exchange are among the local companies providing apparel and equipment for outdoor enthusiasts. Wolverine Worldwide, headquartered in Rockford (20 minutes from downtown GR) is home to two of the world's most recognizable outdoor brands, Chaco and Merrell. And HOLO Footwear, a sustainable outdoor footwear company, recently announced plans to move its headquarters from Portland, Oregon to Grand Rapids, citing the area's "robust outdoor recreation assets" as a major reason why.
Muskegon, a lakeshore community just 40 miles northwest of Grand Rapids, is hometown of Sherman Poppen, the man credited with inventing snowboarding. With a nod to that history, Muskegon-based Marhar Snowboards takes on Michigan winters with its full line of snowboards and related gear – many of which can be used at the Muskegon Luge Adventure Sports Park, site of one the four luge tracks in the United States.
Michigan's fastest growing metro area and one of the nation's strongest economies, Grand Rapids is fueled by a creative, collaborative spirit that generates global, national and entrepreneurial investment. Experience Grand Rapids highlights leading sectors of the local economy to underscore the city's suitability for innovation-focused meetings.