When you think of Grand Rapids, you might think about the award-winning craft beer and food scene. Or perhaps the fact that it's Michigan's second largest city with a history of furniture manufacturing. You might not immediately consider the outdoor recreation activities available near this bustling city – but you should.
Visualize this: If you fly over most large cities, you'll probably see a lot of buildings, streets, skyscrapers, etc. But, if you fly over Grand Rapids, you'll see a city core surrounded by greenery with one of the largest lakes in the world just 35 miles to the west. At Experience Grand Rapids, we want to highlight the unique ways you can travel from an energetic downtown to a quiet nature area within five minutes. Grand Rapids offers visitors and residents, alike, a unique combination of outdoor recreation and cool city experiences that are practically intertwined.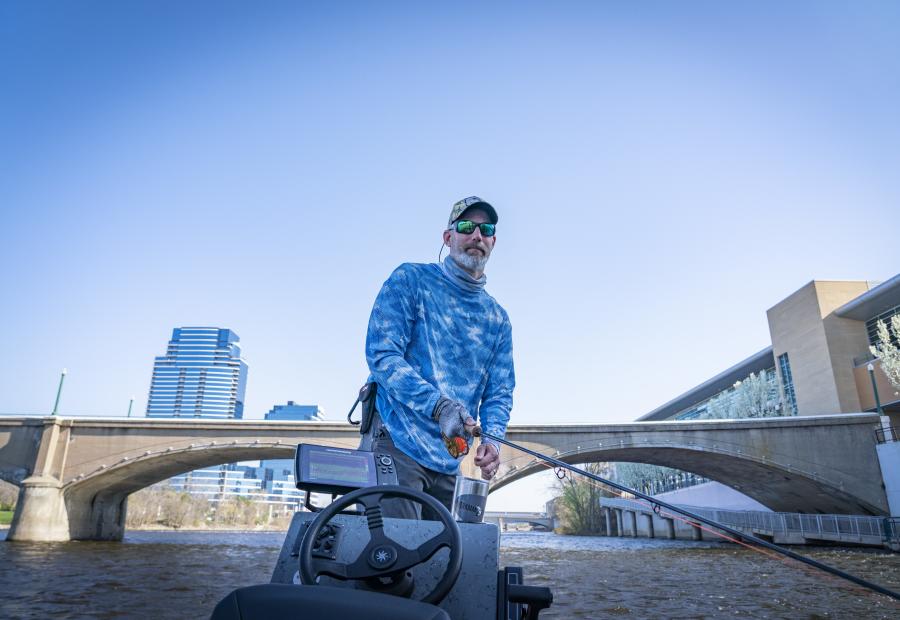 A person fishing in the Grand River in downtown Grand Rapids.
Photo by Experience Grand Rapids
We're accustomed to partnering with our local breweries and arts organizations to promote things like craft beer, art festivals and events, fine art exhibits and other cultural offerings. But as the area's official destination marketing organization, we knew we had to step up our game in promoting the abundant and diverse outdoor recreational opportunities right outside our door.
First, we engaged the community to gather the information needed to tell the story of our parks, trails, waterways, and other outdoor amenities. Over the past couple of years, we've been chipping away at this research, promoting it on our ExperienceGR.com website and launching a refresh to the My City Bikes Grand Rapids smart phone app.
Now, we're stepping up our efforts as we aim to increase both the local community's awareness of outdoor experiences and attract visitors to the area.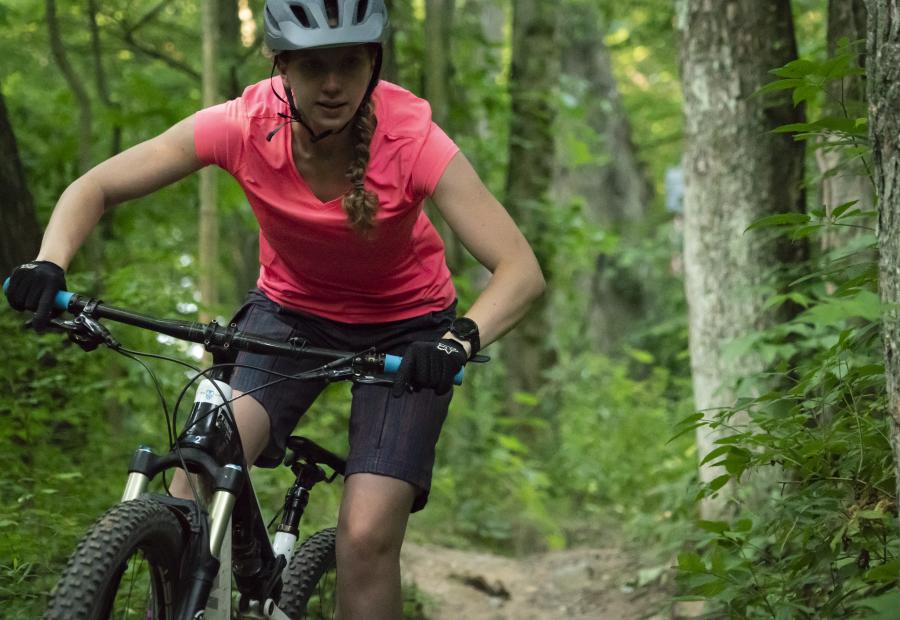 Mountain biker with pink shirt riding through a trail near Grand Rapids.
Photo by Experience Grand Rapids
We recently contracted with a Michigan-based outdoor filmmaker, Aaron Peterson, to produce a series of videos that will help us promote outdoor recreation in our area. Aaron is a passionate outdoorsman and gifted storyteller and is helping us capture the incredible outdoor recreation offerings we have in West Michigan – offerings like fishing, mountain biking, paddling, and skiing. 
This March, EXGR will release the warm-weather films and video shorts showcasing fishing, paddling and mountain biking. Later this year, we will release the cold-weather films to showcase all that our Michigan winters have to offer. You'll be able to find the video series titled The Grand Outdoors on Experience Grand Rapids' YouTube channel, ExperienceGR.com and on stage with Aaron, the film director, at the Mountain Film festival on March 23 at Saugatuck Center for the Arts.
I hope you'll be inspired to get outdoors, try something new and join us in telling future visitors about our Grand Outdoors. We should all be proud.