When it comes to caring for our planet, we all have a role. Many manufacturers in the plastics industry take that role very seriously.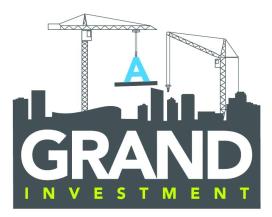 In May 2019, Grand Rapids was host to the Re|focus Sustainability & Recycling Summit. The fourth annual summit put on by the Plastics Industry Association (PLASTICS) brought plastics and equipment manufacturers, plastics processors, consumer products companies and recyclers to town to learn about the newest machinery, innovative materials, and technologies that are helping to "green" the industry.
According to PLASTICS, the industry is moving from being one that simply aspires to sustainability to one that puts its commitment to recycling and reusing into action. The Re|focus Summit challenges brand owners, processors, engineers, product developers, and the entire supply chain to "refocus" on product design, technology, and manufacturing that drive recycling and sustainability.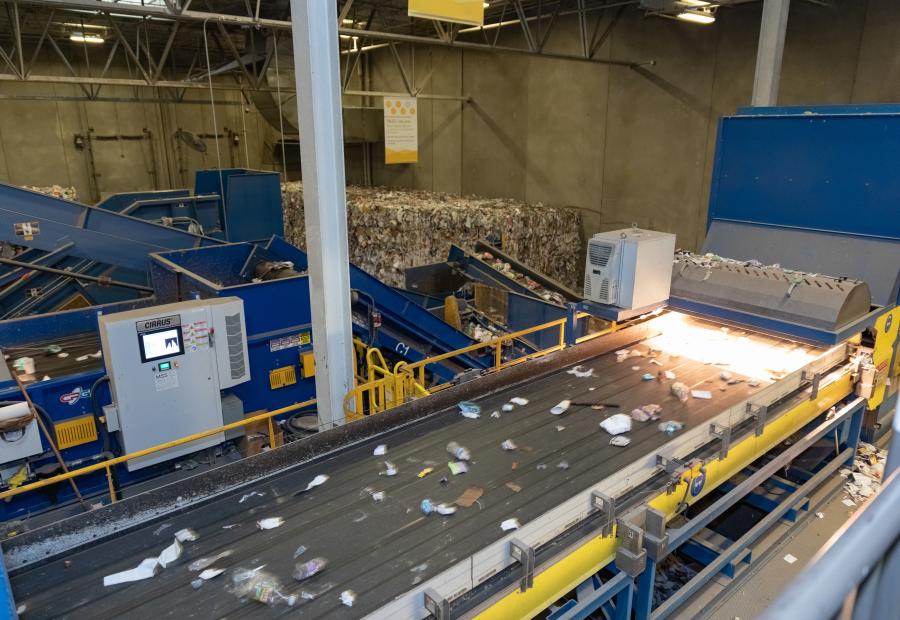 Re|focus Summit visited the Kent County Recycling and Education Center for a tour during their conference in Grand Rapids.
Photo by Mark Richardson, Series One, LLC.
Why Grand Rapids?
"We knew we wanted to take Re|focus to the Midwest so we looked at top tier cities around manufacturing hubs, and Grand Rapids emerged as the best option," said Kim Holmes, Vice President, Sustainability, Plastics Industry Association and now a consultant to the industry. "Grand Rapids' commitment to sustainability made it a good fit for this event."
Michigan is one of two states with the highest concentration of plastics industry jobs in the nation, and thousands of those jobs are located in and around Grand Rapids. The plastics manufactured and processed here serve industries as diverse as the products we all use on a daily basis – from cars to furniture and appliances to bottled beverages. Some of the biggest plastics products manufacturers in the area – including Lacks Industries, Cascade Engineering, and ADAC Automotive – supply, among other things, Michigan's automotive industry.
West MI Industry Innovations
PLASTICS drew on this strong local industry presence for the Re|focus Summit, scheduling tours of four Cascade Engineering facilities on the opening day of the conference. But it was more than Cascade's plastics prowess that made them a natural choice for the tours.
As a global manufacturer and one of the largest certified B Corps in the world, Cascade Engineering has a long and unwavering commitment to the Triple Bottom Line (TBL): People, Planet, Profit.
The tour showcased CE's commitment to sustainability, starting with a visit to its Learning Community, a LEED Platinum Certified building housing their corporate offices, where attendees heard why Cascade is a TBL company.
Cascade describes its commitment to the planet this way: "There's only one earth, so we do everything possible to reduce our impact on it. We work hard to build a sustainable organization and are committed to continuously reducing waste emissions into the air, land, and water."
The tour group also visited the Buursma plant, which molds 95, 64, and 32-gallon rolling containers used for solid waste, recycling, and organics collection, and houses their 9000T Battenfeld molding machine – one of the largest presses in the world. The tour wrapped up with stops at Noble Polymers, where the company provides thermoplastic solutions that are both high-performance and eco-friendly, and CE's 33rd Street facility, which utilizes "Natural Work Teams," self-directed teams that oversee the entire operation without management supervision.
Cascade's innovations are representative of the direction PLASTICS would like to lead the industry. Among the association's pillars is the belief in advancing sustainability and being good stewards of resources.
To that end, they also partnered with the Kent County Department of Public Works to arrange DPW facility tours and get a post-consumer perspective on their members' products.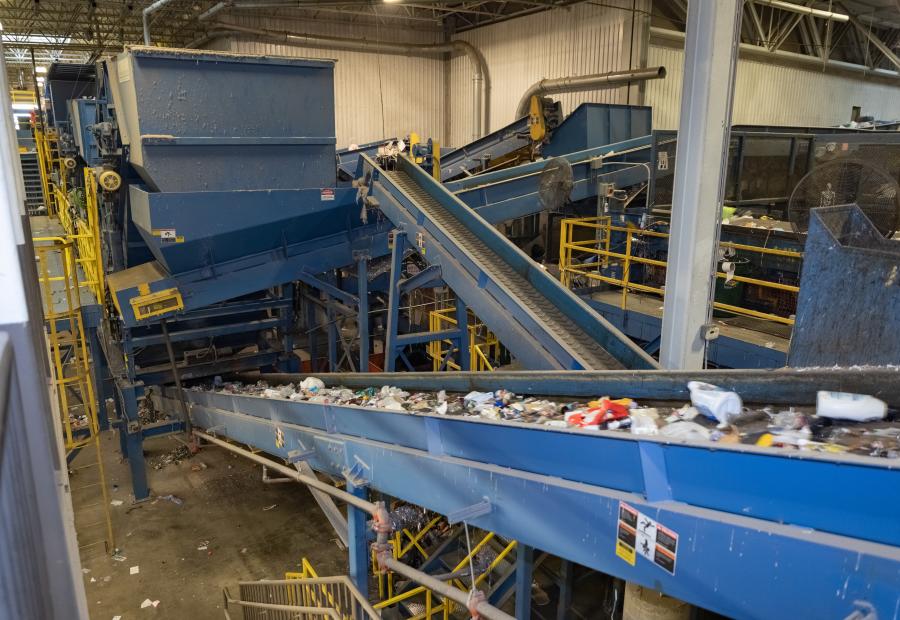 Conveyor belt transports plastic at the Kent County Recycling and Education Center.
Photo by Mark Richardson, Series One, LLC.
Reimagining Trash
The Kent County DPW serves Kent and surrounding counties. It operates four integrated solid waste management facilities, two of which were in the spotlight at the Re|focus Summit.
Attendees toured the Recycling and Education Center, the primary Kent County materials recovery facility, where residential recycling from curbside bins and drop-off recycling centers is sorted and prepared to be sold to processors and end-users. There, they got a first-hand look at the back end of their products' life cycle.
They also visited the county's state-of-the-art Waste to Energy (WTE) plant, where DPW safely incinerates non-hazardous solid wastes from municipal and commercial operations, generating up to 16 megawatts of electricity – enough to power 11,000 area homes.
But beyond generating clean electricity, the WTE facility has diverted more than five million tons of refuse from the landfill since it opened in 1990, extending the landfill life by over 10 years.
The backdrop for all of this is the county's Reimagine Trash vision. Among the most aggressive county-led sustainability efforts in the nation, Reimagine Trash aims to reduce the area's landfill waste by 20% by 2020 and 90% by 2030. 
The county estimates that 13% of the waste that it processes each year is plastic. In addition to the environmental costs, the county recognizes the economic impact of tossing plastic in the trash. Following a 2015 study, researchers estimated that the value of the plastic West Michigan throws away each year is more than $20 million.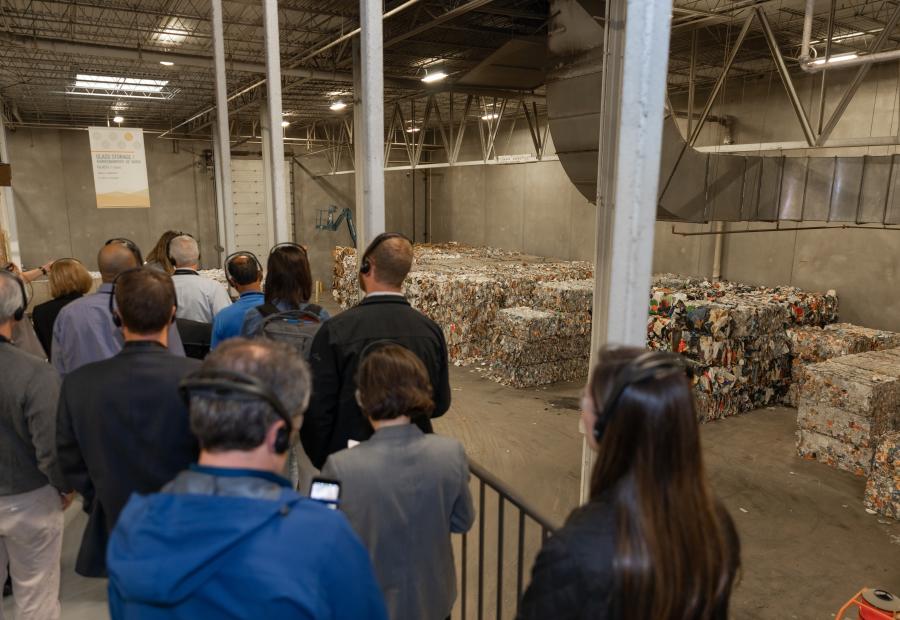 A group tours the Kent County Recycling and Education Center in Grand Rapids
Photo by Mark Richardson, Series One, LLC.
DPW says that doing a better job recycling and reducing how much waste we landfill could keep thousands of tons from hitting our landfills and natural environment each year – and generate millions of dollars to invest in our communities.
That potential has DPW fielding more requests for presentations from groups like Re|focus Summit as well as individual plastic manufacturers and consumer products companies – local and otherwise. They want to know exactly how DPW processes plastic products so they can do a better job designing and manufacturing products with an eye toward sustainability. 
Waste Management Starts with Manufacturers
The management of post-consumer waste begins long before it hits the WTE facility, recycling center or landfill. In fact, it begins with plastics manufacturers and processors like those that toured the DPW facilities.
There are a number of things that factor into DPW's ability to recycle and the amount they are recycling versus dumping or incinerating. It begins with manufacturers and package designers who determine which materials will be used, how those materials will be combined and whether or not they will be clearly marked for recycling.
Even the configuration, mix of materials and package labeling play a role. If the packaging is too complicated or isn't clearly marked, most people will simply throw it away. Those are the kinds of things that consumer products and packaging manufacturers are looking at when they tour DPW facilities.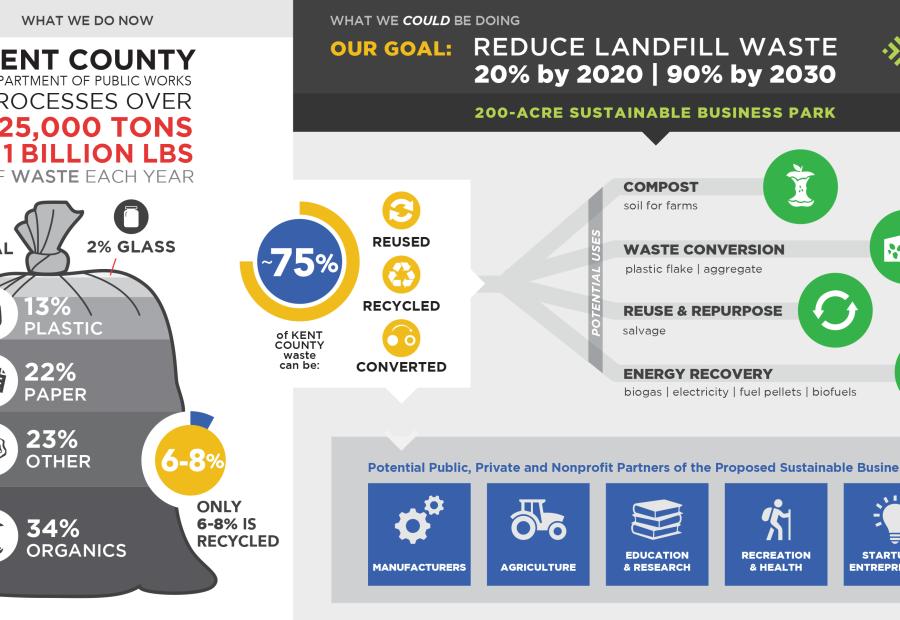 Kent County DPW infographic detailing statistics about their work.
Photo by Kent County Department of Public Works (KCDPW)
Manufacturers are also using lightweighting technology to reduce the amount of plastic – and therefore the amount of natural resources – required to produce a product. Plus, designers are adjusting the shape of packages so more items can fit in a single shipment. Both of these innovations save fuel when products are transported. The bottom line is, today's package designers are aiming to create plastic containers that can be filled with a product, transported and recycled with the least amount of environmental impact.
Sustainable Business Park
To ramp up industrial recycling and help Kent County reach its Reimagine Trash 2030 goal, DPW plans to develop a 250-acre Sustainable Business Park. The park would attract companies that specialize in reclaiming or converting waste materials that might otherwise be dumped into the landfill into usable materials, such as fuel pellets, plastic flake, compost and more. Complementary businesses, startups and entrepreneurs could then tap into these reclaimed or converted materials and transform them into new products, including clothing, automotive components or animal feed.
In 2022, the Board of Public Works named an anchor tenant for the Park: Continuus Materials + Anaergia (CM+A). Continuus is a Texas-based company that specializes in the production of coverboard products derived from sustainable materials. Anaergia is an Ontario-based waste-to-resources service provider. This joint venture – formally named "Kent County Bioenergy Facility" –  is projected to handle 400,000 tons of trash per year and 30,000 tons of recyclables which would be turned into renewable natural gas, fertilizers, recyclable commodities and roof coverboard. DPW estimates that the processing facility could be open within five years if all goes well.
Beyond moving Kent County closer to its goal of reducing landfill waste, the park offers tremendous potential to preserve open space, create jobs, foster research, generate renewable energy and help conserve natural resources and protect the quality of our water.
Even as plans advance for the Sustainable Business Park, local manufacturers are boosting their own recycling capabilities. In 2022, for example, recycling company Padnos announced plans to build a Wyoming plant to specialize in recycling ocean-bound plastics, Goodwill Industries of West Michigan entered into a joint venture to recycle plastics into stormwater drainage infrastructure, and UFP Industries acquired a recycling company to help grow its line of composite decking made with recycled polymers. 
The determination of both our public and private entities to prioritize sustainability is a key reason PLASTICS chose Grand Rapids as host city for one of its annual Sustainability & Recycling Summits … and an indication that we'll continue to innovate new solutions to minimize the environmental impact of plastics manufacturing.
Michigan's fastest growing metro area and one of the nation's strongest economies, Grand Rapids is fueled by a creative, collaborative spirit that generates global, national and entrepreneurial investment. Experience Grand Rapids highlights leading sectors of the local economy to underscore the city's suitability for innovation-focused meetings.