The Rapid's Route 19 service was originally created in 2012 to provide enhanced service to the Michigan Street/Medical Mile corridor, one of the city's most traveled routes.
In August 2018, The Rapid transformed Route 19 to help alleviate traffic and parking issues thanks to a partnership with the City of Grand Rapids and Spectrum Health.
Riders will need a Wave card, the Rapid's e-fare payment system, which is available for purchase and reload at Central Station, Walgreens stores, Speedway stations and many other retail stores around the greater Grand Rapids area. 
Here's everything you need to know about The Rapid's Route 19: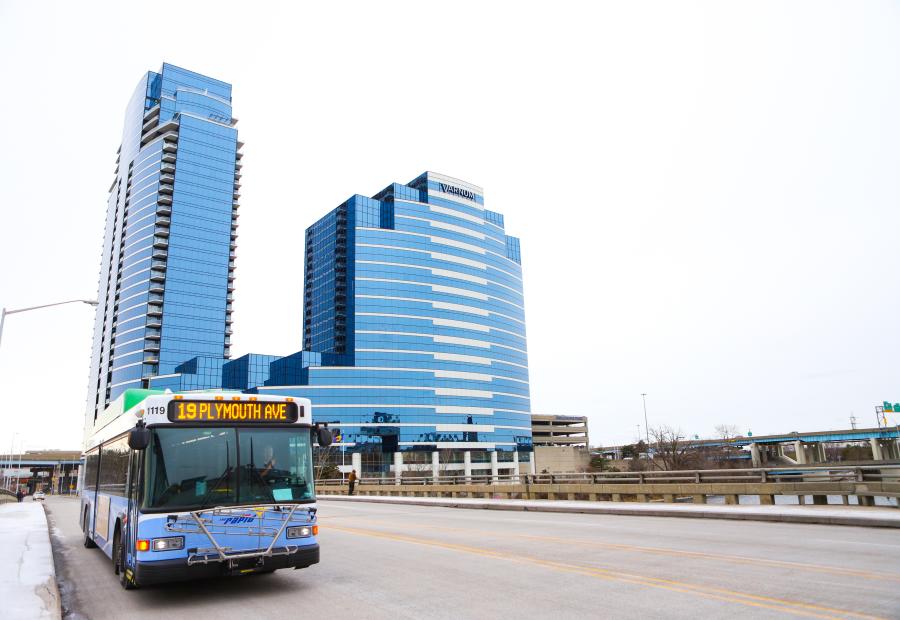 Fact: The Rapid's Route 19 carries an average of 1,100 riders every day.
Photo by Experience Grand Rapids
Hours and Route
Route 19 buses operate Monday through Friday and carry an average of 1,100 riders every day. They run from 6 AM-10 PM Monday-Friday. Riders can catch a bus every 15 minutes from 6 AM-3 PM and again from 8 PM-10 PM, and every 10 minutes from 3 PM-8 PM.
With a quick tug of an overhead pull cord, riders can depart the bus at any of the 28 stops along Michigan Street between the city's east side on Plymouth Avenue and the city's west side on Bridge Street. The buses also take a short detour off Michigan Street to make stops on Lafayette Avenue, Prospect Avenue, and Barclay Avenue when traveling westbound before 3 PM.
Brittany Schlacter, public outreach coordinator of digital media for The Rapid, says if you're unfamiliar with the route, there's a helping resource available on every bus.
"If you have any questions about Route 19, or riding [a Rapid Bus] in general, don't hesitate to ask your bus operator," says Schlacter. "They're very friendly and essentially act as your guide to the Greater Grand Rapids area."
You can also make your traveling easier by getting real-time departure times on the Transit, MyStop and Moovit mobile apps available for Android and iOS.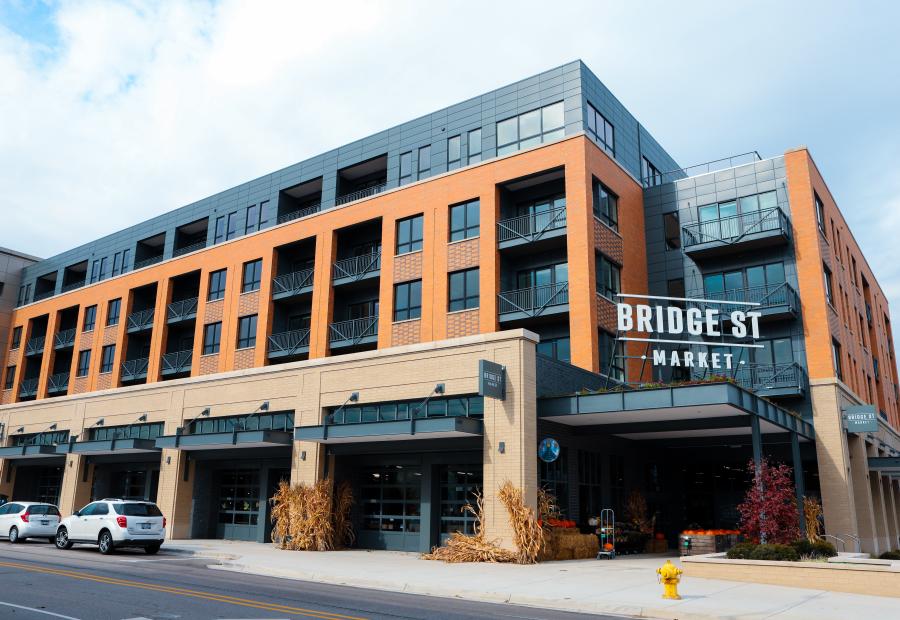 The Rapid Route 19 has tons of stops located in front of Grand Rapids attractions, like Bridge Street Market.
Photo by Experience Grand Rapids
Exploring Route 19
Riders will find an abundance of fun activities and unique stops while traveling across the vibrant and expanding West Side and Medical Mile neighborhoods. There are eateries, breweries, retailers, lodging options and so much more to experience within a few blocks' walk from many Route 19 stops.
Shopping
Whether you're shopping for groceries or gifts, Route 19 includes a variety of retail shops and markets.
Bridge Street Market, a West Side neighborhood grocery store from Meijer, is located at the corner of Bridge Street and Stocking Avenue where there is conveniently a Route 19 stop. The market offers a diverse variety of fresh foods, national staples and supplies for your day-to-day, including pet supplies, cleaning products, gifts and over-the-counter medical supplies. There's even a cozy Mayan Buzz Cafe area for a delicious dose of caffeine.
Grand Butchers (Michigan/Eastern stop) and Gordon Food Service grocery store (Michigan/Diamond stop), are also great stops on the east end of Route 19 where you can fill your grocery bags.
Bars & Restaurants
It's easy to experience how Grand Rapids earned the title of Beer City USA by simply traveling Route 19.
In particular, the area surrounding the Bridge/Broadway stop has seen significant growth in the past few years, adding many popular breweries. So pull up your Brewsader Passport app, jump on a Route 19 bus, and enjoy some of the best restaurants and breweries Grand Rapids has to offer.
Starting at the west end of Route 19, the Bridge/Stocking stop brings you to plenty of fantastic bars, including  Steel Cat Bar, Harmony Hall and One Bourbon, to name a few. Even more dining options await you at the Bridge/Seward stop, like New Holland - The Knickerbocker, O'Toole's Public House, Jolly Pumpkin Pizzeria & Brewery, The Sovengard and Butcher's Union. 
After crossing over the river, you'll be close to Atwater Brewery and SpeakEZ Lounge at the Michigan/Monroe stop, where you'll find unbeatable beer at the former and a wide variety of brunch, lunch and dinner options at the latter. 
At the Michigan/College stop, you can start your day off right with a delicious breakfast at the Omelette Shoppe, or a fresh bagel coupled with locally roasted coffee from Bagel Beanery. Or, if you're in the mood for a gourmet Italian meal, Palio Ristorante is also close by. 
The Michigan/Eastern stop has quite a few restaurants and bars to choose from as well, including Bob's Sports Bar, 7 Monks Taproom, Birch Lodge and Logan's Alley. No matter what you're craving, the Rapid's Route 19 can connect you to a meal you won't soon forget.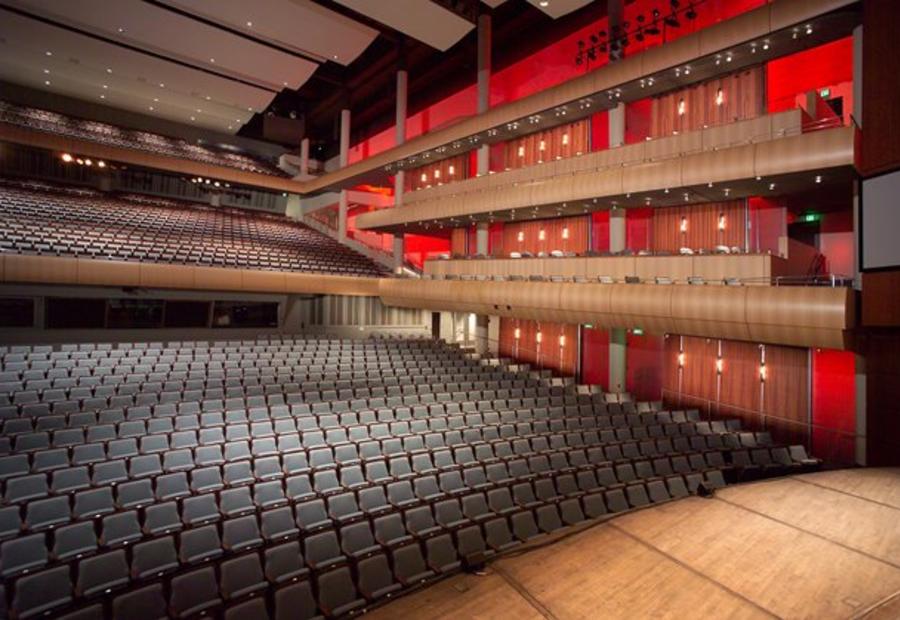 If you're attending an upcoming event DeVos Place, the Rapid's Route 19 is a convenient way to get there.
Photo by DeVos Performance Hall
Entertainment
Route 19 can also bring you straight to a number of venues in downtown Grand Rapids. The stop on Michigan/Monroe heading east drops you off within a few steps from DeVos Performance Hall, where you can experience Grand Rapids' vibrant performing arts scene through musicals presented by Broadway Grand Rapids and concerts by the Grand Rapids Symphony.
Numerous conventions, trade shows and expos also happen in DeVos Place Convention Center each year, such as Grand Rapids Comic-Con, Grand Rapids International Wine, Beer & Food Festival, Grand Rapids Bridal Show, Kids & Family Expo and more. The convention center is less than a half mile south of the Michigan/Monroe stop, so you won't have far to walk after getting off the bus.
Museums
If you're up for a day of history, exhibits and learning experiences, take Route 19 to one (or more) of Grand Rapids' museums. You'll find the Gerald R. Ford Presidential Museum nestled in the beautiful setting of Ah-Nab Awen-Park less than a mile away from the stop at Michigan/Scribner. After soaking in the stunning Grand Rapids skyline view from the park, head south to visit the Grand Rapids Public Museum. 
Route 19 will give you a ride to Medical Mile along Michigan Avenue.
Photo by Experience Grand Rapids
Medical Mile Facilities
Grand Rapids' Medical Mile is a renowned healthcare destination.
Helen DeVos Children's Hospital, Spectrum Health's Butterworth Campus, Van Andel Institute, and Orthopedic Associates of Michigan's outpatient surgery center are all conveniently located within walking distance from Route 19's Michigan Street/College Avenue stop.
Medical Mile doesn't, however, only offer world-class medical facilities. It also offers stunning views of the city's skyline and Grand River views from the Belknap Lookout.
Plus, the Hampton Inn & Suites Grand Rapids Downtown is conveniently located near the Michigan/College stop if you're visiting the city.
The stops at Michigan/College and Michigan/Lafayette also provide access to the north end of the historical Heritage Hill neighborhood, where you can see a sample of Michigan's largest compilation of 19th and early 20th century homes. Nearly every style of American architecture is represented in the 4,000 diverse homes found in Heritage Hill, some dating all the way back to 1844. Each year, the Heritage Hill Association hosts a Tour of Homes, as well as a Garden Tour.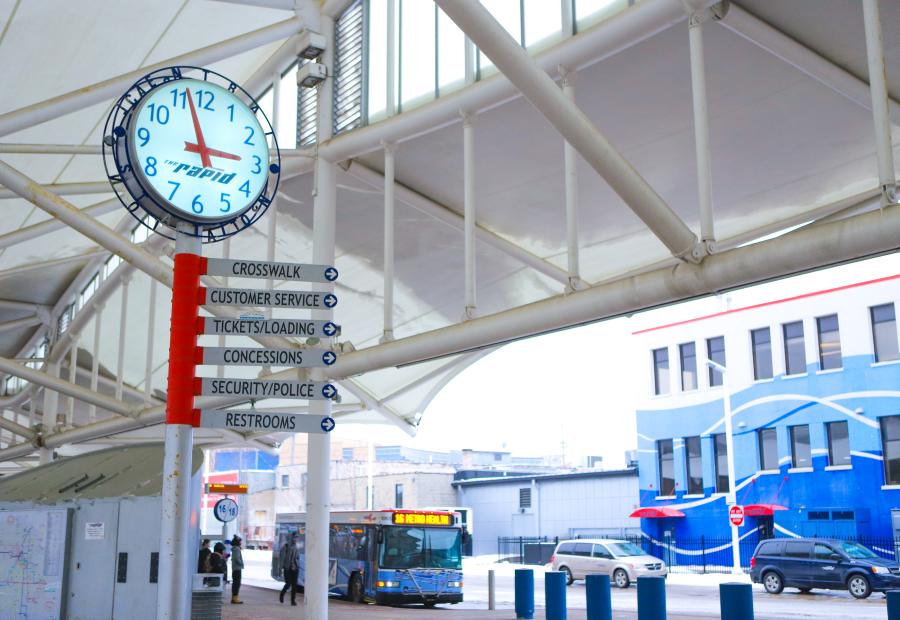 The Rapid provides public transportation throughout the Grand Rapids area.
Photo by Experience Grand Rapids