Proprietor and mastermind Mitch Ermatinger, along with wife and partner, Whitney, opened Speciation Artisan Ales in Comstock Park in January 2017. They have since relocated Speciation to the Uptown neighborhood on Wealthy St in a 100-year-old auto garage.
Here's everything you need to know about Speciation Artisan Ales, starting with the basics:
Address: 928 Wealthy St SE, Grand Rapids, MI 49506  (formerly located in Comstock Park)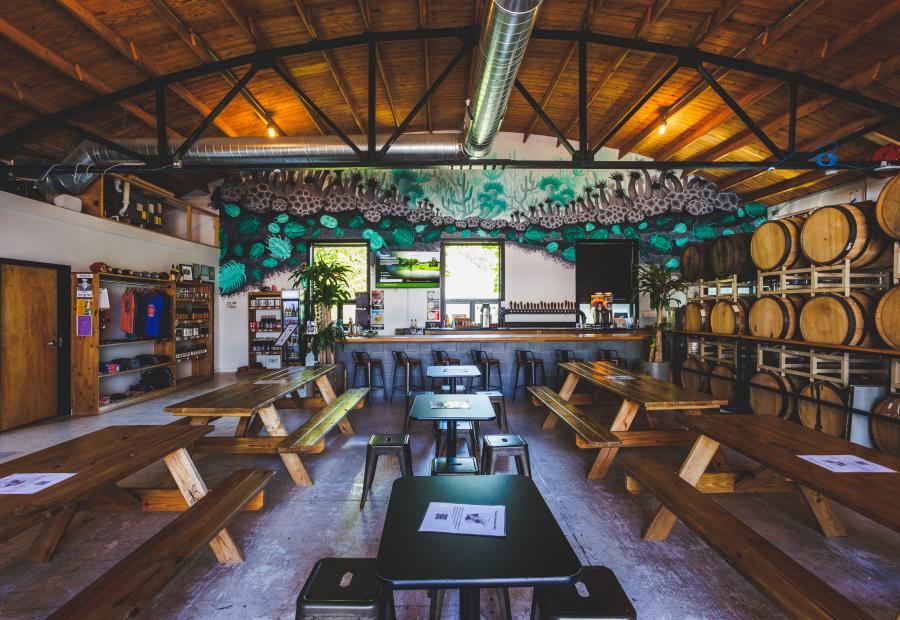 A look into the taproom on Wealthy Street.
Photo by Speciation Artisan Ales
Beer
Speciation is known for its signature "wild" ales. Mitch Ermatinger refers to their beers as "rustic, wild beer that's fermented with yeast from the environment." Rather than traditionally inoculate their beers with lab-grown yeast, Speciation relies on what's naturally floating around in the air (within the brewery) to make the magic happen.
Speciation also brews beer with single yeast cultures, including a lager, a pale ale and a stout. A Norwegian yeast strain called Kviek is used to ferment those beers, and they are available year round.
Prior to recent technologies that allow brewers to extract a single cell of yeast in order to harness its strain for consistency, Speciation's brewing approach gives a nod to the way beer used to be made—one in which each batch, although perhaps the "same beer" on paper, is a beautiful anomaly from the last due to its reliance on trusting that Mother Nature will do her part where technology is generally relied upon.
Speciation takes a collaborative approach to its brewing. The brewery contracts with other breweries to brew unfermented beer for them. They've employed Archival, City Built Brewing Co. and the Mitten to handle this phase.
Speciation provides the recipe and the raw materials, and the specifications to the other brewery. That same day, the unfermented beer is turned back over to Speciation, where it spends the rest of its life fermenting, aging, and ultimately being packaged.
What makes Speciation's beer particularly valuable is the blank canvas from which it starts.
Contained in a large 30-barrel and 50-barrel wooden foeder (approximately 1,000 gallons and 1,500 gallons, respectively), are their two distinct raw, house cultures used for the consistent base of their funky farmhouse ales and their sour/golden ales. It's these two proprietary cultures that thread Speciation's beers with its signature, underlying flavor profile foundation.
After being layered with fruit (locally sourced, seasons permitting) and other ingredients, about 75% of Speciation's beers are laid to rest for months (or, even years) in an array of oak barrels.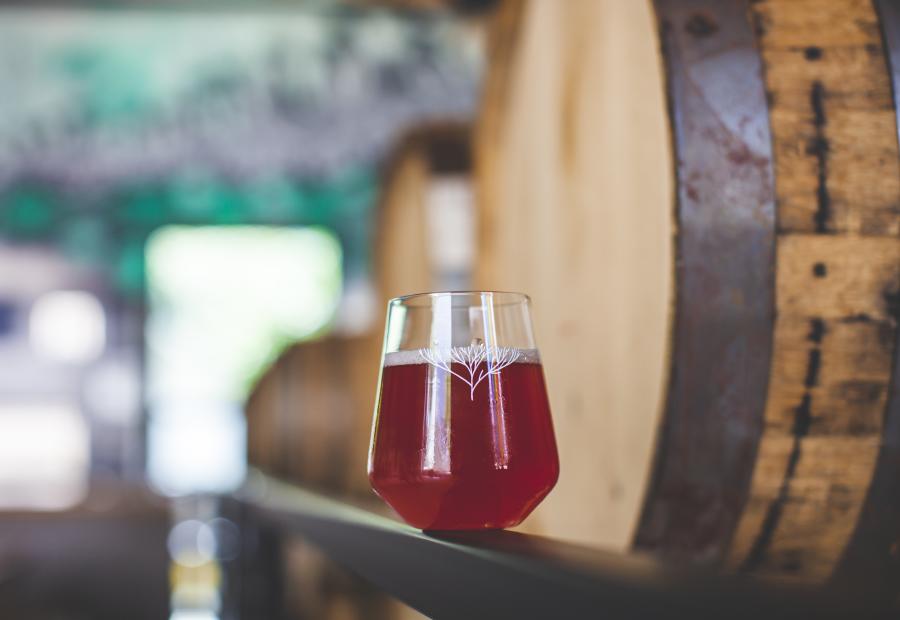 Speciation Artisan Ales' taproom draft list is ranked in order of level of intensity, or acidity.
Photo by Wes Kitten
What's on draft
Speciation offers three clean beers on tap with a rotating cast of five to six sour and wild ales. Dry cider is also available. Speciation's diverse menu also features "natural wines," which use grapes grown with little to no pesticides or other additives and is spontaneously fermented by the yeast that resides on the grape skins, then aged in oak barrels.
The most popular drink is the Doc Flamingo's Neon Smoothie, which is a seltzer dosed with fruit puree to make an alcoholic smoothie. 
Pét-Nats (traditionally produced bubbly wine) and Piquettes (natural wine spritzer) round out this diverse menu.
Monthly bottle sales
You can find out about monthly releases on Speciation's Facebook and Instagram pages and by subscribing to their newsletter. and watch for their monthly post that announces what beers will be bottled and available for purchase. 
If you miss bottle reservations, you can still visit the taproom to see what's available for purchase.
Bottles can be purchased for on-premise consumption, and select bottles are available as take-home purchases, too.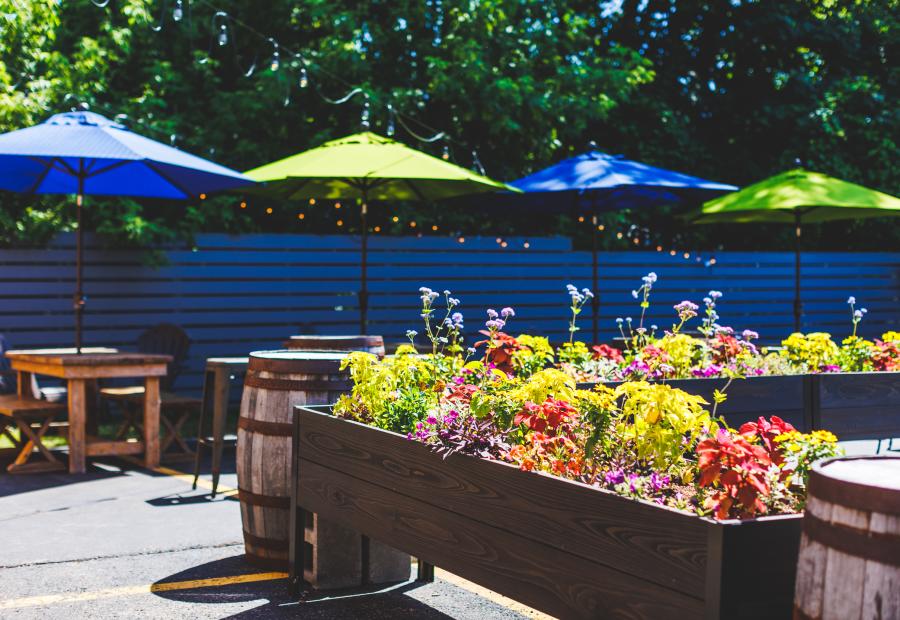 During warm months, Speciation offers outdoor seating.
Photo by Speciation Artisan Ales
Mug club
Cultured Club: The up-front investment of $75 includes 20% off everything, two 750ml bottles, the ability to hold reserved bottles and cans until the next release, and an exclusive holiday party. 
Distribution
Check out Speciation's website to learn where you can find their products at local retailers, breweries, and restaurants. Speciation self distributes in the Grand Rapids area and has a distribution partner that covers the rest of Michigan's lower peninsula.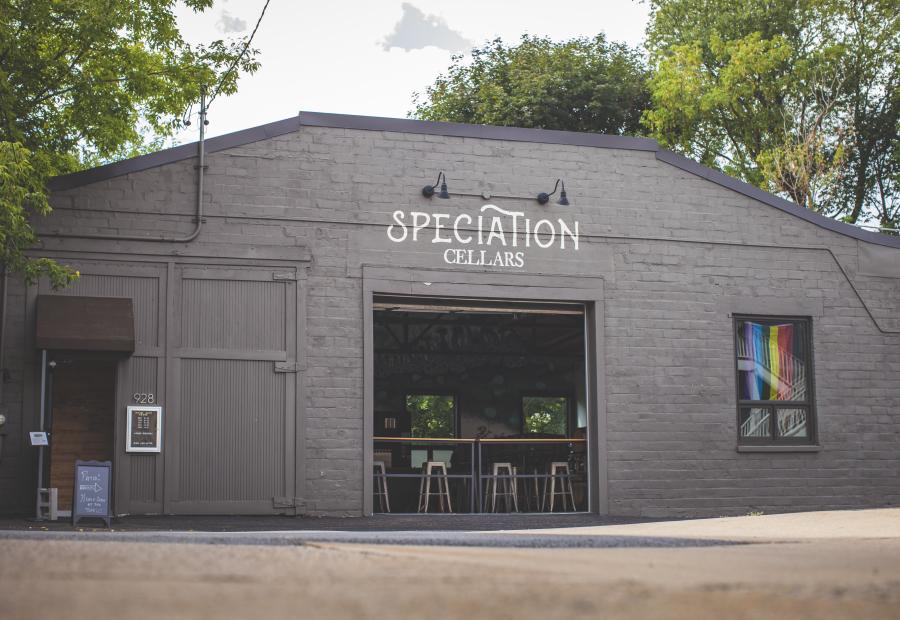 Speciation Artisan Ales' intimate space allows for customers to enjoy work or play while sipping on their favorite craft beer or wine.
Photo by Wes Kitten
Wine and Seltzer Offerings
Geared toward savvy beer drinkers and wine lovers, alike, Speciation's diverse menu features red and orange wines (a trendy type of wine where the juice of white grapes are fermented in contact with the skins).
Pét-Nats (traditionally produced bubbly wine) and Piquettes (natural wine spritzer) round out this diverse menu.
Speciation features a strong seltzer program as well. Natural seltzers made with real fruit and spices are served up with a retrofuturist space/sci-fi theme.
Food Items
Without a kitchen, the taproom is bring-your-own-food (BYOF) friendly. 
Speciation offers a variety of snacks, and there are multiple restaurants within walking distance for take-out. 
Amenities
Ambiance: Relaxed and friendly, immersed in an intimate space shared with their production facility and aging barrels, commonly occupied by those in the know

Patio seating: Yes

Kids welcome: Yes

Pets Welcome: Large permanent patio. Well behaved dogs on a leash are welcome on the patio (but not inside)
Don't forget to check in on the Beer City Brewsader Passport app before visiting one of Grand Rapids' many craft breweries.
Cheers!