West Michigan is enjoying one of the fastest rates of tech industry growth in the U.S. But what sets the industry apart in Grand Rapids may surprise you. This is the first in a two-part series exploring that question.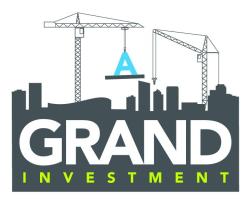 Innovation. Agility. The drive to stay ahead of the curve. These are all characteristics you'd expect in a flourishing tech industry. But what about a deep roots mentality? A heritage of human-centered design founded in a centuries-old manufacturing community? A collaborative spirit? A pledge to eliminate barriers for girls who want to study computer science and women who want to succeed in tech industry careers? Or a commitment to serve neighbors and community?
If these values sound surprising, then you may not be familiar with the burgeoning tech industry in West Michigan – a region that is enjoying one of the fastest rates of tech industry growth in the country.
Illustrative of this growth, global tech giant Switch recently opened the largest, most advanced data center campus in the Eastern United States in Grand Rapids. Early estimates are that Switch will bring a total investment of $5 billion to the region and will create 1,000 jobs over the first 10 years of its West Michigan operations.
According to Switch Executive Vice President for Strategy Adam Kramer, "Since the announcement of Switch's expansion into Michigan, the state has been attracting the tech world's attention, defining the region and the state as an epicenter for technology that runs the internet of absolutely everything."
But, as transformative as the Switch investment will be, the region hasn't relied on global tech giants to build its cache of innovative tech companies. Local and transplanted entrepreneurs have found Grand Rapids to be fertile soil for tech businesses since the late 1990s. And talent has followed.
A deep roots mentality
"There's something different about this market – a deep roots mentality," contends Shawn Crowley, managing partner and vice president at Grand Rapids-based Atomic Object. "People here – both business owners and talent – have a long-term vision that, I think, is rooted in our heritage as a manufacturing and agricultural center."
Atomic Object has gone so far as to institutionalize that mentality in its vision statement: To be a 100-year-old software consultancy. They and several other local firms offer equity shares to encourage rootedness and commitment.
Crowley describes the West Michigan value mantra as "think long term" and contends it engenders in Atomic Object employees the desire to be part of something bigger, to help build something sustainable, and to contribute to something that will have an impact on the community. He contrasts that with a coastal talent tendency to chase the next opportunity – whether it's something incrementally more exciting, a new trend or a higher salary.
But the fact that the West Michigan tech industry is different, doesn't mean it can't compete with those on the coasts.
The 53-person-and-growing Atomic Object, for instance, creates custom applications for web, mobile, desktop and embedded systems for a range of clients, from start ups to Fortune 500 companies, including Steelcase, John Deere, Domino's and Deluxe Corp.
Crowley points out that West Michigan boasts a network of technology companies that can bring consumer products to market and keep those products – and the companies that buy them – functioning at optimal levels. From firmware and software to IT, UI and UX, the tech industry in greater Grand Rapids concepts, designs, develops, customizes, deploys, protects and maintains tech solutions for clients worldwide.
And because West Michigan is a regional hub for industry leaders in applied technology, sustainable practices and industrial design in the automotive, bio-pharmaceutical, office furniture, medical device, metals, plastics, production technology and food processing industries, Grand Rapids-area tech companies need look no further than their own backyard for a global customer base.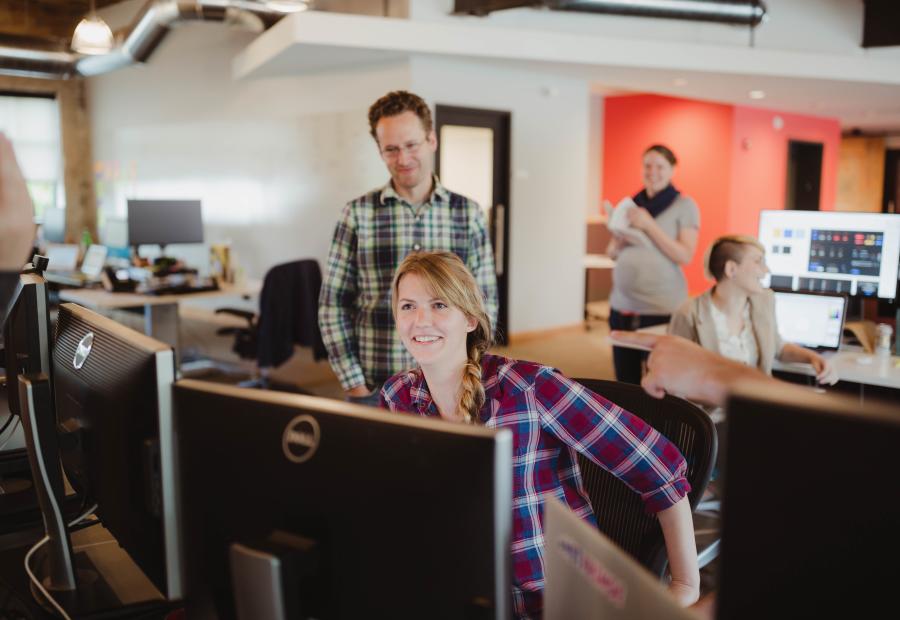 Atomic Object
Photo by Atomic Object
A heritage of designers and makers
"Here in the Midwest, we have the innovation of the West Coast. We have the rich academic and research resources of the East Coast. But we also have a long history of designers, makers and creators that the coasts don't necessarily have," says Michael Lomonaco, director of marketing and communications for Open Systems Technologies (OST). The 225-person technology and strategic design firm is the largest software development practice in West Michigan.
"A strong thread of practical innovation runs through companies in this region," Lomonaco contends. "That's the kind of innovation that solves real problems.
"You'd better know your stuff and be able to practice and live human-centered design, because it's our heritage," continues Lomonaco, whose firm puts those skills to work for clients like Spectrum Health, Nest, Johnson Controls and Thomson Reuters. "That approach emerged from the furniture and other manufacturing and design environments that have been part of this community since the early 1800s."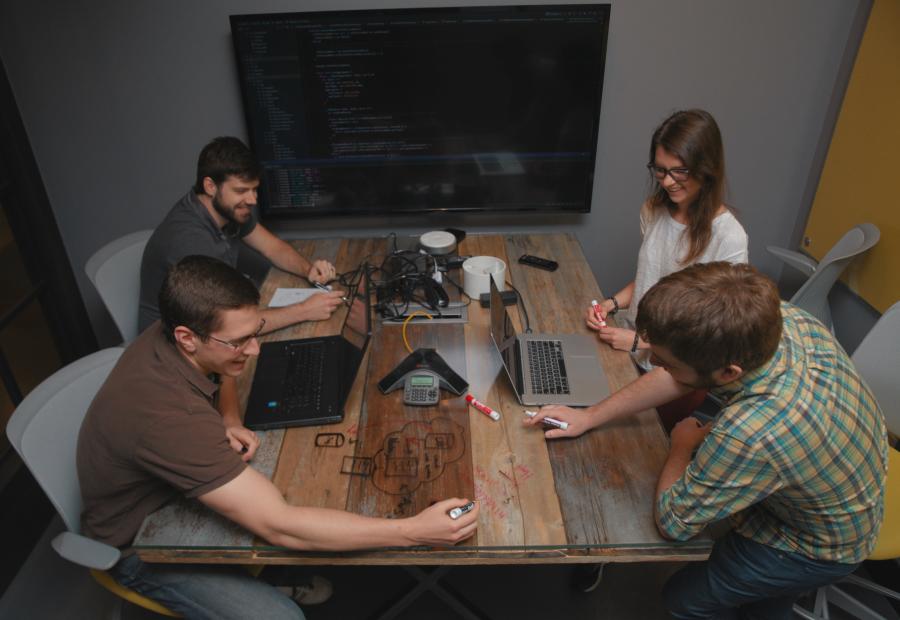 Group meeting at Open System Technologies
Photo by Open Systems Technologies (OST)
Stronger together
Local tech experts agree that human-centered design shapes how tech designers, strategists and makers look at problems and how they go about solving them – together.
"Our development and engineering community has roots in a creative class of designers and makers, and that has shaped a very collaborative, 'teaching' environment," says Mark Lardieri, president and co-owner of CQL Corp. "Here, it's all about collaboration and making things better."
Grand Rapids-based CQL is a 50-member digital agency that specializes in ecommerce, digital marketing, business software, experience design and digital business strategy. Clients include Costa Sunglasses, Petco, West Elm and Sperry Top-Sider.
"Throughout our history, Grand Rapids industries have grown in a competitive, but cooperative manner," explains Lardieri.
Atomic Object's Crowley agrees and points to organizations like Software GR, a non-profit association dedicated to building and supporting the software design and development community in West Michigan. Founded by Atomic Object in 2003 and now co-sponsored by OST, Blue Medora and a host of other area companies, the association hosts a robust speaker series, an annual Great Lakes Software Excellence Conference, and BitCamp – a one-day hands-on introduction to software development designed for junior high girls and led by area software professionals and university students.
CQL Incorporated
Photo by CQL Inc.
Narrowing the gender gap
Grand Rapids-area tech industry leaders point out that the regional distinctions don't end there. In fact, according to Kirk Senkowski, COO at Blue Medora, the area's strong collaborative spirit manifests itself in a clear and meaningful way when it comes to developing and recruiting talent – particularly women – a universal challenge in the tech industry and something Blue Medora believes is critical to their future.
As an IT operations analytics and application monitoring firm, Blue Medora serves as a channel partner for tech giants like IBM, Oracle and VMware. Co-founded by CEO Nathan Owen and Atomic Object CEO Carl Erickson in 2007, the Grand Rapids-based firm has grown to over 100 full-time employees in nine states and four overseas offices. They know that, if they're going to continue to grow and meet the needs of women, they need to employ women.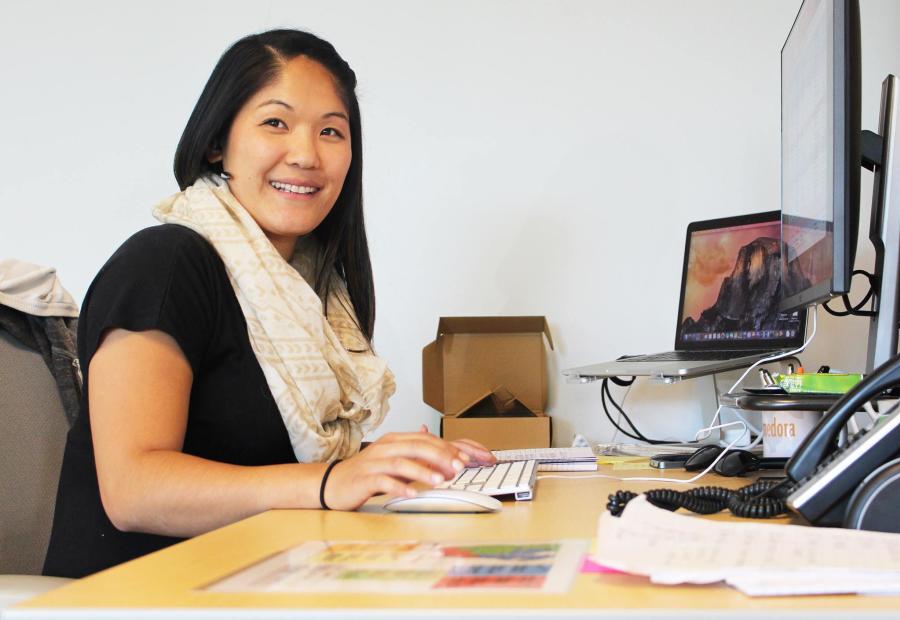 Blue Medora
Photo by Blue Medora
"Bringing women into the industry is vitally important, but it's also a challenge," says Senkowski. "Often girls are talked out of studying computer science. That's why we sponsor BitCamp and participate in collaborative programs like Django Girls and Girls Who Code. We need to make sure more women are in the tech pipeline."
Open System Technology's President & CEO Meredith Bronk has been a leading voice behind this effort. Her 225-person technology and strategic design firm is the largest software development practice in West Michigan. She and the OST team have made significant and sustained investments in local and national programs like BitCamp, Girls Who Code and Michigan Council of Women in Technology. The firm's efforts are getting results, with women now comprising 22 percent of the its total employee count.
Atomic Object and CQL Corp. have made similar commitments to help bring more women into computer science education and the tech industry. While all agree that eliminating gender bias in the industry is the right thing to do, period, they also point to the economics of the issue.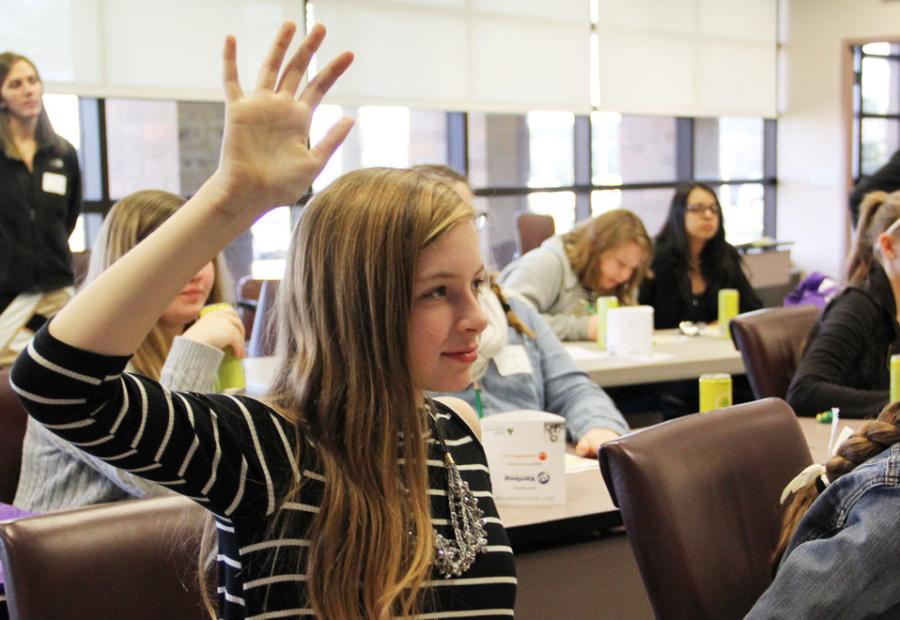 CQL
Photo by CQL for Technology
CQL President and Co-owner, Mark Lardieri, contends, "There is more work to be done than we have computer science professionals, particularly software engineers. We can solve that problem, together, by collaborating to bring more women into the profession."
CQL is a 50-member digital agency that specializes in ecommerce, digital marketing, business software, experience design and digital business strategy. For their part in combatting the gender gap, CQL team members serve as instructors for Girls Who Code, and Lardieri led the 2017 JA Girls Dream Fair and serves on the Strategic Partners Council for the Calvin College Computer Science Department's 50 Percent Initiative, a program that aims to attract qualified women to computer science and remove artificial barriers to their success. 
Atomic Object Co-founder and CEO, Carl Erickson, explains why Atomic Object is committed to opening the door for more women in the industry.
"We didn't prioritize gender diversity for diversity's sake," he says. "We did it because it makes our company more robust to change, and it improves the products we deliver to our clients."
The 53-person-and-growing Atomic Object creates custom applications for web, mobile, desktop and embedded systems for a range of clients, from start ups to Fortune 500 companies.
With only five women employed at the company in 2012,  Erickson and his leadership team rewrote their hiring process, job descriptions, and compensation model to avoid inadvertent bias; improved their benefits package, including paid parental leave and schedule flexibility; and committed to sponsoring groups like Girls Who Code, Girls Develop It, Calvin's 50 Percent Initiative and Grace Hopper conference scholarships designed to bring women into the tech industry.
Through support of programs like Midwest Tech Project, OST, Atomic Object and other local firms are working to apply these proven recruitment and training methods to improve racial diversity and inclusion in the tech industry, as well. The program was created to connect Grand Rapids Public Schools students of color to the world of technology and the tech industry and, ultimately, to encourage more diverse participation in the regional economy. Originally open to 7th-9th grade African American and Latino males, eligibility recently expanded to include female students.
CQL + GRPS
Photo by GRPS + Open Systems Technologies (OST)
Watching out for each other
But something less tangible than targeted training programs and solid benefits packages draws people to – and keeps them at – firms like these and others throughout West Michigan. Nationwide, the tech talent turnover rate is around 25 percent. Grand Rapids-area tech leaders cite turnover rates in the 3-7 percent range.
One young woman participating in the Atomic Object Accelerator program, a two-year in-house curriculum that helps small groups of recent graduates navigate new careers in software consulting and development, put it this way: "I am big on being around people who care about their community – people who are looking out for each other."
OST's Director of Marketing and Communications, Michael Lomonaco, agrees. "Culture is the basis of it, for us. From the day we were founded, we held to guiding principals: Honoring employees and their families first. Hiring passionate people who want to delight our customers. Serving with humility. Listening to employees when they have ideas. Learning with curiosity. Everything we do is through the lens of these guiding principles."
It has paid off for OST which, as it celebrates its 20th anniversary in 2017, has grown its global footprint and generated revenue of $160 million.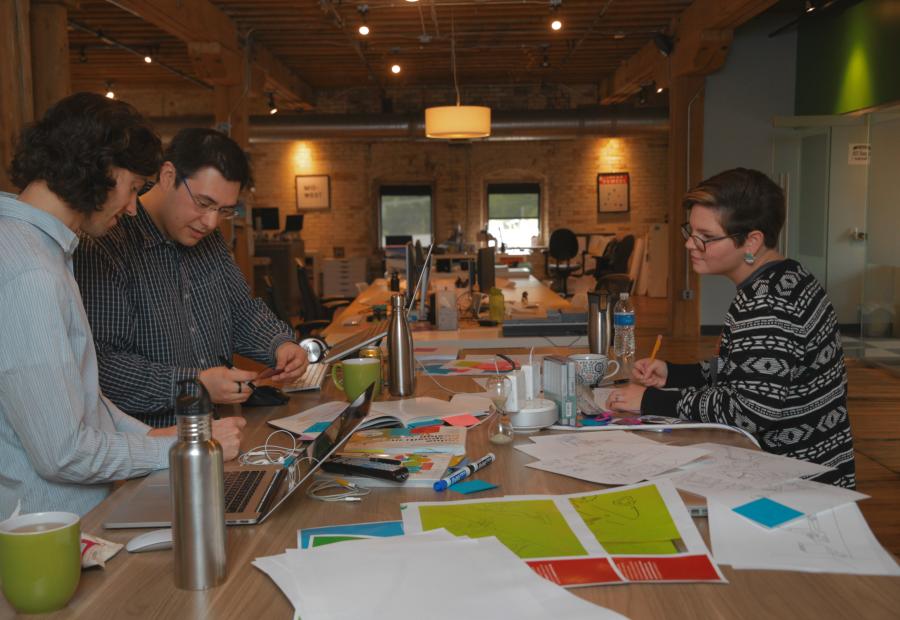 OST
Photo by Open Systems Technologies (OST) Grand Rapids
Community engagement, volunteerism and investments in neighborhood initiatives and local schools pervade the corporate culture throughout Grand Rapids. In fact, Grand Rapids consistently ranks among the top philanthropic communities in the nation.
Lomonaco acknowledges that the long and strong history of giving has shaped business culture in this community.
"We need to give credit where credit is due – to others who came before us," he says. "In Grand Rapids, it's not a nice to have, it's an expectation."
Lardieri agrees, attributing this attitude to local founding patrons who set an example of giving back.
"Before coming here, I worked in D.C. and didn't feel that push in northern Virginia where I lived," he remarks. "What's unique about Grand Rapids is, there are so many large headquarters here and so many people who made their money, stayed, invested and created a great community. They set the bar.
"Even if an individual or company doesn't have the resources to fund a building with their name on it, we all feel a responsibility to be involved – to enhance the culture and make it a better place to live and work," he says. "We find ways that fit our company. It's important for me to give someone a good company culture – to feed a purposeful work environment."
Blue Medora's Senkowski cites a similar commitment, noting that much of their community engagement is employee-led.
"Employees wanted to give back by getting engaged with talent development at local schools," he explains. "They developed a program that we recently piloted at Grand Valley State University and the University of Michigan. We call it QA-U. We recruit teams of talented students in computer science, bio-med and other disciplines, assign them a challenge, give them a deadline to develop a creative solution and compensate them for their work. It gives them real-world experience, encourages collaborative and creative thinking, and it allows us to play a role in talent development."
Lomonaco describes a collaborative approach to community engagement at OST, as well.
"What separates Grand Rapids from other cities in the region is, we don't just sit around and talk about our problems. We come together and work to solve them," he says.
OST has focused much of this collaborative energy on local schools. In a partnership that began five years ago, OST and Grand Rapids Public Schools team up to bring 5th grade students to Lake Michigan – many for the first time in their lives. The project started with three elementary schools and, by the fall of 2017, 1,200 5th graders from all 27 elementaries in the district will make the trip each year.
GRPS estimates that 80-85 percent of these kids have never seen Lake Michigan, which lies just 30 miles west of Grand Rapids.
"It's a simple but powerful experience," observes Lomonaco. "By giving kids this experience, we bridge what they read in a book with the real world. That's learning.
"And it brings us full circle," he continues. "That's the core of what we do in our business. We help companies bridge the physical and digital worlds. In that bridge there is a sense of connection and empowerment and emotion. It's relational. And that extends beyond our customers to our community. Tech and design are our 'what.' But our 'why' is a greater calling. We've been fortunate and blessed – why not try to lift up others? We see that across this community, and that's what makes Grand Rapids special."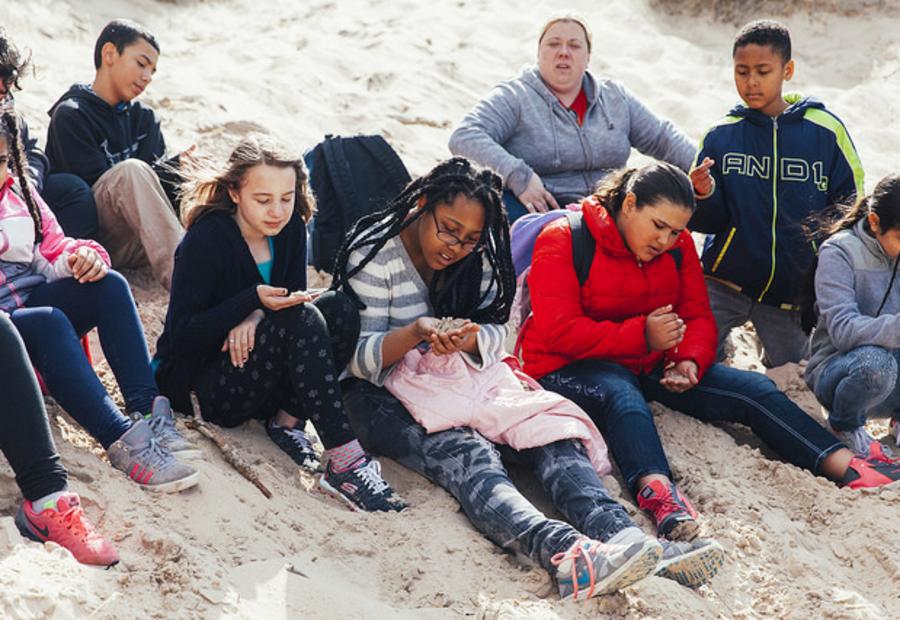 OST + Grand Rapids Public Schools
Photo by OST + GRPS
A Grand Investment is an ongoing series exploring the business landscape of Grand Rapids. Michigan's fastest growing metro area and one of the nation's strongest economies, Grand Rapids is fueled by a creative, collaborative spirit that generates global, national and entrepreneurial investment. This series highlights leading sectors of the local economy and underscores the city's suitability for innovation-focused meetings.