West Michigan is enjoying one of the fastest rates of tech industry growth in the U.S. But what sets the industry apart in Grand Rapids may surprise you. 
Innovation. Agility. The drive to stay ahead of the curve. These are all characteristics you'd expect in a flourishing tech industry. But what about a deep roots mentality? A heritage of human-centered design founded in a centuries-old manufacturing community? A collaborative spirit? A pledge to eliminate barriers for girls who want to study computer science and women who want to succeed in tech industry careers? Or a commitment to serve neighbors and community?
If these values sound surprising, then you may not be familiar with the burgeoning tech industry in West Michigan – a region that is enjoying one of the fastest rates of tech industry growth in the country.
Our tech sector is growing so quickly, in fact, that Yahoo Finance in 2022 named Grand Rapids one of the four Best Cities in the U.S. in which to start a tech career, writing that the area "will be the most significant tech cluster in the Midwest by 2031." That was just a week or so before regional economic development organization The Right Place announced a 10-year strategy aimed at ensuring that prediction comes true.
The Right Place envisions the local tech sector adding 20,000 new jobs and growing to represent 10% of all regional employment over the next decade. It also lays out a path for achieving this aim – including developing and attracting talent, establishing a supportive tech ecosystem and creating opportunities for all area businesses to adopt new technologies.
It's an ambitious goal, fueled not by luring Google and other tech giants to relocate, but by building on the foundation that got us where we are today. Since the late 1990s, local and transplanted entrepreneurs who have found Grand Rapids to be fertile soil for tech businesses. And talent has followed.
A deep roots mentality
"There's something different about this market – a deep roots mentality," contends Shawn Crowley, co-CEO at Grand Rapids-based Atomic Object. "People here – both business owners and talent – have a long-term vision that, I think, is rooted in our heritage as a manufacturing and agricultural center."
Atomic Object has gone so far as to institutionalize that mentality in its vision statement: To be a 100-year-old software consultancy. They and several other local firms offer equity shares to encourage rootedness and commitment.
Crowley describes the West Michigan value mantra as "think long term" and contends it engenders in Atomic Object employees the desire to be part of something bigger, to help build something sustainable, and to contribute to something that will have an impact on the community. He contrasts that with a coastal talent tendency to chase the next opportunity – whether it's something incrementally more exciting, a new trend or a higher salary.
But the fact that the West Michigan tech industry is different, doesn't mean it can't compete with those on the coasts.
The 80-plus team members at Atomic Object, for instance, creates custom applications for web, mobile, desktop and embedded systems for a range of clients, from start ups to Fortune 500 companies, including Steelcase, NeuroMetrix, Domino's and Deluxe Corp.
Crowley points out that West Michigan boasts a network of technology companies that can bring consumer products to market and keep those products – and the companies that buy them – functioning at optimal levels. From firmware and software to IT, UI and UX, the tech industry in greater Grand Rapids concepts, designs, develops, customizes, deploys, protects and maintains tech solutions for clients worldwide.
And because West Michigan is a regional hub for industry leaders in applied technology, sustainable practices and industrial design in the automotive, bio-pharmaceutical, office furniture, medical device, metals, plastics, production technology and food processing industries, Grand Rapids-area tech companies need look no further than their own backyard for a global customer base.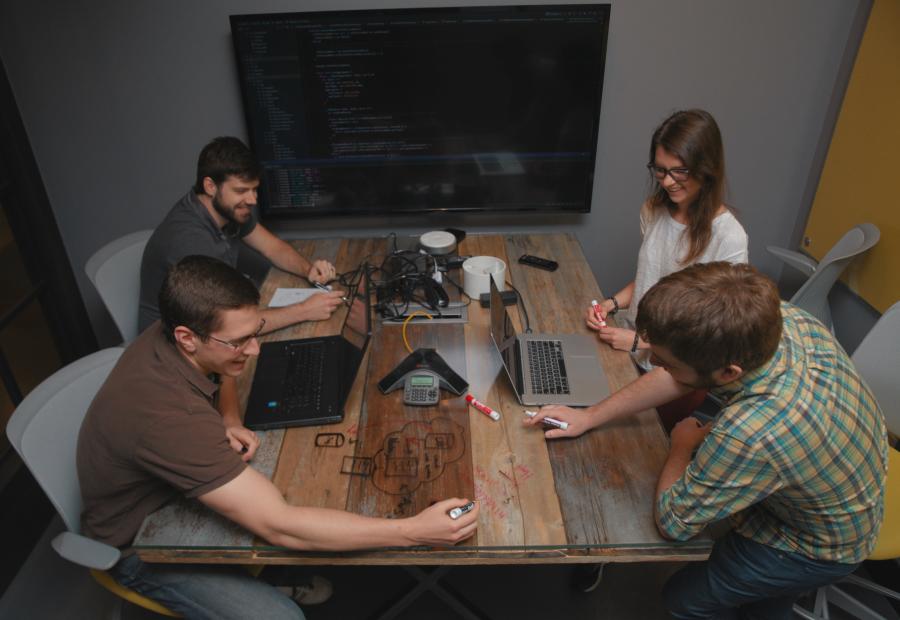 West Michigan's history as a place of creatives and makers has provided fertile grounds for innovation in the tech field.
Photo by Open Systems Technologies (OST)
A heritage of designers and makers
West Michigan's status as a global center of office furniture – and our storied past as the residential furniture capital of the world – further distinguishes us from other tech hubs. We have a long history of designers, makers and creators that the coasts' tech centers don't necessarily have.
Sales and marketing executive Michael Lomonaco was serving as director of marketing communications for Open Systems Technologies (OST) ­– the largest software development practice in West Michigan – when he observed that, "A strong thread of practical innovation runs through companies in this region. That's the kind of innovation that solves real problems."
He pointed to human-centered design – which can help tech companies ensure that their products and services meet user needs and usability standards – as part of our heritage. "The approach emerged from the furniture and other manufacturing and design environments that have been part of this community since the early 1800s."
Stronger together
Local tech experts agree that human-centered design shapes how tech designers, strategists and makers look at problems and how they go about solving them – together.
"Our development and engineering community has roots in a creative class of designers and makers, and that has shaped a very collaborative, 'teaching' environment," says Mark Lardieri, president and CEO of CQL Corp. "Here, it's all about collaboration and making things better."
Grand Rapids-based CQL is a 75-member digital agency that specializes in ecommerce, digital marketing, business software, experience design and digital business strategy. Clients include Costa Sunglasses, PetSmart, Merrell and Bear Archery.
"Throughout our history, Grand Rapids industries have grown in a competitive, but cooperative manner," explains Lardieri.
Atomic Object's Crowley agrees and points to organizations like Software GR, a non-profit association dedicated to building and supporting the software design and development community in West Michigan. Founded by Atomic Object in 2003 and now co-sponsored by Brightly, Dematic and a host of other area companies, the association hosts a robust speaker series, an annual MERGE Conference, and Change the Code – a one-day hands-on introduction to software development designed for junior high girls and led by area software professionals and university students.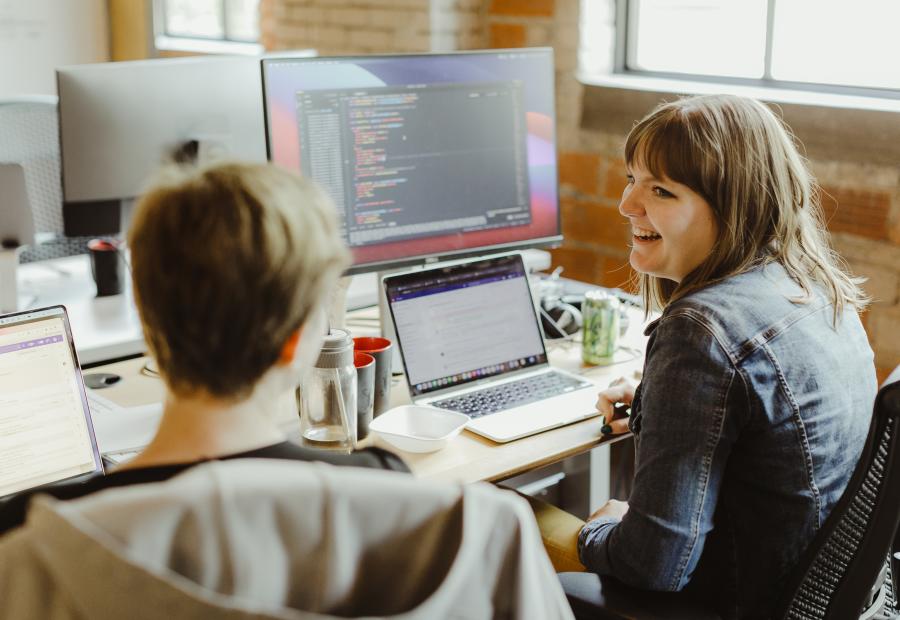 Atomic Object, whose employees are pictured here, is one of several West Michigan tech companies creating structures to support more women entering the tech industry.
Photo by Jill DeVries Photography
Narrowing the gender gap
Grand Rapids-area tech industry leaders point out that the regional distinctions don't end there. The area's strong collaborative spirit manifests itself in a clear and meaningful way when it comes to developing and recruiting talent – particularly women – a universal challenge in the tech industry and something local leaders believe is critical to their future.
Open System Technology's President & CEO Meredith Bronk has been a leading voice behind the effort. She and the OST team have made significant and sustained investments in local and national programs like Girls Who Code and Michigan Council of Women in Technology. The firm's efforts are getting results, with women now comprising a significant percentage of its total employee count.
Atomic Object and CQL Corp. have made similar commitments to help bring more women into computer science education and the tech industry. While all agree that eliminating gender bias in the industry is the right thing to do, period, they also point to the economics of the issue.
CQL President and CEO Mark Lardieri, contends, "There is more work to be done than we have computer science professionals, particularly software engineers. We can solve that problem, together, by collaborating to bring more women into the profession."
Through support of programs like Midwest Tech Project, OST, Atomic Object and other local firms are working to apply proven recruitment and training methods to improve racial diversity and inclusion in the tech industry, as well. The program was created to connect Grand Rapids Public Schools students of color to the world of technology and the tech industry and, ultimately, to encourage more diverse participation in the regional economy. Originally open to 7th-9th grade young African American and Latino males in middle and high school, eligibility was soon expanded to include female students.
Industry leaders cite collaborative and competitive working relationships and deep commitments to the West Michigan community as major factors in lower-than-average employee turnover rates.
Photo by CQL Inc.
Watching out for each other
But something less tangible than targeted training programs and solid benefits packages draws people to – and keeps them at – firms like these and others throughout West Michigan. Nationwide, the tech talent turnover rate is around 25 percent. Grand Rapids-area tech leaders cite turnover rates in the 3-7 percent range.
One young woman participating in the Atomic Object Accelerator program, a two-year in-house curriculum that helps small groups of recent graduates navigate new careers in software consulting and development, put it this way: "I am big on being around people who care about their community – people who are looking out for each other."
Community engagement, volunteerism and investments in neighborhood initiatives and local schools pervade the corporate culture throughout Grand Rapids. In fact, Grand Rapids consistently ranks among the top philanthropic communities in the nation – and a long and strong history of giving has shaped business culture in this community.
CQL's Lardieri attributes this attitude to local founding patrons who set an example of giving back.
"Before coming here, I worked in D.C. and didn't feel that push in northern Virginia where I lived," he remarks. "What's unique about Grand Rapids is, there are so many large headquarters here and so many people who made their money, stayed, invested and created a great community. They set the bar.
"Even if an individual or company doesn't have the resources to fund a building with their name on it, we all feel a responsibility to be involved – to enhance the culture and make it a better place to live and work," he says. "We find ways that fit our company. It's important for me to give someone a good company culture – to feed a purposeful work environment."
The vision to create a better place to live and work extends beyond business and into the community. When OST partnered with Grand Rapids Public Schools to bring elementary school students to Lake Michigan – many for the first time in their lives – it wasn't to advance its business, but to provide a new and valuable experience for their neighbors. Giving back and uplifting others is part of what makes West Michigan special … and it will be a key factor in developing and attracting the talent we need to grow our tech sector.
Grand Rapids is Michigan's fastest growing metro area and one of the nation's strongest economies, fueled by a creative, collaborative spirit that generates global, national and entrepreneurial investments. Experience Grand Rapids highlights leading sectors of the local economy to underscore the city's suitability for innovation-focused meetings.