In this giving season, we take a look at the generous gifts and givers that have helped make Grand Rapids the vibrant community it is today. We are grateful for their vision and their generosity, and we celebrate the spirit of collaboration that distinguishes the West Michigan philanthropic community.
Storied generosity
It would be impossible to tell the story of Grand Rapids without a lengthy chapter about the generous donors who have helped make this community what it is today. They include foundations and families whose names grace buildings and whose vision and leadership are associated with transformative initiatives in education, the arts, downtown revitalization, the environment and healthcare.
Van Andel, DeVos, Meijer, Wege and Frey are among the most familiar.
They and other generous donors partnered with City leaders to help drive the revitalization of downtown Grand Rapids, left decimated by urban renewal efforts of the 1970s, paving the way for construction of new hotels, bars and restaurants, a convention and performing arts center and a multi-purpose arena that now ranks among the top-ten arenas of its size in the world.
They've helped lead and fund development of the Medical Mile, where world-class heart, cancer and pediatric care facilities stand shoulder to shoulder with a university-based medical school and research center and an independent biomedical research and science education institution. 
And they've partnered to build a rich arts and cultural landscape, where a nationally recognized symphony orchestra, Michigan's only professional ballet company, strong opera and Broadway companies, multiple community theatres, art and historical museums and a world-renowned botanical garden and sculpture park enrich life for locals and attract visitors from around the world.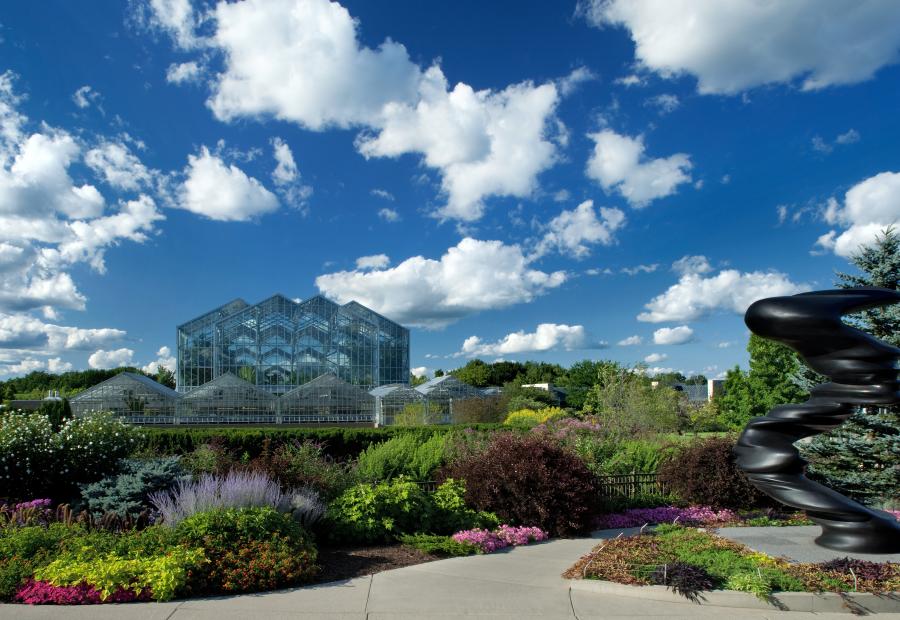 Frederik Meijer Gardens & Sculpture Park was a concept of a major cultural attraction centering around horticulture and sculpture that was embraced by Fred and Lena Meijer in 1990.
Photo by Experience Grand Rapids
Give, get or get involved
The axiom, "give, get or get off" has long served as the directive for board members at educational, healthcare, cultural and other nonprofit institutions across the country.  Grand Rapids' nonprofit and philanthropic leaders have lived by a slightly different credo – give, get or get involved. They recognize that engagement is an important factor in the equation when advancing any philanthropic endeavor.
For generations, West Michigan donors have helped shape development of our community – certainly with their gifts, but more importantly with their vision and with a spirit of collaboration that is the envy of communities nationwide.
West Michigan is considered a national leader in public-private partnerships. Community game-changers like the Van Andel Arena, DeVos Place Convention Center and Downtown Market Grand Rapids were driven by business and community leaders, independent and community foundations and forward-thinking City and County officials with a strong desire to invest in urban revitalization. Government and philanthropic leaders have and continue to partner to plan, fund and develop projects and amenities that prevent urban decline and encourage community revitalization and growth.
A dynamic example of this is the Grand Rapids Whitewater project. The brainchild of co-founders Chris Muller and Chip Richards, the project aims to revitalize and restore the rapids in a 2.5 mile stretch of the Grand River running through downtown Grand Rapids. City leaders and the philanthropic community got on board and expanded the vision to include riverside parks, trails and development. Funders like the Wege Foundation serve as lead participants in shepherding the project to fruition. Beyond granting dollars, Wege Foundation leadership has helped the GRWW project navigate federal and state-level funding streams and the complex permitting process.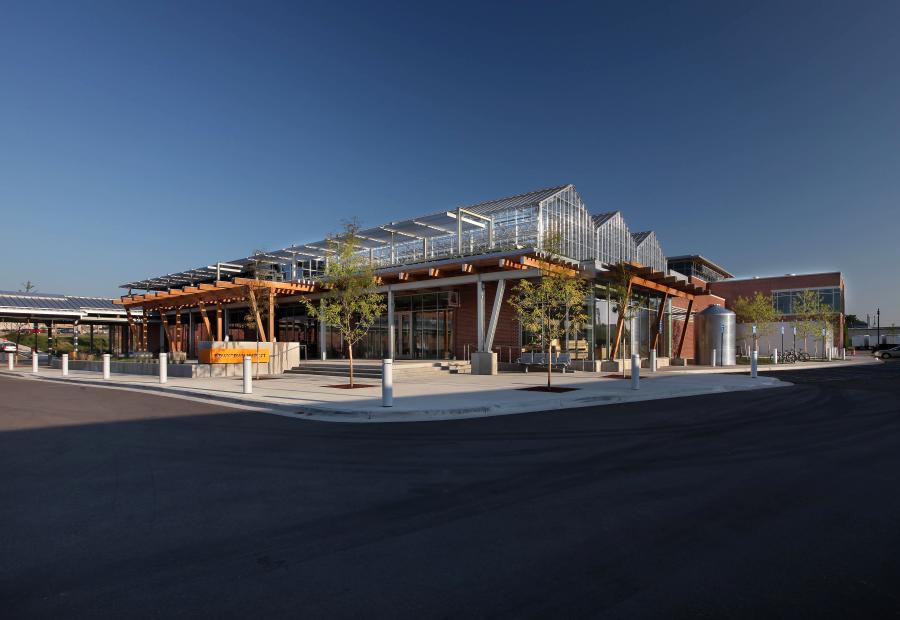 The Grand Rapids Downtown Market is one of the economic development projects undertaken by the Grand Action Foundation that was founded by John Canepa, Dick DeVos and David Frey.
Photo by Grand Rapids Downtown Market
That spirit of collaboration spills over into the community foundation environment, as well.
Grand Rapids Community Foundation President and CEO, Diana Sieger, has served as a board member and chair of the Council of Michigan Foundations. She also chaired the committee on community foundations at the Council on Foundations, and she remains a leading voice for the important role these foundations play in community-building nationwide. In the "Our State of Generosity" series*, she explains the importance of collaboration:
"We understood that we had greater power together – and power in a positive way—that gave rise to the strength of Michigan philanthropy," she says. "When I go out of state, people look to Michigan not only as one of the leaders in philanthropy in this country, but the leader in philanthropy. It's not just because we have a lot of the larger independent foundations here, but because we have such a deep history of the growth of community foundations."
Generations of generosity
The third generation of local families that began to build their wealth in the 1950's is now taking the baton from their parents and grandparents. While this next generation is still defining who they are as philanthropists, they are clearly driven by values and by a strong desire to be engaged. They're also leading initiatives that fall outside the walls of traditional brick and mortar campaigns. 
According to the "11 Trends in Philanthropy for 2021" report by the Johnson Center for Philanthropy at Grand Valley State University, "It is clear that so-called "next gen donors" are not just fundamentally transforming giving, but redefining the role of philanthropy in society and rethinking what being a "changemaker" entails … They do not consider supporting traditional nonprofits to be the only way to "do good" and advance the causes they are so passionate about."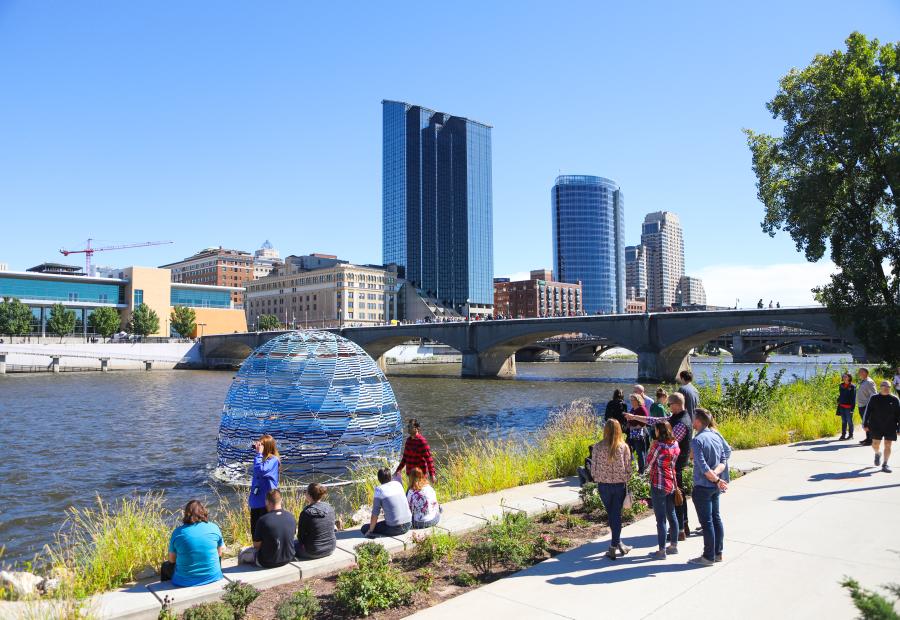 ArtPrize, an international art competition, was founded by Rick DeVos, grandson of the late Richard and Helen DeVos. Pictured is the piece Harvest Dome 3.0 by SLO Architecture at ArtPrize 2018.
Photo by Experience Grand Rapids
One example is ArtPrize, an international art competition founded by Rick DeVos, grandson of the late Richard and Helen DeVos. Since its launch in 2009, ArtPrize has grown to become one of the most-attended public art events in the world, drawing approximately 500,000 people to the city and awarding more than a half million in prize money each year.
Beyond the roughly $30 million annual economic impact, ArtPrize serves as a catalyst for critical discourse, inspiring and engaging conversation and encouraging all who attend to challenge their thinking about art. To ensure it's welcoming for all, organizers of the 19-day event have worked to remove barriers to engagement through artist and venue grants, community and educational partnerships, school transportation grants, free transit passes, free wheelchair rentals, pathways curated with mobility in mind and disability awareness training.
This unique event has transformed the perception of Grand Rapids, not only among visitors, but also among area residents. The geographic focus on downtown has encouraged thousands of people to discover "their" downtown and has created a stronger sense of place.
And the giving model is one of constant engagement, innovation and evolution. When founder DeVos launched the event in 2009, he said that he didn't know exactly how it would work and where it would lead, but he and the ArtPrize team trusted the public and the art community to pioneer with them. They've done just that – constantly tweaking the formula based, not only on their vision, but also on public and art community input.
A culture of giving back
While major donors have transformed this city, it's important to note that the spirit of giving pervades the community.
According to the Johnson Center's 2017 report, "Understanding the Philanthropic Character of Communities: Insights from Two West Michigan Communities," annual per capita giving in Grand Rapids exceeds $1,500 – around $500 more per person than the national average. 
One example of this boundary-busting philanthropy is ArtPrize, an international art competition founded by Rick DeVos, grandson of the late Richard and Helen DeVos. The report also found that people in Grand Rapids "feel a palpable expectation to give of one's time or money."  
At the center of it all, contends the Johnson Center report, is an ethic of giving back and a culture where generosity and service are encouraged, honored, respected and lived.
A Grand Investment is an ongoing series exploring the business landscape of Grand Rapids. Michigan's fastest growing metro area and one of the nation's strongest economies, Grand Rapids is fueled by a creative, collaborative spirit that generates global, national and entrepreneurial investment. This series highlights leading sectors of the local economy and underscores the city's suitability for innovation-focused meetings. 
*Our State of Generosity, a joint effort of the Council of Michigan Foundations, Michigan Nonprofit Association, Michigan Community Service Commission, and the Johnson Center for Philanthropy.