In the never-ending quest to attract visitors to Grand Rapids/Kent County, the professional world of association management plays a vital role. In fact, the number one convention or group meeting market segment is national associations. Over 47% of our annual convention business comes as a result of this important market segment.
While every industry, hobby, subject and discipline on the planet has affiliated associations, most of the group business confirmed for our destination has relevance to our local industry fabric.  As an example, our health sciences and secondary education sectors have helped us attract many related groups to Grand Rapids/Kent County. 
To successfully compete with a robust set of peer cities, it is important that we target associations that are either familiar with our business segments and community strengths or we work with local individuals who want to bring "their" associations to their hometown.  Regardless, the competition is strong, and it requires a strategic approach that, in many cases, might take 10 years or more to execute. 
As part of our strategy, Experience Grand Rapids employs a full-time convention sales director in Washington, DC to connect with meeting planners. Our nation's capital is home to over 3,000 associations, so having "boots on the ground" in that region is essential to keeping our destination top-of-mind.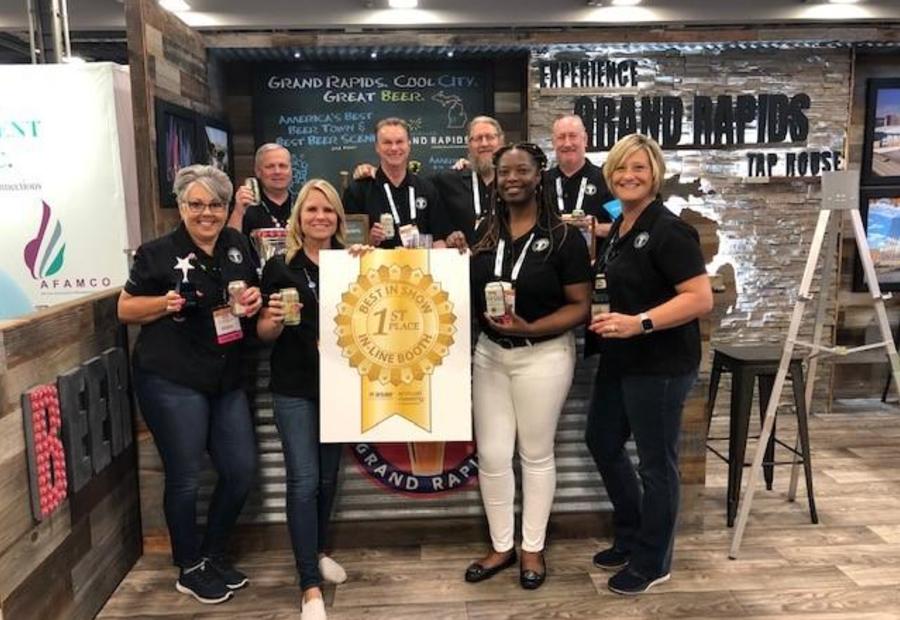 Experience Grand Rapids' booth at the annual American Society of Association Executives (ASAE) took 1st place in 'Best in Show' with the help of local partners like Dave Engbers, co-founder of Founders Brewing Co.
Photo by Experience Grand Rapids
Another important component in securing national or international association conventions is our attendance at the annual American Society of Association Executives (ASAE) meeting and trade show. ASAE is "the association of associations."  This annual August event is the primary educational and professional development opportunity for the leadership at associations of all types. In fact, to illustrate the importance of this tradeshow, cities will pay upwards of $4 million to play host so they can show off their destinations to representatives from thousands of associations.
In 2019 when it was hosted in Columbus, the event attracted 5,476 attendees with a buyer (association professional) to seller ratio (destination) of 48/52%. ASAE reported that the sold-out expo hall had 710 booths representing 445 companies. This is stiff competition, all of which are going after the same customer base as we are. 
While exhibiting at the "Rose Bowl" of all convention-related tradeshows, our staff and partners strive to live our brand. Our exhibit booth is a mini-version of a local brewery or brew pub tap room. Not only do we feature local beer from Founders, but co-founder Dave Engbers joins us to help promote Grand Rapids as a great convention destination. The cold, tasty beer entices clients to stop by and it keeps them there much longer than a traditional tradeshow exhibit might do. The theme is incredibly successful and gets people talking. In fact, for the second consecutive year, the Experience Grand Rapids exhibit was named best in show!  
But more important than the recognition – it works. Experience Grand Rapids and our hotel and convention center partners came home with several new convention prospects for the years ahead.
While our team uses a variety of tactics to meet organizational goals pertaining to convention bookings, the old standby of attending tradeshows still works. We will be hosting 150+ conventions and meetings in Grand Rapids in 2022, with more than 118,535 attendees; and shows like the ASAE Annual Meeting and Exhibition continue to play a very important role in that success. 
So, while toasting our clients with a cold, local beer in one hand, we are holding their request for a proposal in the other…. cheers!