Michiganders are crazy. Why? Because we willingly endure cold winter days for months in order to reach the invigorating warmth of the summer sun. It's unnecessary, however, to wait until the balmy months to warm the body, mind, and soul. Check out these unique drinks in Grand Rapids that are sure to create a sense of comfort and warmth during cold winter days in West Michigan.
As you can see, beer isn't the only beverage lovingly crafted in Grand Rapids. Check out this guide to area coffee shops, cafes and roasters and let us know what your favorite warming drink is in the comments below.
Malabar Tea – Lantern Coffee Bar & Lounge
If you're searching for a warm and cozy tea with a little bit of spice this winter season, look no further than Lantern Coffee Bar & Lounge. The Malabar Tea consists of a combination of ginger turmeric licorice root and lemongrass that will add a refreshing sensation to any day. This tea is just one of a variety of teas hand selected and carefully brewed to order at the temperature of your choice.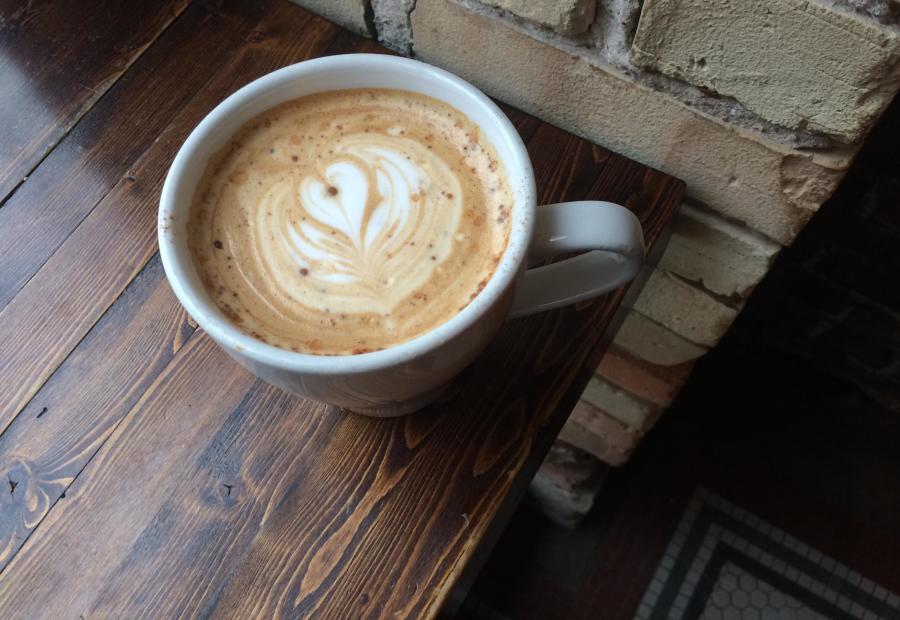 If would like a smooth caffeinated drink, Lantern Coffee's Cafe Miel is sure to warm you up.
Photo by Lantern Coffee Bar and Lounge
Cafe Miel – Lantern Coffee Bar & Lounge
If you're searching for a warming drink that's sweet with a little extra kick with each sip, cozy up at Lantern Coffee Bar & Lounge with the Cafe Miel. Artfully blending espresso, steamed milk, honey and cinnamon, this latte is not only warm, but also smooth and soothing. It's the perfect drink to sit in a big comfy chair and sip while watching the world go by on a cold day in Grand Rapids.
Bulletproof Coffee – The Bitter End Coffee House
For more than 15 years, The Bitter End has been serving coffees from all around the world, so the fact that their Bulletproof Coffee is one of this coffee house's most popular brews is high praise. Bulletproof Coffee is a delightful blend of two shots of espresso, butter, honey, coconut oil, and Guarana energy supplements, which provide a velvety smooth finish that's a toasty treat on a cold day. Fun fact: The Bitter End Coffee House is open 24/7.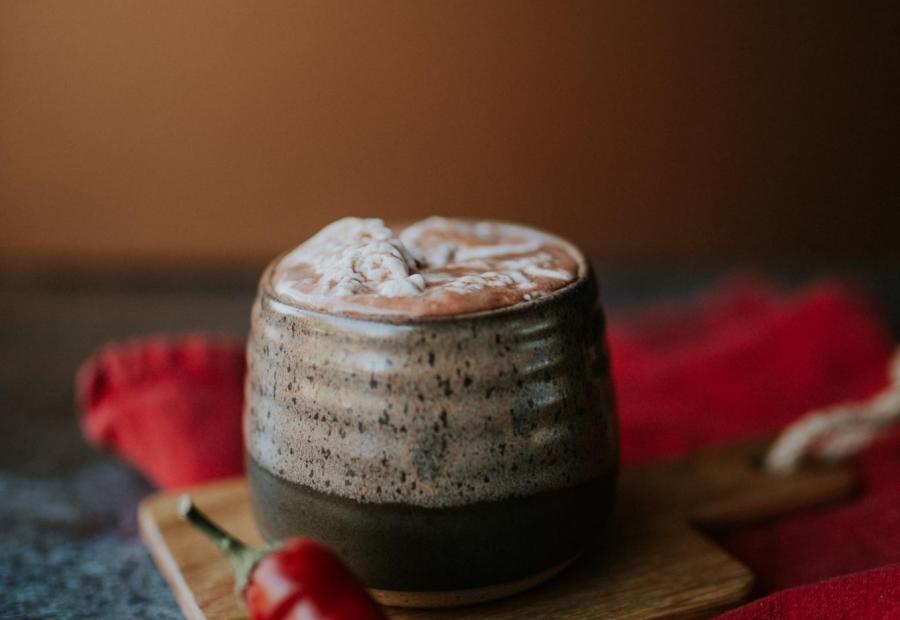 MoKAYA's Mexican Cocoa serves an extra warmth with its ancho chili spice.
Photo by Leigh Ann Cobb Photography
Mexican Spice Hot Cocoa – MoKAYA
It's difficult to argue that even the most basic hot chocolate is delicious, but how about introducing a little zest to the traditional recipe? MoKAYA's Mexican Cocoa is a menu favorite among patrons, and that's not surprising considering the hot chocolate is tastefully spiced with ancho chiles, cinnamon, and vanilla. It's a blend that will make any tongue tingle in an enjoyable way on a cold winter's day.
Cinnamon Plum Tea Latte – Squibb Coffee Bar
Squibb Coffee Bar's Cinnamon Plum Tea Latte receives rave reviews. The twist to this above average beverage is that the Cinnamon Plum Tea is infused with steam and hot milk to make it a sweet latte with a little kick on the end of each sip. This is a seasonal beverage, featured on their winter menu annually.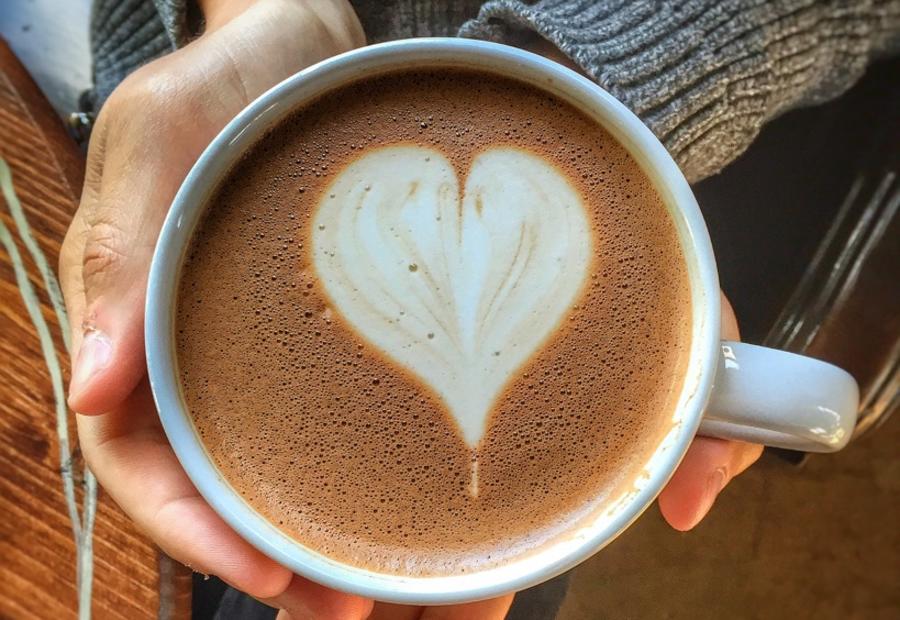 Roots Brew Shops infuses love into their Hot Chocolate in more ways than one!
Photo by Roots Brew Shop
Hot Chocolate – Roots Brew Shop
You won't find pre-packaged hot chocolate at Roots Brew Shop because this cocoa is made from scratch, with love. To create this lavish liquid treat, the Ghirardelli chocolate is melted into steamed milk and then shaken (not stirred) in mason jars to aerate it more than typical hot chocolates.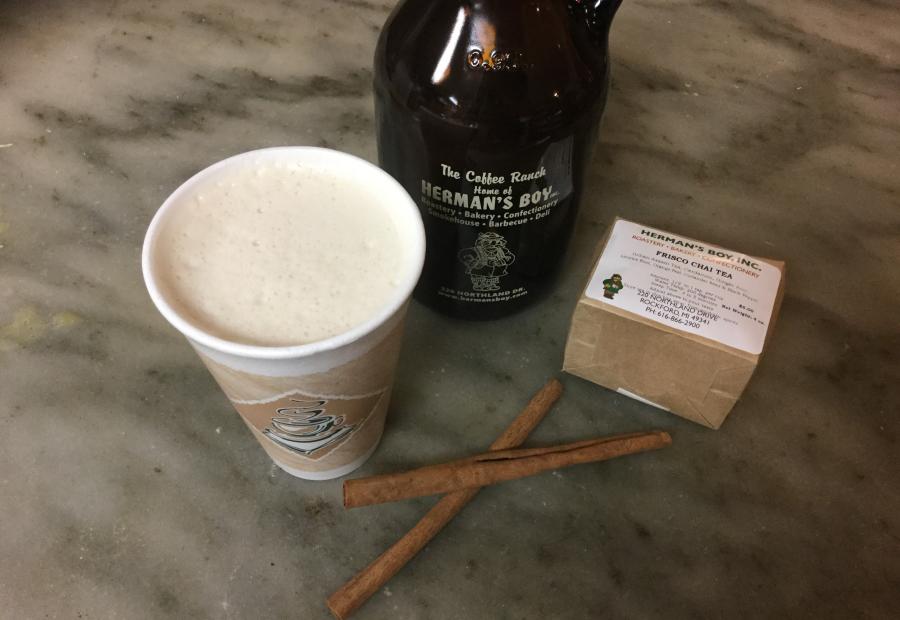 Herman's Boy serves a chai latte with a customizable twist.
Photo by Herman's Boy
Chai Latte – Herman's Boy
"The Coffee Ranch" at Herman's Boy has a long history as a specialty coffee roaster, but if coffee isn't a preference, the Rockford staple also offers a unique, high-grade chai black tea blend to create its popular chai tea extract (which you can fill a growler with to go). Herman's Boy's popular Chai Latte can be brewed with a variety of sweeteners to meet the demands of your taste buds, including honey and cinnamon.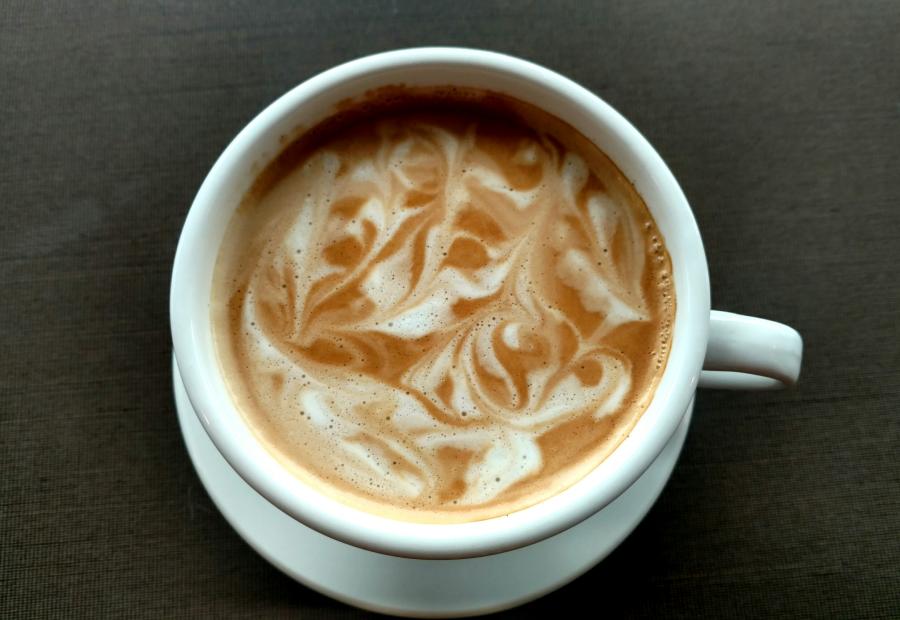 Find lots of latte options at Lucy's Cafe.
Photo by Experience Grand Rapids
Lots of Lattes – Lucy's Creston Kitchen
What could be better than one flavored latte option at a local coffee shop? How about fourteen flavored lattes? Lucy's Creston Kitchen offers a variety of standard flavors for lattes on the menu, including white chocolate, vanilla, hazelnut, caramel, salted caramel, raspberry, almond, amaretto, butterscotch, coconut, peppermint, pumpkin spice, lavender, and sugar free vanilla. All lattes at this Creston neighborhood family-owned café are blended with your milk preference of either oat, coconut, almond, soy, or whole milk.  Lucy's also offers breakfast, lunch and baked goods every day, which makes it the perfect location to cozy up with a warm cup of Joe on a chilly Michigan winter's day.
Lavender Latte – Le Bon Macaron
The Lavender Latte is the most popular drink at Le Bon Macaron, and it's a no-brainer why. The hand-crafted lavender syrup and velvety steamed milk blended delicately with espresso from Rowster New American Coffee make the Lavender Latte a year-round menu favorite. Le Bon Macaron's Cherry Street location offers more than coffee and espresso. Their delicious macarons consist of a rich buttercream filling sandwiched between two crunchy shells of flavors like the signature salted caramel or cake batter. Along with a Lavender Latte and tasty macaron, Le Bon Macaron offers fresh scones daily, and French and Italian sodas made with hand-crafted fruit purée.
Note: This piece is a combination of two stories that were originally published in 2017. The information has been updated and the two stories have been combined into one. The original post was written by Matthew Makowski.