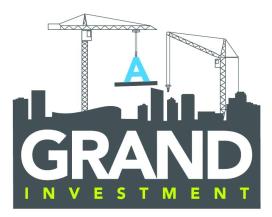 Parks, trails, forests, and green spaces cover thousands of acres and touch every corner of Kent County. As the weather warms, residents and visitors, alike, venture out to enjoy all the great West Michigan outdoors has to offer.
Ask 10 people to describe a "park" and you'll likely get 10 different answers.
For some, the word conjures up sounds of laughing children on swing sets and play structures in a neighborhood near their home. For others, the picture is a trail cushioned by pine needles winding silently through a forest. While others may describe a riverside green space with a boat launch and paved bike paths. Or a boardwalk meandering through wetlands where red-winged blackbirds call each other from cattails.
Parks, trails, forests, and greenspaces speckle the West Michigan landscape. No two are alike. But they all have something in common. They are highly valued community treasures.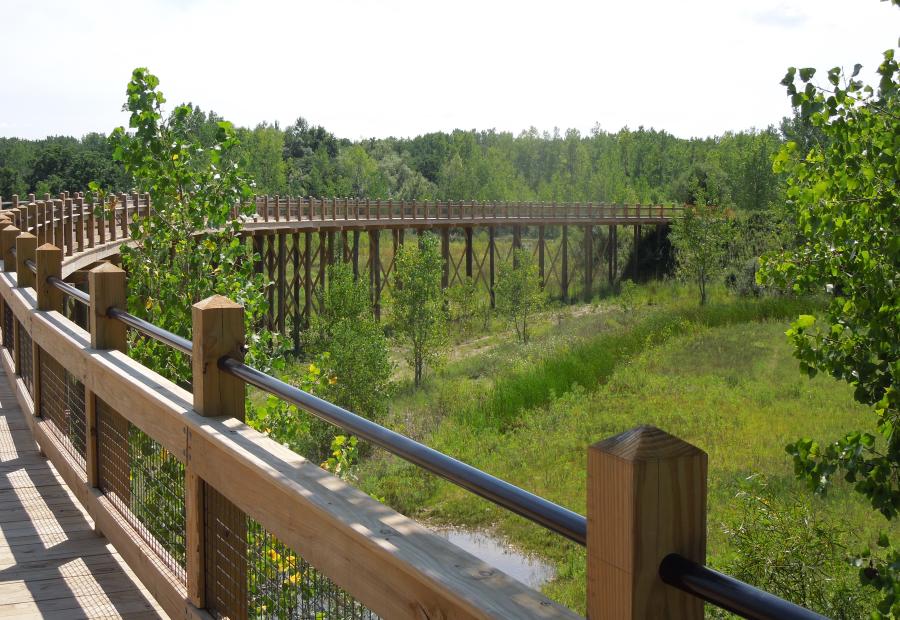 Take a long stroll on the boardwalk at Millennium Park.
Photo by Millennium Park
Likewise, Grand Rapids maintains 75 city-owned parks in neighborhoods throughout the community. It, too, relies on strong community partnerships through the Friends of Grand Rapids Parks (FGRP). Together, the City of Grand Rapids and FGRP lead creative initiatives to expand, protect and maintain urban forests and greenspace.
For instance, in 2011, the City of Grand Rapids committed to goal of increasing our tree canopy from 34.6% to 40%. In 2016, the Mayor's Office, City Forestry Department and the Friends of Grand Rapids Parks launched the Mayor's Greening Initiative, which engages the entire community in reaching the tree canopy goal. Each year, the initiative focuses tree plantings in an area of the city that has low tree canopy cover, coordinates tree planting projects with volunteers, gives trees away for use on private properties, and more.
Beyond planting more trees, the City of GR is committed to creating more parks. The City is a member of the 10-Minute Walk campaign, a partnership between The Trust for Public Land, National Recreation and Park Association and the Urban Land Institute aimed at ensuring there's a great park within a 10-minute walk of every person, in every neighborhood, in every city across America.
A place for everyone
Each spring, as carpets of snowdrops replace blankets of snow, recreational runners, hikers, and cyclists also emerge to explore newly exposed trails.
Kent County Parks and Trails maintains over 80 miles of hiking, mountain biking, regional multi-used paved and water trails that wind through county parkland and connect communities throughout the region.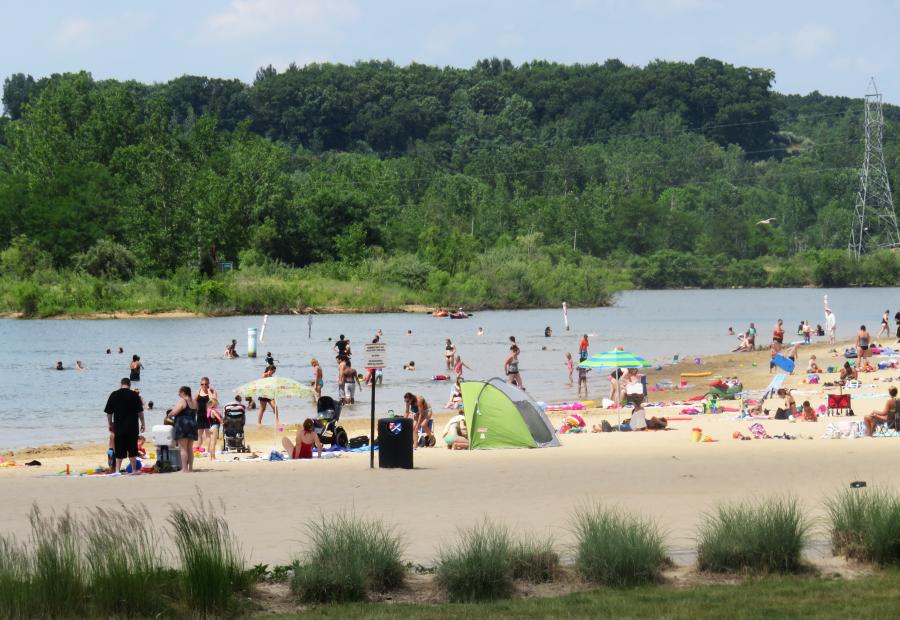 Beach goers enjoy the sunshine and waves at Millennium Park.
Photo by Millennium Park
With so many parks and trails to choose from, it's hard to pick a favorite. But visitors looking for a picturesque hike through diverse landscapes may want to plan a trip to Fallasburg Park. There, they can explore a 2.5-mile looped hike that includes developed parkland, river shoreline, woods, fields, a historic covered bridge and upland forests.
The sandy-floored forests of Provin Trails and Seidman Park's extensive network of natural-surfaced trails through woods, wetlands and fields provide nature lovers miles of adventure within a 20-minute drive of downtown Grand Rapids.  
For mountain bikers, miles of trails traverse tree lines along hilly open fields and cut through wooded hills, valleys and side slopes at Luton and Wahlfield Parks north of Grand Rapids near Rockford. The County maintains these trails with help from another community partner, the West Michigan Mountain Biking Alliance.
Outside the County park system, just 20 minutes north of Grand Rapids, Cannonsburg is a popular spot for mountain bikers who enjoy trails at Cannonsburg Ski Area and Cannonsburg State Game Area.  In fact, when Outside Magazine listed Grand Rapids among "The 25 Best Towns of 2017," it cited mountain biking trails among the reasons for the selection: "There are ten mountain biking trails within 45 minutes of downtown. Lake Michigan is just 30 miles away, or 45 miles via bike path."
Close to home
City dwellers and visitors seeking scenic landscapes and serene spaces close to the city are in luck. Kent County's Millennium Park is larger than New York's Central Park, with 1,400 acres of rolling terrain and six miles of frontage on the Grand River. The park features expansive natural habitats, a six-acre beach and splash pad, boat rental facilities and nearly 20 miles of paved and natural trails.
If it's playgrounds, pools or picnic areas you're after, the City of Rapids neighborhood parks are overflowing with fun. From Aberdeen, Briggs and Canal Street to Pleasant, Richmond and Westown Commons, families will find great places to picnic, skate, play ball, swim and or simply enjoy the sun throughout the community.
If disc golf is your thing, the area has plenty of course options. Riverside Park is the largest at 1.2 miles and 18 acres that loop around a Grand River lagoon. The park was the primary venue for the 2017 PDGA Masters Disc Golf World Championships. Fallsburg Park in nearby Lowell combines field and forested play, while North Grand Rapids Rotary navigates the greens, ponds and sand traps of a former golf course.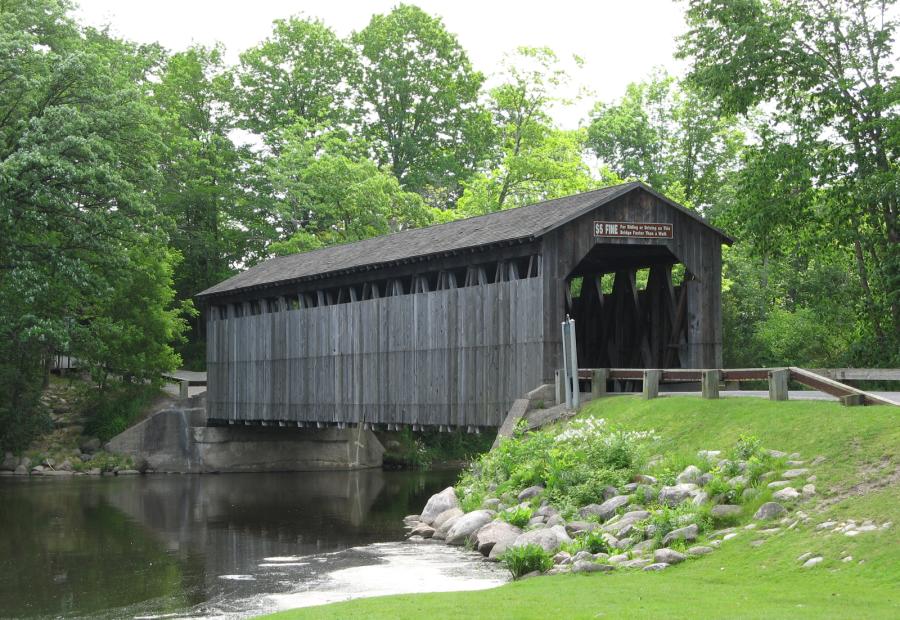 There are many sites at Fallasburg Park and Lepard Nature Preserve including a covered bridge.
Photo by Fallasburg Park and Lepard Nature Preserve
People who crave a unique and flavorful urban park experience will enjoy the Fulton Street Farmers Market, where over 125 booths host vendors featuring farm fresh fruits, vegetables, meats, dairy and hand-crafted foods and artisan crafts. The market, founded in 1922, is open year-round, but the offerings and crowds grow as the Michigan harvest flourishes throughout the summer and fall.
A river runs through it
But arguably the most unique and ambitious outdoor recreation initiative focuses on Grand Rapids' namesake river and got underway in 2008. That's when Grand Rapids Whitewater announced it was embarking on a project to restore the rapids and revitalize a 2.5-mile stretch of the Grand River that runs through the city's central downtown business district.
In addition to enhancing recreational opportunities like kayaking, stand-up-paddling and fishing on the river, the restoration project will improve fish and wildlife habitat. Plus, the City of Grand Rapids is focused on revitalizing the water's edge with walking and cycling trails and improved recreational access along a 7.5-mile river trail set to flank both banks between Riverside Park to the north and Millennium Park to the south.
The Grand Rapids Whitewater project is one reason Outside Magazine named Grand Rapids the "Best River Town" in its list of 25 Best Towns in 2017.
Flow west
Follow the Grand River west and you'll soon arrive at the Lake Michigan shore. Pristine beaches abound within a 35-minute to hour drive from downtown Grand Rapids. Whether it's a swim, hike, dune climb or sunset you seek, Saugatuck Dunes State Park, Holland State Park, Grand Haven State Park and Hoffmaster State Park in Muskegon can all accommodate.
The bottom line: tops in quality of life
All this adds up to a great quality of life, one of the best in the U.S., according to US News & World Report. The publication ranked Grand Rapids 7th in its 2016 list of "The 20 Best Places to Live in the U.S. for Quality of Life," and 19th in its 2017 "Best Places to Live," a ranking of the 100 most populous metro areas in the country. It's also hailed as the "#1 Best Place to Raise a Family," a "Top 10 Best Place to Retire in the U.S." and the "#2 Best City for Soul Searchers" – further burnishing its reputation as a great destination for all.
So shed that down jacket, head out the door, and discover one of the beautiful parks, trails, forests or greenspaces that make West Michigan such a great place to be.

"A Grand Investment" is an ongoing series exploring the business landscape of Grand Rapids. Michigan's fastest growing metro area and one of the nation's strongest economies, Grand Rapids is fueled by a creative, collaborative spirit that generates global, national and entrepreneurial investment. This series highlights leading sectors of the local economy and underscores the city's suitability for innovation-focused meetings.