Now that the local businesses' broken windows have been replaced, the beautiful art boards that cover them have come down. These boards, which serve as an art expression and important social justice conversation, is forever etched into our city's history. And, for future generations and visitors to our city, it's a story worth sharing.
Experience Grand Rapids invited Jasmine Bruce to tell us about a local art project that she was instrumental in curating. She shares who was involved in bringing the project to life, project goals, some of the challenges faced and what's next for the art boards.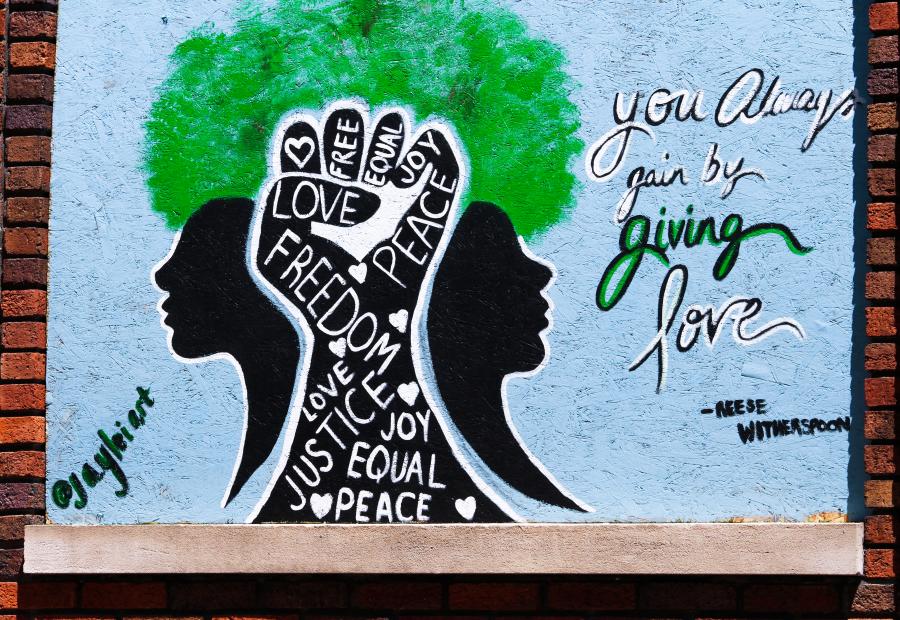 Window Mural in Downtown Grand Rapids. Artist: @jayleiart
Photo by Experience Grand Rapids
Windows GR is a public art activation created to bring art to boarded up windows in downtown Grand Rapids, MI. In response to police brutality, systemic racism and the death of George Floyd, Grand Rapids artists quickly came together and curated the project. It aims to highlight black voices and stories and gives people in the community an opportunity and safe space to share their heart and hurt. Windows GR was created in a matter of two days and led by a team of artists of color who worked with local art gallery, Lions and Rabbits (Hannah Berry), Downtown Grand Rapids, Inc. (DGRI), and several other local businesses.
The team consisted of Artist Leads: Guillermo Sotelo, Kendall Redmon, Jasmine Bruce, Asia Horne, Adrian Butler, Leandro Lara (photographer) and Erik Lauchie (videographer).
Windows GR: Murals with a Meaning by Carbon Stories

This project officially kicked off on June 5, 2020, the weekend following massive protests that spanned across the nation and world in response to police brutality. It was our team's utmost importance to note that this was not a beautification project. We came together to remember and give light to black lives where light had not been given before.
We reached out to local artists from the Grand Rapids community to come together and honor black lives through their artwork. To generate harmony, peace and justice within our own community. Windows GR originally held an open call to the public to participate. Over the weekend we had over 200 people sign up and around 150 painters downtown painting boarded up windows. The turnout was amazing. We continued into the next few weeks painting and giving priority to BIack, Indigenous, People of Color (BIPOC) in the community. Each artist was paid $100 per board and all artist leads were paid as well.
This project was developed not without controversy and obstacles. Our team put their whole heart into making sure our intention survived through development and media. We ran into several instances where building owners took a neutral stance not allowing artists to place certain messages on their boards. Some were painted over because the business owner did not like what was expressed in regards to black lives matter. Several of our painters also encountered harassment from bystanders throughout the weekend. This is to not overshadow the growth and beauty Windows GR brought to Grand Rapids. As a city it's important to acknowledge the hardships along with its successes in order to see how far we've come. It has been a fight, it has been scary, it has been moving, but we are still here, using art as a vehicle for change.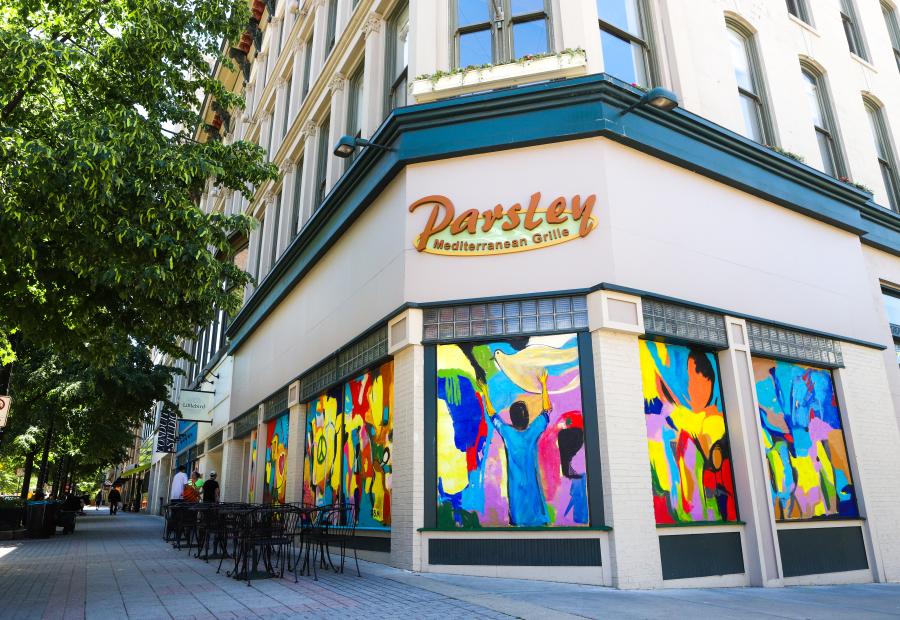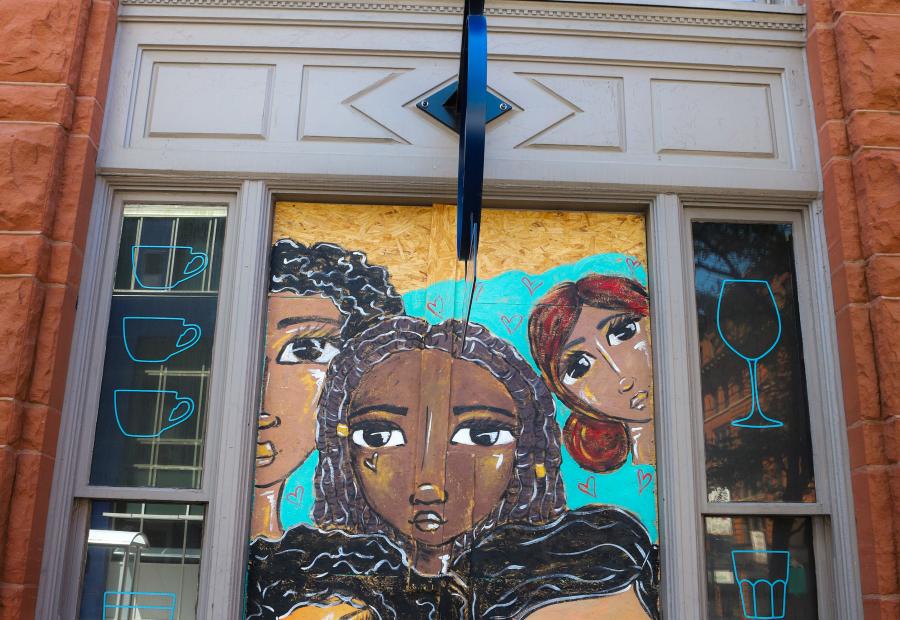 Artful windows in Downtown Grand Rapids. First photo: Artist @picardocolors | Second Photo: Artist @bluewoodsdesign
Photo by Experience Grand Rapids
As this project commences we are held a public event and auction on August 28, 2020, exhibiting all of the artwork created during Windows GR. It was important to the Windows team to aid local artists with exposure, funding and resources to build their career. With this auction event we've created a platform where artists can sell their work. We are also releasing a book documenting the entire project available for sale at the event. After the event the Windows GR team plans to continue their work as a team to bring more public art and change to Grand Rapids, a city full of talent.
We hope as you walk the streets of Grand Rapids through these images, you will sense the healing and see the beauty of our city that was initiated and created by the people of our city. There is not a more perfect example of a butterfly hatching from its cocoon. Grand Rapids is a city of growth. Be the change with us!
Follow and use the hashtag #WindowsGR. Check out DGRI's photo gallery for more pictures of this project.