Editor's Note: An earlier version of this story included Brother's Leather Supply Co., which switched to an online-only operation, brothersleathersupply.com, on December 23, 2017, Denym, and Slate Clothing, which closed May 2019. 
It's December, and we're all-in on holiday shopping. Our city is full of great local shops to help you check off everything on your list. Whether you're looking for on-trend boutiques, hard-to-find wines, or the newest album on vinyl, Grand Rapids has it all.
This holiday season, support your local shop owners, bookstore owners, and entrepreneurs. Lucky for you, there are plenty of great locally-owned shops in the Grand Rapids area. Here are some ideas to get you started.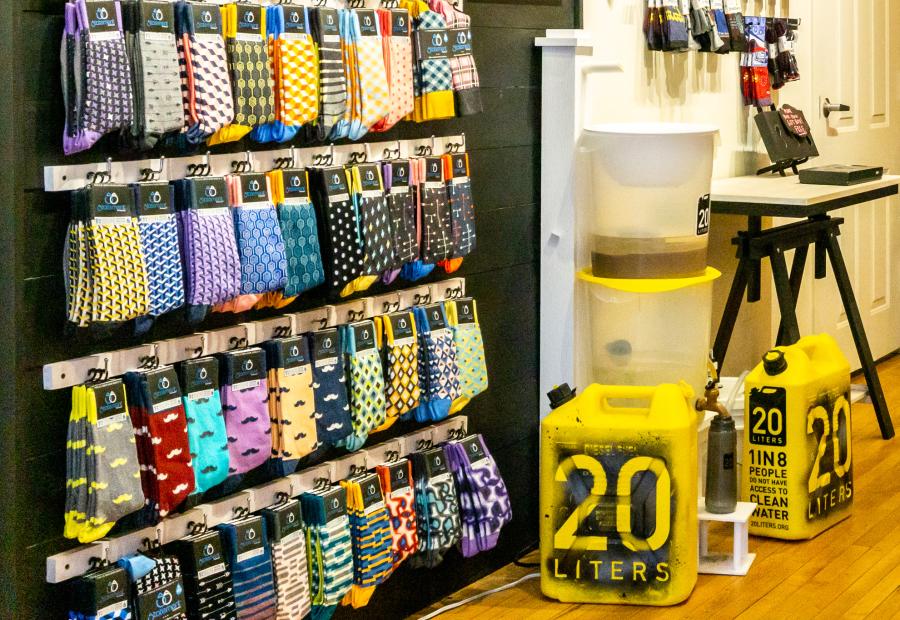 Each purchase from boldSOCKS contributes to clean water initiatives, so now you can walk with the warmth of giving!
Photo by Brian Craig for Experience Grand Rapids
boldSOCKS
Visit the boldSOCKS store off Division Street and enter a world of crazy colors and funky designs. With boldSOCKS in town, everyone on your list will be asking for socks for Christmas. You'll find the expected (like stripes and dots) to the unexpected (like volcanos, tacos, and naked bears). Help refresh someone's wardrobe with these uniquely expressive socks.
boldSOCKS is also known for its commitment to supporting nonprofit organizations both on a national and local scale. It supports several local organizations, including the Michigan Special Olympics, Degage Ministries, and Kids' Food Basket.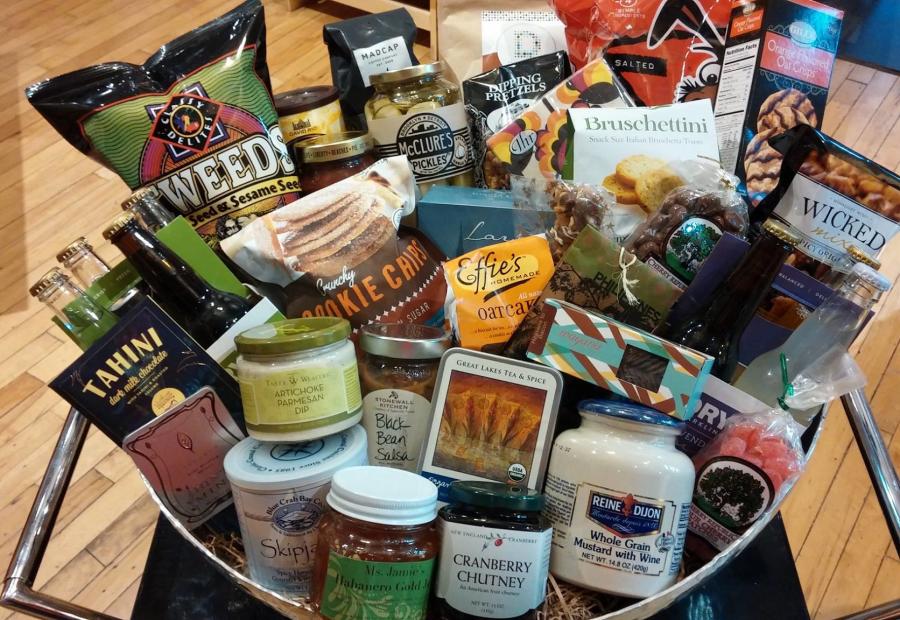 Pick up fabulous gift baskets from Art of the Table to make your holiday shopping easier than ever!
Photo by Art of the Table
Art of the Table
Since 2003, Art of the Table has been the go-to shop for tasty, artisan food products. It carries everything from funky, flavorful tapenades to wines you've never heard of and some of your favorites too! It also specializes in Michigan-made items, with a selection of more than 150 products from the Mitten State. The team personally reviews each item before it's added to the store. If you'd prefer to let the staff at Art of the Table do your shopping, the store carries an amazing array of themed gift baskets, or you can order a custom-made basket online.
Books and Mortar
This holiday season, choose local with your dollars instead of patronizing the big-box retailers at one of Grand Rapids independent bookstores, Books and Mortar. Not only can you find the hottest best-selling novels, but Books and Mortar also sells goods from local brands like Kalamazoo Candle and a wide variety of unique cards and notebooks.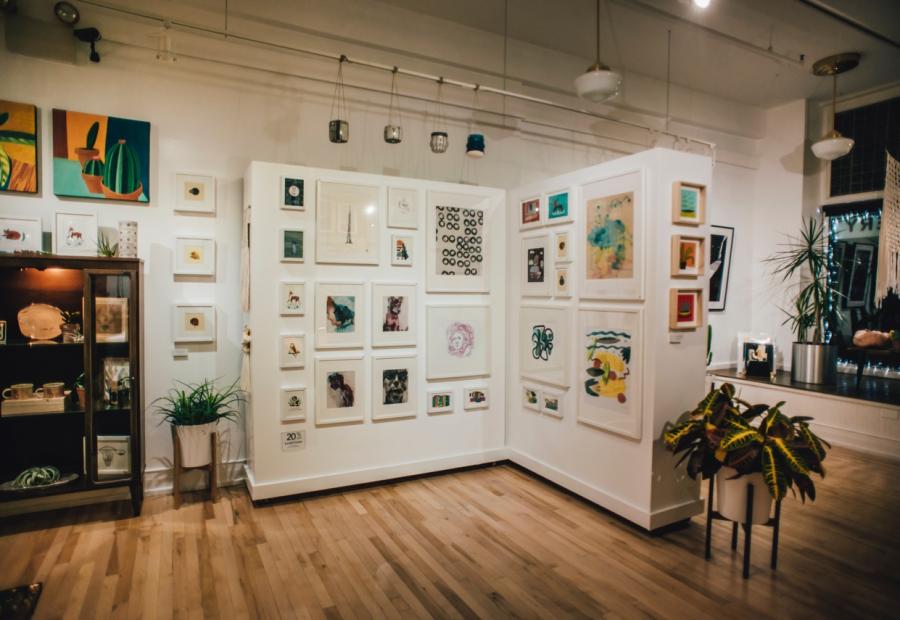 Do it all - learn, create, and take home art at Light Gallery + Studio.
Photo by Light Gallery + Studio
Light Gallery + Studio
If you're shopping for the person who has everything, pick up something one-of-a-kind at Light Gallery + Studio. It's the one-stop-shop for unique, handmade goods. What started as a dream for two local students has turned into a haven for Grand Rapids artists. The space serves many purposes, acting as a gallery for art exhibitions, a studio for artisans to make new creations, a classroom for workshops and artist talks, and a local artisans shop. Here, you'll find a wide array of handmade goods, such as pottery, prints, candles, jewelry, and so much more. Be sure to stop in often because it is always carrying new artists' creations.
Lee & Birch
Since opening in 2007, Lee & Birch now operates three locations: Grand Rapids, Rockford, and Grand Haven. Stop into any of the three (or shop online) and browse its wares, from on-trend luxury items to chic closet staples. The shops feature brands like Gentle Fawn, AG Jeans, and Bella Dahl, along with jewelry and cozy home decor.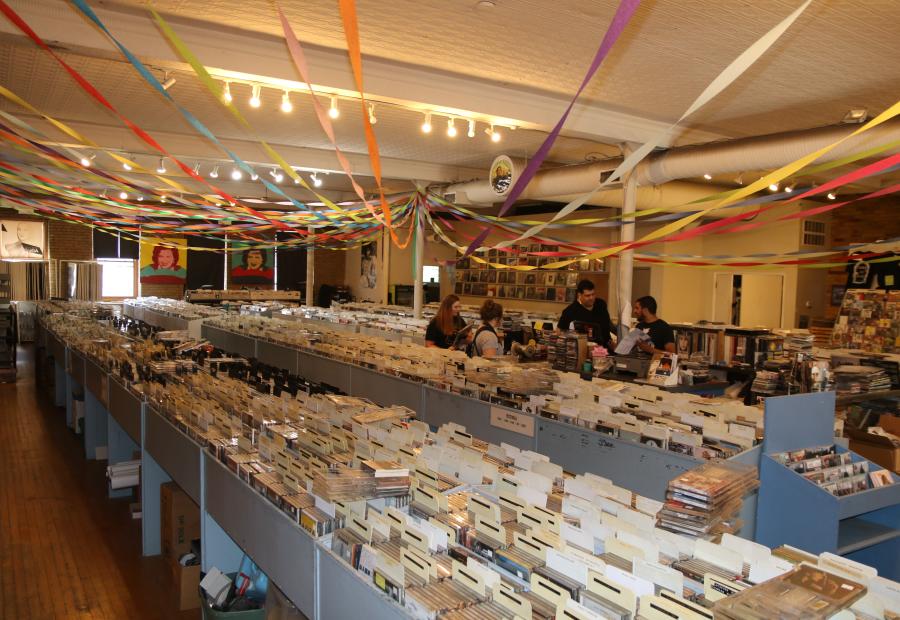 Vertigo Music carries music for all tastes.
Photo by Experience Grand Rapids
Vertigo Music
A self-proclaimed "anti-superstore," Vertigo Music is a destination record store drawing vinyl lovers from across the state. The shop features an impressive selection of records, CDs, and cassettes for any level of music lover. Looking for the obscure? Owner Herm Baker knows more about music and vinyl than anyone in town. It's the perfect place to pick up a gift for your special someone or to build the soundtrack for your next party.
Aunt Candy's Toy Company
Aunt Candy's Toy Company in Rockford has been delighting kids with games, crafts, and puzzles for nearly 25 years. Step into the bright yellow store and let your inner child free. Its vast assortment of board games, children's books, action figures, and dolls makes this a great one-stop-shop for kids of all ages.
Looking for more must-visit local shops? Check out the Experience Grand Rapids Shopping page for all the details.