Ladies and gentlemen, ArtPrize is upon us. For 19 days I get to live just 1.5 miles from a free, open, dialogue-creating art festival. The leaves are turning, the air is crisp, and apples are rolling in at the farmers market. It's the perfect time to get outside and stroll downtown, admiring over 1500 works of art at 169 venues. The art is phenomenal but what really gets me going is the camaraderie and energy in Grand Rapids - and of course, the food and drink!
Pair this checklist with your must-see art list, grab sneakers and an appetite, and enjoy.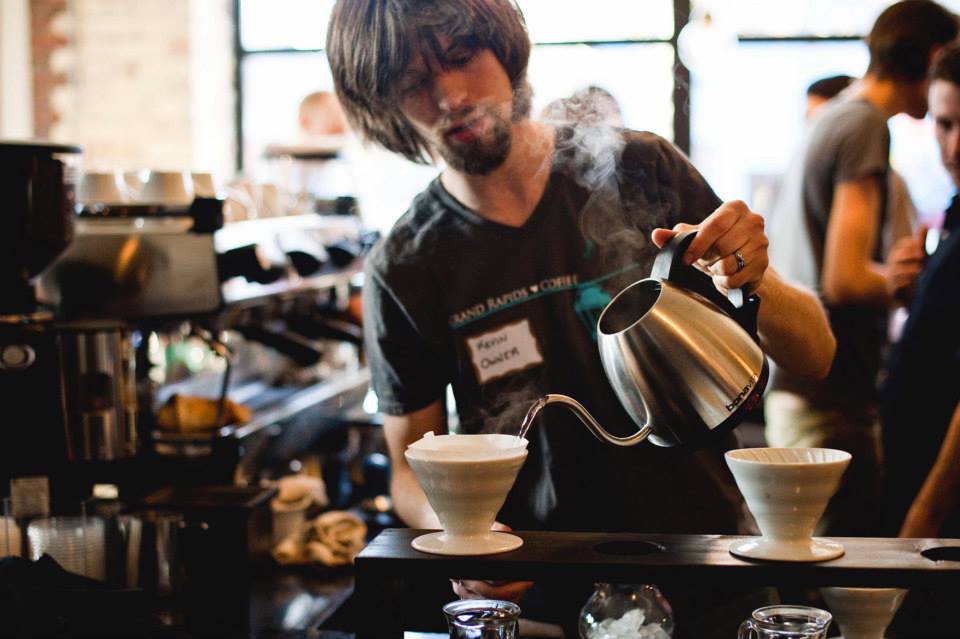 Photo Courtesy of Lantern Coffee Bar and Lounge
Wrapping your fingers around a warm cup of coffee goes hand in hand with gallivanting throughout town exploring art. Lantern Coffee Bar and Lounge came on the scene in April and quickly became a caffeine destination with friendly, speedy baristas, cozy couches, artisan baked goods, and an extensive coffee and tea menu. Kick your feet up with a hot, caramel apple cider ($2.50). ArtPrize Venue ~ 100 Commerce Ave SW
The JW Marriotts Jdek is the perfect perch for admiring art installations on the Grand River's bridges. Meet your friends after hours and refresh with a cool drink. I feel that all is right in the world when lounging at the JW sipping a glass of crisp, green, fruity, bubbly M. Lawrence GR ($7) from Michigan's Leelanau Peninsula. ArtPrize Venue ~ 235 Louis Campau St. NW
When you want to escape the downtown crowds, head to Brewery Vivant in East Hills. Vivant is a Belgian microbrewery with an emphasis on sustainability. If you're looking for a very mellow vibe, catch them in the late afternoon, preferably when it's warm enough to enjoy the outdoor beer garden (game of bag toss, anyone?) They open daily at 3pm, earlier on the weekend. Now, order a pitcher of farmhand ($12) and a platter of duck nachos ($16) and tuck in. The bright, citrusy, acidic ale paired with the cheesy, lemon-enhanced, duck confit laden nachos is to die for. Brewery Tours Saturday 2PM & 3:30PM ~ 925 Cherry St. SE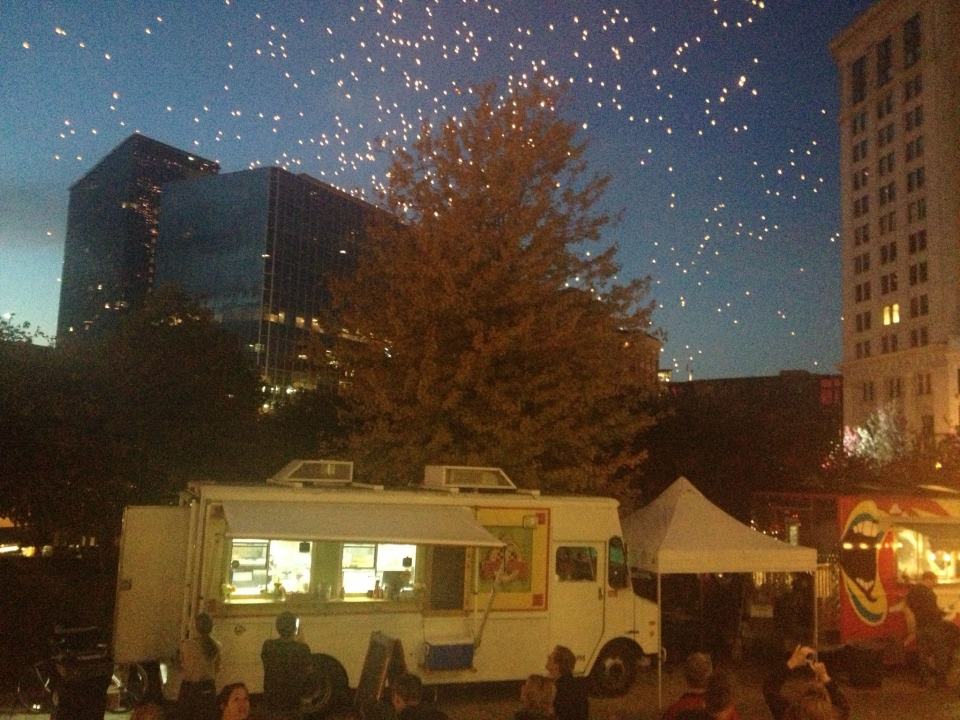 The Silver Spork and What the Truck at ArtPrize 2012
For a quick, flavorful lunch or dinner visit the food trucks What the Truck and Righteous Cuisine - by the Grand Rapids Art Museum. You'll find trucks here every day during ArtPrize, and now thanks to a zoning variance passed last week, year round. As a former food truck owner/operator I'm thrilled we'll be seeing trucks in the heart of downtown GR. Yum! ArtPrize Venue ~ 101 Monroe Center St. SW
Continuing the street food theme, there is a fun, tasty food cart popping up around town. Do some urban foraging and find Woking Taco while searching for your favorite ArtPrize exhibit. This tasty concoction will power you up: corn chips, chicken (or veggie), beans, rice, lettuce, cheese, salsa, and other taco fix-ins ($5). Often at Corner of Ottawa & Monroe Center
Grand Rapids is home to a terrific culinary program. To provide the students with hands-on training, the Secchia Institute for Culinary Education has an upscale restaurant: The Heritage. I love the theater of dining in a student-run restaurant and the menus reasonable price points and seasonal, sophisticated ingredients (think purple potatoes, veal with crispy sweetbreads, and house-made tofu) make a great match. Grab a white-tablecloth clad table for two and recap the great day. ArtPrize Venue ~ Lunch 11:15AM-12:45PM & Dinner 5:30-7PM ~ 151 Fountain St. NE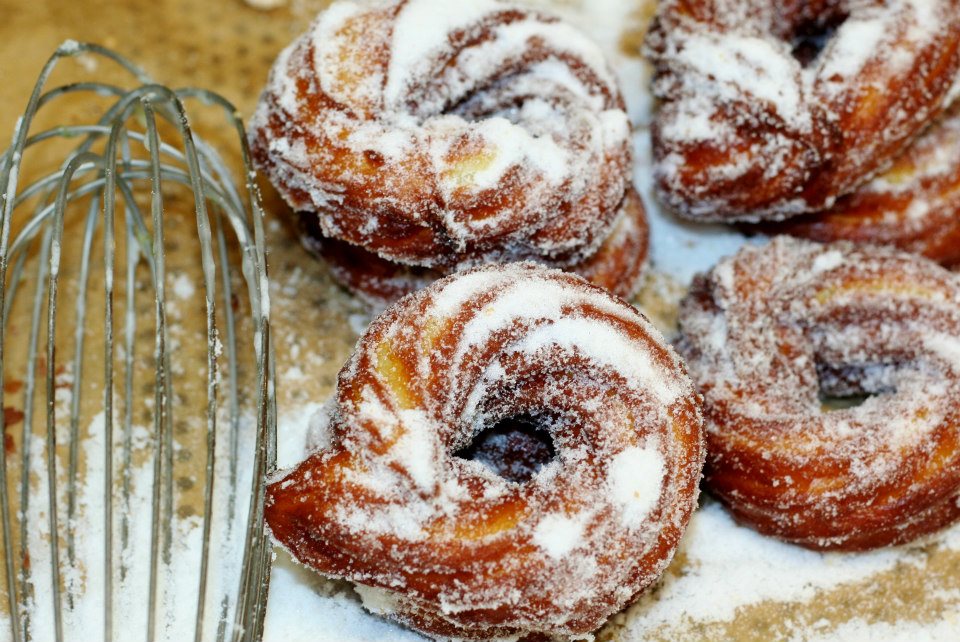 Photo Courtesy of Propaganda Doughnuts
Propaganda Doughnuts is a brand new bakery opening just in time for ArtPrize. Grand Rapids most charismatic private Chef, mixologist, and supper-club host, Torrence OHaire of The Starving Artist, is now opening a doughnut shop on Division Ave. Check it out for delectable, expertly crafted gourmet doughnuts How about lemon cake with blueberry jam, date-pecan stickies with crispy prosciutto, and gorgonzola, or dark chocolate and absinthe? ArtPrize Venue ~ 117 Division Ave S.
Meijer Gardens is a 15-minute drive East of downtown Grand Rapids. This year's exhibition focuses on sculpture with glass as the medium. The 134-acre grounds should certainly find room on your ArtPrize itinerary. Pack a picnic and enjoy the gardens, greenhouses, and conservatories. Stock your basket with finds from Marthas Vineyard and Nantucket Baking Co. on Union Ave.: cheese, pastries, bread, fruit, and olives. Meijer Gardens ~ ArtPrize Venue ~ 1000 East Beltline NE Marthas Vineyard & Nantucket Baking Co. ~ 200 Union Ave NE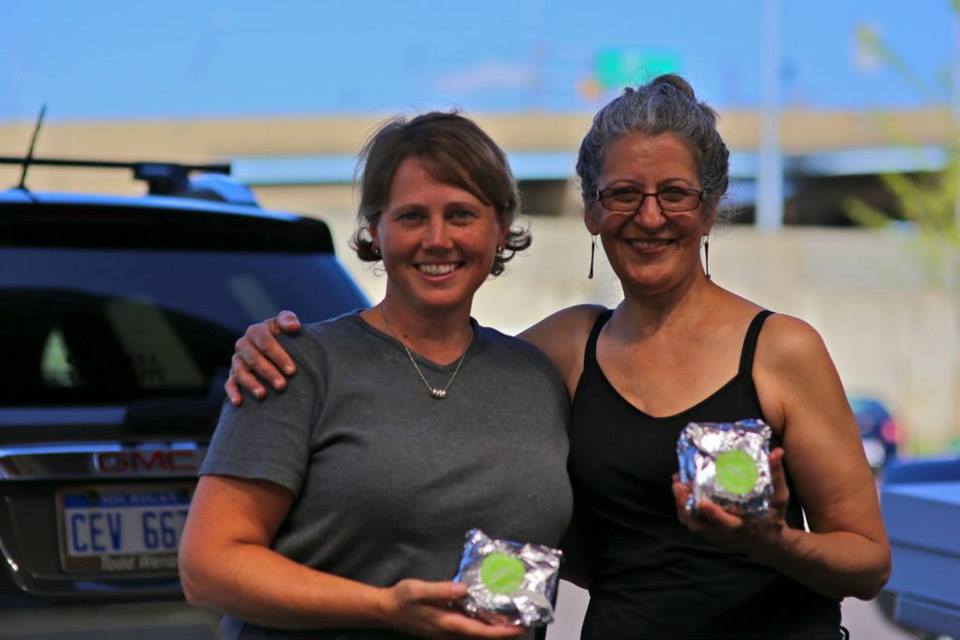 Kristen from Link Love and Lisa from GR Bagel with the Market Sandwich. Photo Courtesy of Downtown Market Grand Rapids.
You have a busy Saturday ahead of you: how about a breakfast sandwich to get you going? Sometimes the best things are the simplest: a handmade Link Love sausage patty, a properly boiled uber-fresh GR Bagel plain bagel, and a dollop of Everidae Sweet Habanero Sauce. The Market Sandwich available from Link Love on Saturdays at the Downtown Market outdoor farmers market is one of the best handheld edibles in town. To make it even tastier, its the result of three food entrepreneurs combining forces. Saturday 8AM-1PM ~ 435 Ionia Ave. SW
These days, Grand Rapids is synonymous with beer. The behemoth: Founders Brewing Co., just reopened after an impressive expansion project. That means there will be plenty of room for all of us to pile in and enjoy a pint of craft beer (varies, $5). Founders beers have huge flavor and depth with something for everyone. They maintain a unique, extreme style ~ request samples until you find the brew that resonates with you. If all that art made you hungry the sandwiches are huge and hit the spot. ArtPrize Venue ~ Live Music Thurs & Sat Evenings ~ 235 Grandville Ave. SW
What are your favorites things to eat and drink in Grand Rapids, especially during ArtPrize-season? Leave your comments below to add to the list.