Michiganders are crazy. Why? Because we willingly endure unnervingly cold winter days for what seems like endless months in order to reach the invigorating warmth of the summer sun. It's unnecessary, however, to wait until the balmy months to warm the body, mind, and soul. Check out these 10 drinks in Grand Rapids that are sure to create a sense of comfort and warmth during cold winter days in West Michigan.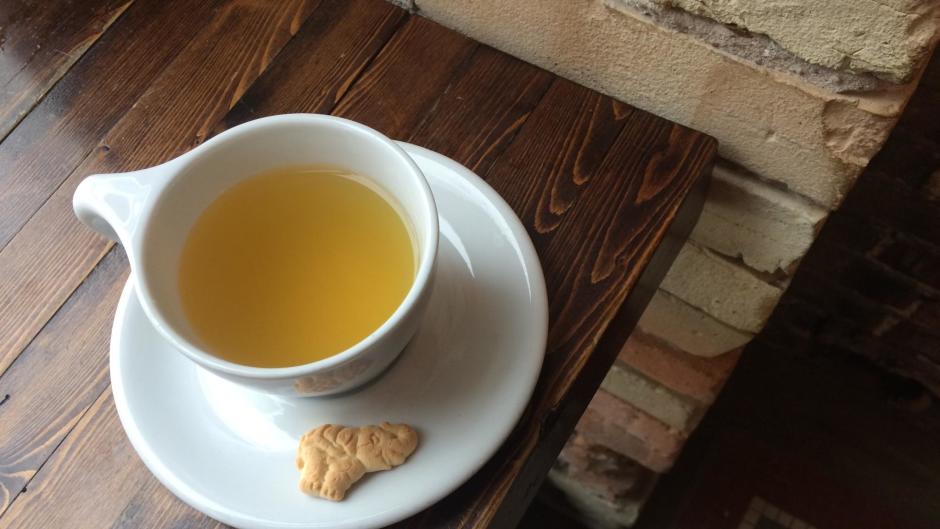 If you prefer tea over coffee, Lantern Coffee's Malabar Tea is sure to warm you up just the same.
Photo Credit: Lantern Coffee Bar & Lounge
---
Malabar Tea – Lantern Coffee Bar & Lounge
If you're searching for a warm and cozy tea with a little bit of spice this winter season, look no further than Lantern Coffee Bar & Lounge. The Malabar Tea consists of a combination of ginger turmeric licorice root and lemongrass that will add a refreshing sensation to any day. This tea is just one of a variety of teas hand selected and carefully brewed to order at the temperature of your choice. Also, each beverage ordered at Lantern Coffee is accompanied by the tasty sweet treat of an animal cracker companion that's perfect for the kids-at-heart.
Bulletproof Coffee – The Bitter End Coffee House
For more than 15 years, The Bitter End has been serving coffees from all around the world, so the fact that their Bulletproof Coffee is one of this coffee house's most popular brews is high praise. Bulletproof Coffee is a delightful blend of two shots of espresso, butter, honey, coconut oil, and Guarana energy supplements, which provide a velvety smooth finish that's a toasty treat on a cold day.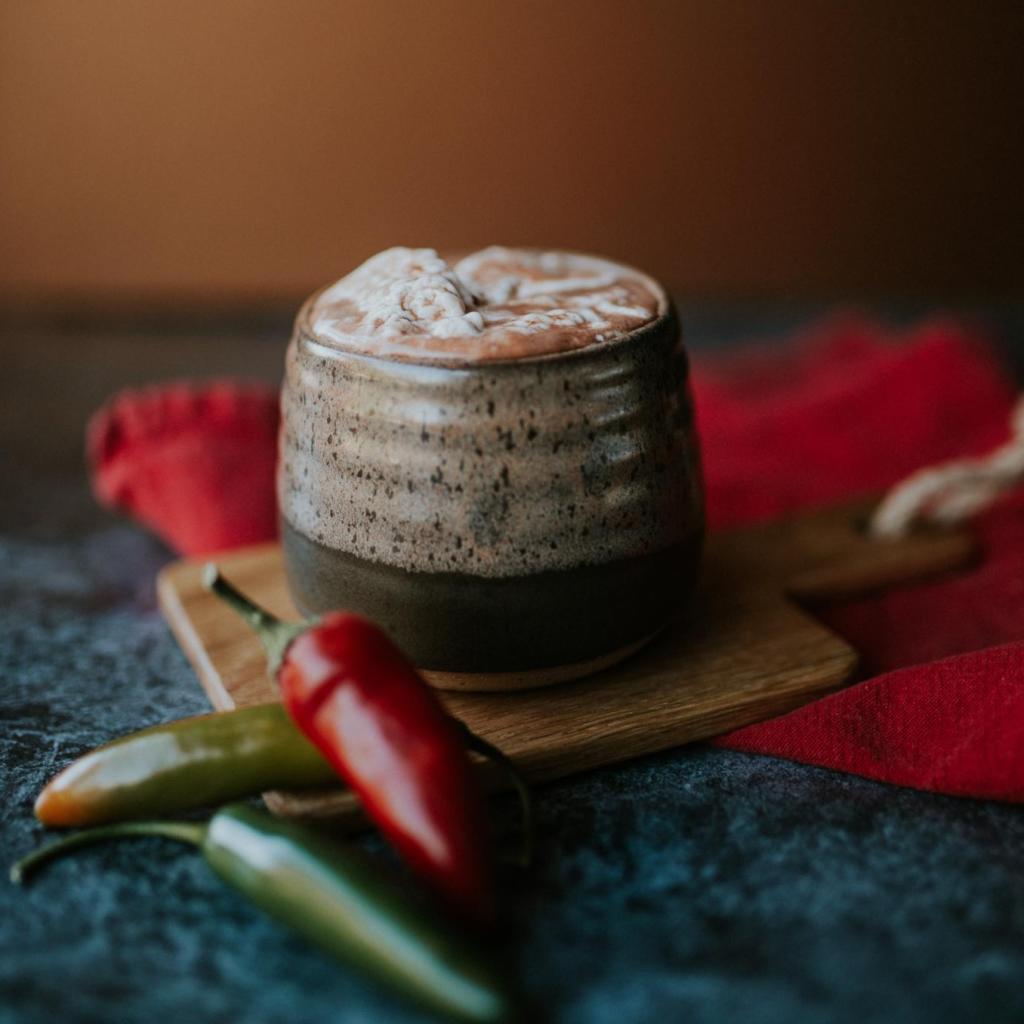 MoKAYA's Mexican Cocoa serves an extra warmth with its ancho chili spice.
Photo Credit: Leigh Ann Cobb Photography
---
Mexican Cocoa – MoKAYA
It's difficult to argue that even the most basic hot chocolate is delicious, but how about introducing a little zest to the traditional recipe? MoKAYA's Mexican Cocoa is a menu favorite among patrons, and that's not surprising considering the hot chocolate is tastefully spiced with ancho chiles, cinnamon, and vanilla. It's a blend that will make any tongue tingle in an enjoyable way on a cold winter's day.
Cinnamon Plum Tea Latte – Squibb Coffee Bar
Squibb Coffee Bar has been open for business for less than two months, and already their Cinnamon Plum Tea Latte is receiving rave reviews. The twist to this above average beverage is that the Cinnamon Plum Tea is infused with steam and hot milk to make it a sweet latte with a little kick on the end of each sip.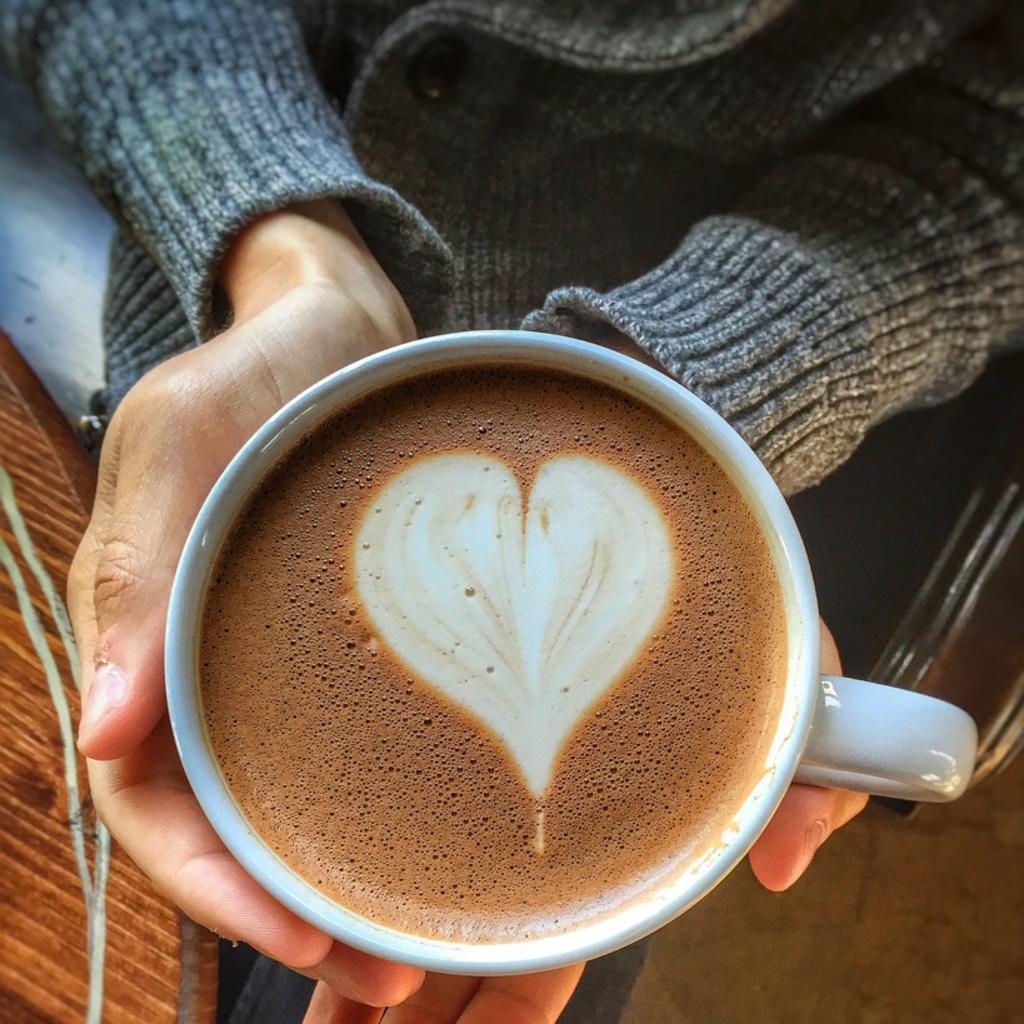 Roots Brew Shops infuses love into their Hot Chocolate in more ways than one!
Photo Credit: Roots Brew Shop
---
Hot Chocolate – Roots Brew Shop
You won't find pre-packaged hot chocolate at Roots Brew Shop because this cocoa is made from scratch, with love. The chocolate used in this hot cocoa comes directly from Crave Chocolate, located in Kalamazoo, and is made exclusively for Roots Brew Shop. To create this lavish liquid treat, the custom chocolate is melted into steamed milk and then shaken (not stirred) in mason jars to aerate it more than typical hot chocolates.
Malt Chocolate – Eastern Kille Distillery
If a warm beverage with a little extra "warmth" added to it (wink wink) is what you desire when it's commonplace to see your own breath outside, Eastern Kille Distillery has a unique twist on the classic hot chocolate recipe with its Malt Chocolate. The distillery expertly fuses its own Michigan Single Malt Whiskey, the grains of which are grown, malted, mashed, distilled and aged entirely in Michigan, with hot cocoa, orange bitters and Aztec Chocolate Bitters. This creative cocoa concoction is topped with chocolate shavings and an orange twist for an extra zing with every warming sip.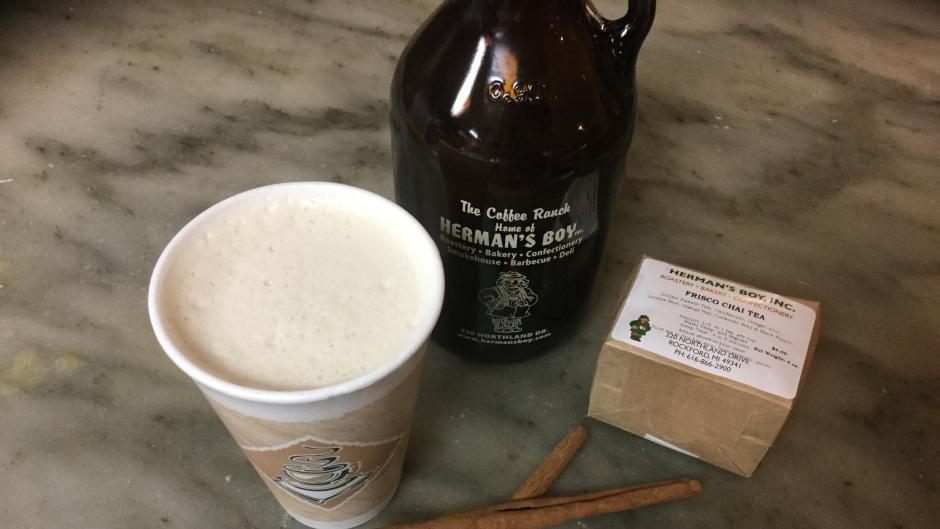 Herman's Boy serves a chai latte with a customizable twist.
Photo Credit: Herman's Boy
---
Chai Latte – Herman's Boy
"The Coffee Ranch" at Herman's Boy has a long history as a specialty coffee roaster, but if coffee isn't a preference, the Rockford staple also offers a unique, high-grade chai black tea blend to create its popular chai tea extract (which you can fill a growler with to go). Herman's Boy's popular Chai Latte can be brewed with a variety of sweeteners to meet the demands of your taste buds, including honey and cinnamon.
Brown Butter Black Tea Latte – Ferris Coffee & Nut
The team at Ferris Coffee & Nut has been mastering the taste of their coffee for almost a century, and the Brown Butter Black Tea Latte is a strong testament to that dedication. This popular latte features a steamed concentrate of an Assam black tea infused overnight with brown butter. The brown butter adds an alluring sweetness and caramel quality to this latte, which is topped off with smoked sea salt, a pinch of vanilla and a sprinkle of cinnamon.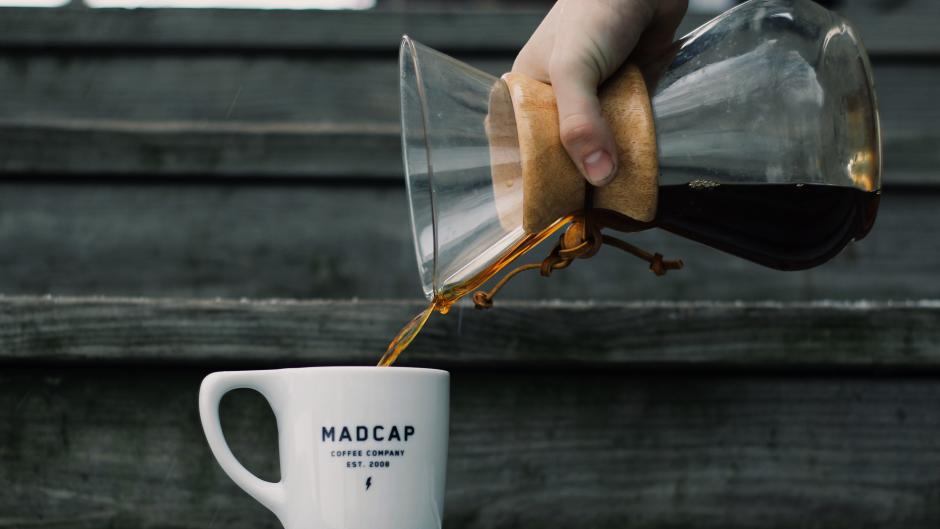 Madcap Coffee creates specialty brews and an expressive latte art in Grand Rapids.
Photo Credit: Madcap Cofffee
---
Lake Effect – Madcap Coffee
When West Michigan is inevitably blasted with lake effect snow, Madcap Coffee is happy to provide a warmer, more comforting Lake Effect. Madcap's seasonal blend, Lake Effect, consists of three vibrant coffees from Africa, including Karinga, Kenya, and Yukro and Reko, Ethiopia. Lake Effect's blend highlights deep, juicy notes with hints of spice to make a stellar concoction to curl up and stay warm with.
The Salazar – Little Lucy's Café & Bakery
While Little Lucy's specializes in rotating weekly warm beverages, their delightful espresso, dubbed The Salazar, is a Cuban-style take on Americano-style coffee that's a permanent fixture on the menu. Using Ferris Coffee's Espresso Classic — a South American and Indonesian blend of dark chocolate and roasted nut flavor notes — Little Lucy's grinds espresso into a two-shot Portafilter that is topped with raw Turbinado sugar. The two shots are then poured into a ceramic mug, followed by water continuously poured over the remaining grounds in the filter until the cup is full. The result is a thick, frothy foam on top and a slight hint of sweetness complimented by the nutty and chocolatey undertones of the espresso.
Never miss a post!
Subscribe to the Insider Experience blog.