The 10th annual Restaurant Week GR (RWGR) is officially underway in Grand Rapids through August 18, so it's time to "Taste the City."
RWGR now has more than 70 participants. However, there are a few restaurants located in Eastern Kent County that have participated since the beginning and are worth checking out.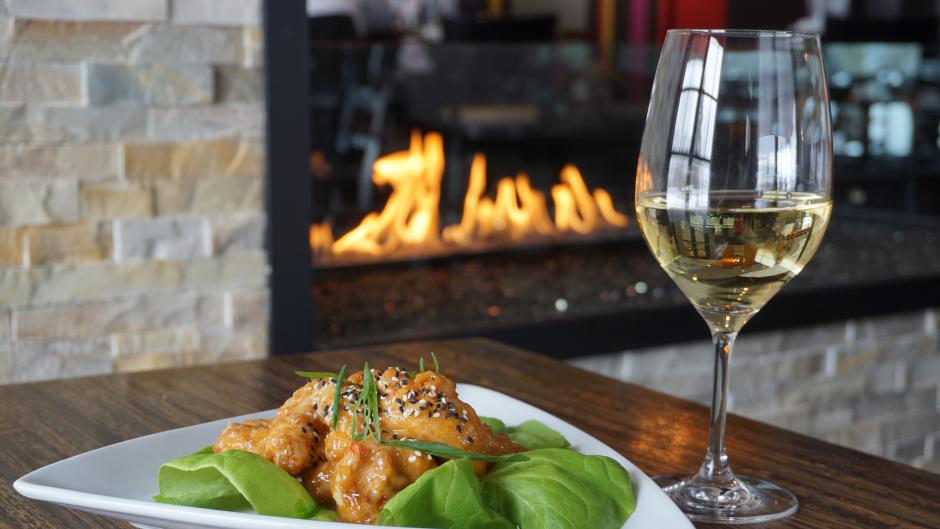 Cork Wine & Grille offers guests a great selection of fresh food paired that guests can pair with their choice from an expansive wine list.
Photo Credit: Brian Craig for Experience Grand Rapids
---
Cork Wine & Grille
Cork Wine & Grille is a member of the Red Water Restaurants family, which is comprised of seven restaurants, including two others in Eastern Kent County: FireRock Grille and Reds at Thousand Oaks. 
Leanne Stoll, Marketing and Communications Manager for Red Water Restaurants, says they've enjoyed participating in Restaurant Week because it gives their talented chefs a chance to showcase food that's not on their everyday menus.
"Restaurant Week is a great way to promote our restaurants to people who may not have experienced a meal with us before," says Stoll. "We love to see the new faces that Restaurant Week brings in each year."
Located in Cascade Township, Cork Wine & Grille provides its guests with a tasteful combination of food, drink, a modern environment indoors, and a large patio outdoors that overlooks Watermark Country Club. The restaurant offers guests a great selection of fresh food, from artisanal sandwiches and hand-crafted appetizers to pizzas, pasta dishes, and steaks. 
Stoll says Cork Wine & Grille lives up to its name by offering, "one of the most extensive wine lists in the area and some of the best pricing around."
Cork Wine & Grille will be offering your choice of three dishes (one from each course) for $25 per person during Restaurant Week. For those with dietary restrictions, many of the dishes can be modified to be gluten-free, vegetarian, or nut-free.
Course One
Whipped Feta Dip
Summer Vegetable Salad
Pork Belly Tostada
Course Two
Peanut Curry
Chuck Steak
Pesto Shrimp Cavatappi
Course Three
Strawberry Shortcake
Lemon Blueberry Crumb Cheesecake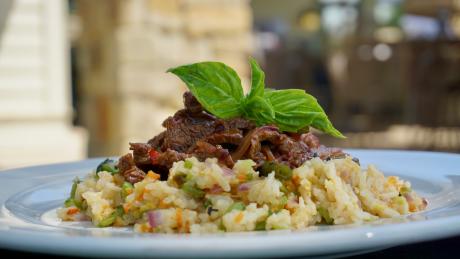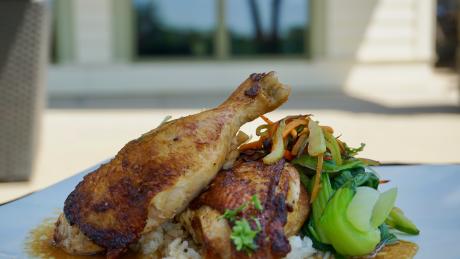 Visit FireRock Grille during RWGR to enjoy savory meat dishes like the Shaken Beef, which is a filet of beef, stir fried red onions, French beans, and basil with sweet chili sauce served over shrimp fried rice.
Photo Credit: Brian Craig for Experience Grand Rapids
---
FireRock Grille
Located at the StoneWater Country Club in nearby Caledonia, Stoll says FireRock Grille is anything but ordinary.
"We consistently awe our guests with quality service and entertainment, and each dish that leaves our kitchen meets the same exceptional standards," says Stoll. "Executive Chef Micah Lovett keeps our menu fresh, new, and exciting while maintaining a consistency that guests can depend on."
A part of that exciting menu is the option to cook your own signature dishes, like steak, fajitas, or ahi tuna, on 500-degree lava stones.
"Our chefs get the food started, searing a steak for example," Stoll explains. "Then the server delivers the dish on the rock and the guest finishes cooking the dish to their liking."
FireRock Grille will also be offering the option to choose one dish from each of three different courses for $25 per person during Restaurant Week. Many of these dishes can be modified to be gluten-free, vegetarian, or nut-free to accommodate specific diets. 
Course One
Course Two
Eggplant Parmesan
Asian Adobo Chicken
Shaken Beef
Course Three
Café Pots de Crème
Raspberry Sorbet
Salted Caramel Blondies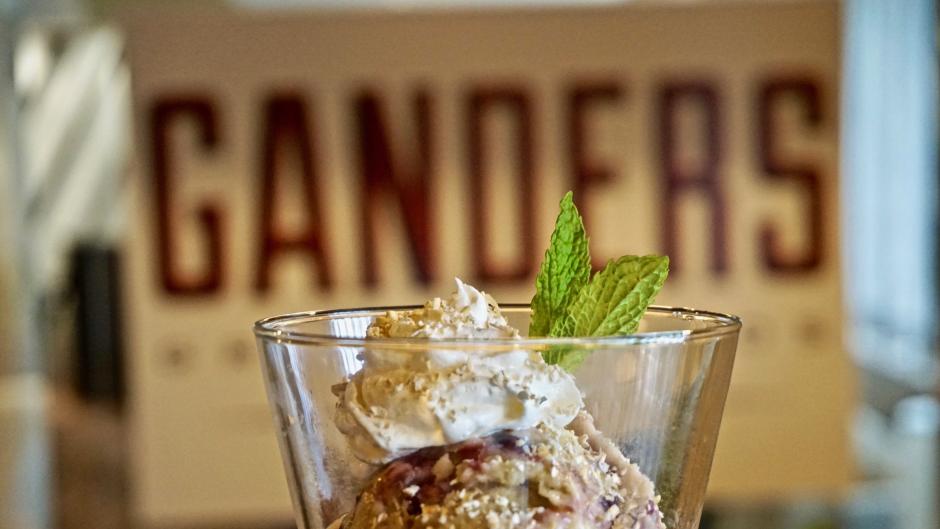 Finish your RWGR meal with a dessert. Try Ganders' unique Sweet Corn Gelato, made with local sweet corn, blackberry jam, oat crumble, and sweet cream
Photo Credit: Brian Craig for Experience Grand Rapids
---
Ganders Grand Rapids
Ganders began its decade of participation in Restaurant Week when it operated under the name of the Spinnaker (the name changed to Ganders in 2015). Open seven days a week for breakfast, lunch, and dinner, this eatery is nestled inside the DoubleTree by Hilton Grand Rapids Airport hotel located on 28th Street.
"Our staff members are excited to share their love of Michigan with travelers and locals alike," says Judi Crisman, Food and Beverage Operations Manager. "We are passionate about featuring the best that Michigan has to offer, supporting Michigan-made and Michigan-grown products on both our dining and beverage menus." 
Crisman says that Ganders has participated in Restaurant Week for all 10 years because of the event's positive impact and support of culinary students.
"We believe that this is a fabulous initiative to get people excited and engaged in our local food scene and community," says Crisman. "In addition to being a great catalyst for exploring the local market, Restaurant Week also provides scholarship opportunities for students attending Grand Rapids Community College's renowned Secchia Institute for Culinary Education."
For this year's Restaurant Week, Ganders will be offering a two-course dinner for $25 per person during dinner hours. Guests can choose either an appetizer or dessert as one option. The second option is a choice between three hearty entrees. 
The restaurant will also be highlighting Michigan ciders to pair with each course (although ciders are not included in the RWGR meal deal).
Course One
Crab Roll
Cucumber Melon Soup
Frisee Salad
Course Two
Scotch Duck Egg
Beef Curry
Pistachio Crusted Salmon
Course Three
Raspberry Panna Cotta
Blueberry Torte
Sweet Corn Gelato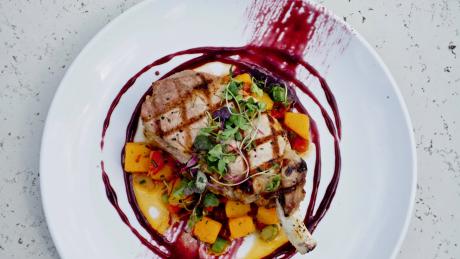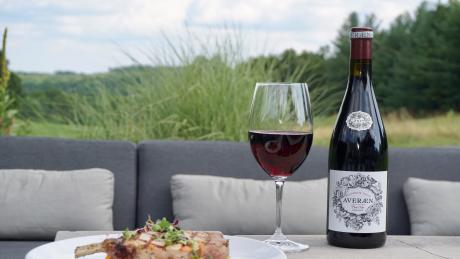 One RWGR option at Reds is the 8-ounce Bone-In Pork Chop with butternut squash hash and blueberry gastrique. You can pair it with one of Reds' RWGR wine features.
Photo Credit: Brian Craig for Experience Grand Rapids
---
Reds at Thousand Oaks
Reds at Thousand Oaks, formerly known as Reds on the River in Rockford, now has a new home in Grand Rapids.
Whether you're in the mood for live music, an intimate dining experience, or a laid-back night out, Reds has multiple environments to enjoy.
On the everyday menu at Reds, customers will find a variety of diverse dishes, including guest favorites like the Oaks Signature Steak — an 8-ounce America wagyu steak topped with fried Boursin and mushroom bordelaise. Reds also has a great selection of salads, sandwiches, and burgers, like the Reds Burger — bacon, an onion ring, sriracha aioli, lettuce, tomato, onion, and creamy cheddar piled atop a stack of smoked brisket.
For Restaurant Week, however, Executive Chef Nick Aslanian has created courses that will please almost any palette. 
You can enjoy one selection from each of three different courses for $25 at Reds, customizing a variety of dishes to suit your dietary needs.
Reds is also well-known for its award-winning wine list. During RWGR, Reds will be featuring select wines (not included in the pricing of their RWGR specials), including a Routestock 29 Cabernet and an Onyx Field Day Sauvignon Blanc Blend.
Course One
Grilled Avocado
Burrata
Marinated Beef Strips
Course Two
Crab Stuffed Flounder
8 oz. Bone-In Pork Chop
Coffee Rubbed Sirloin
Course Three
Banana Split Cake
Peanut Butter Brownie
Chocolate Mocha Torte
Which local eateries are on your Restaurant Week must-visit list? 
Let us know in the comments below. And to see all participating restaurants and their incredible menus, many of which are specially designed for Restaurant Week, check out the official RWGR website.
Never miss a post!
Subscribe to the Insider Experience blog.