The temperatures have finally dropped in West Michigan, and baby it's cold outside! When you need a break from playing in the cold, Grand Rapids has lots of indoor activities to keep kids having fun all winter long.
1. Skate & Create at the GR Art Museum: This fun event actually starts outside but moves into the warmth and beauty of the art museum when you've done your last figure eight.First, pull on your ice skates at Rosa Parks Circle (you can rent them there) and take a few spins around the ice. Then, pick up a coupon for the Art Museum in the warming shelter (in the Education Center), which gets you admission to the GRAM for just $2 (kids 5 & under are free). Warm up with some free hot cocoa, then enjoy the GRAM's hands-on activities, demos, and family tours. When: Saturday, 10:00 a.m. 3:00 p.m. through March 2013
2. Open Gym: If your kids like to bounce, balance and tumble, several of the gymnastics facilities offer open gym times, which can be an excellent way to spend an hour on a cold winter day.
Gymco Monday - Saturday, open gym from 12:00 pm 1:00 p.m. Grand Rapids Gymnastics Preschool and KG open gym on Fridays from 10:00 a.m. 11:00 a.m. All-Ages open gym from 1:00 p.m. 3:00 p.m. on Saturdays. R-Athletics Monday & Tuesday open gym from 2:00 pm - 3:00 pm Saturday open gym 1:00 pm - 2:00 pm $5.00 for members, non-members $8.00
3. Java Gym Food, wi-fi, and a cool indoor play structure equal a great day out for you and your kids. Java Gym has lots of January activities (check the website for updates in February and March) including Toddler Tuesdays, which feature storytimes on the hour throughout the day and a visit from Mr. Picklehead at 10:00 a.m. on 1/15 and 1/29. They're also offering Little Chef classes on Fridays and some art and music classes. Check here for details.
Jesters Court has lots of inflatables on which your kids can bounce away their pent-up winter energy.
4. Jesters Court Another indoor play structure option, Jesters Court has lots of inflatables on which your kids can bounce away their pent-up winter energy. Adults are not allowed on the equipment, and there is a special toddler-only area for kids 3 and under.
5. Barnes & Noble (Woodland Mall) Perusing a bookstore is a lovely thing on a cold winter day, and even nicer when you pop into the in-store Starbucks for a hot drink. Head to the Barnes & Noble in Woodland Mall with your little ones on Friday mornings at 10:30 for storytime. They do a take-home craft and, if you're lucky, you might find something you'd like to take home, too. When: Fridays, 10:30 a.m. 3:00 p.m. through March 2013
6. Kent District Library While you're thinking about books, KDL branches offer storytimes for babies and toddlers throughout the week (click here for details). All three of my boys attended storytime at the Cascade branch (and occasionally the East Grand Rapids branch, too) until they were in school full time, and they loved it. Several branches also offer a weekly music and dance program designed to help kids develop motor skills along with listening and literacy skills. (Details here.) KDL offers a myriad of other programs (which vary by branch) including a Dinosaur Romp, Chess Club, and Fairy Wings and Wands. See their website for details. Almost all of their events are free.
7. Grand Rapids Children's Museum The Children's Museum is wonderful anytime of year, but its an especially nice place to visit when playing outside is just, well, brrrrrr! In addition to their ever-present awesome activities, like the huge bubble maker, giant Lite Brite, and super fun Wee Discover area, they also have a new exhibit coming on January 22, 2013 called Journey through the Adventure Jungle. Kids can test their balance skills, try juggling, and go on a scavenger hunt (bonus: they'll learn interesting facts along the way) When: Visit Thursday nights from 5:00 pm.m 8:00 p.m. for just $1.50 each; otherwise, admission is $7.50 each. Closed Mondays.
8. Toddler Tuesdays at the Kroc Center Members and non-members are invited to a fun morning of playing in the gym and pool at the Kroc Center. (Free for members; $5 per non-member child, but non-member parents get in free.) Your kids can even bring their own ride-on toys to spin around the gym in style. When: Tuesdays, 9:00 a.m. - 12:00 p.m.
9. Grand Rapids Public Museum My kids love to gaze at the stars of the night sky in the Plantarium ($3 extra) and stroll the Streets of Old Grand Rapids as they explore what life was like in Grand Rapids before they were around. There's always something new to see at the GRPM; the newest exhibit, Titanic: The Artifact Exhibition, opens on February 9th. You need timed tickets for the Titanic exhibit but can see everything else with your regular admission. Your kids will love a ride on the big, old carousel--you might even join them!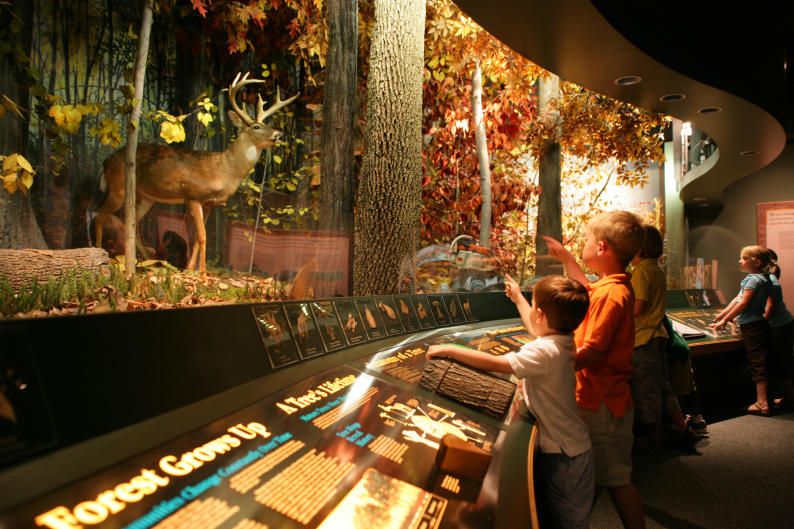 Grand Rapids Public Museum is fun for the whole family, with seasonal and permanent exhibits, and the local-favorite carousel.
Photo Credit: Experience Grand Rapids
---
10. Kid-friendly Hansel and Gretel, GR Symphony with the GR Ballet As part of their ever-popular Lollipops series, the Grand Rapids Symphony is performing a modern-day Hansel and Gretel. Your kids will love this story, which includes a cell phone! The entire performance is just 45 minutes--perfect for kids 4-7. My family has enjoyed the Lollipops series for years. When: January 26 at 10:15 am and 11:30 am; $5 per person; order tickets here.
11. SkyZone Trampolines galore, even up the walls (yes, the kids bounce off of those, too!). Times vary, so check the website for details. Toddler Time is Friday, 11:00 a.m. 12:00 p.m.
12. Craig's Cruisers If you haven't been to this mecca of kid-fun, get ready for bumper cars, a ropes course, and some seriously fun laser tag. If you're up for a buffet, they've also got more food than your kids could hope for. Check their website for specials and hours.
13. Forest Hills Aquatic Center Hit the indoor pool at 660 Forest Hill Ave S.E. in Grand Rapids during the Parent/Child Swim time on Tuesdays and Thursdays from 11:45 a.m. 12:45 p.m. (shallow end only) or during Open Swim times, which are generally Friday from 6:00 p.m. 8:00 p.m., Saturday from 1:00 p.m. 4:00 p.m. and 5:00 p.m. 7:00 p.m. and Sunday 1:00 p.m. 3:00 p.m. They do occasionally offer additional open swim times--see website for details.
14. Holiday Inn Express Waterpark If you're up for more than just a pool, check out the 10,000 sq foot water park at the Holiday Inn Express. Kids can slide down a 3-story double figure-eight water slide, stand under the tipping buckets, or have fun splashing in the zero-depth toddler area. When: Day passes are available on Sunday from 10:00 a.m. 7:00 p.m. The cost is $35, which includes 5 admission wristbands (good for adults or kids).
15. Frederick Meijer Gardens This local gem is a favorite place for kids and parents in the winter, when the Arid Garden, Carnivorous Plant House, and Tropical Conservatory are oh so warm. For kids ages 2-5 (and their parents), Meijer Gardens presents Cozy Tales for Chilly Days, a storytime, on Tuesdays at 10:00 a.m. Click here for topics. Free for members; included with admission for non-members.
Never miss a post!
Subscribe to the Insider Experience blog.