During his stint as member of the Grand Rapids Griffins, Tom McCollum has acquired a Calder Cup championship ring, an AHL Man of the Year award, and a mountain of knowledge about the Grand Rapids area that he is quick to share with his rotating cast of Griffins teammates.
The Griffins goaltender entered the professional ice hockey world at the tender age of 19, and he has spent the majority of his six-year career as the primary man in net for Grand Rapids' favorite hockey team.
If you happen to find yourself in the Griffins locker room as a new addition to the squad, you have nothing to fear, because Tom is going to make sure you get properly acclimated to your new West Michigan surroundings. With that being said, here is the closest thing is existence to a professional hockey player's guide to living in Grand Rapids, as described by the Griffins Calder-Cup-winning netminder.
1. "I live Downtown right at Plaza Towers. I'd say all but four or five of the guys live right Downtown. A lot of us love it just because we can walk to the rink so we don't have to worry about driving too much."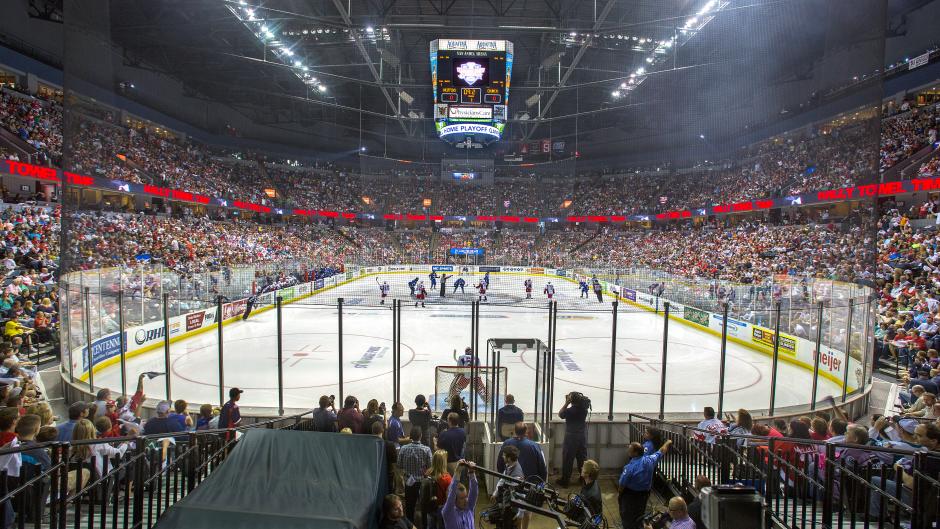 Grand Rapids Griffins
Photo Credit: Grand Rapids Griffins
---
2. "A lot of the players also like to live at the 616 Lofts. There are a lot of great buildings Downtown."
3. "One of the first things we'll do is take you to Woodland Mall or Rivertown Mall so you can buy all the things you'll need for your apartment."
4. "A lot of guys on our team like to go to Bistro Bella Vita. It's right across the street from the arena."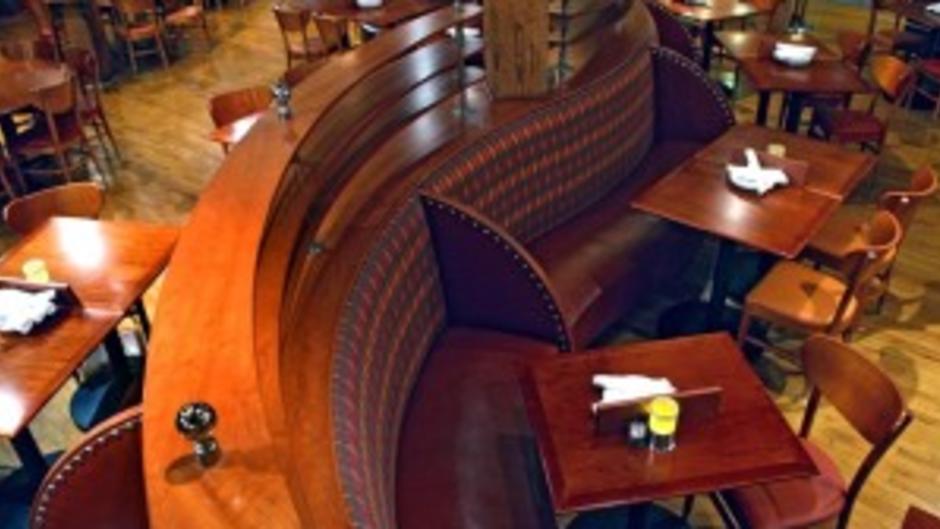 Bistro Bella Vita
Photo Credit: Bistro Bella Vita
---
5. "If they have a lot of family with them, we tend to send players toward Peppino's because they have a great variety of food."
6. "We've had a lot of guys come in that have dads that really like craft beer, so we'll send them over to Founders or HopCat."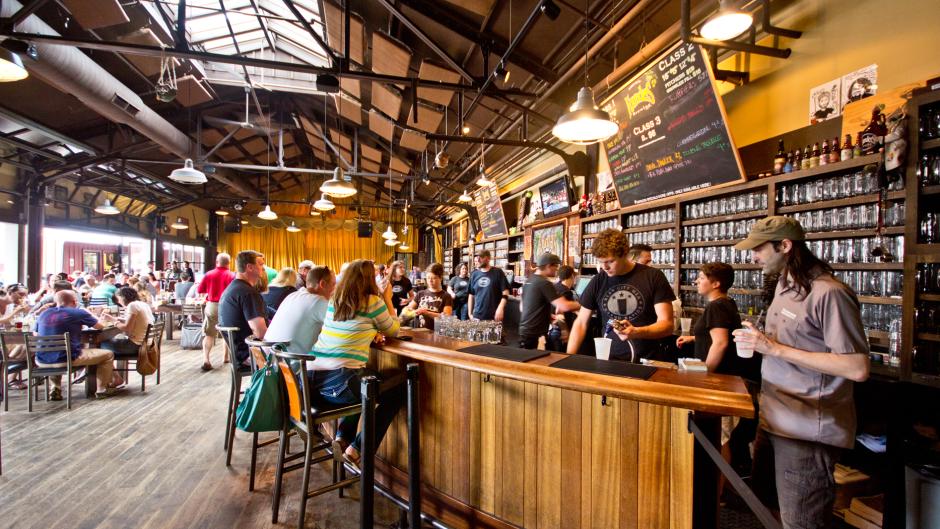 Fact: Founders Brewing Co. opened its second location in November 2017!
Photo Credit: Experience Grand Rapids
---
7. "For good steakhouses, there are a couple Downtown. The Chophouse is always great. I actually really like to go to Judson's at The B.O.B. That's a great spot."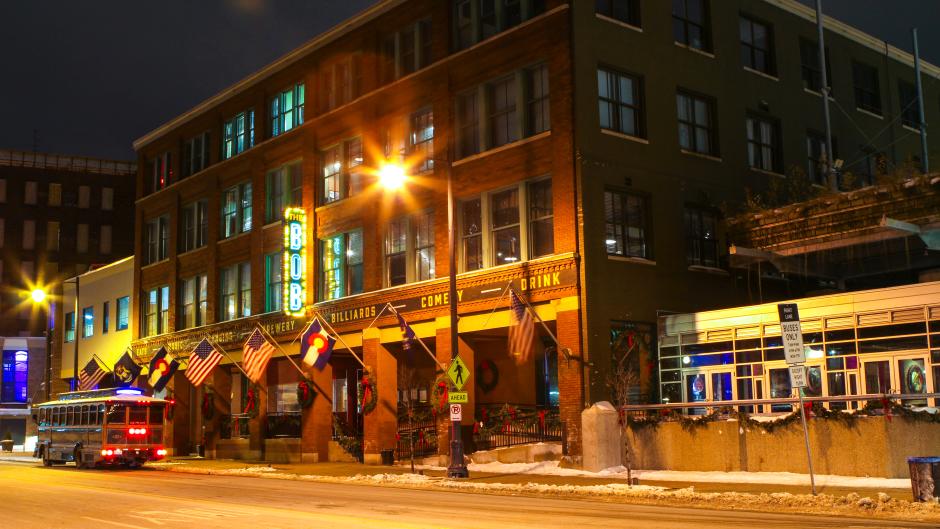 Exterior photo of The B.O.B. in downtown Grand Rapids, 2018.
Photo Credit: Experience Grand Rapids
---
8. "XO is right Downtown, and it actually has a little bit of everything as far as Asian cuisine goes."
9. "There is also Fuji Yama's - its like a hibachi grill - out on East Beltline. That's a great spot to go to as well."
10. "A lot of the players like to go to Tavern on the Square. Any bar Downtown, our guys are willing to go to."
11. "A lot of us like to go to The Woods. That's a good spot. We also tend to go to Eve's quite a bit after games on weekends."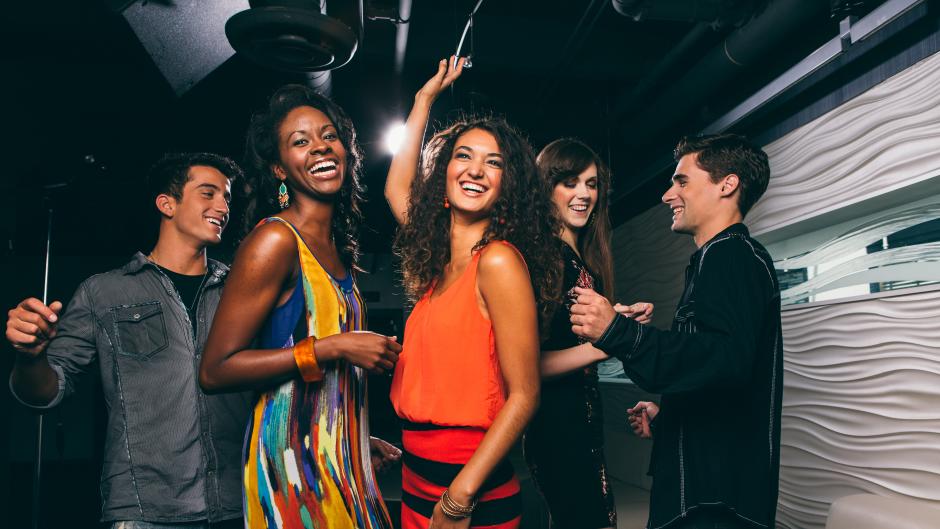 ---
12. "They even built that new Downtown Market. It has some great food, and you can also get your basic groceries there, too."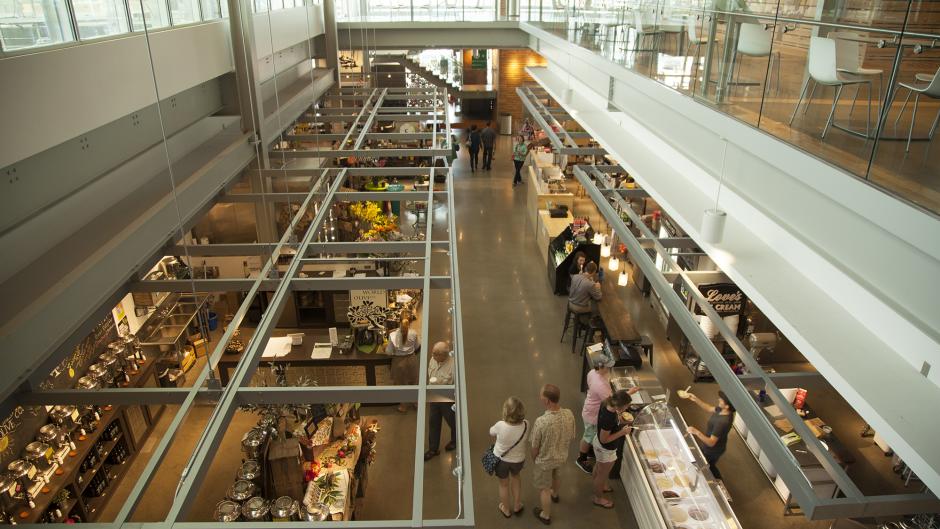 Downtown Market Grand Rapids
---
13. "I know a lot of the guys love ArtPrize. Its usually going on right when we get here at the beginning of the season. I know a lot of the players will walk through it and check it out."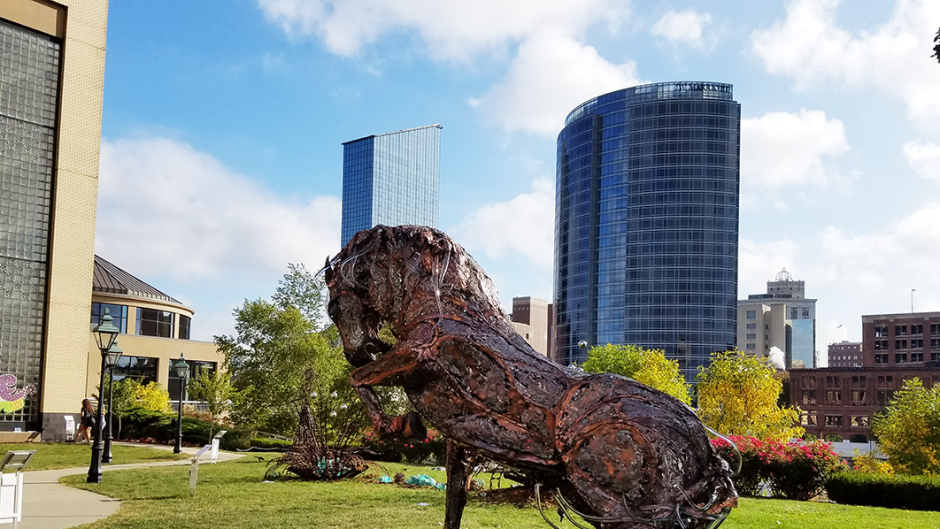 ---
14. "I really like LaughFest. The guys on the team aren't above a good joke, and everyone obviously likes to laugh, so we like to go to that and venture in when we can."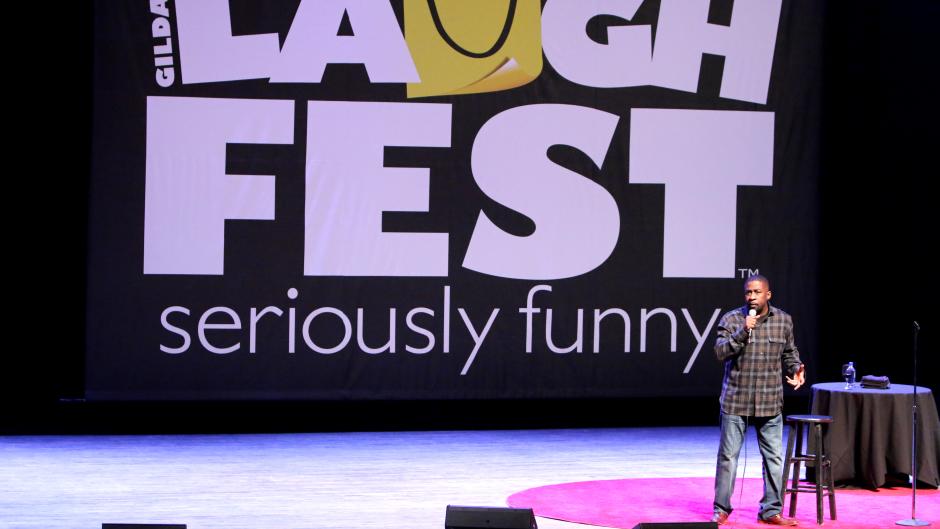 LaughFest is the nation's first-ever community-wide festival of laughter.
Photo Credit: LaughFest
---
15. "We like to watch the Turkey Trot. They finish right inside the Van Andel Arena, so we like to poke our heads in to watch that."
16. "Before practice this year, a lot of us stood outside and watched people run by for the 5/3rd River Bank Run before practice."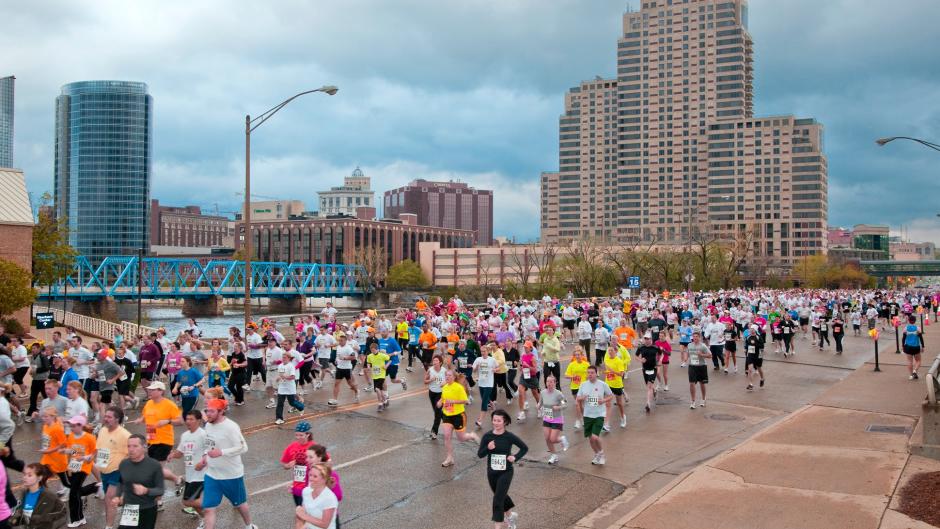 Crowd Participating in The Fifth Third River Bank Run in Grand Rapids
Photo Credit: Experience Grand Rapids
---
17. "In the offseason, the guys work with the team strength coach at Barwis Methods. They have four or five platforms for weightlifting. It has quite a bit of astroturf on it for sled pulls and running, and it has quite a few lanes as well for sprints. Its sort of setup like a CrossFit gym, but it's a little different."
18. "Personally, I don't get recognized very often; a lot of that has to do with the fact that people can't see my face. I know a lot of the other guys like Mitch Callahan get recognized all the time, but he's got a very distinct look. He's not too hard to pick out in a crowd."
19. "After we won, there were people waiting to see us when we got to the airport from Syracuse at three in the morning. They're definitely first-rate fans."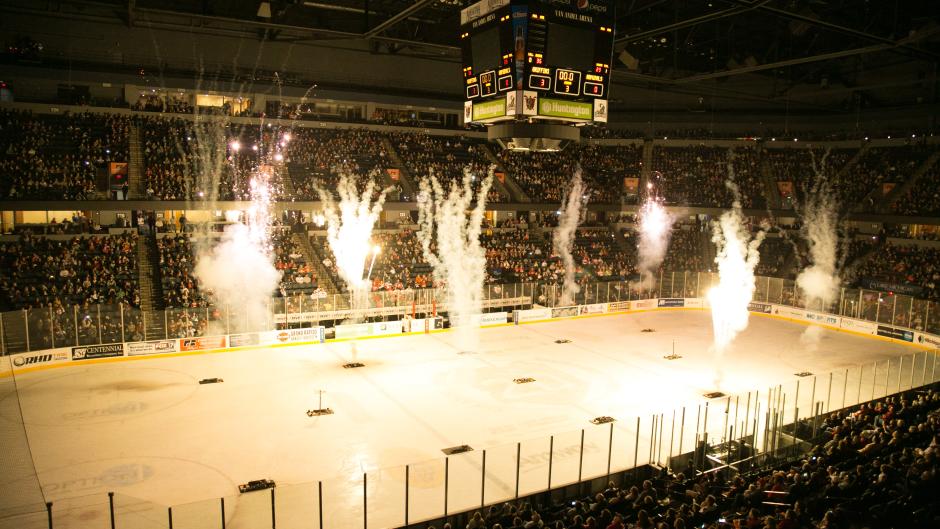 Griffins at Van Andel
Photo Credit: Grand Rapids Griffins
---
20. "I've spent so much time here and really fallen in love with the city and its people. I've had so many positive experiences here that no matter where I end up, a part of my heart is always going to be with Grand Rapids."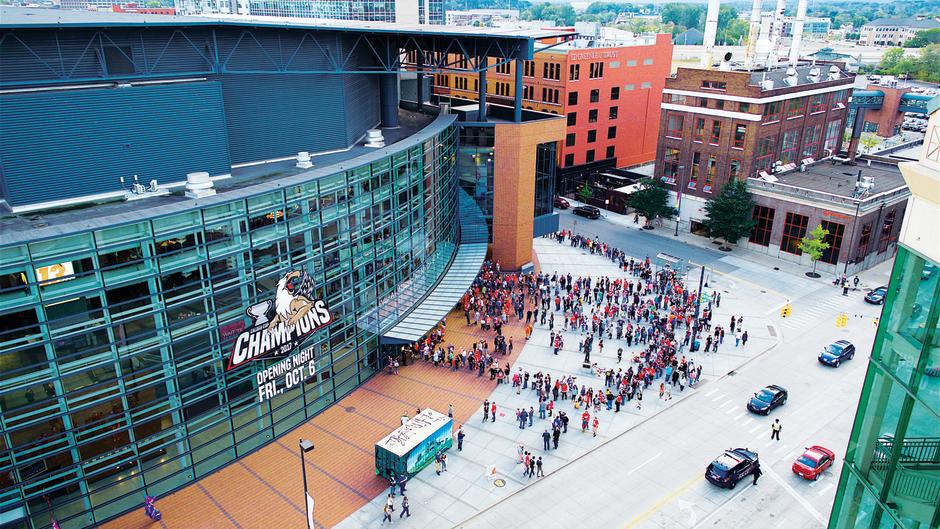 Grand Rapids Griffins downtown opener at Van Andel Arena.
Photo Credit: Bradley Scott - Grand Rapids Aerial Drone Video
---
Never miss a post!
Subscribe to the Insider Experience blog.