I logged tons of hours at ArtPrize this year, walking the 3-mile route one evening with my husband, 5 hours another day with my mother-in-law (we looked at lots of art along the Grand River), another day with my kids, and once more on my own. I still didn't see it all, but I did see the ArtPrize $200,000 winner. And I loved it.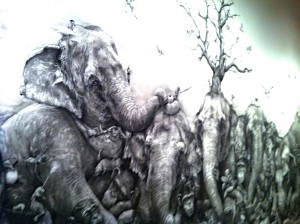 part of "Elephants" by Adonna Khare
"Elephants," by Adonna Khare, the Public Votes First-prize winner, was on display at the Grand Rapids Art Museum, which my husband and I visited during our initial 3-mile ArtPrize trek. We liked several pieces there - in the initial round of voting, I texted my vote for "Elephants," "Bam Pow", "City Band," and "Cities: Departure and Deviation." My husband voted for a few others there, too.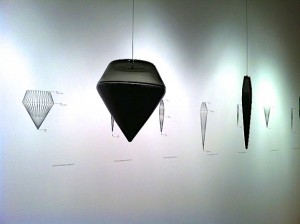 Cities Departure and Deviation by Norwood Vivano
But when it came down to the finals, it was a tough choice. After everything I'd seen, these were my top 3:
1. "Elephants." I smiled from the moment I saw this whimsical piece. And after I smiled, I just walked back and forth in amazement, both at the detail of, and the talent behind, this masterpiece. Each time I returned downtown, I popped back in to see it again. (I wasn't alone--the lines at the museum grew increasingly longer!) 2. "Stick-to-it-ive-ness." I don't know what it was, exactly, about this collection of sticks-turned-horses that captivated me, but it did. It gave me pause every time I saw it. Something about the figures felt so real, so powerful. Its a very contemplative piece. I really liked this one.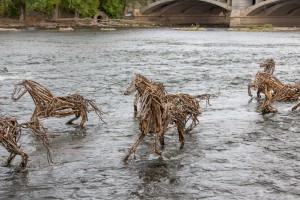 3. "Return to Eden." I almost walked right past this piece at the Grand Rapids Public Museum. It was hanging on a brick wall outside the back of the museum. I was following the path and looking at another piece, with my back turned to the mosaic. Had I not turned to call to my mother-in-law, I might have missed it. From afar, this piece looks like a painting. But walk closer and the mosaic detail pops out. Very cool.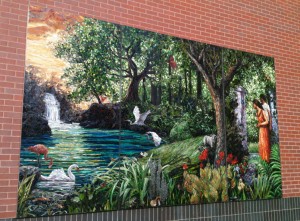 Return to Eden by Sandra Bryant
Friday night, Elephants was heralded as the public favorite, giving artist (and California elementary school art teacher) Adonna Khare the $200,000 prize.
Second and third prizes for the public vote were awarded to:
What about the two other pieces that comprised my personal top 3? They placed 4th (Stick-to-it-ive-ness) and 9th (Return to Eden), which is pretty darn good out of 1517 entries! (See the final rankings of the Top 10 here.)
This year, juried prizes were also a part of ArtPrize for the first time. The first-place juried award was the second largest cash award, at $100,000. The winner was Displacement (13208 Klinger Street) by Detroit studio Design 99, which showcased objects from an abandoned Detroit home. In addition to the $100,000 winner, five other $20,000 juried awards were given in these categories:
The 2012 ArtPrize was the biggest open-art competition yet, with 161 venues hosting 1517 works of art. It was a magnificent event that drew artists from 56 countries and attracted an estimated 400,000 visitors, who came to the Grand Rapids area to view art and participate in choosing the winners. It even turned this former ArtPrize skeptic into a bona fide ArtPrize voter.
ArtPrize. Its one more reason to love Grand Rapids, already named one of the Best Cities for Raising a Family. If you didn't visit ArtPrize this year, be sure to join us next fall when the fun starts all over again.