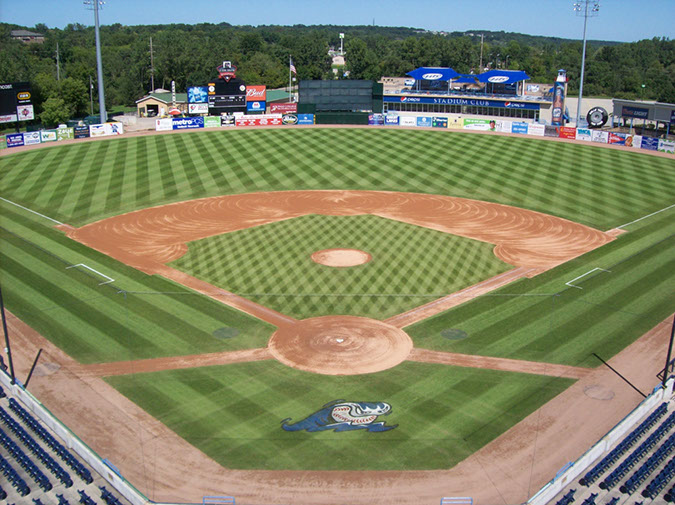 Spring is in full swing, which means it's baseball season. While I love a good major league game from time to time, they are pretty pricey when you bring the whole family. Thankfully Grand Rapids is home to the West Michigan Whitecaps, a class A affiliate of the Detroit Tigers.
The Whitecaps stadium is practically designed for a fun family outing. Here are three great reasons to take your family "out to the ballgame" on your next visit to Grand Rapids:
Promotions: There is always something fun going on at The Whitecaps. Enjoy $1 hot dogs or a $2 beer, soda or pretzel on Thrifty Thursdays. Beginning May 19th, every Saturday night game is followed by an impressive fireworks display. If you are a major league fan you will definitely want to catch a Friday game. Beginning June 8th, every Friday will be marked with a visit from a former Detroit Tiger's player. Plus the first 1000 fans will get a free giveaway. Every Sunday, is Helen DeVos Children's Hospital Family Day where the first 1,000 kids eat free! And that is just the weekends. There are promotions all week long and nearly every game. Check out their website for full details.
The Food: When the Food Network highlights your ballpark's food, you know you have arrived. And with the arrival of the four pound, 5,000-calorie Fifth Third Burger two years ago, The Whitecaps concessions got a lot of attention. Finish the whole burger by yourself before the end of the game and you win a t-shirt and your photo on the Fifth Third Burger Wall of Fame. It isn't a vacation until you have conquered a food challenge. If you want to get something a bit less heart attack inducing, the food here goes beyond hot dogs and peanuts. Grab a giant turkey leg, a pastie (a northern UP Michigan tradition) or the winner of 2012 Hungry Games vote, Westside Po' Boy. The Whitecaps take their food very seriously, trying to highlight regional fare and local producers. You definitely won't leave hungry.
Family Friendly: I have been to sporting events where the crowd gets a little bit rowdy. Suddenly you are plugging your kids' ears and praying no one gets beer spilled on them. Buy a ticket to the Gentex Family section and you will be able to enjoy the game with other families and no alcohol. If you still want access to drinks, I think you will find the crowd very respectful throughout the ballpark. Tickets are very affordable at $10.50 a pop and children 2 and under are always free. If you want to bring a blanket and sprawl out on the lawn, the tickets are only $6 a piece. Not only that, but the lawn is very close to Playland, a kid-friendly playground with a bouncy house for your kids to burn off some energy. Kids under 5 need adult supervision but Playland is always monitored by Fifth Third Ballpark ushers.
Whether you are a die hard baseball fan or someone who doesn't know a bunt from a RBI, I promise you will have a great time at the Whitecaps. Check out the Whitecaps website for ticket and promotion information.