Fall in Grand Rapids is a glorious season, especially for road and mountain biking. The maple and ash trees are sporting their colorful leaves, temperatures are cooler but not too cold (yet!), and the air is brisk and fresh. Routes in the area are plentiful for cycling enthusiasts of all levels, making fall a great time to get out with family or friends and enjoy the natural beauty of West Michigan.
Here are a 4 fall foliage bike routes to get you started:
White Pine Trail
The White Pine Trail is Michigan's longest linear trail. At 93-miles, it offers a variety of landscapes as it rolls through five counties. There are several access points to the White Pine Trail in the Grand Rapids area and fall's beauty is on display all along the trail.
If you enter the trail at scenic Riverside Park, you can head north on the paved trail and it's a fairly easy ride through Comstock Park. If you stay on the trail after Comstock Park, you'll ride along the Rogue River all the way to Rockford, where you can park and enjoy the quaint downtown as well as the scenic overlook of the Rogue River Dam.
If you prefer, jump on the trail in Rockford and either head south to Comstock Park or Riverside Park, biking the reverse route from above, or head north towards Belmont. If you have a road bike, you can exit the trail and ride on county roads if you prefer.
One of the prettiest White Pine Trail routes to ride in the fall starts in Belmont. Head north from there, towards Sand Lake, and you'll be rewarded with scenic West Michigan in all its glory: magnificent leaf colors, rolling hills, and breathtaking river views.
Downtown Grand Rapids Fall
---
Kent Trails 
An easy way to access the 15-mile Kent Trails, our area's oldest paved rail trail, is at Millennium Park, near John Ball Zoo. Three other trailheads also provide access: one in Byron Center, on 84th Street, one at Johnson Park and another at Douglas Walker Park.
As you ride the inter-connected trails, you'll cover scenic rural terrain as well as parks in urban and suburban areas.
If you begin at Millennium  park and head south, the east side of the Grand River offers a beautiful ride beneath the leaves, but all of the routes feature fall colors worth seeing and are accessible for bicyclists of all levels.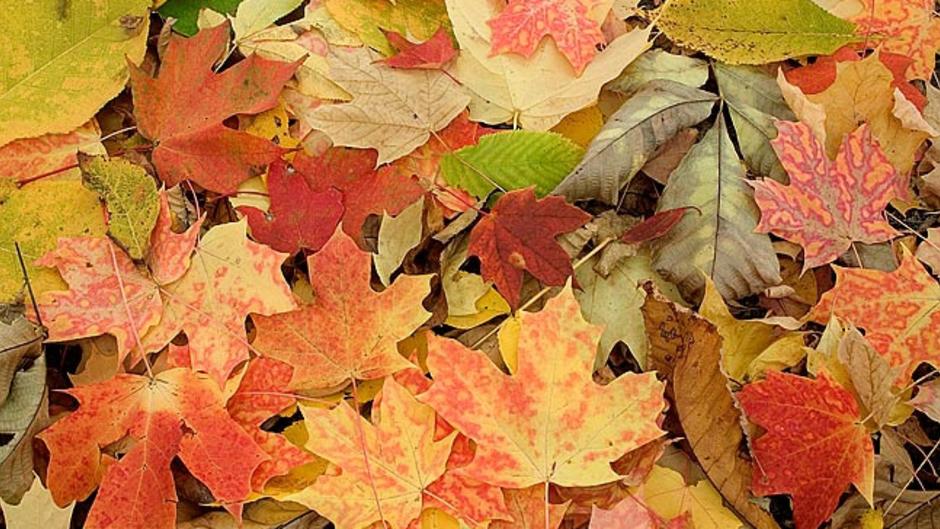 Fall at Frederick Meijer Gardens
Photo Credit: Experience Grand Rapids
---
Grand River Edges Trail
For a colorful fall ride that takes you along the Grand River on the east and west side of downtown, the Grand River Edges Trail is a good bet. The popular downtown loop runs from Fulton Street to the 6th Street Bridge, passing by the Gerald R. Ford Presidential Museum and the elegant Amway Grand Plaza hotel. There are plenty of restaurants and shops to check out along the way if you're ready for a break. If you want to begin downtown, the trail is easily accessible (and you'll find parking) at 6th Street Bridge Park, Canal Street Park, or Fish Ladder Park.
The northern section of the trail includes a little over 2 miles of paved path in Riverside Park, where you can enjoy the fall colors and river view and, if you're so inclined, connect with the White Pine Trail.
You can also connect with the Kent Trail from Grand River Edges Trail.
Cannon Township Trail
A little north of Grand Rapids, you'll find Cannon Township Trail, a gorgeous, tree-filled route that's incredibly colorful during the fall.
It's easy to jump on this trail at Townsend Park or from the Cannon Township offices. From there, you'll enjoy a scenic route through forested areas as you ride past meadows and wetlands. You can ride the entire 4-mile trail, leave the trail and create your own fall color detour, or go with the kids and ride a short way before turning around and heading back to your starting point.
For more bicycle trail maps and information, visit the Greater Grand Rapids Bicycle Coalition (GGRBC) website.
Never miss a post!
Sign-up for the Insider Experience blog.