On August 22-25, you'll be able to walk among the deep reds, navy blues, and emerald greens of over 900 beautiful and intricate quilts hanging at DeVos Place Convention Center for the American Quilting Society Show and Contest in Grand Rapids.
Over the past couple of months, I've had the opportunity to interview several quilters from the West Michigan Quilters Guild (looking at you Betsy Carlson, Sue Cortese, Terri Watson, Colleen Kole, and Joan Brink.) In the process, I've learned an awful lot about this craft and art and its important place in history.
Now, when I walk through the gorgeous display of quilts at the AQS Show, I'll have an understanding, admittedly basic, of what I'm seeing: hand-quilting, machine quilting and applique, for starters. And I can't wait to look at the close to 400 quilts that were accepted into the AQS juried contest--at stake is $44,250 in prize money--and find out which ones are the big winners. The winners will be announced shortly before the opening of the show (8:40 a.m. 9:00 a.m. outside the Exhibit hall, Wednesday 8/22/12), so AQS Show attendees will be able to see the winning quilts up close!
Tickets
Are you ready to stroll among these remarkable works of art? To avoid lines and score a discount, you can pre-order single-day admission tickets online by clicking here, or by calling 1-800-626-5420, until August 15, 2012 at 5:00 p.m EST.
Advanced Admission Single-Day Tickets
AQS Member: $8.00 Daily
Non-Member: $10.00 Daily
If you pre-order, your tickets will be held at the Will Call desk at the AQS Show, which opens at 7:45 a.m. on Wednesday, August 22, the first day of the show. On August 23-25, Will Call opens at 8:00 a.m.
Tickets at the Door:
AQS Member: $9 Daily $17 Multi-day
Non-Member: $11 Daily $30 Multi-day
AQS Show and Contest Dates and Hours
Wednesday, August 22 - Friday, August 24: 9:00 a.m. to 6:00 p.m.
Saturday, August 25: 9:00 a.m. to 5:00 p.m.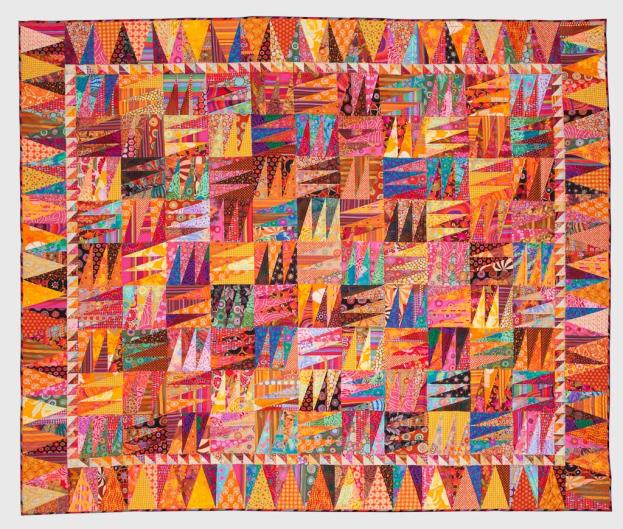 ---
Insider Tips
Getting Around
Stop by Ballroom C the first day of the show, Wednesday, August 22, between 12:00 p.m. 1:00 p.m. for free tips for getting around the show, finding your way in DeVos Place, and what to do in Grand Rapids. Representatives from AQS, DeVos Place, and the Grand Rapids Convention and Visitors Bureau will be present to help you get the most out of the show and your visit to our city.
Networking, Demonstrating, and Relaxing
If you're ready for a break, want to meet other quilters, or would like to see a skill demonstration, head to My Quilt Place during show hours in the Grand Gallery Meeting Rooms E and F in DeVos Place.
Currently planned demos:
Wednesday at 3:00 pm Hand-quilting (Andi Reynolds)
Thursday at 10:00 a.m. Favorite tools (Bobbie Browning)
Thursday at 2:00 p.m.Decorate your shoes (Annemart Berendse)
Quilt Appraisal, Saturday, August 25, 9:00 a.m. 4:00 p.m.
If you have an old quilt you'd like to have appraised, here's your chance. AQS certified quilt appraisers will be in the Grand Gallery Meeting Rooms E/F from 9am to 4pm on this day only. Appointments aren't necessary, but if you'd like to set a time, please call Marcelle Cashon at 270-898-7903, ext. 130. The appraisal fee is $50 per quilt.
Exhibits
In addition to viewing the winning quilts at the AQS Show, you wont want to miss the amazing array of quilting exhibits. Here are just a few you can see:
Stitch Like an Egyptian. This exhibit features appliqued quilts made by the Tentmakers of Cairo, Egypt.
Japanese Color and Form: New Works by Fifty Japanese Artists.This exhibit features exquisite fabric in prizewinning quilts from Japan.
New Quilts from an Old Favorite: Baskets. This exhibit features the 2012 National Quilt Museums semi-finalists, who've taken a favorite old pattern and created new quilts with a twist.
Click here for the complete list of exhibits at the AQS Show in Grand Rapids.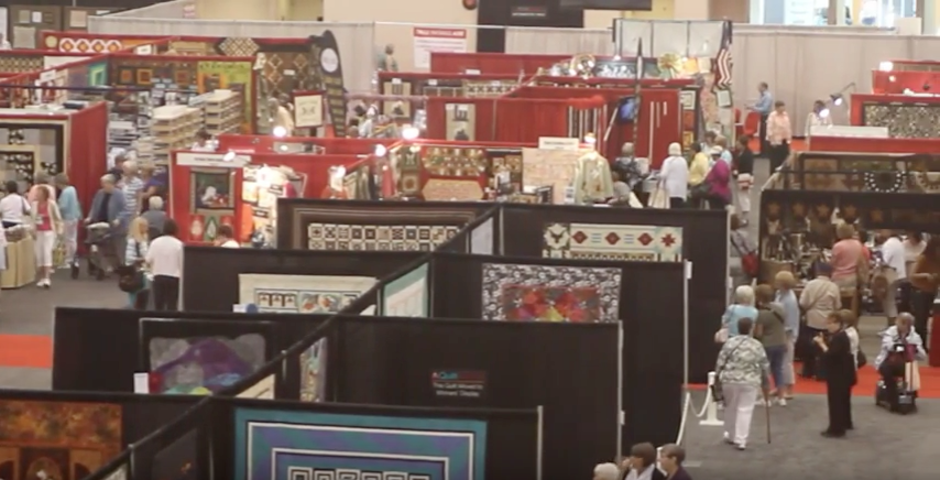 ---
What else is happening at the AQS Show in Grand Rapids?
The AQS Show isn't just about looking at beautiful quilts; there are classes, lectures, and lots of other special events available to ticket holders.
Want to know what its like to be an AQS Author?
Attend the AQS Authors Roundtable, where published quilting authors will talk about their experience. (Friday, 4:30-5:30p.m., Ballroom C, free)
Interested in learning methods and finding inspiration for creating designs?
Buy tickets for An Evening with Caryl Byer Faller, who will give a digital lecture explaining how she develops ideas for her own quilt designs. (Thursday, Ballroom D, 7:00 -8:30p.m., $15.)
Always loved the Impressionist Masters?
Check out Lenore Crawford's class, Create an Impressionistic Art Quilt by Fusing and Fabric Painting. (Thursday, Ballroom C, 10:00-1:00a.m., $12.)
These are just a tiny sample of what's available. There are classes about quilting history and quilting technique, theres even a class on how to publish your quilting book idea, and so much more! For a full list of classes and lectures at the AQS Show in Grand Rapids, click here.
To purchase tickets for classes and lectures, visit the Workshop Desk located at the main entrance of the show.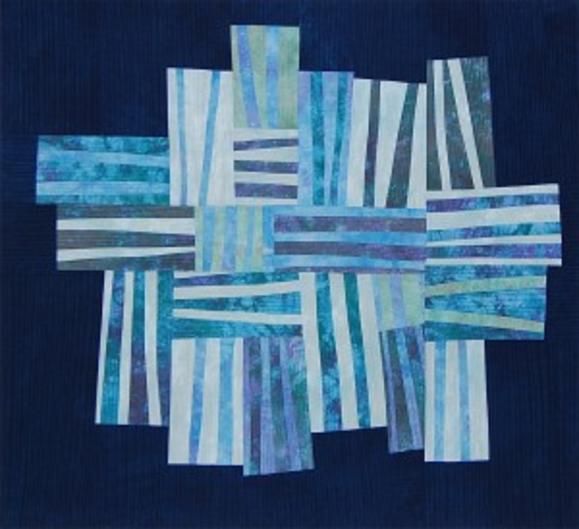 Quilt on display at the American Quilters Society Show (AQS).
Photo Credit: Experience Grand Rapids
---
Other special events for AQS ticket holders:
There's always something happening in downtown Grand Rapids, but during the AQS Show there are several special events. Check out all or some of them during the week.
Wednesday, August 22
The Gerald R. Ford Presidential Museum is open at the special AQS rate of just $5. (Open until 8:00 p.m.)
Thursday, August 23
Your AQS conference badge will get you a $1 discount off the regular admission to the Grand Rapids Public Museum. (Open until 8:00 p.m.)
Friday, August 24
Visit the Grand Rapids Art Museum and enjoy art, live music and a cash bar for the special AQS price of $4. (Open until 8:00 p.m.)
Multi-night events in Grand Rapids during the AQS Show
Rock the Rapids, August 20 August 25
After the AQS Show, head over to the outdoor stage at the Van Andel Arena to gett your music on at this downtown music festival featuring Toby Keith, Boyz II Men, and more!
Polish Festival, August 24 26
Enjoy authentic food, music, cooking demonstrations, and activities at Rosa Parks Circlee, which is just a hop, skip and a jump from the AQS Show.
Hours:
Friday Sunday: 11:00 a.m. 6:00 p.m.
Sunday: 12:00 p.m. 6:00 p.m.
Quilters, The Musical, August 22 25
Lose yourself in this tale about pioneer life for American women, told in a musical-vignette format. Each vignette is a patch in the quilt of their lives: girlhood, marriage, childbirth, spinsterhood, twisters, fire, illness and death.
Tickets: $18 ($16 for Senior Citizens and Students)
Showtime: 7:30 at Master Arts Theatre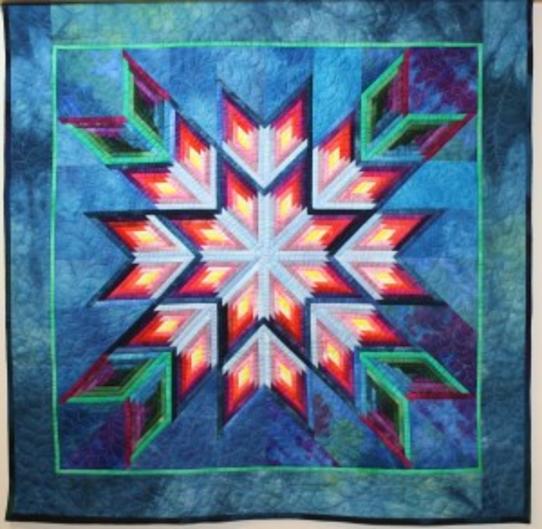 ---
Fortunately for attendees, the AQS Show takes place during Grand Rapids Restaurant Week, when over 60 Grand Rapids restaurants will celebrate the farm-to-fork movement by offering creative menus based on locally-sourced food. After a day at the AQS Show, you can relax with a great meal at these participating restaurants.
Last But Not Least
As you peruse the exhibits at the AQS Show & Contest, take time to read the background of the quilts you see. The quilters are often artists expressing themselves by using fiber as a medium.Many of their quilts, particularly the abstracts, have a deeper story - one you might not discover if you cruise through too quickly!
If you're in town for a visit, be sure to check out as much of Grand Rapids as time allows. Taking advantage of the Special Events mentioned above will help, but there's always more to see and do in Grand Rapids.
The AQS Show and Contest adds another element to the artistic vibe in downtown Grand Rapids. The art scene here has seen tremendous growth in recent years with the addition of the Grand Rapids Art Museum and the annual 19-day art competition, ArtPrize.
Hope to see you at the AQS Show in Grand Rapids!
Never miss a post!
Sign-up for the Insider Experience blog.